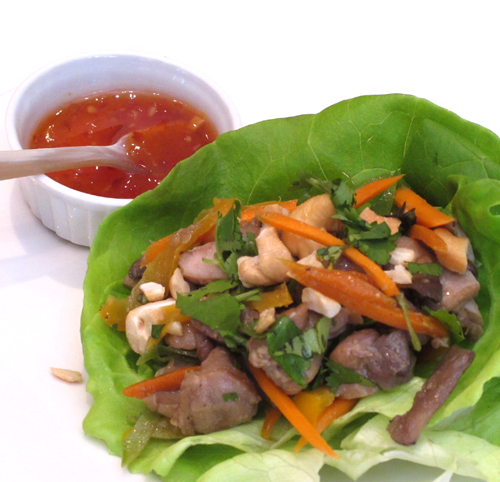 Two weeks ago, I heard my bathing suit calling for me, well not actually calling, more like mocking me, from the bottom drawer of my closet. It was daring me to pull it up over the pasty white flesh of my legs and then over the lumpy bumpy flesh of my hips and belly. Aaaagh! Can there be anything more scary than putting a bathing suit back on after a winter of consuming comfort foods?
Last December, basking in the warmth and love of a family celebration (my mom's 75th birthday), my 5 siblings (4 sisters and 1 brother) and I decided it would be a great idea to take mom away on a little trip to celebrate this milestone. There were lots of phone calls and e-mails back and forth as we tried to figure out where and when to go. We almost had a BBM (Blackberry Messenger) family group formed, which would have made communication so easy, but then my brother had to go and join the dark side… he bought an iPhone!  Just between you and me, I think he did it on purpose so we would stop BBMing him.
Choosing when to go was no easy feat. Two of my sisters are school teachers so taking time off during the school year is challenging. My brother is an accountant and January-April is a special period of hell for him, also known as tax season. To complicate matters, we decided that no children or spouses were to be included on this trip. Just mom and her kids. So child and pet care arrangements had to be made. Finally a long weekend in June was found to be was agreeable to all.
We decided on Bermuda as it was a short flight for all and the weather would be lovely in June. A little bit of sightseeing and some beach/pool time suited everyone. Thing seemed to be moving along quite well until it was time to decide who would room with whom. It has been at least 35 years since my older sister and I shared a room and I was not that keen on doing it again any time soon! Finally rooming arrangements were figured out, with just a few insults, snide remarks and residual hurt feelings flung about.
Then it was time to choose seats on the plane. There was quite a scurry and commotion about who would sit with mom on the plane. I will not disclose whether the direction of the scurry was towards or away from mom. Finally all the arrangements were made and just the waiting and packing remained. With less than a week to go, I mustered up the courage to try on bathing suits. That's when the realization hit me. Time to start eating a little bit lighter, although I was doubtful that a week of light eating could undo the damage of a carb loaded winter.
I had seen a recipe in the June issue of  Bon Appetit that called for serving a chicken stir fry in a lettuce wrap. They looked perfect for a light weeknight dinner. I decided to bulk them up a bit with the addition of lots of vegetables. I settled on a mixture of mushrooms (shitake, white button and cremini), carrots, snow peas and yellow peppers. A little bit of garlic, ginger and cilantro would help to bring it all together.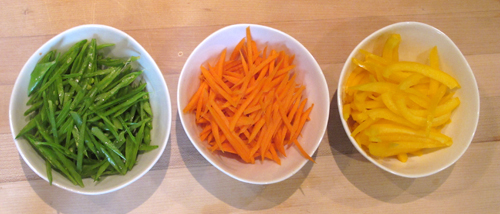 Vegetables were done, now onto the chicken. Many years ago, when working at Dinah's Cupboard, a food shop in Toronto, I learned a trick to create a tender and juicy chicken stir-fry. Dinah called it the "velvet glove" treatment. The chicken is given a protective coating before stir-frying. The best coating is a mixture of cornstarch, egg white and rice wine vinegar. I think of it as a sort of sun block for chickens!
Since my daughter is a vegetarian, I also prepared some tofu. I cooked the vegetables separately from the chicken and tofu. Begin with some ginger, garlic and green onion, then add the mushrooms. They will take about 5-7 minutes to give off their moisture and cook down and brown. The carrots, snow peas and peppers are added at the very end, so that they are heated through briefly but still retain their crunch.
Boston lettuce and hearts of romaine make a really nice wrapper. We finished the wraps off with some sweet chilli sauce for heat, some cilantro for its brightness and some cashews for added crunch.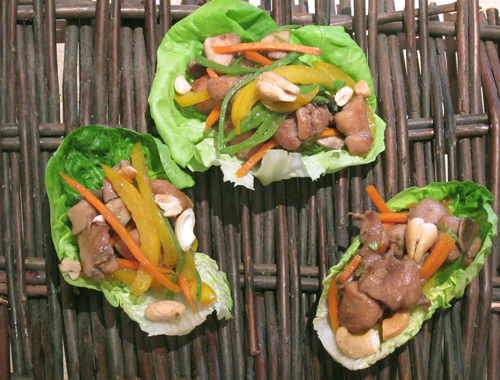 To print the recipe for Asian Chicken and Lettuce Wraps, click here.