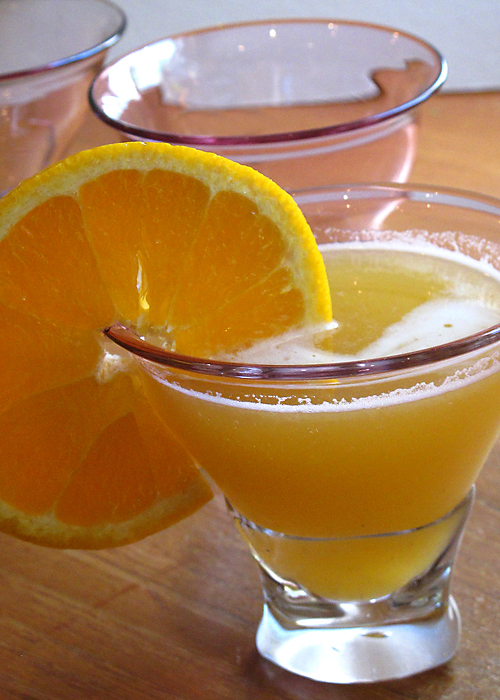 It is always such a startling revelation for me to discover that foods I previously thought I hated, I now actually really like. And, it seems to be happening with more frequency as I age. Perhaps it's a side effect of Botox use? (Only kidding!)
It began about 15 years ago, with coffee. I thought I didn't like coffee, but my friend Brigitte introduced me to a big bowl filled with hot steamed milk and foam, with just a tiny bit of coffee and 2 spoonfuls of sugar. What a gateway that was. Within no time at all I was drinking a huge bowl of espresso, with just a touch of steamed milk and a mere 1/4 teaspoon of sugar. A few years ago I joined the dark side and began eating, and loving, cilantro. Then I discovered the joy of Brussels sprouts. I love them raw, sliced thinly on the mandoline, with silvered almonds, Pecorino Romano cheese, lemon juice and olive oil.  Then there was the discovery of my love for walnuts and hazelnuts. Walnuts used to send shivers up and down my spine, but now, I love them. I think I was philosophically opposed to hazelnuts because Giada uses them or Nutella in every recipe she makes. Then I had them sprinkled over a salad of green beans, thinly sliced raw mushrooms, parmesan, lemon juice and olive oil. Whoa, talk about taste sensations.
All this to say, that I have just discovered another new edible love. It happened while on holiday with my 5 siblings, 1 niece and mother. We took my mom to Bermuda to celebrate her 75th birthday. I discussed the issues leading up to this journey in my last post. If you read it, or if you have parents and/or siblings, then you will completely understand what I am about to divulge to you. Somehow, as adults, when we get together with our parents and/or siblings, we revert back to childhood patterns and behaviours.  I am sure a psychologist would have a field day with the analysis of this phenomenon, but suffice it to say, old jealousies and petty annoyances rear their ugly heads. Let's just say, that alcohol helped to soften some of these sharp edges.
On our second night in Bermuda, we met in the bar for cocktails before dinner. I love to be with my sisters for many reasons. The fact that three of them love Prosecco, like I do, makes cocktail time much more celebratory. It always feels more festive to order a whole bottle of Prosecco rather than just a glass, like I usually do. The fourth sister ordered a "Gombey Smash."My mom ordered a glass of water. My brother ordered a gin and tonic. I think he needed to display some testosterone with all these women! My almost 11-year-old niece ordered a ginger ale.
When the drinks came, the sister with the Gombey Smash started licking her lips and making mmmmm noises. Of course I had to taste. She was right! It was fantastic. Fruity, slightly tangy and loaded with my favourite flavour, coconut. I looked at the cocktail menu to see what was in this concoction. Pineapple juice, orange juice, apricot brandy and Malibu rum. RUM?? I don't like rum. Apparently I do like Malibu rum. A lot!
I am so grateful to have had the opportunity to be with my mom and all my siblings on such a happy occasion. We had never taken a holiday together and it was very special. Now, we just have to hope that the surgery we perform on my 11-year-old niece, to remove her memories of all conversations she may have overheard while on the holiday, goes well! After all, what happens in Bermuda, stays in Bermuda.
Mix up a big batch of this drink at your next family gathering and soon you will all be doing the Gombey Smash!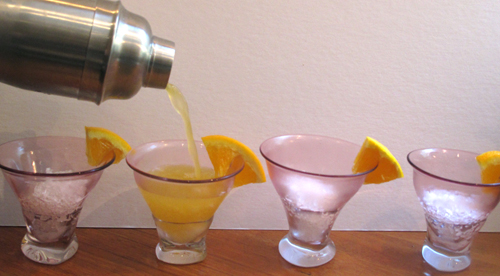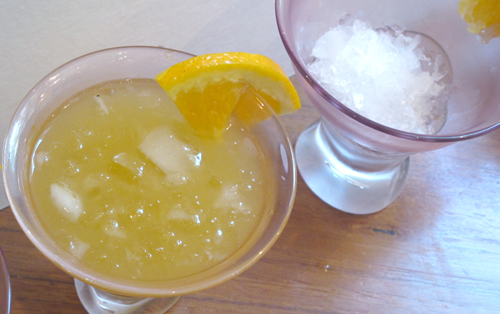 To print the recipe for Gombey Smash, click here.