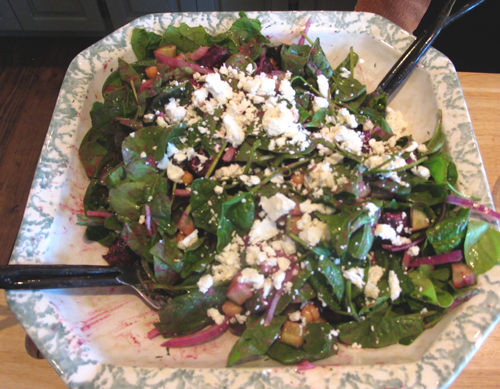 I am very fortunate that I get to spend my summers at our cottage by the lake. We entertain guests all summer long and really enjoy being hosts. However, there is something so nice about being a guest every once in a while. Last weekend we got to play the role of guests as we headed off to visit friends at their cottage in The Muskokas.
For the purpose of this post, I will call our friends, "Mr. and  Mrs. Monkey." Of course, that is not their real names, but I am reluctant to reveal their identity for fear that once everyone learns what generous hosts they are,  they will soon be over run with guests and will no longer have space for us.
I have nicknamed them "Mr. and Mrs. Monkey" as they share a certain personality trait with that animal.
"Tests in Capuchin monkeys showed the animals consistently chose to share food with another monkey if given the option, suggesting they are capable of empathy, the team at the Yerkes Research Center at Emory University in Atlanta found.
"They seem to care for the welfare of those they know," Frans de Waal, director of the Living Links Center at Yerkes, said in a statement.
His team tested eight female brown Capuchin monkeys in pairs. They could choose a token that gave only themselves a treat or an option that rewarded both of them, called a pro-social option.
"The fact the Capuchins predominantly selected the pro-social option must mean seeing another monkey receive food is satisfying or rewarding for them," said de Waal.
Our friends are indeed generous and gracious hosts, just like those Capuchin Monkeys. When we arrived, hot and tired, after a 5 hour drive, Mrs. Monkey had the Prosecco chilled and ready to open. She immediately ushered us to the dock for cocktails.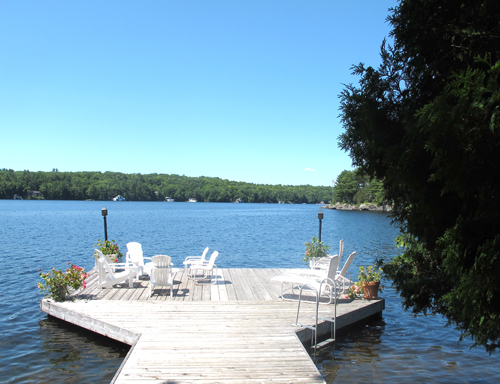 While we were in the kitchen, getting the Angus Bear Paw Burgers ready for dinner, I noticed that the fridge had a chalkboard panel where Mr. Monkee had written "Dad's 10 Statements". One of his rules to live by is further evidence that my friends are caring about the welfare of others.
"In life there are givers and takers, always be a giver!"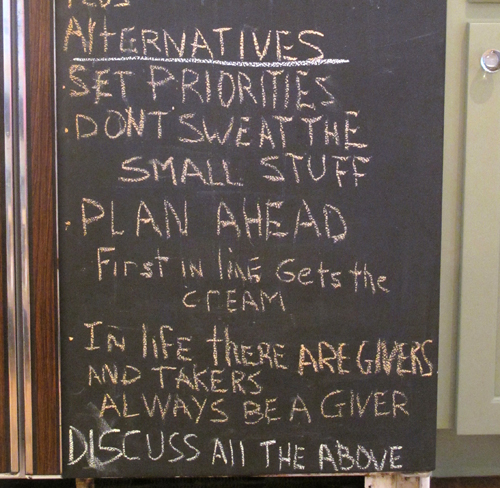 The next morning, my husband and The Monkees decided to go for a 60 km bike ride. I opted out and offered to have lunch ready when they returned. When I mentioned that I was going to go out for a power walk, Mrs. Monkee loaned me  a hat, some sunblock, headphones for my i-pod (I had forgotten mine), some Bounce dryer sheets (excellent to clip onto your hat as the scent keeps the deer flies away) and a bear whistle.
WHAT??? A bear whistle? She explained that there had been a bear citing a few weeks ago so runners were advised to blow a whistle every so often to keep bears away. Like I said, she is so giving and generous. Off they went on their bike ride and I went for my walk, blowing that whistle every 30 seconds. While I did not have a bear sighting, I did attract every dog within a 30 mile radius!
After I got back from my walk and cooled off in the lake, I got to work on lunch. Mrs. Monkee had thoughtfully left the recipe out for me. I looked at the open page of the beautiful cookbook she left out for me. "Beetroot and Chickpea Salad."
Okay, here was my dilemma. I hate beets. I want so badly to like them, because they are so beautiful, but every time I try to eat one, I gag. They have a certain earthiness that I just can't deal with. I have tried them roasted,steamed and grilled. I have tried, golden beets, candy cane (striped)beets, and baby beets.  I just can't stand them.  So, what to do? Do I accidentally throw the beets out, and say I couldn't find them or do I just suck it up like a gracious guest and make the beet salad.
Of course I did the right thing and made the salad, beets and all. (Mom, you raised me right!) Mrs. Monkee had already gone to the trouble of roasting and peeling the beets, so all I had to do was slice them up and prepare the dressing and other salad ingredients.
The dressing was the most unusual combination of ingredients I had ever seen. Chickpeas, beets, lemon juice, garlic, mint, sugar and olive oil, all blended to make a smooth dressing. It was just so strange that I had to taste it. Say… I do like beets, well beet salad dressing,… after all. The other ingredients mellowed the beet taste and just a hint of beet was all I could taste in the dressing.
I added some water and a bit more oil than the recipe called for, to thin out the dressing. I also pureed the heck out of it so it was quite smooth. I washed some spinach, diced some celery and cucumbers and soaked some red onions to add to the salad.
The salad is topped with additional chick peas, beets and some feta. Mrs. Monkee arrived home just in time to toss.
At lunch, I politely ate around the beets, leaving a little hill of them at the side of my plate. Mrs. Monkey, politely ate the beets off my plate. After 38 years of friendship, no words were necessary.