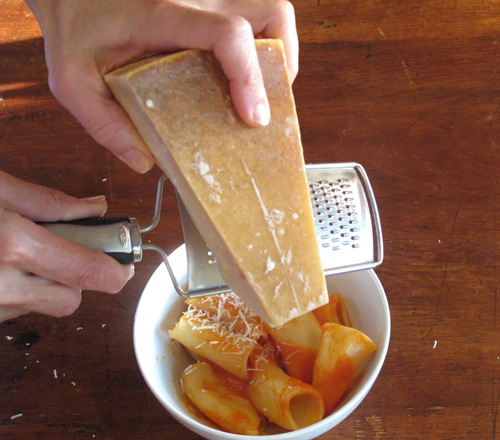 So, it's been 12 days since my last post, and lest you (Cousin Mark) think I have been slacking off, and not cooking, nothing could be further from the truth. The problem is that I have been cooking so much, there is no time left over for blogging. It's summer at the cottage and that means lots of company, and way too much eating and drinking and fun. But, today is a rainy Sunday, and there is a lull in the activity, so I'm back to work!
I was planning to write a post all about corn, specifically  corn chowder. But, then I made this: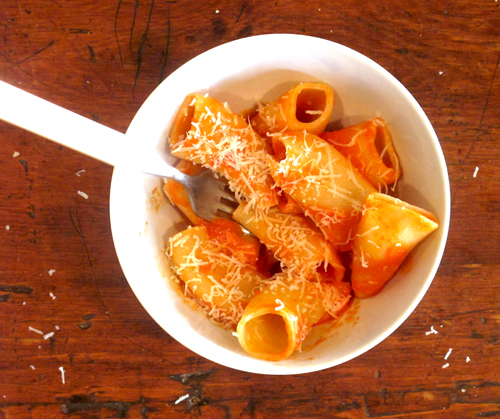 And after that, it's all I could think about. I was like a junkie, worrying about getting my next fix. I actually licked out the pot. This recipe has been around since 1973 but somehow it had never entered my sphere of consciousness. I am certainly not the first food blogger to write about this sauce. Jaden at Steamy Kitchen blogged about after meeting Marcella and Viktor Hazan . Deb over at Smitten Kitchen loved it best unadulterated without any grated cheese over the top. It came to Molly's attention over at Orangette  in 2007.
Thanks to the incredible crew at Food52, my life has been enriched immensely with the knowledge of this recipe. Every Wednesday, Food 52 unearths a recipe that they deem "Genius". Columnist Kristen Miglore explains:
"There are good recipes, and great ones — and then there are genius recipes. Genius recipes surprise us and make us rethink cooking tropes. They're handed down by luminaries of the food world and become their legacy. They get us talking and change the way we cook. And, once we've folded them into our repertoires, they make us feel pretty genius 
Now you may be wondering, what is so genius about tomato sauce. But, I'm telling you, there is something akin to alchemy when these 3 simple ingredients come together. Just tomatoes (fresh or canned), 1 onion and 5 tablespoons of  butter. That's it! The first time I looked at the recipe I thought there was a mistake.
Where were the garlic, the olive oil, the oregano, and the basil? And, this is the part where you will have to take a leap of faith and just trust me; yes you must put in all 5 tablespoons of butter that this recipe calls for. Do not skimp on the butter, or even think about substituting margarine. I will find out about it and hunt you down!
I know that 5 tablespoons of butter seems like an ungodly amount for a tomato sauce. But if you do the math (and you don't have to, I have done it for you – no need to thank me, it's what I'm here for), you will se that this recipe makes enough sauce to feed 6 people. One tablespoon of butter contains 100 calories, so that makes 500 calories in butter for this recipe. But divide that by 6 and each person is only getting a measly 2 1/2 teaspoons or 82 calories from butter.  A small indulgence when you consider the flavour payoff.
In what seems like a culinary sleight of hand, these three simple ingredients create a thick, full flavoured velvety sauce. It is pure and rich and luxurious. The butter gives a soft creamy note while at the same time tempers the acidity of the tomato. The onion adds a slight savory note, just hidden in the background of this sauce.
I added an additional step and pureed the sauce with a hand-held stick blender. I served it with Paccheri, a large hollow pasta, similar to rigatoni but bigger. It sort of resembles short pieces of a garden hose.
I finished it off with some grated Parmesan.
Just in case you don't follow my advice and make this sauce right now while tomatoes are at their peak, you can still make this sauce in the winter with canned  Italian plum tomatoes. You will thank me profusely.