]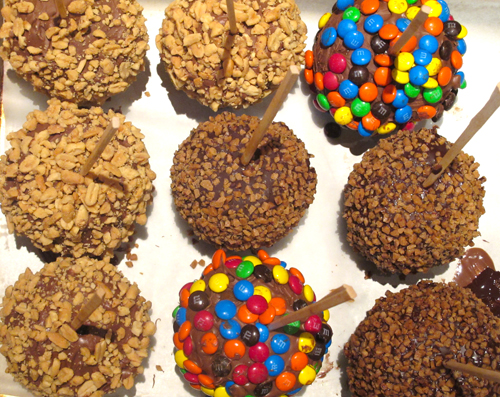 I know that in my last post, I promised a daily update on "The Best Thing I Ate Today", while travelling through Umbria, Italy. Unfortunately, the internet service at our villa was knocked out by a tremendous thunderstorm and so I was unable to blog daily. I promise to post about the trip very soon. But in the meantime, a very sweet post!
Tonight at sundown the Jewish New Year  (Rosh Hashanah) begins. On Rosh Hashanah, we traditionally dip apples in honey in order to symbolize our wishes for a sweet year for family, friends and all the Jewish people. While this explanation makes sense, I wondered why specifically apples and honey?  Why not bananas dipped into maple syrup?  (Hmmm, I see a new recipe developing).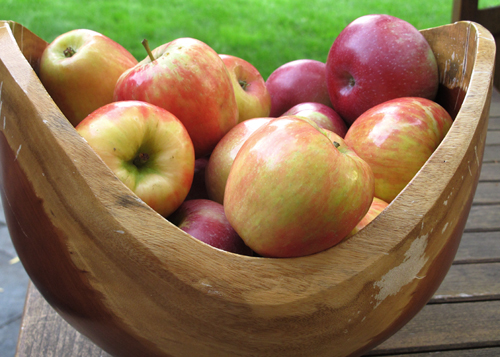 In researching this question, I came upon an interesting explanation on the website torah.org.  The insight they offered, regarding the apple part of the equation, goes like this:  "On most fruit trees the leaves appear before the fruit, thus providing a protective cover for the young fruit.  The apple, however, makes a preemptive move by appearing before the leaves.  The Jewish people are compared to an apple because we are willing to live out our Jewish lives even if this seems to leave us unprotected.  We have confidence that God and the instructions in the Torah could never mislead us."
They explained the choice of honey with this insight:  "A bee can inflict pain by its sting, yet it also produces delicious honey.  Life has this same duality of potential.  We pray that our choices will result in a sweet year."
While I love apples, honey has never been a favourite of mine. Honey cake can be found on many Rosh Hashanah dessert tables. But not mine. This year I decided to do a twist on the apples dipped in honey. I dipped my apples in caramel sauce and then melted chocolate. Then I covered some of them in mini m&m's, some in salted chopped peanuts and the rest in skor bits. A sweet new year indeed!
This caramel sauce contains the usual ingredients of butter, brown sugar and corn syrup. However, where it gets interesting is the addition of small amounts of maple syrup and molasses. These 2 ingredients, while small in quantity add a wonderful dimension and depth of flavour to the caramel. A candy thermometer is needed to make these.
Wishing you all a sweet and healthy new year!