Yesterday afternoon we left our house in Ottawa on a purple Party Bus with 8 friends to drive
to the Montreal Airport to catch the night flight to Rome. We were meeting up with 8 more friends in Umbria for a 10 day Italian hiking and biking adventure. I thought I would chronicle the journey by reporting each day about the best thing I ate that day.
At 7:00 pm we boarded a Boeing 767 jet at the Montreal airport to fly away on our adventure. Fast forward to Friday morning, 9:45 when
we boarded a Boeing 767 jet at the Montreal airport to fly away on our grand adventure. WHAT????
No, this is not a mind bending thriller about 10 friends who find themselves in a time labyrinth, where each day they wake to the same terrifying day as the preceding one. It's just an extraordinary tale about modern-day travel gone awry.
On Thursday night, just after everyone was settled into their seats, the airplane door closed and we all fastened our seatbelts. Suddenly, a loud whooshing noise erupted from the front of the plane. It sounded like all the air was being sucked out of the aircraft,  smoke was rising and the flight attendant began screaming , "Evacuate your seats, move back, move back|!" People started running towards the back of the plane and we watched in horror as, what looked like a giant air bag, began to inflate and fill the entire galley kitchen of the plane.
And then all was quiet. Then the pilot's voice broke through the silence to inform the stunned passengers what had happened. Apparently the emergency exit chute accidentally inflated. He asked us all to sit tight while he radioed his supervisors about next steps. Then the cell phones began flashing as all assembled attempted to document this happening.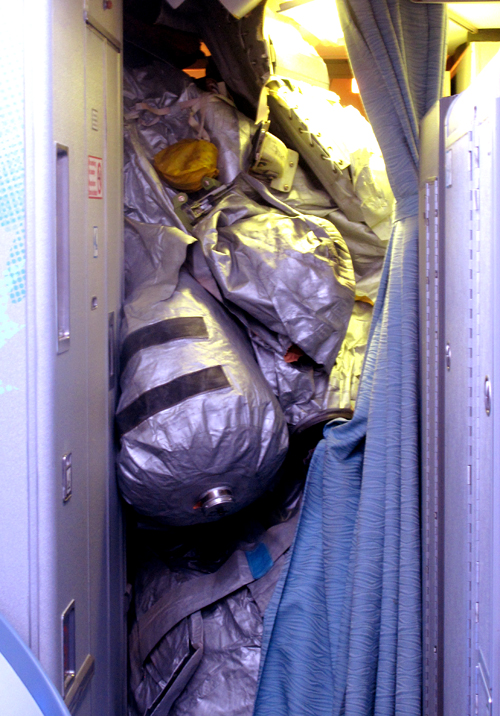 We were asked to deplane and await further instructions. Within 10 minutes all the passengers were lining up at the boarding gate again. We joined the line, excited to be on our way again. When we got to the front of the line we were handed what looked like a boarding card. Upon closer examination we discovered that they were meal vouchers so that we could eat dinner at the airport while waiting for them to repair the plane. We all naively believed that they could just stuff the giant inflatable slide back into it's cupboard and we'd be on our way.
We soon discovered that the exploding giant slide had rendered the plane unflyable and would cost probably $50,000 to repair. They told us that they would have a replacement plane for the next morning. We were instructed to collect our luggage, clear customs and then line up again for hotel vouchers.
Are you kidding me? Clear customs? We never left the country! So. once again we lined up and told our sad tale of woe to the customs agents and then trudged over to the airport Marriott to sleep. Little did I know that the best thing I ate all day would be the Sea Salt Miss Vickies potato chips I ate on the purple party bus.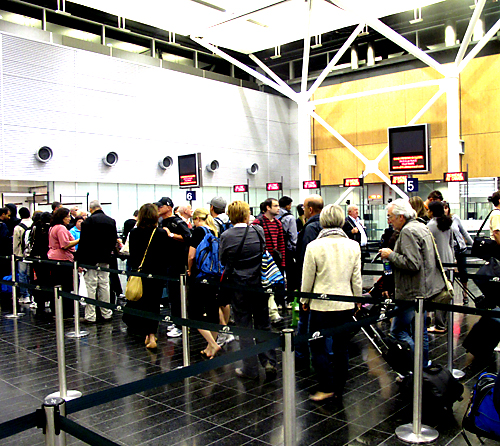 Fast forward to the next day. I am writing this on the plane as we wing our way across the Atlantic. I told the flight attendant about our trip and my plan to blog everyday about the very best thing I ate that day. I think he felt sorry for me about the late start to our journey, because the next thing I knew he brought me a second bowl of cashews and roasted almonds.  Definitely the best thing I ate all day. They were warm, fresh, crunchy and salty.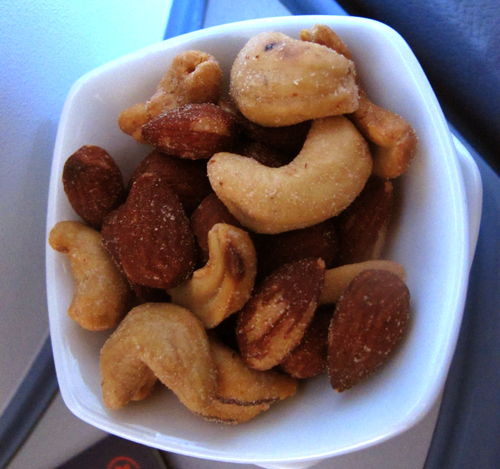 Just about to touch down in Rome, so I will be back tomorrow, hopefully with something incredible to report on culinarily speaking.