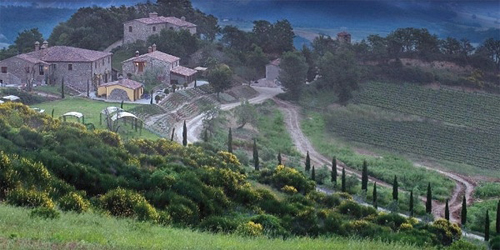 I recently took an incredible trip to the Italian region of Umbria. My initial plan was to blog each day I was away, about the best thing I had eaten that day. There is an old Yiddish proverb "Mentsch tracht, Gott lacht", which roughly translated means, "Man plans, God laughs."
In case you missed it, the trip started out like this. And then once we finally arrived, a huge thunderstorm knocked out internet service at the villa we were staying at. And, to be quite honest, I was so naive in thinking I could actually choose "The best thing I ate all day." It was more like the best 10 things I ate today. It became somewhat of a joke among our group of 18. Each time I was about to put something in my mouth, I had to stop and take a photo, and ask myself, "Could this possibly be the best thing I will eat today?"
Needless to say, I did not blog daily. So here is my attempt to summarize our journey.
We finally landed in Rome around midnight, local time. We were met by our driver for the week, a very sweet man named Claudio, and we squeezed our luggage into the mini bus. Our group of 10 from Ottawa had 30 suitcases in total. We are not what you would call light packers. As my daughter says, "I like to have options."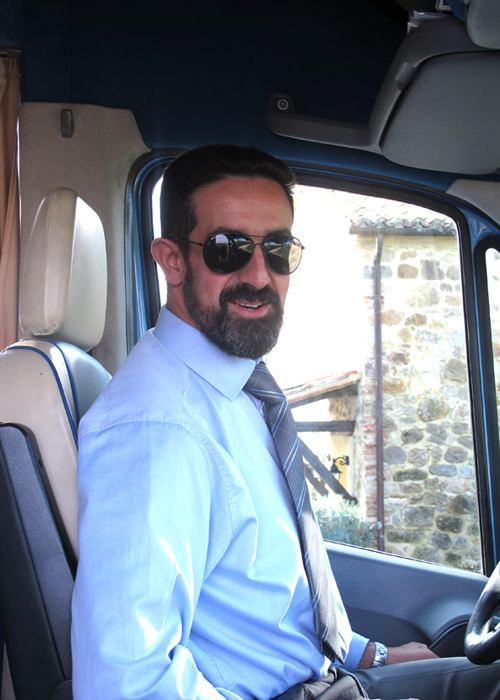 Our 2 hour drive to "Casali di Monticchio" began. It was smooth sailing on the autostrada for the first part of the trip. But then, we got off the main highway and began a series of climbs, twists and turns through some tiny towns and very narrow roads. It did not inspire confidence to see Claudio make a u-turn and then turn on his reading light and read the directions while driving. The last 20 minutes of the trip were on what is known as a "Strada Bianca", or "white road. This is the Italian equivalent of a North American gravel dirt road, only with white gravel. Finally, after 20 bone jarring minutes, Claudio pulled into an unmarked driveway, turned off the engine and announced, "Well… if we are not lost, then… we are here."
And indeed, at 2:00 am, we had arrived. A ghostly apparition in white floated down the steps from the main house to greet us. It was a little spooky, until I realized it was only my sister-in-law, in her nightgown. She had arrived that morning with the other 7 guests from Toronto. She is so sweet, she stayed up, with another friend, to greet us. Out group was not yet tired as it was only 8:00 pm Ottawa time. The owner of our villa, Liria and her daughter Joanna, were there to greet us as well. And what a warm welcome it was.They made us feel like we were guests in their home. They had put out a platters of snacks for us and glasses of welcome Prosecco. We felt very welcome.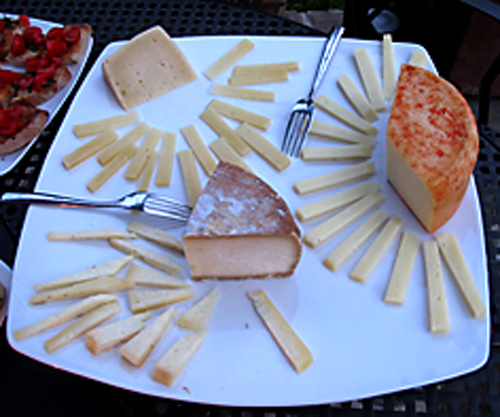 We fell asleep almost immediately after our heads hit our 600 thread count Egyptian cotton pillow cases. The next morning, we got up to explore the place. Casali di Monticchio was lovingly restored by Liria Costantino  in 2004. When you talk to her about the restoration, her eyes light up as she explains all the hard work and attention to detail that went into the renovation. (not to mention the money!). This stunning relais is set high in the hills close to the border between Tuscany and Umbria. There is a 360° view of the rolling Umbrian hills all the way across to Orvieto.  The setting is blissfully remote and serene.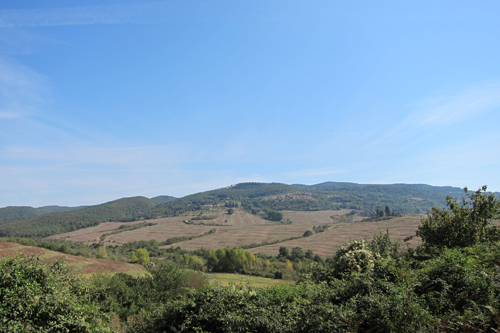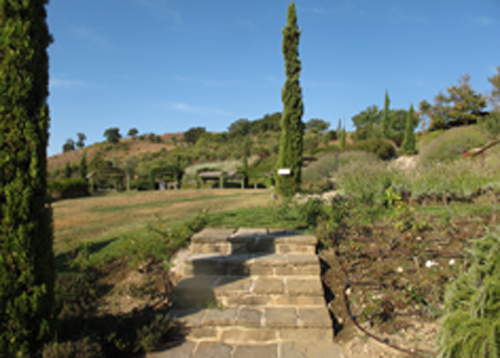 The interior of the place is every bit as beautiful as the setting. Liria's attention to detail and taste in interior design is impeccable. The fabrics and furnishings chosen create a very intimate environment. The road to Monticchio may be a bit on the rough side, but once you arrive, it's worth every bump!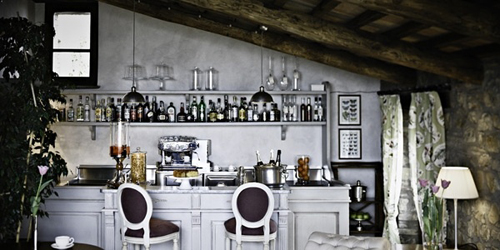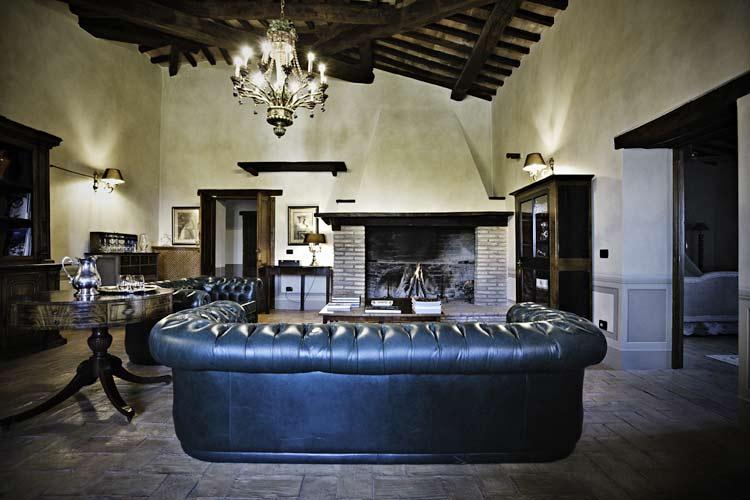 For breakfast we started with greek yogurt, berries and the most incredible granola. Joanna, the owner's daughter took orders for morning drinks. Within a few minutes she amazingly produced  Cappuccino, Lattes, Espresso and Cafe Americanos for all. Then out came a huge platter of scrambled eggs, provided by the chickens from the villa's very own chicken coop.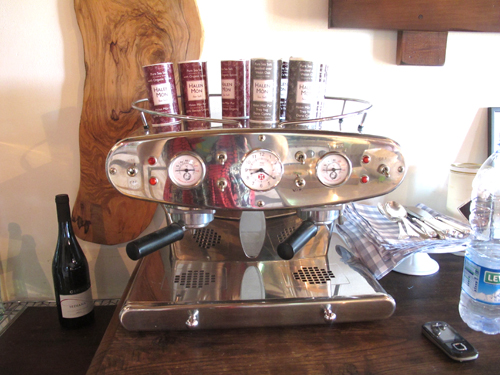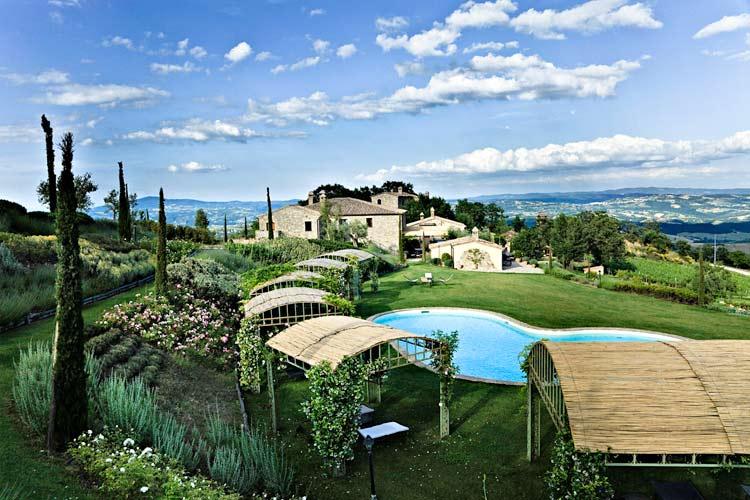 We spent the morning lounging by the pool and then the bell for lunch rang.
The table on the outdoor patio was set for lunch. We started with an appetizer of roasted red peppers and Romanesco broccoli, with a traditional Piedmont sauce known as Bagna Cauda. (pronounced Banya Cauda) The literal translation is "hot bath". And indeed, the vegetables were bathed in a warm coating of the most delicious sauce imaginable. Upon questioning Liria, we learned that the sauce is made with olive oil, garlic, cloves, anchovy paste and cream! I practically licked my plate.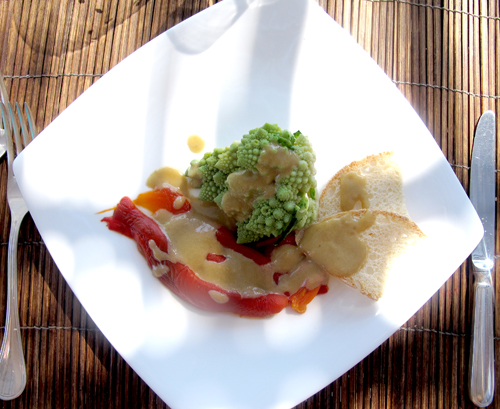 That was followed by rigatoni with a light tomato tuna sauce.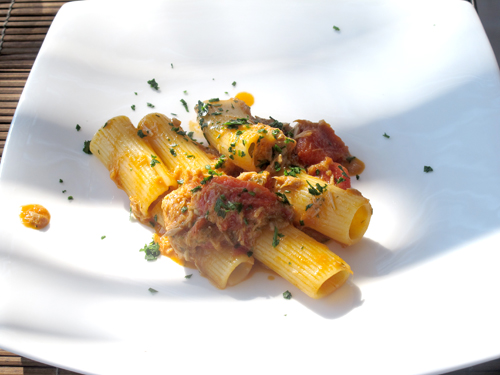 The rest of the afternoon was passed in a jet lagged, carb induced coma by the pool. The tranquil silence was disturbed only by the sound of gentle snoring and bees buzzing. They make their own honey at Casali di Monticchio (of course they do!)
That night I learned a wonderful new Italian word, Aperitivo.  Aperitivo are pre-dinner drinks accompanied by appetizers. Derived from the Latin aperitivus, to open, aperitivo is meant to stimulate the appetite and tease the taste buds, previewing the delights of dinner. We had Aperitivo in the wine cellar of the villa. Liria had arranged a wine tasting of 3 local wines for us. It was accompanied by pecorino romano cheese and prosciutto. Dinner of beef slowly braised in red wine followed. Dessert was chocolate cups filled with whipped ricotta cheese.
Best thing I ate today… Bagna Cauda sauce.
We convinced Liria to teach us how to make Bagna Cauda. Of course, she does not measure anything, so some guess-work was required on my part.
Click here to print the recipe for Bagna Cauda.
It begins with olive oil, chopped garlic and Liria's secret ingredient, whole cloves, simmering in a pot. Then she adds anchovy paste and lots of cream and, to quote Liria, "love and patience." The mixture is simmered over low heat for about 2 hours, until the cream and oil come together and you have a thick sauce. Liria says it is important to stir constantly the entire time. There were 5 of us taking the cooking class from her, so we took turns stirring. She told us that there is actually a kitchen machine that will heat and stir a sauce for you! What will they think of next?
Stay tuned for Day 4 when we take an "easygoing" 12 kilometer hike to Cantina Scambia, a local winery, then return back to the villa for a very special birthday celebration!