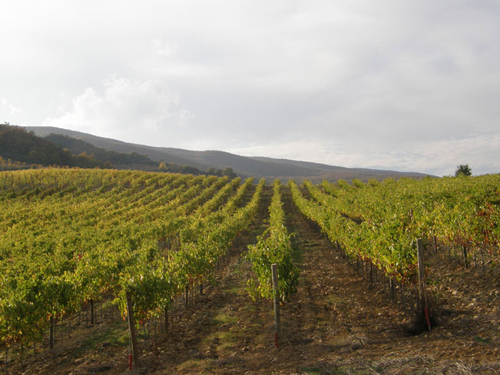 Right after breakfast we left the villa and began an "easygoing walk along country roads, toward Cantina Scambia, a local winery." Well, at least that's how it was described in our itinerary. We enlisted the services of Butterfield and Robinson, a Toronto based active travel company that specialize in hiking and biking trips all over the world. Their motto is, "Slow down to see the world." They helped us to custom design our Umbria trip. Our group of 18 ran the gamut from biking enthusiasts who regularly cycle 50-60 kilometers at a time to total couch potatoes (you know who you are!!!). Most of us were comfortably somewhere in between those two extremes.
Today, all 18 of us would be hiking to the winery. They promised an easy downhill hike. Our guides, Cameron and Leif, looked like they came right out of an ad for clean healthy living. Both were American and had spent a considerable amount of time living in Italy. They were personable, funny and interesting to talk to. They seemed so honest and trustworthy. However, looks can be deceiving. They turned out to be liars. This easygoing hike was over 12 kilometers and although mostly downhill, there were a few killer uphills thrown in for fun. Almost all the group managed to hike the entire way. Leif hiked with us and Cameron drove the "Van of Shame" (as one friend nicknamed it). Cameron only had to pick up one or two stragglers.
All kidding aside, it was a beautiful walk. The scenery was rural, pastoral and so serene. Rolling hills, open fields of wheat and sheep. Oh, and there was also a wild boar sighting! Umbria's nickname is "The Green Heart of Italy."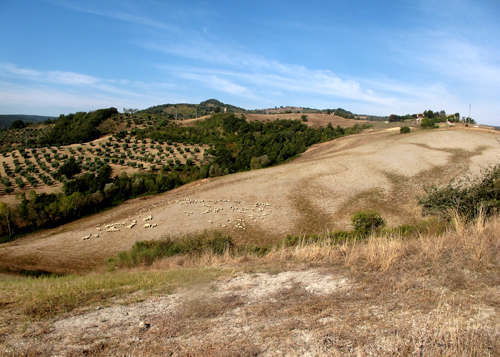 We straggled into the winery some 2 hours later. Shocking that upon our immediate arrival at the winery most of us were more excited to see the bottles on the left, rather than those on the right.
The Pinot Nero at Cantina Scambia has received worldwide recognition. The vineyard has been family owned since 1977. They winery extends over 600 acres and there are 3 cellars. One cellar has modern equipment and the other two cellars use more traditional methods. We had a chance to visit the cellars and see and taste !
After the winery tour we were wined and dined in grand style. They were most gracious and generous hosts. While everything was delicious, somehow it was the grapes that I will remember for a very long time. Biting into them released a sweetness like no other I have ever tasted. They were tiny in size but mighty in flavour. The firmness and crunch as I bit into them surprised me. I expected them to be softer. I wanted to take home big bunches of these unbelievable grapes.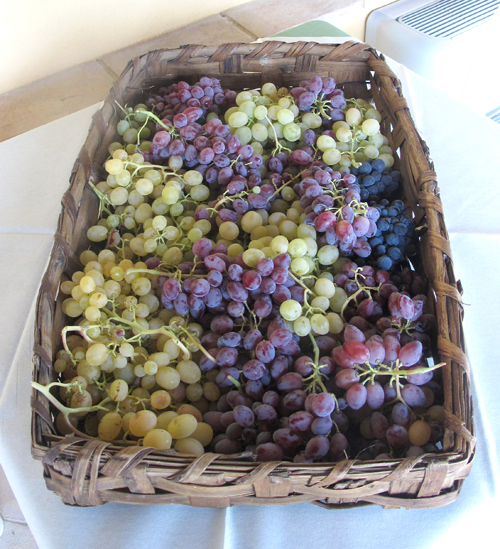 Mercifully, we lumbered into the van with Claudio for the ride back to the villa. Time for a quick shower and nap and then we had to prepare for the big birthday celebration. We all gathered in the billiards room at 6:00 for a "surprise". Laid out on the pool table were medieval costumes for all. We all scurried off to change. Not surprisingly, most of the men needed a short tutorial on the best way to put on their tights. I needed some assistance from my ladies in waiting to lace up the back of my gown.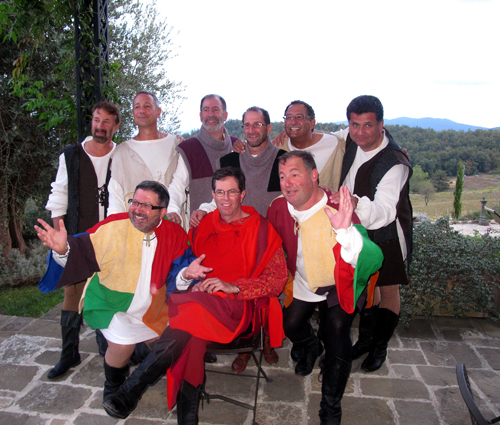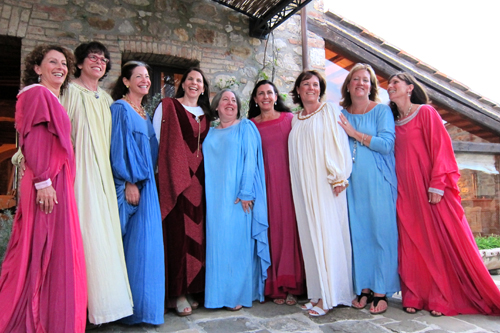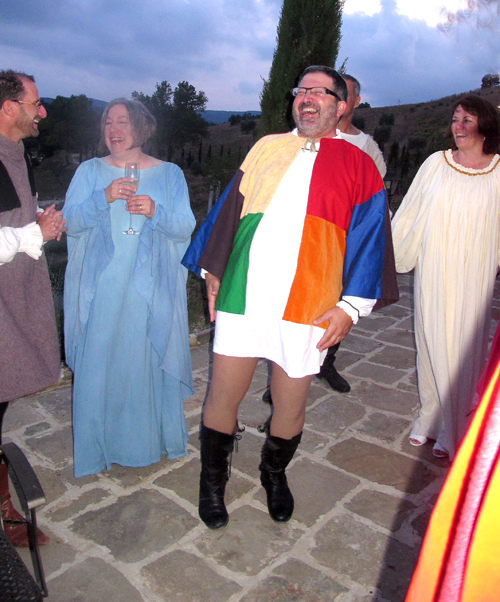 We had our Aperitivo in the wine cellar and then were led, by drummers and flagmen to dinner.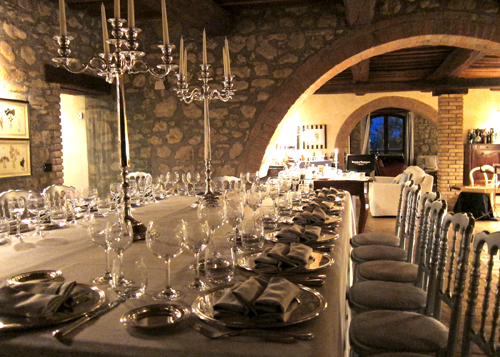 Possibly one of the best things I ate all day (aside from those grapes that I'm still dreaming about!), was Pecorino cheese from Pienza, with a slice of pear and drizzled with Acacia honey made at our villa. I brought home some of that cheese and served it at our Rosh Hashanah lunch with apples and honey.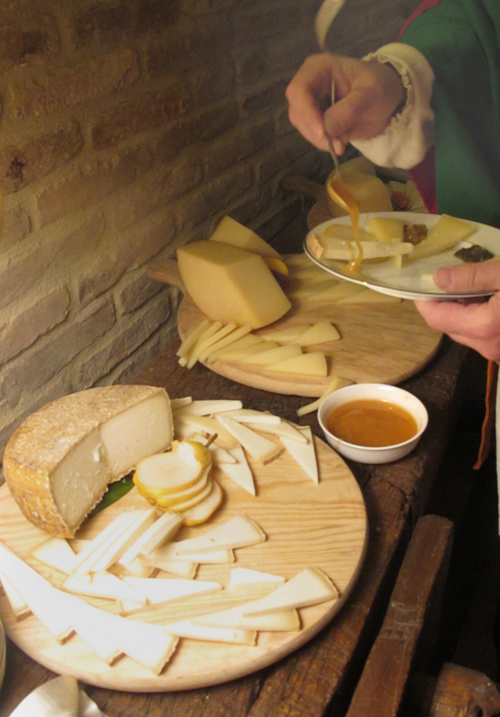 Stay tuned for Day 5 when we hike and bike to the ancient Etruscan city of Orvieto. See what happens when 9 women cram into a single hotel room to shower and change for dinner. The outcome of this adventure may surprise you.