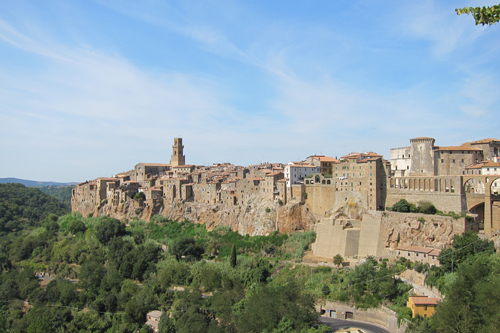 Today we hiked (and some of us actually braved the hills and biked) to Orvieto. What you need to know about this ancient Umbrian city, which dates back some 3000 years, to the Etruscan era, is that it is perched  atop a soaring volcanic plateau. This hilltop town rises high above the green Umbrian valley floor. Needless to say, the hike into Orvieto was mainly uphill! But what a gorgeous scenic climb it was. The bikers took a picturesque 23 kilometer route into Orvieto. The hikers had about a 75 minute uphill climb.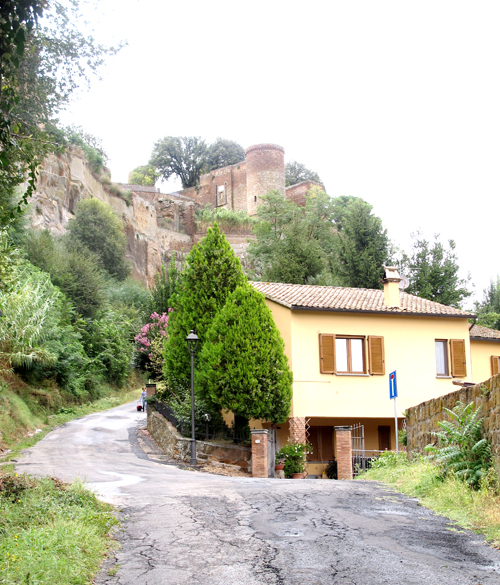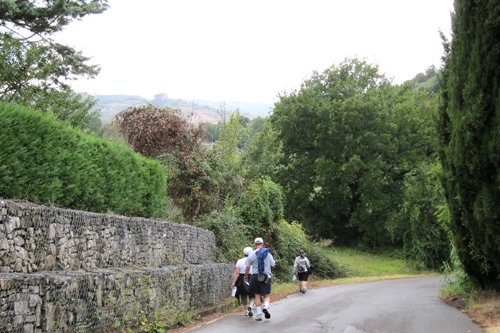 Most tourists coming to Orvieto, go directly to the Duomo, the stunning Gothic Cathedral, sitting in the center of town. However, our group went immediately to the gelato shop. Clearly we have our priorities in order! Our guide Cameron had been telling us all about this  artisanal gelateria on our hike into Orvieto. I think it was her virtual carrot to dangle in front of us to keep us climbing those hills. It worked!
Dolceamaro, located at 78 Corso Cavour, was a sight to behold. The gelato flavours were displayed in a spinning glass carousel. Gianduja (chocolate , hazelnut and almonds) cocomero (watermelon), stracciatella (an incredible italian version of chocolate chip) fragola (strawberry),  caffe (coffee), liquirizia (black licorice), nocciola (hazelnut), cioccolato (chocolate), limone (lemon) and pesca (peach). I opted for the caffe which was very creamy and intensely coffee flavoured. Just the caffeine pick me up I needed. Cameron bought a few bags of cookies to put away for later when we would need to be coaxed to the next stop. One of the wonderful things about Butterfield and Robinson is that they adapt the itinerary to the group they are leading. These are not cookie cutter tours. Cameron clearly had us pegged very early on.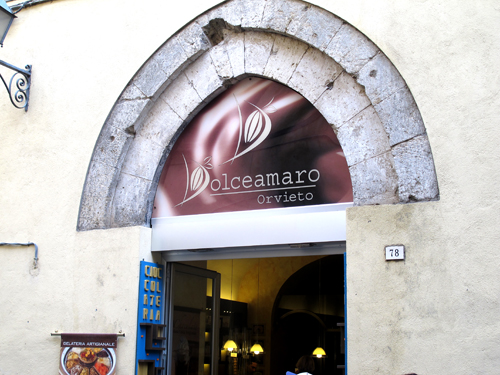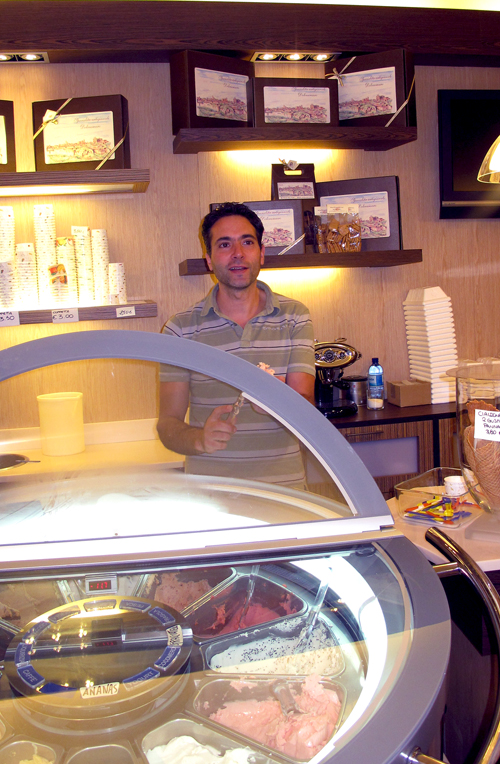 We met up with the bikers at the Duomo. An incredible example of Gothic architecture, it sits in the center of town, in the main square. The frescoes by Fra Angelico inside one of the chapels are truly breathtaking.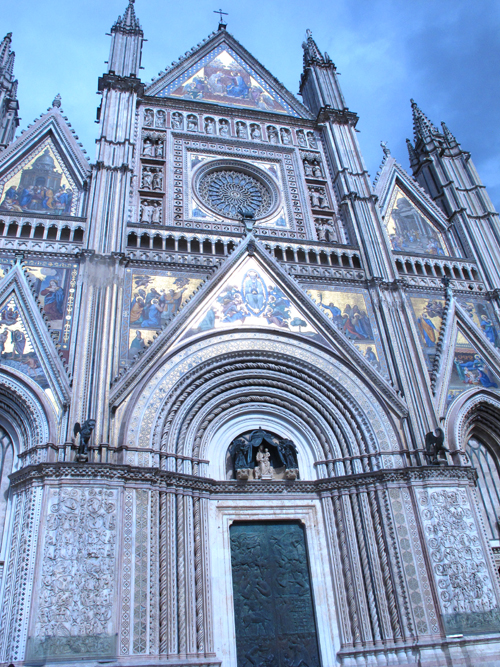 After the Duomo there was an opportuniuty to tour the labyrinth of caves and tunnels that lie below the city. The volcanic rock that the city is built on, known as tuft is quite soft. In the Etruscan era, the Noble families of the city had these tunnels constructed as a means of escape during times of siege. The exit from the tunnels was some distance away from the city walls and the wealthy were able to escape to safety. Several of my friends are a bit claustrophobic and did not want to visit the tunnels, so in the name of friendship, I sacrificed my opportunity to visit the underground world of Orvieto and shopped above ground instead. We got some great dried pastas and bottles of olive oil to take home.
When we were planning the trip and I looked at the first draft of the itinerary, I saw that after touring Orvieto we were scheduled to go to dinner at La Badia, a 12th Century renovated abbey nearby.  I had imagined we would go back to our villa and shower and change before dinner. Everyone, especially the bikers really needed to shower. It was explained to me that the road to our villa was a  long and bumpy 20 minutes off the main highway. If we were to go back to the villa after being out touring all day, chances are no one would want to climb back onto the bus for another bone jarring ride on the strada bianca (translated it means bumpy dirt road!). So my travel agent, Linda, had the brilliant idea of getting 2 hotel rooms (one for the girls and one for the boys) so everyone could shower and change before dinner.
On the ride over to the hotel Cameron pulled out the bag of cookies she had purchased earlier in the day and we all had a little pre-dinner snack (after all it would be at least an hour until we would be eating again!). Within one bite I knew I had found the best thing I had eaten all day. These were a rich crisp butter cookie scented with cinnamon and heavily studded with slivered almonds. I was ready to ask the bus to turn around and return to Dolceamaro in Orvieto so that I could buy several bags to take home, but knew that I would be quickly outvoted so I kept my mouth shut. I am going to try to recreate these at home because they were just so good.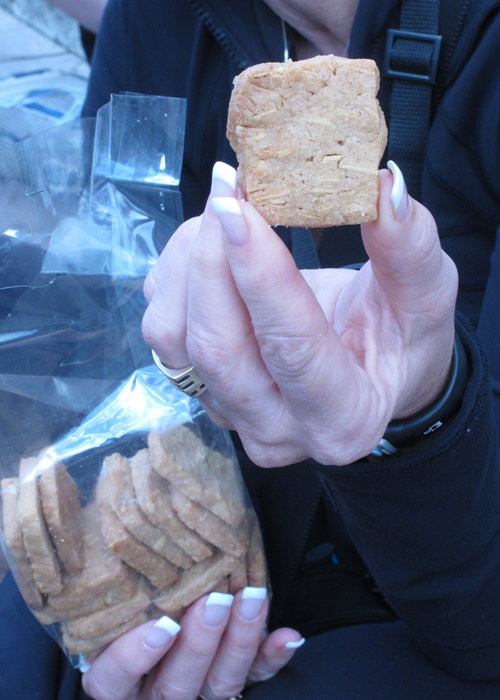 We arrived at La Badia and all the men scurried off to their hotel room to shower and change. Oh to be a fly on the wall of that room! The 9 women hurried off to their hotel room. They had thoughtfully provided us with extra towels and soap. It was quite a sight to see all these grown women showering, applying make-up and dressing together in a tiny hotel room. it was like being back at sleepover camp. By some amazing miracle we were all fully showered, made-up and changed in 45 minutes. I like to say that we are all very low maintenance  women. Some of our husbands may disagree.
The setting was just magical. They had originally planned to do our dinner in the outdoor courtyard, but it was too cool that evening, so we ate indoors. We had a wonderful dinner with lots of laughter. The gnocchi were outstanding, as was the steamed swiss chard (say… I do like swiss chard!!). However, I have to say that the almond cinnamon cookies were definitely the best thing I ate all day.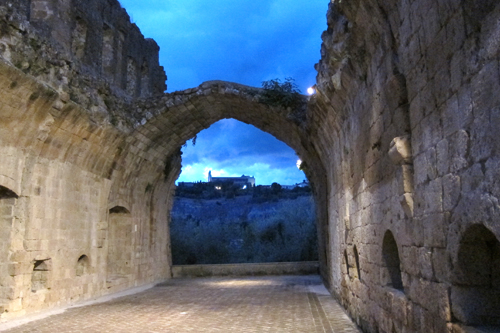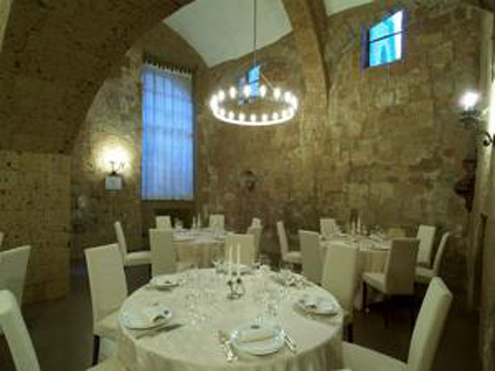 Stay tuned for Day 6 when we find some incredible shopping in the middle of nowhere (in the tiny hamlet of Montechiello), visit a family run organic farm and learn how to make cheese, and end up in Cetona, eating dinner at a 13th Century convent that now is now home to once troubled youths.