This morning we headed out on our little bus, driven by Claudio, to the outskirts of Montepulciano (home of the noble Italian wine by the same name). From there the bikers began their 24 kilometer ride for the day. The hikers headed off on a 6 kilometer trek, taking us through the tiny hamlet of Montichiello, where the plan was to stop and have a cappuccino, before continuing on for a further 3 kilometers.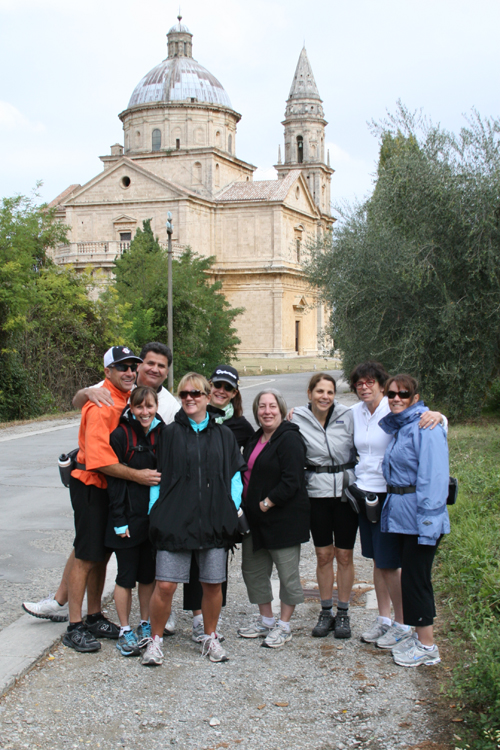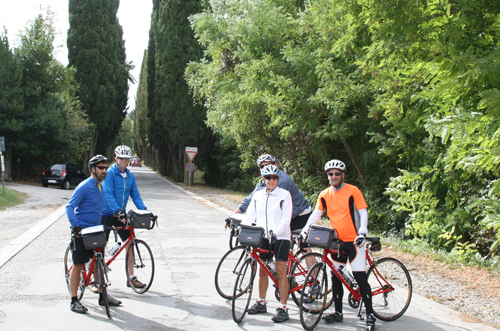 We arrived in Montichiello, huffing and puffing (the last kilometer was almost entirely uphill!)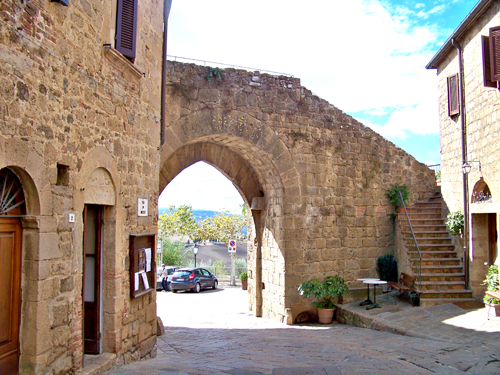 Leif got us seated at a charming outdoor café and went inside to get our drinks. Of course coffee means snacks, and he came out with some almond biscotti and these amazing little crispy cookies. I am not quite sure what gave them their crispy texture, but our best guess, after finishing off the entire platter, was cornflakes.
By day 6, our B&R guides were getting to know us quite well, but we still managed to leave Leif shaking his head in amazement this morning when we disappeared after coffee and managed to find the only clothing store in town. Actually, it was the only clothing store within a 25 kilometer radius, from this pastoral little hamlet. Hidden in a little alleyway, just downhill from the café, my sister-in-law managed to sniff out this shop. She has a nose for these kinds of things. Leif was inside paying for the coffee, when she came running back to the café, all excited, and dragged the rest of the women hikers back to the store with her. We spent a good 45 minutes inside that tiny shop, trying on nearly everything they had. I bought the most adorable grey embroidered fall coat (pictured on the left) and a long grey jersey skirt. The shop was filled with beautiful knits and gorgeous, very boho chic clothing. Think of  Sienna Miller, Kate Moss and Mary Kate and Ashley and you get the idea. Layered knit dressing.
The boutique is called Madalisa and they have another branch in Pienza. The shop owner spoke no English, so Leif had to come in and translate for us. Imagine my surprise to discover that we were not the only group of women shoppers to succumb to his charms! Check out this YouTube video!
http://www.youtube.com/watch?v=cOxMvQ-guyU
We hiked the last 3 kilometers of our journey, laden down with shopping bags, but we just pretended they were resistance weights to make our hike more efficient for our arm muscles!
As we rounded the last corner of our hike, we could smell our next stop, Podere Il Casale, before we could actually see it. Not surprising, given that we were about to visit a farm. But this was not your typical  farm. Podere Il Casale is an organic farm, run by a very unusual family. Ulisse and Sandra moved to Tuscany from Switzerland over 20 years ago. Along with their five sons, the farm is home to pigs, sheep, cows, goats, a donkey, shepherd dogs, cats, bees and peacocks. They produce cheese, pasta, olive oil, honey and pasta.
The farm overlooks the Val d'Orica and has sweeping majestic views of Monte Amiata. On a clear day you can see all the way to Pienza.
Ulisse and Sandra are very passionate about the "Slow Food" movement. While we were having lunch, Sandra explained that the farm is a member of  WWOOOF (Worldwide Opportunities on Organic Farms). This organization links volunteers with organic farmers, and helps people share more sustainable ways of living. In return for volunteer help, WWOOF hosts offer food, accommodation and opportunities to learn about organic lifestyles.
And lunch… what a feast. We had broccoli, tomatoes still warm  from the vine that actually tasted like tomatoes, spicy marinated eggplant, roasted peppers glistening in the farm's own olive oil, farro salad with carrots and sun-dried tomatoes, penne pasta, made here on the farm with tomato sauce, homemade charcuterie, five varieties  of cheese and a local red wine that went down way too easily.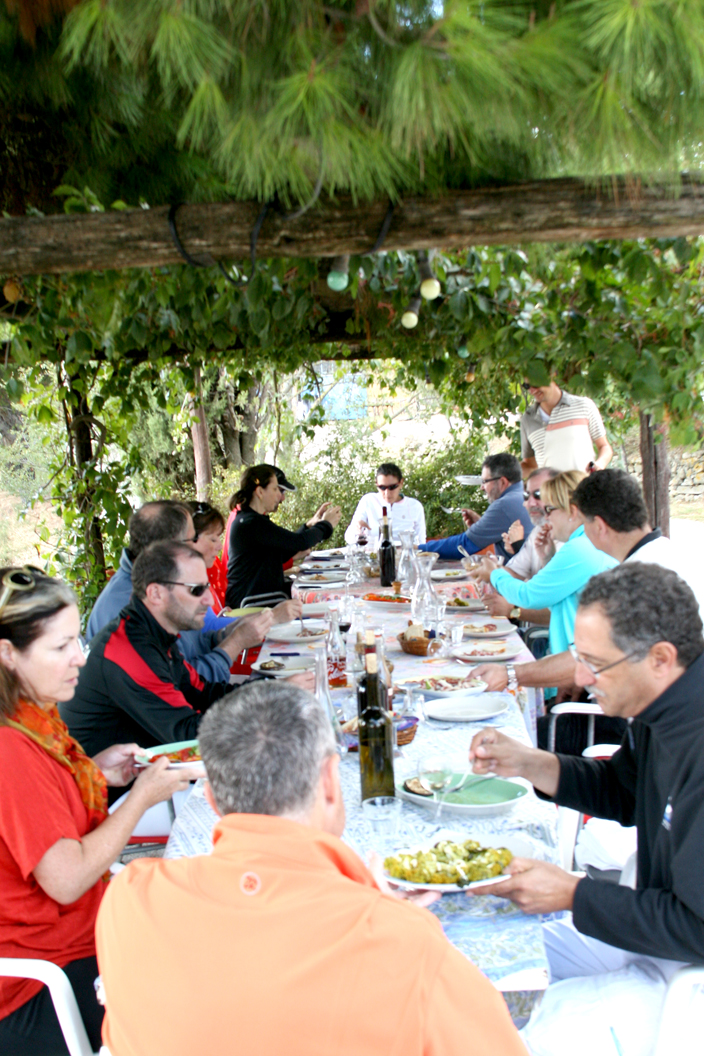 After lunch Ulisse gave us a cheese making demonstration. Dressed in a clean white tee shirt, white jeans and white rubber boots he reminded me of a Swiss Mr. Clean. The cheese making facility was even more spotless that Ulisse. He showed us how he heats sheep's milk and then adds rennet to cause the proteins in the milk to coagulate.  Right before our very eyes, we saw curds being formed as they separated from the whey, just like in Little Miss Muffet!
Rennet in case you were wondering  is a complex of enzymes, produced in the stomach of all mammals to digest the mother's milk. Just a warning to you, if anyone ever passes you a jar of rennet, DO NOT take a whiff. Don't say I didn't warn you.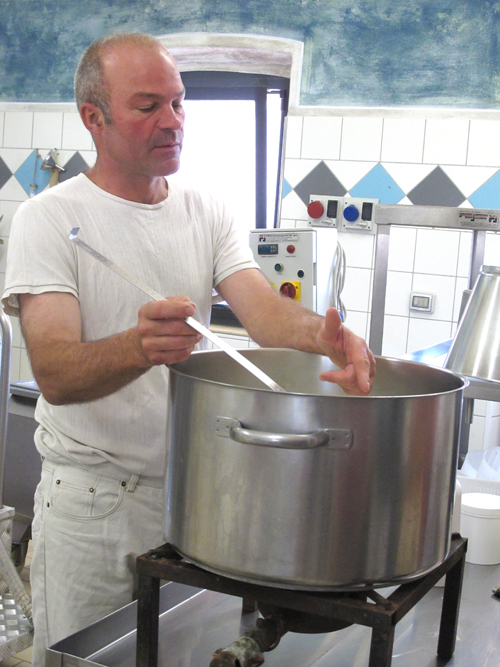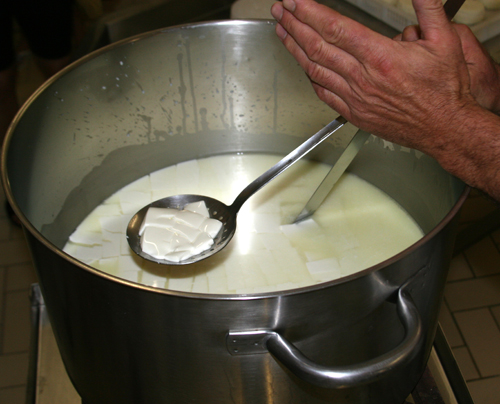 The curds are cut into larger pieces for the fresher younger cheeses and into smaller pieces for the cheeses that will age longer. The curds are then put into molds to compress them and continue draining. The leftover whey is treated to some citric acid and transformed into ricotta cheese. Any excess whey is fed to the pigs. Nothing is wasted on this farm. After draining for almost  24 hours, the cheeses are given a bath in salt water,. This helps dry out the surface of the cheese and creates the rind.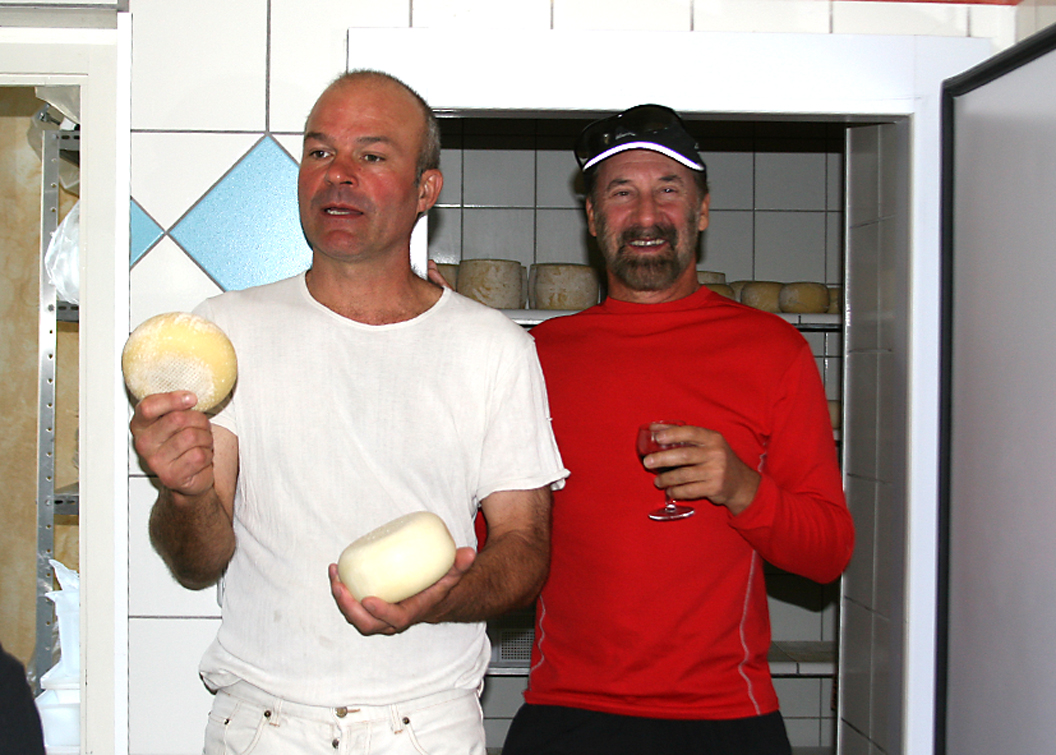 The wheels of cheese are given different treatments for aging. Some are wrapped in walnut leaves, to impart a nutty flavour to the cheese, others are wrapped in ash, and still others are wrapped in straw. Some are allowed to ferment with San Giovese grapes and the wine flavour seeps right into the cheese.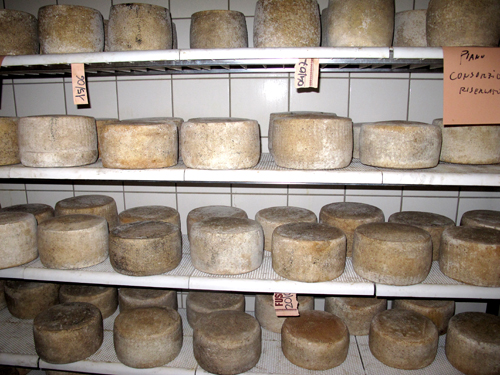 My favourite cheese of  the day, of perhaps ever, was a 2 month old Pecorino, still fresh enough to be slightly creamy and with a nutty saltiness that almost made me swoon. If I close my eyes right now, I can still taste it. Definately a top candidate for the best thing I ate today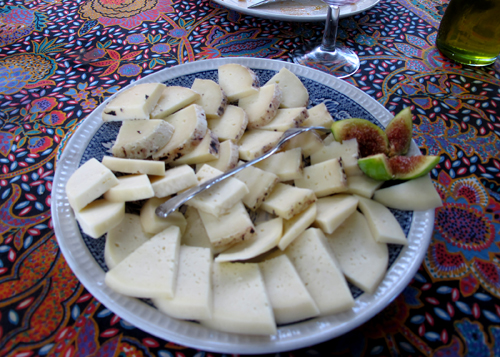 After the farm we visited the town of Montepulciano for a bit of retail therapy, and then it was onto dinner at La Frateria di Padre Eligio, a magical 13th Century Monastery, just outside the town of Cetona.  It took over 17 years to lovingly and painstakingly renovate and restore this former monastery to its former glory. La Frateria was created to offer moments of tranquillity, reflection and peace to those who feel the need. It serves as a type of rehabilitation centre for young people dealing with drug, alcohol or other sorts of personal crises. Under the auspices of  Mondo X, Padre Eligio restored this convent, and several others around the world, as a haven for those in need. It provides these troubled youths with the discipline of a community, which they so desperately need. They garden, bake, cook and clean.
We had aperitivo in a room which contained, for want of a better description, a walk in fireplace. It was huge! My husband, a card-carrying pyromaniac, was busy taking pictures and measurements, trying to figure out how we could build one at our house!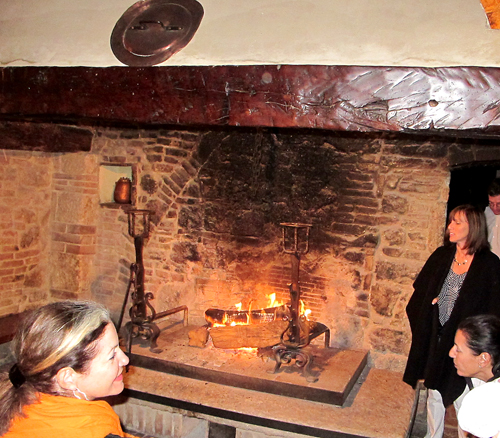 Accompanied by flutes of Prosecco, we feasted on wood-oven baked bread, olive and caper patè, preserves, salted meats, enormous wheels of local cheese and extra virgin olive oil milled by the young people using the original old stone millstones.
This minor feast was followed by a major feast in the dining room. We began with smoked salmon, followed by fragrant saffron risotto and then some tender pillows of homemade ravioli filled with local beans and a pesto sauce. I inhaled them before I had a chance to take a picture. So sorry, just got carried away! For secondi we had a choice between flaky white fish braised in Orvieto wine or Brasato Barolo (veal braised in Barolo wine).
The service was impeccable. The waiters would silently appear before you to refold your napkin, refill your water-glass or whisk away some imaginary crumbs, and then, just as quietly, slink away.  It was slightly unnerving and just a little bit creepy. That being said, you have to admire what is being done here to turn around the lives of these troubled youths.
The bus ride back to Casali di Monticchio was, as you can imagine, silent, save for the occasional gentle snoring as most of us slipped into a carb and alcohol induced coma. We were rudely awakened about 10 minutes from the villa when Claudio slammed on his brakes to avoid hitting a giant wild boar. Ah, life in the Umbrian countryside.
Stay tuned for Day 7 when we visit Firenze (Florence) where our well-trained B&R guides almost lose their carefully crafted composure and we eat bread in the shape of a femur bone at one of the best restaurants I have ever had the pleasure of dining in!