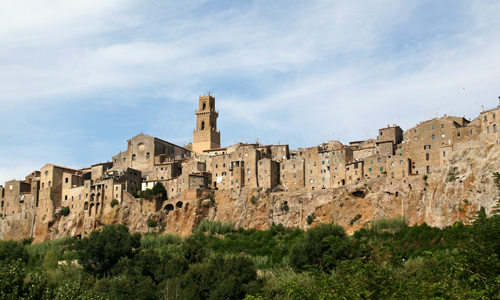 This morning, after breakfast, we headed out in the mini-bus and were dropped off about an hour's hike away from the town of Pitigliano. This little hillside town, south of Florence, on the Tuscan border, has a fascinating Jewish history. Our guide for the day was a young woman named Elisabetta. She grew up in Pitigliano as a history and archaeology scholar. She also runs the local library in Pitigliano. As we hiked into town, she gave us a brief history of Pitigliano.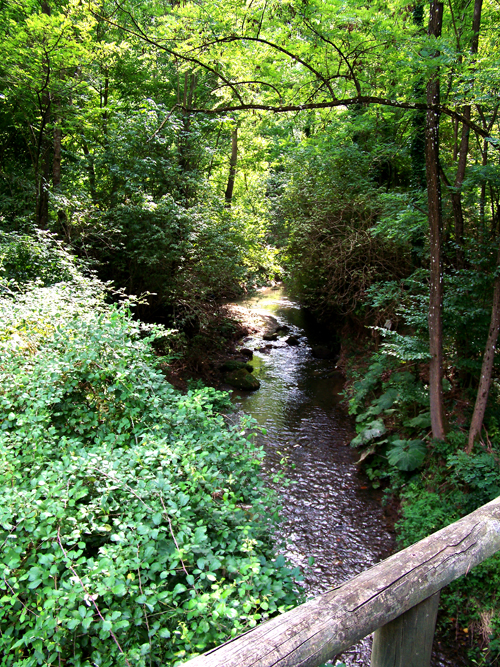 Jews began settling in Pitigliano in the 15th Century. The Jewish population continued to grow as more Jews were forced out of Rome because of Pope Paul IV's segregation policies, requiring Jews to live in ghettos. Pitigliano was an attractive place to settle for many Jews because it was not part of the papal state and was an independent province, ruled at the time by the Orsini family. The Orsini's social policy was quite laissez-faire and the Jews were permitted to live a freer lifestyle. A synagogue was built in 1598, followed by the construction of a school. Jews were permitted to set up their own businesses as carpenters, tailors, weavers, shoemakers and moneylenders. The city soon became known as La Piccola Gerusalemme or "Little Jerusalem."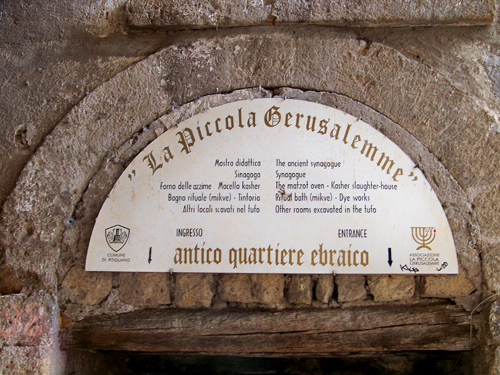 Over the next several hundred years, depending on who was in power, the fortunes of the Jews of Pitigliano either waxed or waned. However, despite restrictions during various periods, the Jewish community continued to grow and prosper.  In the mid 1800's the Jewish population of Pitigliano reached almost 400 people, which represented over 10% of the total population.
After the unification of Italy in 1861, the Jewish population of Pitigliano began to decline. Many Jews moved to larger cities nearby for economic reasons.  By 1931, there were only 70 Jews left living there.  Anti-Semitism was rampant by 1936 and then in 1938 racial laws were instituted. During the Holocaust, the brave Christian people of Pitigliano risked their lives to hide and save Jews that were escaping from the Nazi terror. They hid them on farms in the valleys and in caves up in the hills.
After the war, only 30 Jews returned to Pitigliano. The synagogue had been damaged during the war. Today despite the fact that there are only 3 Jews left in Pitigliano, the Jewish cultural heritage has been preserved. The synagogue was rebuilt in 1995. One of those Jews is Elena Servi.  She is president of Associazione La Piccola Gerusalemme (The Association of Little Jerusalem), an organization made up of both Catholics and Jews. Elena and her nephew have made it their life's mission to tell the story of the history of Pitigliano so that future generations can learn from it.
It is a beautiful story of cultural and religious co-existence, tolerance, compassion, respect, friendship and affection between Christians and Jews. The association has raised funds to restore and preserve all the Jewish monuments in the town, including the Synagogue, the "Forno di Asimo" (the Kosher oven) and the Jewish Cemetery. The citizens of this town honour the memory of the Jewish citizens that once thrived in this place. They feel strongly that it is important to remember and preserve the history and maintain these sites so that it will never be forgotten. It is a very moving tribute.
A beautiful web site, devoted to Pitigliano has been created by one very special man. Click HERE to check it out!
We went to see the Kosher oven where matzoh for Passover was baked so many years ago.
We had the privilege of meeting Signora Servi and she spoke to us about her experiences during the Holocaust. She and several members of her family left the town in November 1943 and were hidden away by farmers and peasants, outside of town, moving from one small farm to another, until June 1944. The last 3 months of hiding were spent in a cave under the protection and support of a local Christian farmer.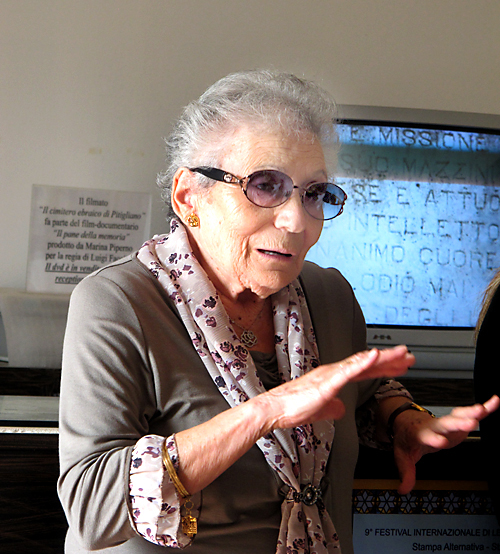 After meeting with Elena, Elisabetta took us over to an old wine cellar (Cantina Sociale) where we were served an incredible lunch.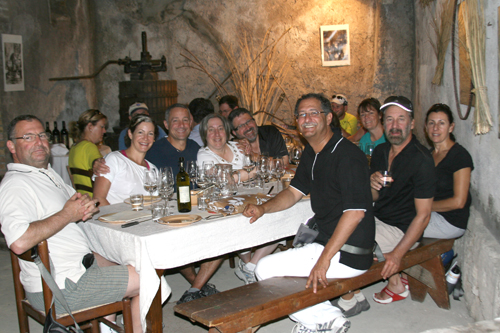 Platters of food kept arriving at the table. Of course the requisite Pecorino cheese made an appearance. We had a 2-month old one which tasted very fresh and nutty and a 1-year-old one which was drier and had some straw undertones. Then they brought Stracchino, a mild soft white cow's milk cheese to the table with 3 sauces (cactus, acacia honey and pear and pepper) to accompany it. The name of the cheese derives from the Italian word "stracca", meaning "tired. It is said that the milk from tired cows coming down from the alpine pastures in the fall, is richer in fats and more acidic. These qualities were discovered, according to legend, in the milk of cows who were moved seasonally, up and down the Alps to different pastures. The milk of such cows gives the cheese its characteristic flavors. It has a mild milky flavour, similar to cream cheese but a bit more acidic, with just a hint of tartness. It just melts in your mouth. When paired with the sauces it became something different all together. I loved it best with the pear and pepper sauce.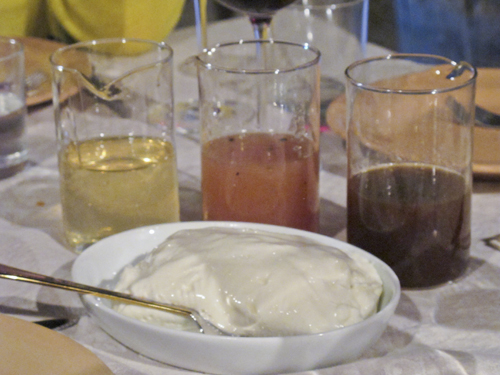 The crostini with olive oil was unbelievable. I have never had an olive oil this fruity. The olive oil soaked into the toasted bread and softened it ever so slightly. There were two kinds of farro salads, both with chickpeas. The first had thinly sliced purple onion and was dressed simply with olive oil and sea salt. The second had tomatoes and basil and was also dressed with olive oil and sea salt. I could not get enough of these farro salads. My favourite eat of the day! The chewy nutty farro contrasting with the creamy chickpeas was an unbeatable combination. When I came home I created my own version of this, adding pickled shallots.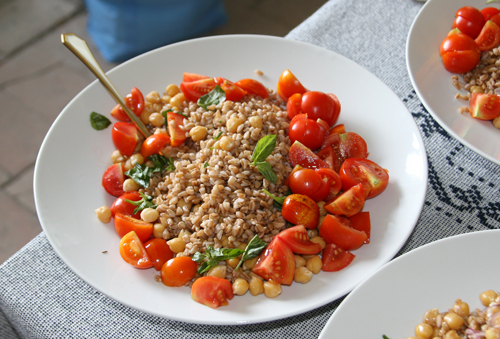 Of course we were served kosher wine, produced by The Pitigliano Cooperative Cellars. It is sold in a winery just outside of town.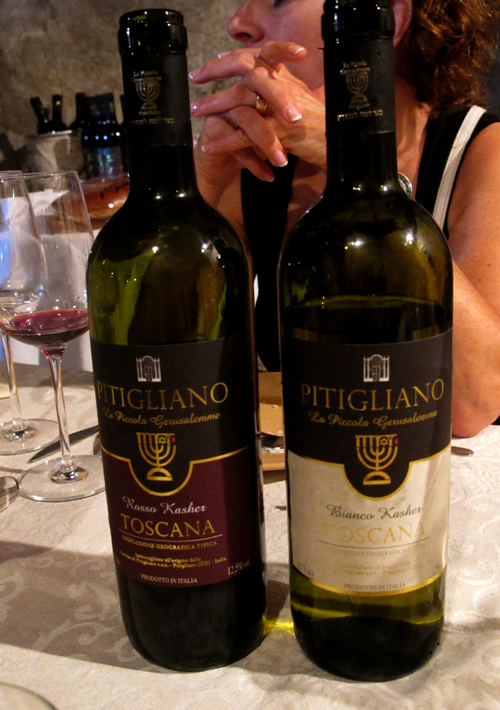 We finished with a wild cherry and sheep's milk ricotta cheese pie.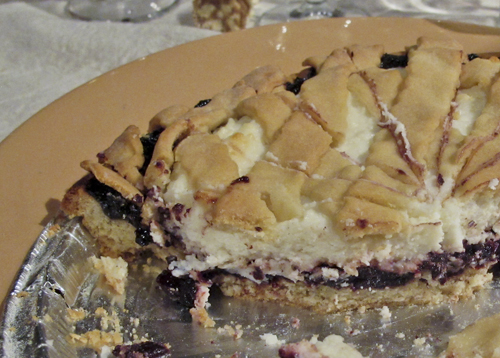 After lunch we had a chance to tour the wine cellar.
Then it was time to visit the Synagogue.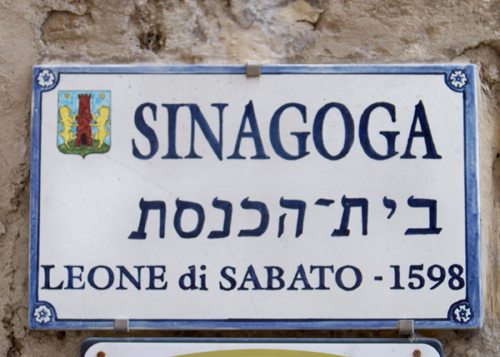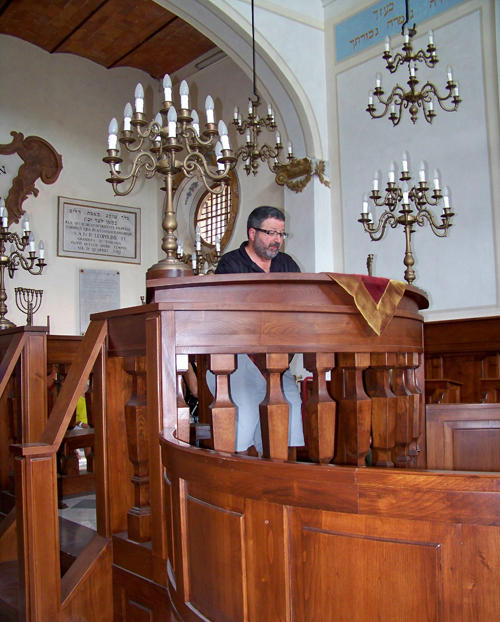 Once inside the synagogue, one of our friends asked Elisabetta if it would be okay if he could lead our group in the mincha (afternoon prayer) service. To hear Hebrew being sung in this place was very emotional for all of us. This  town of mostly Christians wish to honour the memory of the Jewish citizens that once thrived in this place. They feel strongly that it is important to remember and preserve the history and maintain these sites so that it will never be forgotten. It is a very moving tribute that left me feeling very hopeful about a future when all religions can peacefully co-exist.
After we left the synagogue, we felt kind of drained of all our energy, but in a good way. We just wandered around the town, taking it all in. The buildings in this walled city are constructed out of the soft yellow volcanic rock, "tuff." The cobblestone streets are narrow and the pride the residents take in their homes was beautiful to see.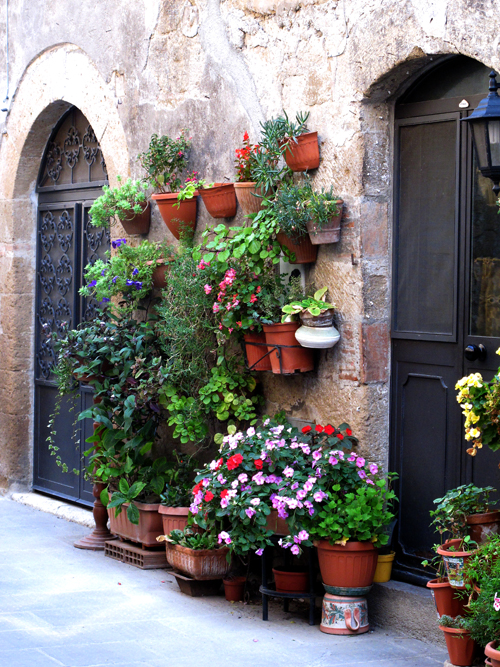 We discovered that Italian cats like to dine on pasta,  elderly men in Pitigliano like to hang out in a group, outside on benches, just like elderly gentlemen all over the world and my friend Philip discovered that the women of Pitigliano are incredible flirts.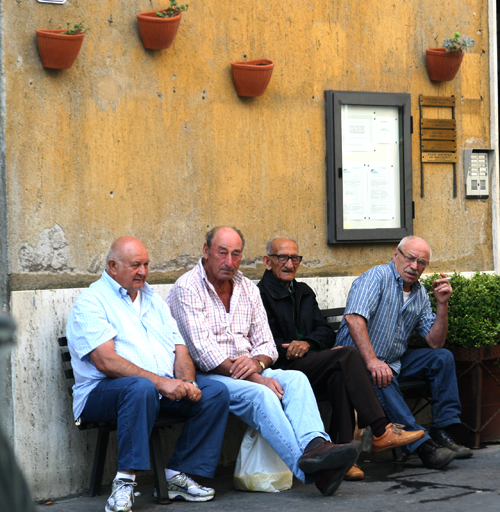 Stay tuned for Day 9 when we become totally shallow, abandon all interest in culture and history and visit the Italian outlet malls!