I know it's a little too early to start thinking about potato latkes, since the first night of Chanukah is not until December 20 this year. But I have a good reason for posting about them now. You see, ever since I saw Chuck Hughes  make these on his show, "Chuck's Day Off", it's all I could think about.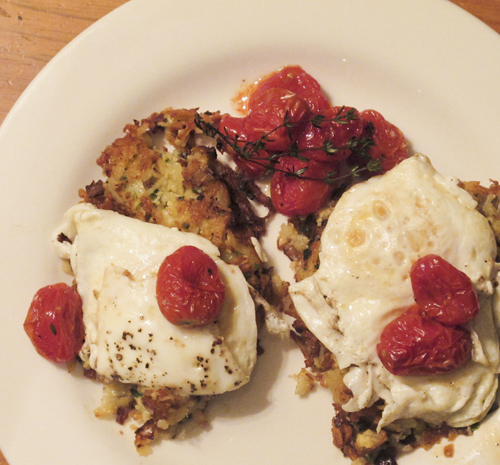 Now, before you continue reading any further, I must warn you that I am about to gush big time. So, if public displays of affection make you at all uncomfortable, perhaps you should stop reading this post right now. To be perfectly honest, Chuck's been on my mind quite a bit lately. You may recall that I posted about Chuck in April, and then again at the beginning of this month. I guess you could say that I'm a bit smitten with him. For the record, I am happily married (not to Chuck!), but celebrity crushes are permitted. I think it's actually healthy for our marriage.
For those not familiar with Chuck, check out this short video of him on YouTube, and you'll see what I mean.
Chuck cooks on his day off for friends, family and his suppliers as a way of saying thanks. In one episode he made adobo pork shanks, fried rice and pineapple coconut pie for Edgardo and Burt, the father and son team that cleans his restaurant. How could you not love this guy?
He made these latkes for his pots and pans suppliers. He topped them off with a dollop of ricotta cheese and a fried egg. And on the side, he served roasted grape tomatoes and sautéed zucchini. The first time I tried the recipe, I made it exactly as Chuck did, but to be honest, the ricotta and the sautéed zucchini really muddied the flavours of the potato and egg. The roasted tomatoes, however, really brightened up the whole dish. Their acidity balanced the richness of the fried potato and egg.
Chuck's latke method is more like the Swiss dish "röesti potatoes", than traditional potato latkes. He parboils the potatoes first, then shreds them and mixed them with onion, chives, eggs, cayenne, salt and pepper. I gave his method a whirl but must admit, I like using grated raw potatoes. I find you get a crispier latke that way.
Grape tomatoes get a drizzle of olive oil, salt, pepper and some thyme.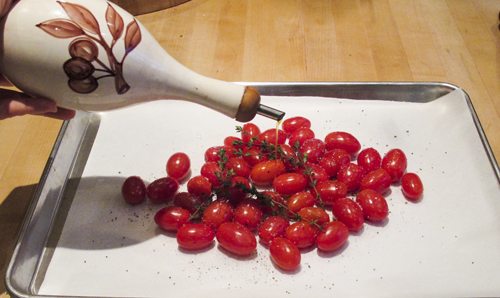 After 45 minutes in the oven they come out all wrinkled and sweet.  They can be made in advance and sit at room temperature while you make the latkes and fry the eggs.