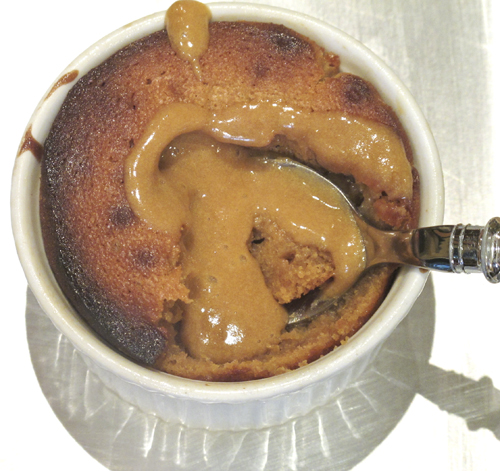 There is a cerulean blue file folder, sitting on my desk, to the left of my printer. It contains recipes and cooking ideas that I hope to try out one day. Some of these recipes I have printed off the internet from food blogs, Food Network shows and other food related sites. Others are torn from the pages of various newspapers and magazines. It is an unweildly bulging mess. Every so often, I go through the folder, and toss out things that no longer appeal to me in my current state of mind. For example, last week I tossed out a recipe for Poached Tongue with Tangy Tomato, Olive and Caper Sauce. The week before, I threw out a recipe for Malabi (a Middle Eastern milk pudding). What was I thinking?
And then there are the recipes that never get a chance to make it into the "to try one day" folder. You read about something or see a chef prepare it on TV and you are immediately mobilized into action. You must make it NOW! It's all you can think about. That happened to me last week. I had several other pressing matters (like making dinner) to take care of, but I just ignored them and began rummaging in my kitchen cupboards to make sure I had everything I needed to make Molten Caramel Cake.
When I watched Chuck Hughes prepare these little cakes on his Food Network show last week, I was transfixed. First of all, molten caramel! Who even know you could do molten caramel cakes? Of course I had heard of molten chocolate cakes, but caramel…I just never imagined such a glorious thing. I am not a huge fan of the chocolate variety. Warm gooey chocolate just doesn't do it for me. I like my chocolate like I like my men… solid! Caramel is a completely different story. Caramel is meant to be warm and runny and sticky. These little cakes are amazing. They take about 10 minutes to put together and 15 minutes to bake. Almost an instant dessert. You will not be sorry you ignored everything on your TO DO list to make these. Trust me, they're worth it.
White chocolate and butter are melted, then whisked together. While I was waiting for the white chocolate to melt, I took a picture of my newly organized pantry shelves.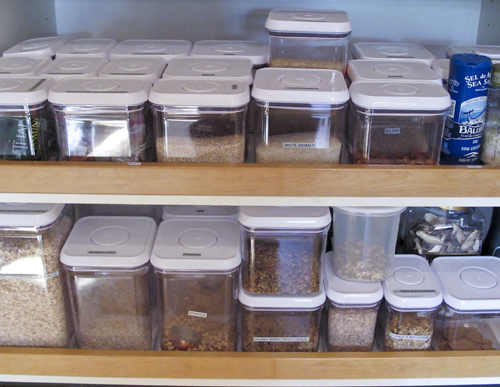 I just have to share with you these new storage containers I am currently obsessing over. They are made by OXO Good Grips. They're amazing for a few reasons. First, the seal is extremely airtight. Second, they are square so you can fit more containers in your space than round containers. Third, the tops are flat, so they stack very well, also maximizing space. And finally, they are so much fun to open. Watch my demo video!
Once the white chocolate and butter are melted, whisk in some ready-made dulce de leche. The Presidents Choice brand is quite good. And Williams Sonoma makes a delicious one as well, according to my sister-in-law.
It is important to take the time to whisk the eggs and sugar together properly. It takes about 5 minutes to get the mixture to double in volume.
After 15 minutes they were done. We waited about 45 minutes before we ate them, but they would be wonderful hot from the oven too. The magic happens when you stick the spoon into the middle of the cake and warm caramel comes oozing out. What could be better?  They were still delicious the next morning for breakfast with a latte.