Before I get down to the business of reporting on Day 10 I am excited to share with you the debut post of a brand new young food blogger. (O.K, full disclosure here, it's my daughter, and I couldn't be prouder). Check out her first post at http://bostonbakesforbreastcancer.org/tales-of-a-chocoholic/
O.K. back to Day 10 in Umbria.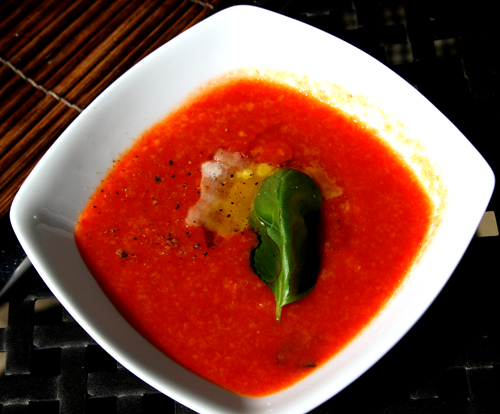 My original plan, when I embarked on my trip to Umbria, was to blog at the end of each day, about the single best thing I had eaten. Boy was that a naive plan! First of all, trying to narrow down the best thing you ate all day, while travelling through Italy, is no easy task. Almost every morsel I put in my mouth had me declaring, "Could be the best thing I"ve eaten today!" Secondly, after attempting to blog on my first night, full with both food and wine and exhausted from touring all day, I quickly realized I would not be able to write a very coherent post. So I decided to take lots of photos and notes and do it all when I got home. I arrived home on Sept 25! It has taken me over 7 weeks to post about all 10 days, but here we are, finally at the end.
We decided to just hang out at our incredible villa for our last day before the magic was over, and we all turned back into pumpkins to return to our real lives. Although, the body shapes of some of us was beginning to resemble pumpkins, after 10 days of eating our way through the Umbrian countryside. Over breakfast we just feasted our eyes on the incredible views from our terrace.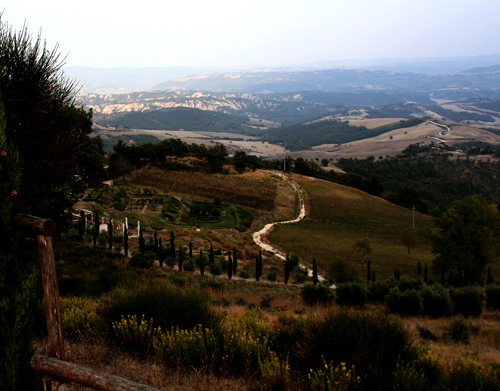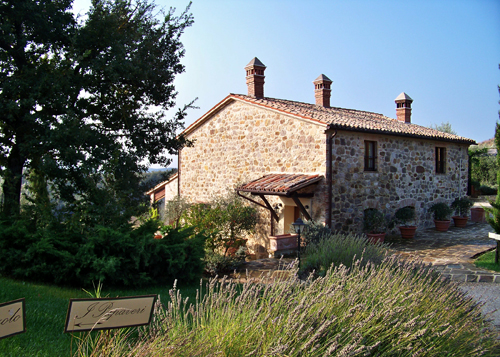 Liria, our wonderful host, volunteered to give us a cooking class this morning. She offered to teach us whatever we wanted to learn. Without even hesitating, I told Liria I needed to know how to make pappa al pomodoro, the Tuscan tomato bread soup I'd eaten at Cibreo in Florence. Without a doubt,  this was the best thing I ate on our trip. I was smitten with this soup.
We gathered in the kitchen and Liria outfitted us with out aprons, chef"s hats and gloves. Gloves??? Wow, I was impressed. When I remarked to Liria how blown away I was with her attention to hygiene, she laughed and said, that she only wears the gloves to protect her manicure and figured  that we were like-minded women. Boy, had she pegged us right!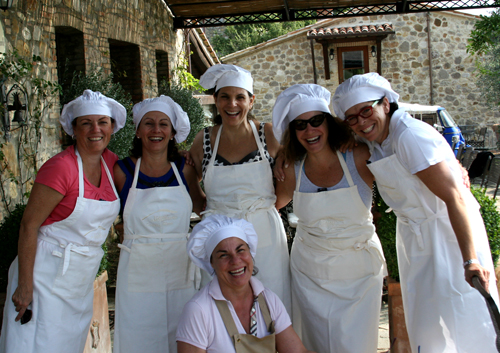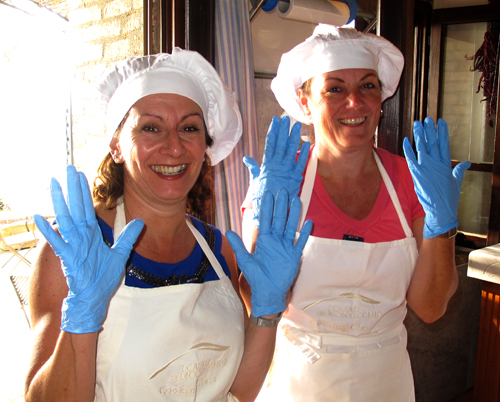 The kitchen here at the villa is a sight to behold. I coveted it all, but most especially, the induction cooktop. I had always thought that a gas cooktop was the best, but the temperature control you get with this cooktop is incredible. The marble  back splash was nothing to sneeze at either!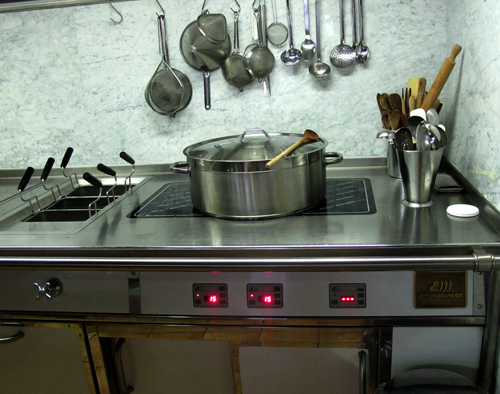 We began with fresh plum tomatoes, basil, spring onions and salt. They were simmered for about 15 minutes and then transferred to a food mill for processing. The food mill is an extremely handy kitchen tool. The skins and seeds of the tomato are separated from the flesh and no peeling is required on your part! It also makes incredible applesauce (no peeling required) and wonderful, fluffy mashed potatoes. We all got a chance to have a spin.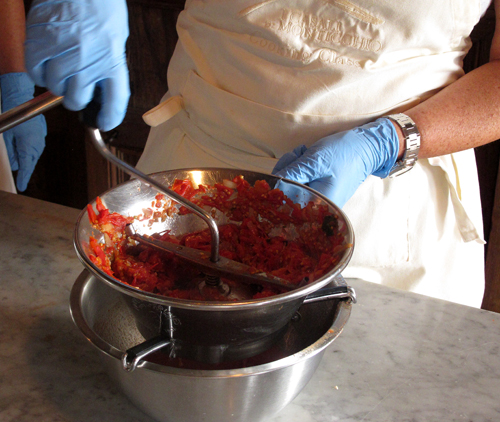 While the tomatoes were being milled, Liria gently simmered some garlic, basil and, her secret ingredient, whole cloves, in a generous glug of olive oil. I was shocked that she used cloves. They are one of the few spices I can not stomach the aroma of. I find them extremely cloying and leave them out of every recipe that calls for them. Liria said that she only uses 4 of them for a huge pot of soup and you can't really taste them. They just add a background note that enhances all the flavours. She stressed that low heat is key at this stage, as you do not want to brown the garlic, as it would become bitter. After a 10 minute low simmer, the tomato puree is added and that cooks for an additional 10 minutes.
The final addition is breadcrumbs to thicken the soup.
After an additional 10 minutes of simmering, the soup is ladled into bowls and finished off with a drizzle of extra virgin olive oil and some fresh julienned basil.
Click here to get the recipe for Papa al Pomodoro.
 After lunch we had a chance to tour the gardens and see all the fresh produce that grows here at Casali di Monticchio. Grapes, eggplant, olives and figs are just a few of the things we observed, in addition to chickens in a coop for farm fresh scrambled  eggs every morning.
 For our farewell aperitivo, Liria pulled out all the stops and fed us a feast. Even the villa dog, Parcetta, perked up when the prosciutto came out!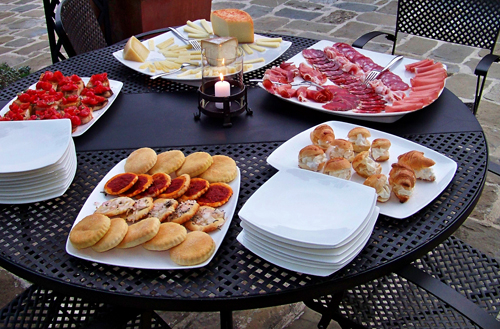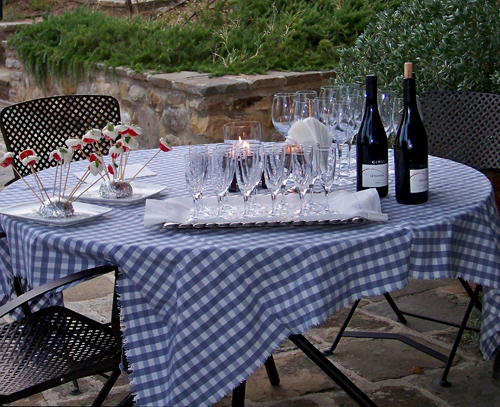 I feel so grateful to have such wonderful and loving friends to have shared this incredible journey with. What a ride it's been! Thanks to all who have followed along to read about our adventure.