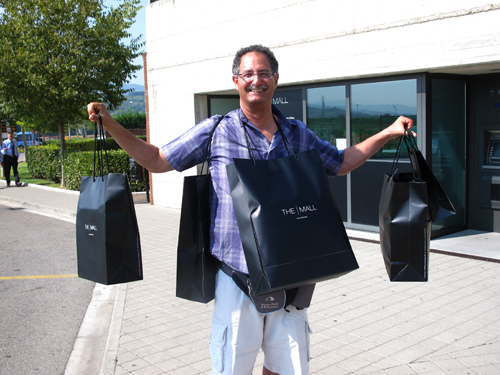 Just realized I completely forgot to tell you all about the best thing I ate each and every morning for breakfast at our villa, Casali di Monticchio. Each morning Liria and her daughter Johanna, set out a buffet for us. Before we arrived, an e-mail went out to all the guests asking us about our food preferences. Apparently 12 out of 18 of us requested non-fat greek yogurt and berries with granola for breakfast. I know… we are such an exciting bunch! I will not divulge what the other 6 asked for.
Each morning, I started my day with had a bowl of yogurt with fresh berries, sometimes ripe peaches and bananas and always a small handful of this incredible granola sprinkled on top. It was sweet, but not too sweet, had lots of nuts and seeds and some coconut and just a few dried fruits. But the best part was that this granola had huge clumps. Everyone always eats the big clumps of the granola first and leaves the little crumbs in the box for the end. This granola had very few little crumbs and lots of huge clumps which maximized the yummy crunch factor! I needed to get Liria's secret granola recipe. When I finally remembered to ask her this morning, she went into the kitchen and came out, sheepishly holding a huge bag of Kellogg's fruit and nut granola. I have been searching for it ever since I came home but can't find it. I think it is something developed for the European market. It will haunt me for a very long time.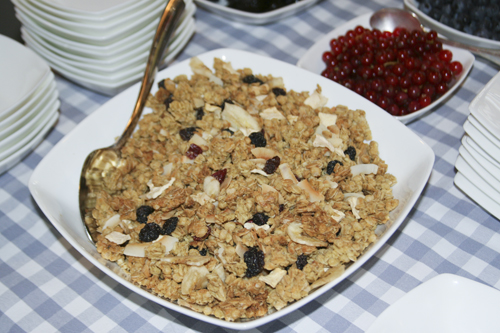 Fortified by this excellent breakfast, about 8 of us headed off on the mini-bus, with Claudio, our ever-faithful driver, to the outlet malls. When we were first planning the trip, my travel agent, Linda, looked over the itinerary and noticed that we had not scheduled any official shopping time. WHAT?? How could I have forgotten to do that? When I asked her what she would recommend, she quickly responded that we must visit the outlet malls, situated just outside of Florence. When some people hear the words, "outlet mall", the adrenaline starts pumping through their veins and their pulse starts to race just a bit faster. I'm just not one of those people. Don't get me wrong, I get just as giddy as the next Canadian woman when I come within a 1 mile radius of a Target store, but outlet shopping always ends up disappointing me.
The clothes are usually just heaped on shelves and racks and I find that so aesthetically unappealing. I just don't have the vision or the patience to sort through it all. The changing rooms are usually scuzzy and they have a limit on the number of items you can take in. Sometimes the change rooms do not even have mirrors and you have to come out to look in the mirror in a general changing area. I hate that! And finally, most of the stuff in outlet stores is the kind of stuff you would have felt quite "fashion forward" in last year but left you asking, this year, "What was I thinking?"
After I explained this all to Linda, she started to laugh at me. She explained that Italian outlet Malls are nothing like North American ones. They are very high-end and while the items may be last season, most of the designs are so classic, they will become wardrobe staples for a very long time. My girlfriend Marla is an excellent shopper. She has incredible patience and stamina, both of which you need in abundance to shop sales and outlet malls. She has a knack of combing through the sales racks and finding that one gem. That one flexible classic piece that can be dressed up to go black tie or can be worn with jeans to go for coffee. I love to shop with her, follow her into the change room and try on all her rejects. All the glory and none of the hard work. Luckily, she would be joining us on the outlet shopping trip in Italy.
The build-up to our shopping day was kind of intense. We decided to visit "The Mall" (it's actually called that!) and "Space". The Mall is a beautiful high-end outdoor outlet shopping centre located in the town of Leccio, about a 30 minute drive from Florence. Shops at The Mall included a veritable who's who of big name designers.  Alexander McQueen, Armani, Balenciaga, Bottega Veneta, Burberry, Dior, Fendi, Gucci, Hogan, Loro Piana, Marni, Pucci, Roberto Cavalli, Salvatore Ferragamo, Sergio Rossi, Stella McCartney, Tod's , Valentino, YSL, Zegna. "Space" is the Prada Outlet store. There was quite a discussion about which to visit first, "The Mall" or "Space." We had heard that there were huge lineups at Space and they only let 100 people in at a time. In developing our strategy, we consulted Liria, the owner of our villa. She advised us to visit The Mall first and then Space. She said that lineups on a weekday in September would not be an issue.
When our bus pulled up at The Mall, Marla had her shopping strategy well mapped out and made a beeline to the Marni store. We all followed her like baby chicks after their mother hen!  The mall was everything Linda had promised. The grounds were beautifully manicured, the stores well-lit and appointed and all the wares were beautifully displayed. You would never guess you were in an outlet mall. The staff all spoke English, and were very helpful. No attitude at all. The changing rooms were large and well-lit  with mirrors. Best of all, there was no limit on the number of items you could take in at once. We were very successful at The Mall, and most of us found at least one or two treasures. My brother-in-law, (first photo in this post) was happy to be our bag mule as long as we fed and watered him.
I was so busy trying on clothes and attempting to keep up with Marla's speedy pace, that I only managed to take a few photos. Most of these are from The Mall's own website.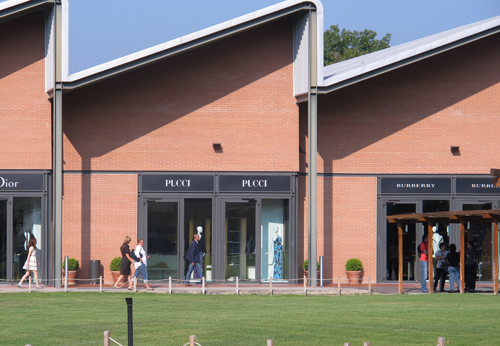 After The Mall, it was off to Space, the Prada Outlet. Located in an industrial area, just outside the town of Montevarchi, there were no identifying signs to let you know you had arrived. I guess Prada does not want to advertise that they have an outlet store. Try as they may to hide this outlet store, Claudio, our trusty driver, managed to ferret it out!
There was no line-up at all when we arrived, so we sailed right in. When you first enter the store, a very handsome Prada model hands you a ticket with a number on it. This is your PIN number for the day. You are not allowed to take items you wish to purchase from one department to another. Once you try the item on and decide you want to purchase it, you hand the items over to a sales associate and they set it aside with your PIN number. When you are all done shopping, you proceed to the checkout and all your items magically appear. Luckily, you are still able to change your mind at the cash and they don't even get snarky about it!
Prada knows a thing or two about merchandising. Upon entering, straight ahead, front and center, is the shoe department. Like moths to a flame we were drawn right in! Purses, accessories and collection pieces are on the right hand side of the store and skin care, sunglasses and sportswear flank the left side of the store. Menswear, as usual, is buried at the back. I'm always surprised that men don't have a complex about this.
Although this was an outlet store, the displays were quite beautiful and there was a large selection of items and sizes. I managed to find a beautiful black cashmere sweater for 70% off and a cute little evening bag to bring home to my daughter, as a consolation prize for daring to go to the Holy Grail (Prada Outlet) without her! Prices were really good. One friend bought two purses, one for herself and one for her sister. (Lucky sister!) My sister-in-law got some gorgeous shoes that we all coveted. All in all, a successful trip!
Stay tuned for Day 10 (our last day before going home – sob!) when we get a cooking lesson from Liria, in her fabulous kitchen!