My youngest sister once told me that the sight of 24 pounds of unsalted butter in her freezer makes her very happy. I have to admit, the same is true for me. Although in my case, the butter would all be neatly stacked in orderly rows. In my sister's freezer, more like haphazardly thrown in wherever they would fit. Now, that's not a dig at my sister. It's just part of her unique charm.
Why, you may be asking, would these sisters need 24 pounds of unsalted butter in their freezer at any given time? Do we operate a bootleg bakery out of our homes? No. Were we children who came from poverty? No, as a matter of fact, we grew up in a middle-class suburb of Toronto. I guess you could say we come by our hording honestly. Our mother stockpiled our freezer with Swanson's T.V. dinners and chicken pot pies, Sara Lee Banana Cakes and Highliner fish sticks. We hoard butter because you never know when the urge to bake will hit, and you must never be caught unprepared. We both love to bake. We both find baking an extremely creative outlet and a way of showing our love to those around us.
Rather than shop for gifts for all the people in my life for whom I am grateful, I decided many years ago to bake. And somehow, over the years my gratitude has grown to include a circle of about 40 people! I usually bake about 7 or 8 different kinds of treats and package them all up in a beautiful unique container.  There are a core 4 items I bake that must be included each year. If I leave any of them out, there may be a mutiny. These treats include Peanut Butter Bark, Chocolate Peppermint Cookies, Lemon Coconut Cookies and Gingerbread Snowflakes.
This year I added a few new items to the mix. The first are Biscotti Slabs. These are a creation of Montreal baker Marcy Goldman. Essentially, you take a typical biscotti batter, bake it in a loaf pan, chill, slice, re-bake and voilà: a new product. Slabs of crisp cookie-like biscotti with a delicious middle layer of chocolate and pecans and a glittering topping of cinnamon sugar. These are serious biscotti. Perfect for breakfast with a cafe latte. Anyone I have ever offered them to looks at them and says, "Oh, these are huge, I'll just have a small piece." They break off about a third, nibble on it quietly and then come back and finish the rest off. Sweet, but not too sweet, crunchy and quite addictive.
These biscotti begin with melted rather than softened butter. Marcy uses melted butter in many of her recipes. Not quite sure why this is. If you are melting the butter in the microwave, save yourself a lot of grief and a huge butter explosion and cover butter with a sheet of waxed paper first!
Butter and sugar are creamed together. Be sure to take the time to do this properly. It takes at least 4-5 minutes of creaming. It should look like this when it is done.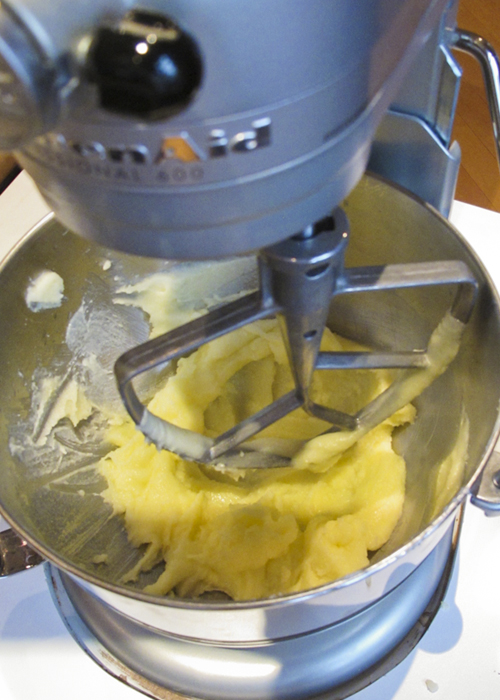 Eggs, vanilla, flour, baking powder and salt are added to complete the batter.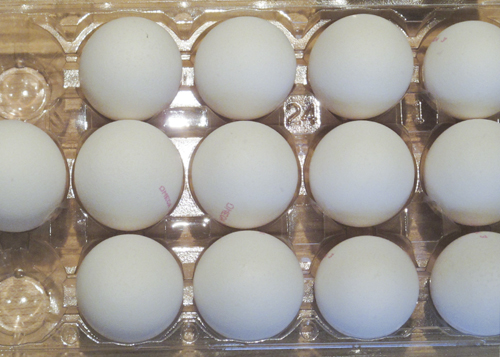 Here is my foolproof technique for lining the baking pan. No greasing required and the biscotti slab will lift out very easily without any sticking.
Toasted pecans and bittersweet chocolate are chopped up to make the biscotti middle layer.
Mix together some cinnamon and sugar.
Then it's time for assembly. Spread half the batter into the prepared loaf pan. Use wet fingers to spread it evenly. Spread the chocolate and pecan topping evenly over the batter. Sprinkle on half the cinnamon sugar mixture. Top with remaining batter and finish with a dusting of remaining sugar-cinnamon mixture.
Bake for about 50 minutes. Let cool completely and remove loaf from pan. Wrap well in foil and freeze for about an hour. Then slice into slabs and bake a second time.
Arrange slabs on baking sheet and bake for an additional 10-15 minutes until crisp and slightly browned. They will continue to firm up as they cool.