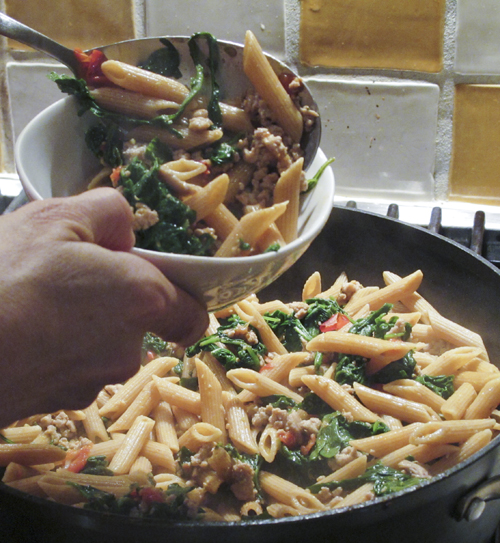 You think you know a person.  You sleep together in the same bed, glare stare across the dinner table at each other, floss together every night, for almost 26 years, and you think you know this person inside and out. But then, suddenly you discover something about them that shocks you to your very core. Or in this instance, leaves you scratching your head saying, "huh??"
I'm speaking here, of course, about my husband of a quarter of a century. For the past 6 months, at least once a week, I have been making this pasta dish. And every week, he eats it, cleaning his plate, without comment. All of the sudden, this week, he looks at me and says, "Next time, can you leave the weeds out?"
Weeds?? Upon further discussion, I discovered he was referring to the wilted arugula and spinach that I add to this pasta dish. He finds the texture of sautéed green off-putting. I love them! So much so, that I plan to continue making this dish every week, but, as a compromise, as every good marriage requires some give and take to make it thrive, I will add the green vegetables that he does love, like broccoli, peas and asparagus and serve the weeds on the side. Heck, I love this guy so much, I may even give him a real thrill and add some brussels sprouts one week. Now that's how you spice up a marriage!
The inspiration for this dish came from a Cook's Illustrated recipe for pasta with Italian sausage and broccoli rabe. At home I keep kosher and could not make this with traditional pork Italian sausage, so I used ground turkey and just added the seasonings found in spicy Italian sausage; fennel seed, red pepper flakes and garlic.
The red pepper flakes and fennel seed, along with some salt, get ground up in a spice grinder. Actually, it's just an inexpensive coffee grinder, that I use only for grinding spices. Here's a great tip for cleaning the spice grinder and getting rid of any odours so they do not transfer to the next thing you grind. Take about a halt a cup of raw white rice and grind it up. Any last remnants of whatever you last ground up, that may be lurking beneath the blades, will cling to the rice and will be discarded with the ground rice.
A paste of garlic, anchovy, lemon and olive oil is prepared to add flavour and finish the dish off.
I like to use ground dark meat turkey as it is higher in fat, more flavourful and does not dry out as quickly. The ground turkey gets sautéed with the ground spices.
When the turkey is almost cooked through, remove it from the pan and cook your vegetables. I used baby spinach and baby arugula, as well as some diced tomatoes. Feel free to improvise and use whatever makes you happy. We also love it with fresh peas or asparagus in the spring, or frozen peas, all year round. Sometimes I will make it with broccolini.
If you have never wilted greens before, you will be shocked at how they will wilt down to almost nothing.
Remember to keep some of the pasta cooking water before draining the pot. The starch in the water will help to thicken the sauce.