I seem to be a bit out of synch with my Chanukah posts this year. I posted about latkes (with fried eggs and roasted tomatoes) on November 23, almost a full month before the first night of Chanukah. And now, here I am, bringing you latkes with roasted applesauce, on the last night of Chanukah! I meant to bring you this fantastic applesauce recipe a week ago but, I've been a bit distracted with this view. so forgive my tardiness!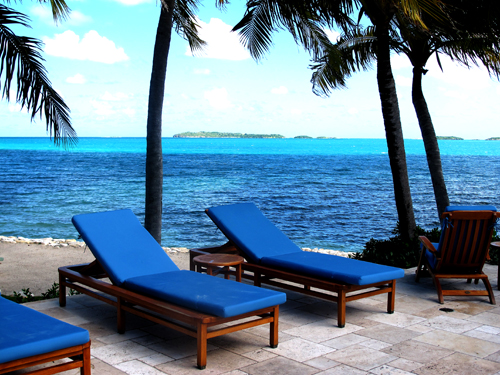 We are here on a little island, off the coast of Antigua, in the Caribbean. We have rented a house on the ocean for 9 days for a little family holiday. It is so wonderful to have all my children together under the same roof for an extended period of time. It makes me feel contented and complete. My husband's sister and her family have also come and rented the house 2 doors down from us so all the cousins are together for a mini-family reunion. I say mini, because in addition to a sister, my husband also has 4 brothers. Sadly, they were unable to come down with their families.
There are no cars allowed on the island. The major methods of transportation include bicycles, golf carts and walking. The older kids are loving the golf carts, but my 16-year-old niece is annoyed that she is not allowed to drive the golf carts, as you require a valid driver's licence and she only has her learner's permit. She was slightly appeased when she discovered that the legal drinking age on Antigua is 16.
We had a family Chanukah celebration over lunch a few days ago at my sister-in-law's house. Her kitchen is way better equipped than mine. They had a Cuisinart to grate the potatoes and onions. We just had a box grater! The latke recipe can be found in my Nov 23 post.
The roasted applesauce recipe comes from Food 52. They featured it in their Genius recipes feature. It is the creation of Zuni Cafe owner, Judy Rodgers. I have always made applesauce by just steaming the apples in a pot with a little bit of water and then putting them through a food mill. This takes applesauce to a whole other dimension, by roasting them with a pinch of salt, sugar and butter. Then they are mashed up and finished with a splash of cider vinegar. Genius indeed!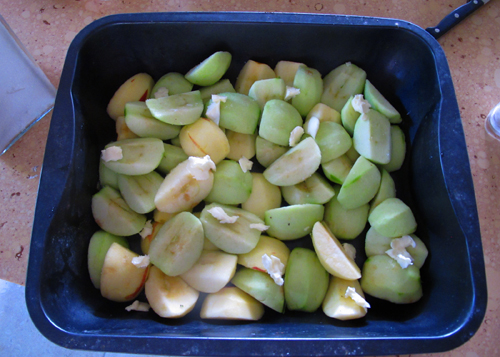 With 17 of us for lunch, there were lots of potatoes to peel and grate. We had 3 frying pans going and within about an hour we had transformed 10 pounds of potatoes into a huge mound of crispy lacy latkes. My sister-in-law has an unusual, and dangerous, method for forming the latkes. She scoops up a small handful of the mixture with her hands, squeezes it to compact the mass and then gently places it in the hot oil! I prefer to use a large spoon, but I have to admit, hers stayed together a bit better than mine. She also had the patience to let them get really brown and crispy.
We had to send my brother-in-law out to forage for sour cream (apparently the way Torontonian's favour their latkes) and ketchup (an Ottawa thing!). The roasted applesauce was a great unifier, loved by all.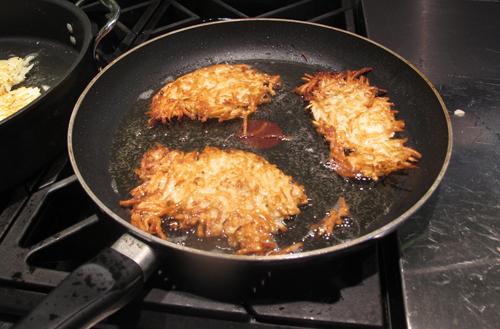 Click here for recipe for Latkes.