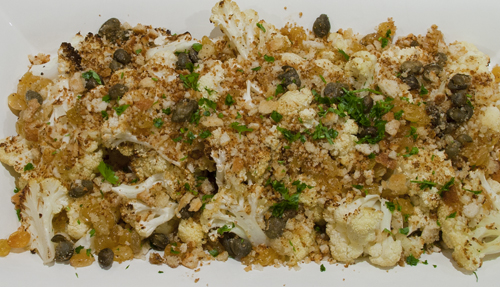 Roasted cauliflower recipes are a dime a dozen these days. It seems that everyone is embracing roasting as a cooking method for all kinds of vegetables. It's true, roasting really does bring out some very special flavours. It mellows cauliflower's pungent qualities. So, with all that being said, does anyone really need another roasted cauliflower recipe. The answer is a resounding YES!If I needed proof that this treatment of cauliflower is the ultimate, I need look no further than my own kitchen and dining room.  The first time I made it, it was just my husband and I for dinner. The recipe says it feeds 8. The two of us almost finished it all! I made it again this past weekend for a family dinner. I served grilled rib steaks, roasted parsnips and rainbow carrots, spicy-sweet green beans and this cauliflower dish (I made a double recipe!). The cauliflower was the first to go and there were no leftovers.
The NHL All-Star game was in Ottawa this weekend and our family came to visit from Toronto. Several members of our Toronto family are diehard Toronto Maple Leaf fans. My brother-in-law is what I consider to be an ultimate fan. I remember one winter weekend they were visiting when the Leafs were playing the Sens. They stayed at the same hotel as the Leafs and my brother-in-law, used his one year old son as "bait".  He dressed the baby  in Maple Leaf  pyjamas and took him down to the hotel bar at 11:00 p.m. The plan was to meet the players as they were coming into the bar after the game. And it worked. They all fell upon this adorable baby in his footed Leafs p.j's!
To say that my dining room resembled an episode of The Hatfields and The McCoys, would only be a slight exaggeration. Here in Ottawa, our NHL team is the Ottawa Senators. While we are not rabid Sens fans, there is a healthy amount of hate going on for the Leafs! It is a fairly intense rivalry that all members of the family have embraced. To further fan the flames of discord, I baked two varieties of gingerbread cookies and set them on the table on alternating plates. Great fun was had by all, especially when it came time for my sister to help her sons brush the blue food colouring from their teeth and tongues!
The flavour profile of this dish is Sicilian inspired. The recipe hails from the November 2011 issue of Bon Appetit magazine. I have some words of advice for you before you tackle this recipe.
1. You may be tempted to leave out the anchovy paste. DON'T! It adds a depth of flavour, that you can not get from anything else. The finished dish will not taste fishy, I swear!
2. You may be tempted to substitute dried breadcrumbs from the grocery store, for the fresh ones called for in this recipe. DON'T! Take the time to cut some stale good quality bread into cubes and buzz them in the food processor until you have coarse crumbs. You will be rewarded, I promise you.
There are several steps in this recipe, but all can be done ahead of time, so when it comes time to serve it, it's a simple matter of assembly.
Make sure you give the cauliflower ample room on the roasting pan. Don't crowd it. The original recipe called for slicing the garlic thinly and then cooking until golden. I had a really hard time from preventing it from burning, once I added the other ingredients and kept cooking it, so I recommend just smashing the whole cloves and gently frying them in the oil. Once they turn golden, remove them and discard. They will have imparted their garlicy goodness into the oil and you won't run the risk the bitter taste that results from burnt garlic.
Resist the temptation to eat the toasted breadcrumbs and fried capers, if you can!