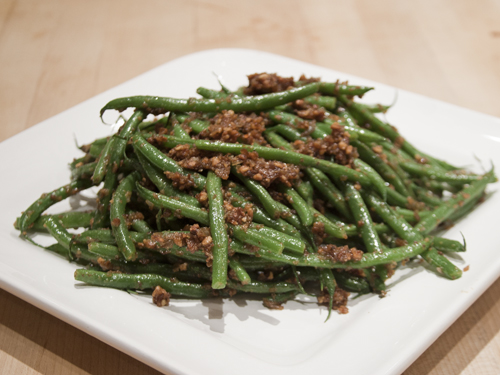 I wish you were here with me right now in my kitchen. Because I am about to tell you about some of the most amazing green beans I have ever eaten. And I'm not sure my writing and photography skills will be sufficient to convince you. If you were here beside me to smell them and taste them, I could make a believer out of you.
Now you may be wondering why I am raving about green beans. I can almost hear you now, in that disbelieving tone, "Come on, really? Green beans? Is she that hard up for healthy January recipes?"
This recipe came to me in a quiet e-mail from my sister Faith. It was actually a forwarded e-mail from her friend Kerry. Subject line read: Green Beans. The message was a simple one liner, "You'll love these" and then on the next line was the link to the recipe.
I happen to love green beans. I think they are the Rodney Dangerfield of vegetables. They simply do not get the respect they deserve. They are the perfect canvas for carrying any flavour profile. They are healthy and I think they're quite pretty to look at. I eat them at least twice a week and I'm always on the look-out for new ways to dress them up. So my sister had my attention.
When I clicked on the link I knew right away this recipe was a winner. When it comes to the plethora of on-line recipes floating around out there, you must always consider the source. And this time the source was Mark Bittman. Or Bitty as I like to call him ever since I heard Gwyneth Paltrow call him that on their PBS series "Spain – On the Road Again."
Mark Bittman, New York Times Food columnist and author of several cookbooks, including the culinary bibles "How to Cook Everything" and "How to Cook Everything Vegetarian", has yet to steer me wrong. As I went down the ingredient list of this recipe, I started to get excited. Almonds, garlic, dried hot chiles, olive oil, shallots, honey and soy sauce. How could it be anything but spectacular?
The green beans are cooked in boiling salted water for about 2 minutes. Please try salting your vegetable water if you have never done this before. It really makes a difference. Your vegetables will not taste salty, just well seasoned and way more flavourful than if you salt them after cooking. Once the beans are cooked to crisp tender, about 2-3 minutes,  shock them  in ice water to stop the cooking. Costco has been carrying the nicest Kenyan green beans lately (those skinny green beans sometimes referred to as called haricots vert) so I used those.
I used whole, unblanched almonds. I toasted them first, as I believe you get the best flavour from toasted nuts. I think untoasted nuts are a crime! (Sorry, just a little pet peeve of mine) Toasted almonds, garlic, dried red chiles and a bit of olive oil get turned into a paste in the Cuisinart. The recipe calls for 1 or 2 dried hot red chiles. I didn't have whole dried chiles, just red pepper flakes, so I used about a teaspoon of the flakes. I like spicy but not painful hot, so a teaspoon was perfect for me.
Chopped shallots are sautéed in a bit of olive oil and then the almond-garlic-chile paste gets added to the pan. Honey and soy sauce follow and then the green beans are bathed in this heavenly paste. I couldn't stop eating them right out of the pan. They possess the perfect balance of flavour and texture. Crunchy from the green beans and almonds, a bit f heat from the red pepper, salt from the soy sauce and sweet from the honey.  This recipe is pure genius. Really! And eating more vegetables and less meat will make Bitty really happy!