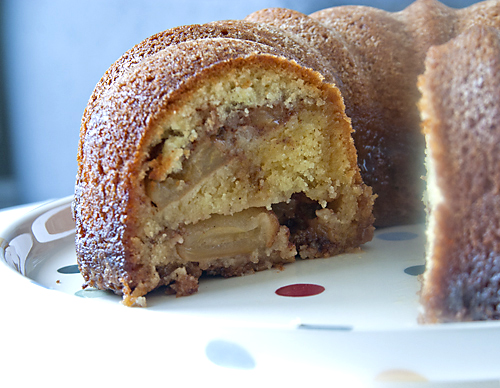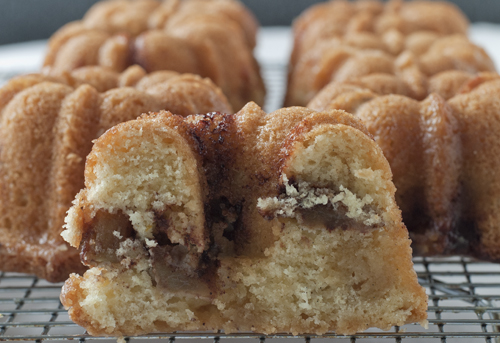 I learned how to make this cake many years ago, at one of my very first professional cooking jobs. I was working in an upscale take-out food shop in Toronto's Yorkville area called Dinah's Cupboard. I learned so much from Dinah Koo, the shop's owner. She demanded perfection and precision and a certain discipline that is lacking in many kitchens. She cooked with big flavours and was a master at presentation. I am forever grateful to her for teaching me so much. It was my job to make 4 of these cakes every day. We baked them in 9 x 13 inch rectangular cake pans and cut the cakes into large squares to sell in the shop.
After I left Dinah's Cupboard, I didn't make that cake again, for a very long time. I guess I was sick of it or had just forgotten about it. But then a few years ago I was working on a column for Rosh Hashanah (the Jewish New Year). It is traditional to have honey cake on Rosh Hashanah, to symbolize a sweet new year, however, I hate honey cake. Luckily, it is also traditional to have apples on Rosh Hashanah, so I decided to feature an apple dessert of some sort. And then, I remembered this apple cake. I decided to bake it in a Bundt pan, to make it look a little fancier. We had several other desserts at our dinner, but this was the first to disappear.
I had forgotten what a great cake it is. It is perfect for entertaining as it can be made a day ahead of time. it is also wonderful for breakfast with a big glass of milk, or at bedtime with a cup of tea. It is a moist, dense, intensely flavourful cake. The outside of the cake gets a bit crispy from the caramel glaze that is poured on top of the cake. The inside is tart from the apples, but also sweet, in that slightly bittersweet way that only dark caramel can be.   This is cake perfection. I am warning you that it is very hard to have just a little bit. Your guests will ask for just a sliver and then they will be back at the cake, hacking away at it for more slivers, until there are only crumbs left. Not that my friends and family are like that, of course!
I decided to make it again this weekend, so I could take pictures and tell you all about it. I went to the basement to find my Bundt pan, and sitting next to it on the shelf were my mini Bundt pans. I decided to make a double recipe and make a big cake as well as some minis. An applepalooza around here! My husband was so happy.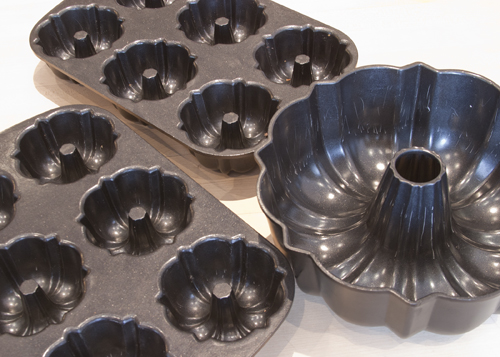 I decided to use a mix of Granny Smith and Honey Crisp apples. You want some tart apples in this dish that will hold their shape when baked.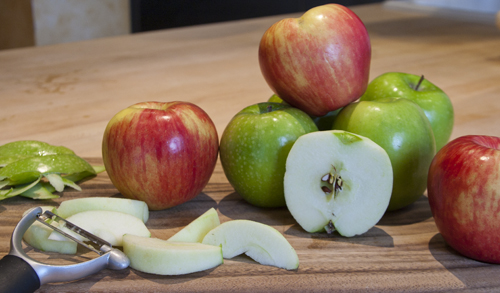 The apples get peeled and sliced into wedges for a big cake or diced for the mini cakes. Then the apples are then bathed in a sugar cinnamon mixture.
No need to take out your mixer for this cake. Everything gets mixed together in a big bowl. Whisk eggs, vegetable (or coconut) oil, orange zest, orange juice and vanilla extract together. Lately I have been using vanilla bean paste, instead of vanilla extract. You get those pretty vanilla flecks in the cake.
Then the dry ingredients are added to the wet and the whole batter gets mixed. You will think that there is no way all the dry ingredients will get incorporated, as this is such a heavy dense batter. But persist, use some elbow grease and it will all come together. Just think of all the calories you will be burning in advance of eating this cake!
Then the cake gets assembled. It's a little like making lasagna. Layer 1/3 of the batter into the pan. Arrange one half of the apples on top, then more batter, a second layer of apples and finally the last third of the batter.
The minis are just so adorable!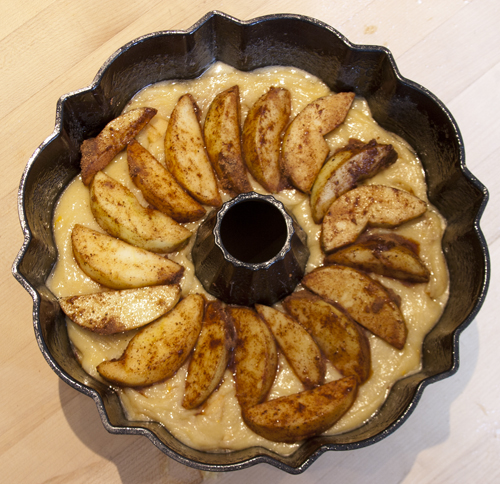 Once the second layer of apples are covered with batter, into the oven it goes. While it is baking, you can prepare the caramel glaze. Butter, brown sugar and heavy cream are cooked until hot and bubbly.
Once the cake comes out of the oven, it's time to add the caramel. Now I'll share with you the secret to what makes this cake so incredible.
Then you must exercise extreme patience and let the cake cool COMPLETELY, before trying to unmold it. Looking at the sad bottom of this cake, all riddled with holes may have you a little concerned. Then you unmold it and it just looks like a boring Plain Jane Bundt cake. But wait, yee of little faith.  Slice into it and taste. You will be a believer!