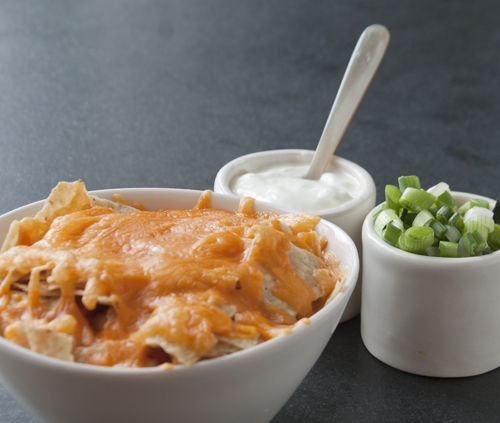 I have been making this vegetarian chili on a regular basis for almost 10 years now. You would think I would be sick of it, but I'm not. Perhaps it's because I top it with crushed tortilla chips and shredded cheddar and then pop the whole bowl in the oven until the cheese is hot and bubbly. A dollop of sour cream and some spring onions don't hurt either!
When my daughter was 11 years old, she came home from camp and announced that she was now a vegetarian. Of course I thought it was a phase and figured she would grow out of it. After a year of subsisting on mainly cheese and peanut butter, I figured I better begin researching alternate protein sources for her. I started cooking with tofu and she really liked it. Problem was, the rest of the family, especially me, couldn't stand it so it meant making two different dinners. And then I stumbled across this product.
Consisting of soy and wheat protein, it basically has not much taste, but is loaded in protein. I figured I could make a chili, loaded with spices and vegetables and use the veggie ground round for texture. I added some rice and beans for more bulk and protein and came up with a delicious vegetarian option that everyone would eat without too much grumbling. Several years later I got the brain wave to top the chilli with crushed tortilla chips and grated cheddar cheese. I put the whole thing in the oven for about 10 minutes until it was all hot and bubbly. After that, everyone was really happy!
If you can chop vegetables and open cans, you can make this. I thought it was a fairly foolproof recipe until my daughter's friend, Christina, who requested this every time she ate at our house, decided to make it herself. She had just moved into her first apartment at university and sent me an e-mail for the recipe. A few days later, my daughter told me that the recipe did not turn out. Christina had burned it. I just could not fathom how this had happened. The recipe uses 3 cups of water as well as liquid from the canned tomatoes. How could it possibly burn with that much liquid?
Upon further interrogation, the answer became clear. She looked at the mixture in the pot after adding the canned tomatoes and decided that it already looked liquidy enough. She decided she did not need to add the water. What she didn't factor into the equation was that she had also added a cup of raw rice. Rice absorbs liquid and swells to three times its original volume as it cooks. (She is not a science major!) Without the extra liquid, the rice had nothing to soak up and it just burned. She was so embarrassed so I decided to share my Jell-O fiasco with her so she wouldn't feel so badly.
My earliest cooking disaster was back in the 70's when Jell-O molds were all the rage.  My mom used to make whipped Jell-O desserts.  My favourite was a red Jell-O and frozen raspberry concoction that had sour cream or whipped cream folded into it.  It had a mousse like consistency.  Sometimes, when she was feeling a little exotic she would make a green Jell-O and crushed pineapple variation. When that happened, I had to call my friend Corrie, immediately.  It was her favourite.
I begged my mom to let me help her make the Jell-O dessert. She had everything laid out on the counter.  She gave me my instructions, "When the water boils, add two packages of lime Jell-O".  She went upstairs to get the fish-shaped mold and left me alone. In a few minutes, clouds of steam were billowing out of the kettle so I added the Jell-O powder – right into the kettle!  Suffice it to say, it was a while before she let me help her again. My story left Christina feeling a little bit better about her burned chili, and since that time she has gone on to make it successfully, many times.
Begin with chopped onions, red and yellow peppers. Sweat in olive oil for a few minutes and then grate some garlic into the pot.
Add canned beans (white or black or both), canned corn, canned plum tomatoes, which have been coarsely chopped, rice, water and spices. My favourite way to chop canned tomatoes is to dump them out into a large bowl and squish them with my hands. For my chili, I used cumin powder, and a combination of Ancho chili powder and New Mexico chili powder (mild). Then add some white long grain rice and more water. Let the whole thing simmer for about 30 minutes.
After about half an hour, add diced zucchini and the veggie ground round. Cook for an additional 10 minutes and then spoon unto heatproof bowls. Top with crushed tortilla chips and grated cheddar and bake in a hot oven until the cheese melts.
Click here to print recipe for Vegetarian Chili .