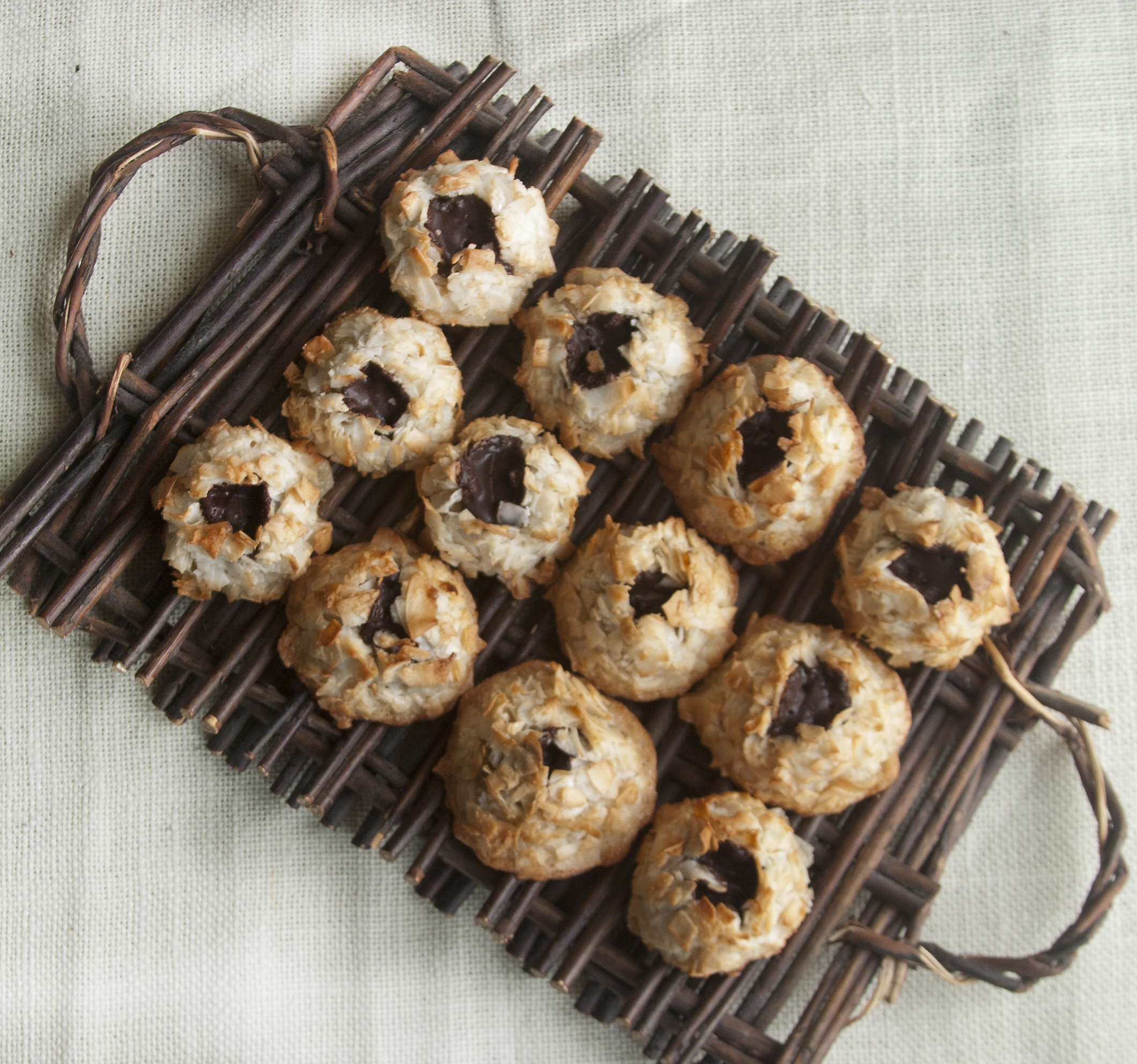 For me, it's just not Passover unless we have macaroons.That's macaroons, with two oo's, the ones made with coconut, not to be confused with macarons, the French confection, with one o, which are typically made with ground almonds, powdered sugar and egg whites.
In fact, I love macaroons so much that I dressed up as a chocolate one several years ago.  My youngest sister, in Toronto, held a masquerade Seder.  We all had to come dressed as our favorite Passover character.  I took a little creative license and showed up dressed head to toe in chocolate-brown, topped with a very large pyramid-shaped cardboard hat, covered with macaroons.  A word of advice for anyone thinking of trying this – don't!  I used canned macaroons (I didn't want to waste the homemade ones for a craft project) and they became very heavy when coated with glue.  The overpowering stench of coconut and glue, as we drove from Ottawa to Toronto, left everyone in out van feeling quite ill.
However, it didn't cure me of my love for all things coconut, especially macaroons. Cookbook author, dessert chef and Chocolatier Alice Medrich, created these incredible macaroons in her recent book, "Chewy, Gooey, Crispy, Crunchy, Melt-in-Your-Mouth Cookies." Leave it to Alice to come up with a genius twist on this classic cookie. Instead of using shredded or desiccated coconut, Alice suggests using coconut chips. These are wide shavings of unsweetened coconut that can be found in most health and bulk food stores these days.
Chewy, toasty and supremely yummy! The pure coconut flavour really shines through in these stunning beauties. Alice suggests shoving a large chunk of bittersweet chocolate into the centre of each cookie to take a great cookie over the top!
Egg whites, coconut chips, vanilla extract, sugar and a pinch of salt all get mixed together in a large bowl. I used vanilla extract paste so you can see the flecks of the vanilla bean seeds in my mixture. The bowl then gets set in a large pan of simmering water, to heat the mixture through and thicken the egg whites.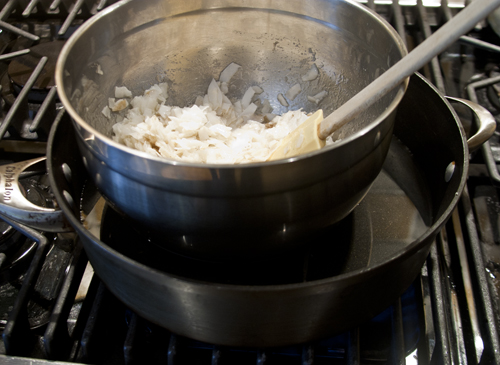 I used a small ice cream scoop (about 3/4 of an ounce) to form the macaroons. I stuck a piece of 70% bittersweet chocolate in the centre of each before baking. Unfortunately they oozed right out once I baked them.
I got a little smarter on the second tray and carefully inserted the chocolate into the centre of the macaroon and used wet fingertips to make sure chocolate was mostly enclosed. It wasn't until I baked them all that I reread the recipe and discovered that Alice inserts the chocolate after baking, while macaroon is still warm!
However you insert the chocolate, these macaroons are pure coconut heaven!