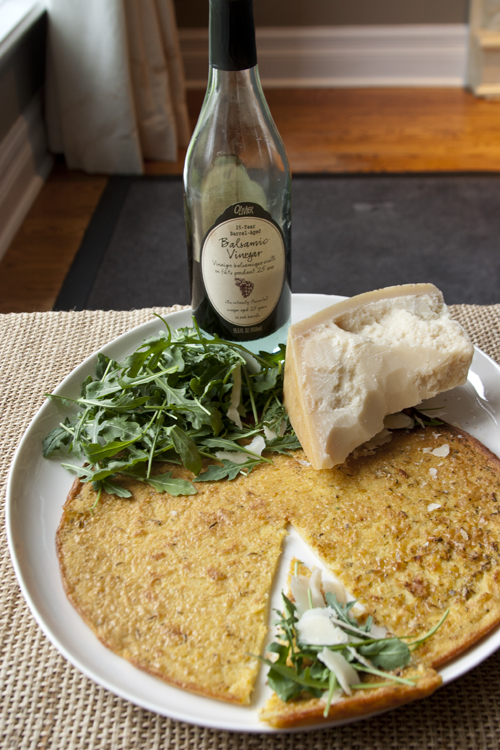 Sometimes in life, you just have to take a leap of faith and believe that it will all turn out ok. I am not what you would call a worrier. I have discovered that the things you stay up all night angsting over usually never end up happening. It is those things it never even occurred to you to worry about that blindside you and whack you over the head. So I live my life somewhat like a turtle, not waiting for catastrophes to befall me. Disasters know where to find me if they need me.
Today's blog post involves a recipe that takes a leap of faith to make. I was served Farinata (Italian Chickpea Flatbread) by my girlfriend Marla last week. I was visiting her in Toronto and she served me this unusual flatbread. It was a crispy and golden on top, and addictively chewy in the center. The bottom crust had a thin film of deliciously fruity olive oil and the flatbread was flavored with rosemary, salt and black pepper. She discovered the recipe on the lovely blog, Kalyn's Kitchen.
My friend Marla is one of the brightest and accomplished women I know. She was recently named one of Canada's Top Women Entrepreneurs. In addition to being smart as hell, she is also quite elegant and stylish. She drinks Champagne cocktails. And on top of all that, she is a fantastic cook. Everytime she cooks for me, I leave with exciting new ideas and recipes to try.
Farinata is a thin flatbread made from chickpea flour. It originated in the Italian region of Liguria. It is quite a popular snack there. Bakeries throughout the Ligurian region post the time in their windows that the farinata will be coming out of the oven and customers line up around the corner for a hot slice. I did not post a sign letting my family know when it was coming out of our oven, but somehow they knew exactly when to appear in the kitchen to devour it.
It is the perfect appetizer to serve with drinks. Marla suggested topping room temperature slices with arugula, shaved slices of Parmigiano-Reggiano, fresh figs and then drizzling the whole thing with a good aged balsamic vinegar. I was unable to find the fresh figs, but even without them, it was amazing. My friend Josh said it tasted like summer!
The leap of faith for this recipe comes when you mix all the ingredients together and look at the "dough". Chickpea flour, water, olive oil and salt are mixed together in a large bowl. I ended up switching to a whisk to make the batter smooth. The batter was so thin and watery I just couldn't believe that this would turn into a flatbread.
After mixing, the batter is left on the counter to rest for several hours. I was quite busy and did not get back to it for about 8 hours. When I returned, it looked exactly as it had that morning. For some reason I had expected it to have thickened or at least risen or bubbled. But it still resembled a very thin crepe batter. I preheated the oven to 475° F and once it was hot I placed a 12 inch round pizza pan in the oven for about 10 minutes to get it blisteringly hot. While I waited, I chopped up some fresh rosemary and mixed it into the batter. You could also use a 9 x 13 inch baking sheet with sides.
Once the hot pan comes out of the oven, cover the bottom with a thin film of good olive oil. I used about a tablespoon. Pour in the batter, sprinkle with some freshly ground black pepper and prepare to take a second leap of faith, that you will get the pan from the counter into the oven without spilling any batter. I placed my pizza pan on a sheet pan, but still managed to spill some on the bottom of my oven when I was sliding it in.
I kept turning on the oven light to see if anything was happening. I was convinced I was going to end up with chickpea soup. Sure enough, at around the 10 minute mark, it started to solidify around the edges, and after a further 10 minutes, I had a golden chickpea flatbread!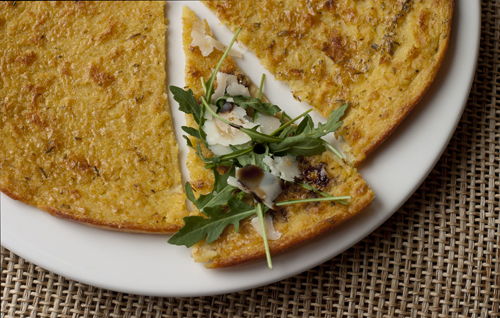 This is wonderful served plain without any toppings, but let your imagination go wild. Pecorino Romano, pears and honey would be fantastic. I would also love to try it with burrata, basil and ripe summer tomatoes!
Click here to print the recipe for Farinata.