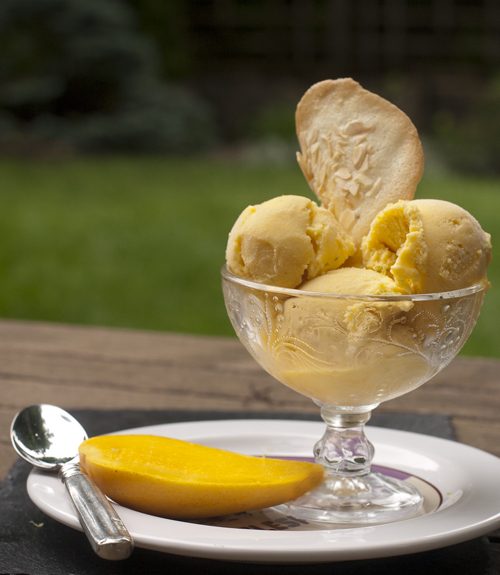 I seem to have a plethora of mangoes. I found my favourite variety of mangoes the other day, being sold in Wal-Mart, of all places. They were selling a case for $12.00! How could I resist? My favourite variety, is the Altafulo Mango. I was patiently explaining this to my husband last Saturday morning at 6:30 a.m., after he curiously asked me why we had a case of mangoes sitting on our kitchen counter.
This is one of the many reasons I love my husband. He patiently listened to me explain the difference between Altafulo mangoes and the more common Tommy Douglas mangoes. Then he gently pointed out that perhaps the variety was not actually called Tommy Douglas, as Tommy Douglas was a Canadian politician, now deceased. He was actually the founder and first leader of the NDP Party . Um yeah, I said, I think they are called Tommy Atkin mangoes. I sliced up an altafulo mango for him to try. Altafulos have a much silkier flesh than Tommy Atkins. Tommy Atkins tend to be a bit fibrous and stringy.
He polished off his smoother than silk mango, made his hazelnut vanilla coffee (don't get me started on flavoured coffees!) and left me alone to make mango lime sherbet and worry that perhaps I was turning into my mother. She also mixes up names of common household items. She used to call Mr. Clean "Jim Dandy."
I discovered this recipe for Mango Lime Sherbet on food52.com. I was more than a little curious when I read the title because I grew up calling it sherbert (note the second r). That's what my mom called it. Was this just another case of my mom butchering the English language yet again?  In doing a little research I discovered that my mom was not alone, and many people erroneously add that second "R". The proper spelling is indeed sherbet. But wait, what about sorbet?
Now that I have you totally confused, I think a little primer on the nomenclature of frozen desserts is in order here. Both sorbets and sherbets are frozen puréed fruit and sugar based desserts. However, sherbet goes one step further with the addition of some type of dairy added. Traditionally most sherbets contain 1% or 2% milk. The sherbet I am presenting here kicks it up a notch with the addition of 35% cream (whipping cream). We go one step further here by whipping the cream and folding it into the purred mango-lime base. This is a technique I discovered in the May 2004 issue of Cook's Illustrated. Whipping the cream really lightens the whole dessert. "Lighten" here is taken to refer to texture not calories. 35% cream has the same number of calories whether it is whipped or not, but we can delude ourselves into thinking otherwise if we wish!
This sherbet is sweet, but not cloying, thanks to the addition of lime zest and lime juice. I reduced the amount of sugar slightly from the original recipe as I found the original a bit too sweet.
The success of this recipe depend, of course, on having some really ripe mangoes. If none are available, thaw a bag of frozen mangoes). If peeling mangoes is something you have never done, check out this video. Or if you have peeled lots of mangoes but are a fan of the musical group Phish (or "Phish Phan", as they like to be known), you can also check out this video. It features their hit, "The Mango Song."
The lime flavour in this sherbet relies on both the zest and the juice of the lime. Process the sugar with the zest. Puree the mangoes. Emily at Food 52 recommends straining the mango puree. I pureed mine, but did not find anything left behind in the strainer, so if you are using the smoother, silkier Altafulo mangoes, feel free to skip this step. This mixture needs to be chilled for several hours before folding in the whipped cream.
Twenty minutes in the Ice cream machine and the sherbet is churned. It is still quite soft at this point and really benefits from an additional several hours of freezing time. Scoop sherbet out of the ice cream machine canister, into a Tupperware container. Cover the surface of the sherbet with some plastic wrap to prevent ice crystals from forming. Then put on the Tupperware lid and freeze.
Scoop and serve!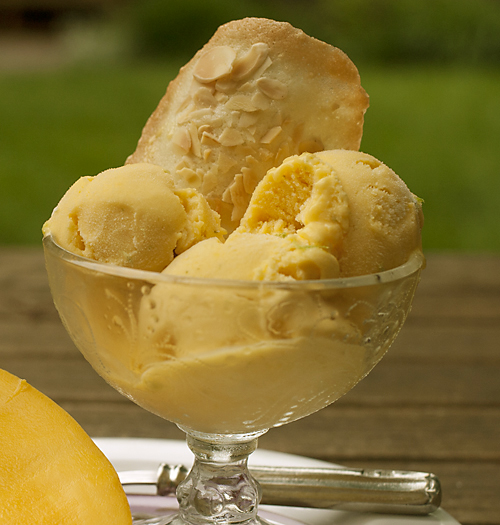 Almond tuiles are a wonderful complement to the sherbet. I'll blog about the tuiles next week!