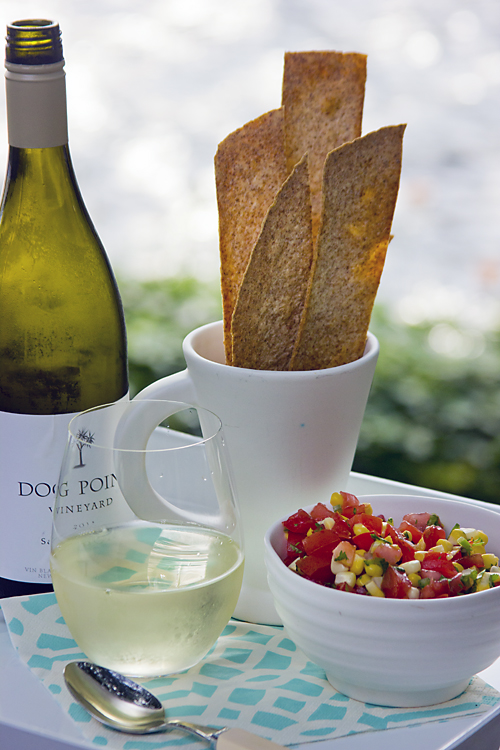 I learned about the concept of "Aperitivo" when I was in Italy last fall. Aperitivo are pre-dinner drinks accompanied by appetizers. Derived from the Latin aperitivus, to open, aperitivo is meant to stimulate the appetite and tease the taste buds, previewing the delights of dinner. In my mind, I picture stylish Italian men in their Armani or DSquared2 clothing, and Italian women in their classic navy or black sheath dresses with a scarf knotted effortlessly around their necks, stopping whatever they are doing at precisely 5:00 pm, donning their helmets, hopping onto their Vespas and heading out to the nearest bar for Aperitivo.
In Italy there is an "Aperitivo Culture". It is a very social custom where people meet in bars to catch up on the happenings of the day, to drink and to eat. Typical aperitivo snacks can be as simple as olives and chips, or more elaborate fare, like frito misto, arancini, potato croquettes and assorted crostini.
This is such a civilized custom. Sadly, during, most of the year I am just too busy to stop whatever I am doing at 5 pm for Aperitivo, but come the summer, when I am up at my cottage, I indulge. Almost every day at 5:30 pm I pour myself a glass of Prosecco or white wine and have a little snack. Some days it's just carrot sticks and humus but some days, I will treat myself to something more elaborate. Now, full disclosure here, most weekdays it is Aperitivo for one. Which sort of goes against the whole social aspect of the custom, but don't feel too sorry for me. I thoroughly enjoy my own company and find myself quite amusing! I have been voted the 5th funniest of our family (we are a family of 5, but they just don't appreciate my sense of humour!)
My new favourite white wine this summer is Dog Point Sauvignon Blanc. From the Marlborough region of new Zealand, it is a fantastic white wine for summer quaffing. It is refreshingly acidic with an intense concentration of citrus flavours, notably grapefruit. It has a crisp lingering finish and is the perfect choice for summer aperitivo.
This week I found that I had a surplus of tomatoes on the counter. My local supermarket has been carrying some beautiful heirloom tomatoes as well as Kumato tomatoes, which are sweeter than regular tomatoes and are a godsend in the winter months. I also discovered the first early corn of the season, being sold roadside near my cottage, so I picked up a few ears and decided to make a corn-tomato salsa.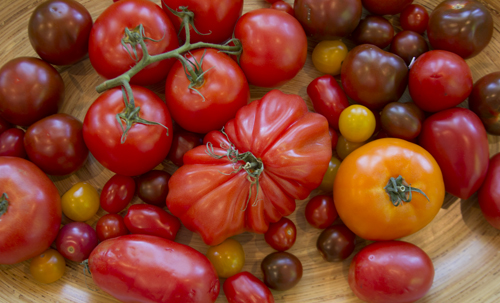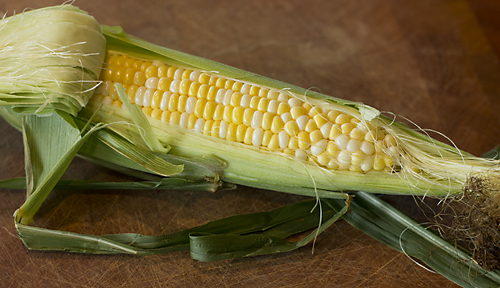 The July-August issue of Cook's Illustrated featured a corn salsa recipe that I decided to try. Most corn salsa recipes call for grilling the corn, but sometimes you just can't be bothered to fire up the grill if all you are making is some corn for salsa. Using the corn raw was considered, but raw corn kernels always seem too starchy. Boiling the kernels destroyed the "freshness" you want from a corn salsa.  Keith Dresser  of Cook's Illustrated solved this problem by coming up with quite a genius solution. He explains,
"Softening the hull without overcooking the center seemed impossible until I considered salsa's natural partner: the tortilla chip. Corn tortillas are formed out of masa, a dough made with ground hominy, which is dried corn that has been soaked in alkaline limewater. This ancient process, called nixtamalization, was first used by Mesoamerican cultures thousands of years ago to soften corn and loosen the hulls.
Could I get a similar effect by introducing alkali to the cooking water for my corn? A quarter teaspoon of baking soda added to the boiling water worked like magic: As the corn steeped, its hulls softened just enough that they weren't leathery, but the kernels still burst with crisp sweetness."
I have much love and admiration for the food science geeks at Cook's Illustrated.
Here's my tip for getting the corn off the cob without having the kernels flying all over the kitchen: invert a small bowl into a bigger bowl. Stand the corn cob on the smaller bowl and use a sharp knife to cut off the corn. The kernels will land in the bigger bowl, not the floor. You will thank me later!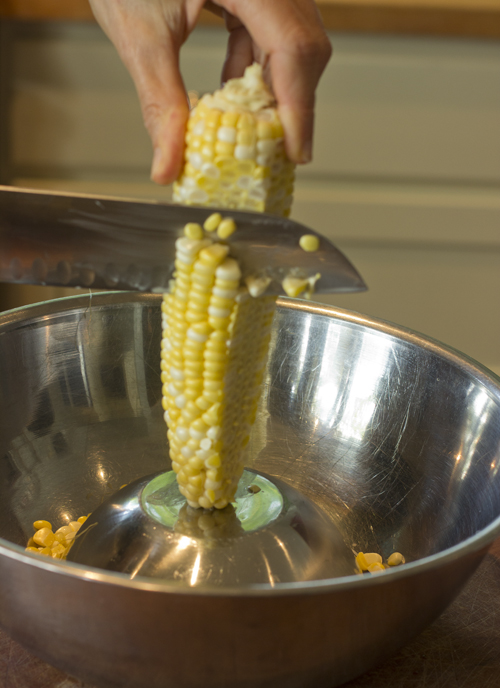 Tomatoes, jalapeno, cilantro, shallots, lime juice, salt and a drop of honey finish off the salsa.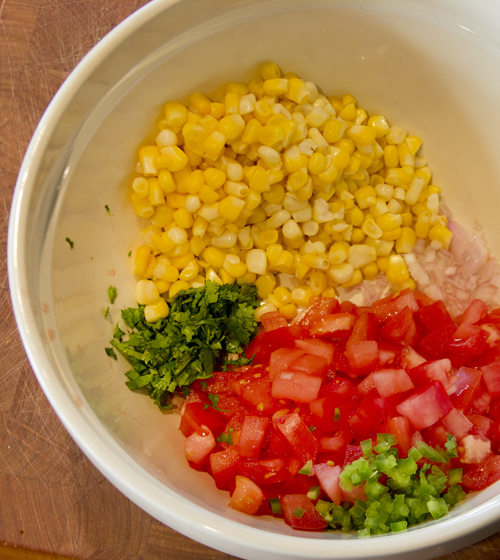 If you have corn or flour tortillas in the freezer, take the time to make your own tortilla chips. I used whole wheat flour tortillas, brushed them with vegetable oil and sprinkled them with a little kosher salt. Then I cut them into strips, instead of triangles. Bake them at 350 °F  for about 10 minutes, until crispy. They look so pretty when you stand them in a mug or vase. Sometimes I buy the flax or spinach tortillas and delude myself into thinking that these are really healthy!
Pour a glass of something cold, gather all the amusing people you can find and enjoy Aperitivo. And if you drink alone, I won't judge.