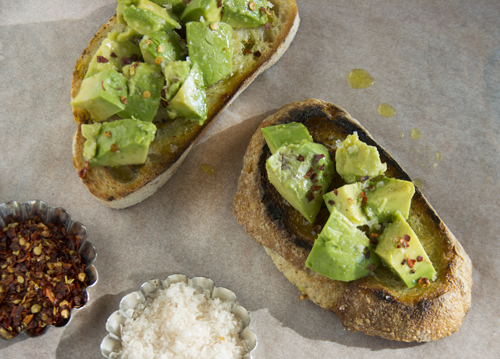 I'm about to confess something that may get me drummed out of the tribe. I'm sick of eating humus! Truthfully, I have only myself to blame for this unfortunate state of events. I have been eating humus with carrot and celery sticks  for lunch everyday for the past year. Seriously, everyday! I know, you must be wondering, how is that possible? She's a food blogger, she must create all kinds of wonderful lunches, each day more imaginative and fantastic than the last. But the sad truth is that I get into a rut, it's just easy, plus it's healthy and fairly low cal and so then I feel justified later in the day to indulge in my daily aperitivo!
I confess my boring lunch habit not so you will feel sorry for me, but as a way of sharing with you the discovery of a fantastic and simple appetizer to serve with drinks when company comes to visit.
Every summer for the past 26 years we have been gathering at our cottage with my husband's University housemates and their spouses. Over the years our numbers have swelled as everyone started having kids. We had our annual get together this past weekend. It was just a small group of 15 this year as several members had other commitments. Each family is responsible for one meal over the weekend. It's fantastic because it means that I am not in the kitchen the entire weekend cooking for everyone and I can enjoy my company instead of resent them!
As I began to plan what to serve my guests with drinks before dinner, I ruled out the usual suspects: humus and pita (sick of humus, see above!), tortilla chips and salsa (too predictable), a big bowl of pistachios or peanuts (nut allergies). As I was reading my July issue of Bon Appetit magazine, the photo on the editor's letter page stopped me cold. It was just simply grilled bread topped with ripe avocado, sea salt, olive oil and red pepper flakes. I have to say that since Editor-in-Chief  Adam Rapoport took over at the helm of Bon Appetit, I have really started to enjoy reading this magazine once again. He has injected it with a fresh modern vibe and it just inspires me to cook everything on the pages. I still miss Gourmet (a moment of silence please!), but Bon Appetit is really doing a great job to partially fill the void.
The beauty of these avocado toasts is in their simplicity. The key is to gather together the very best ingredients for this dish. There is no real cooking or recipe involved here. Think of yourself as an orchestra leader, bringing together some gifted musicians. Each on their own, sounds quite nice. Together, they create a beautiful harmony. Look for good Artisan bread that has an "open crumb structure" (that's baker speak for bread with lots of holes – more holes means more crusty spots to give added crunch and crevices for the olive oil to drip into).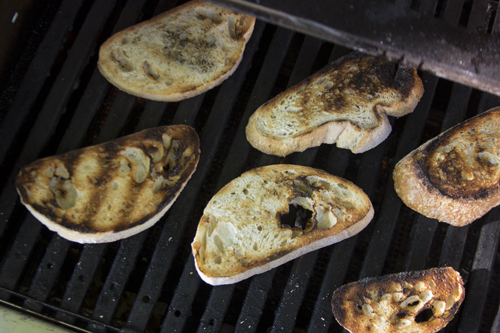 A big fat clove of fresh garlic gets rubbed onto just grilled bread.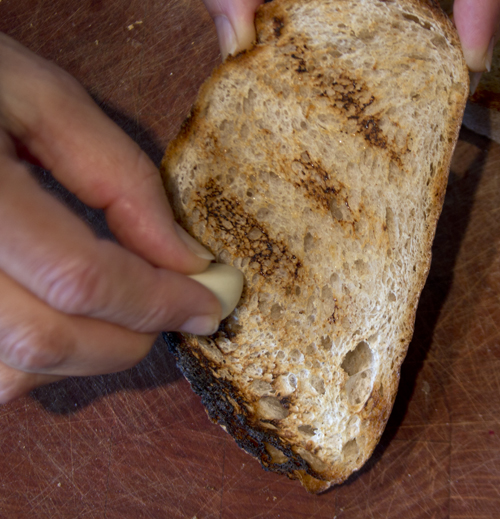 The avocados should be perfectly ripe, so buy them a few days ahead so they have time to ripen to perfection.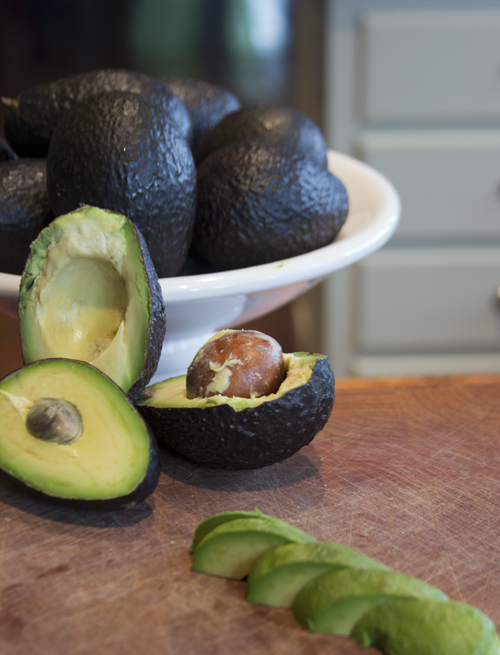 Table salt need not apply for the job of topping these crostini. Pull out the Maldon Sea Salt or some Fleur de Sel. The large crystals of salt will give added crunch and provide a perfect counterpoint to the bland creamy avocado. Pull out that expensive bottle of fruity, slightly bitter olive oil that you have been saving for a special occasion. The nooks and crannies of the grilled Artisan bread will soak it up. Finally, a very light sprinkling of red pepper flakes to wake up the taste buds.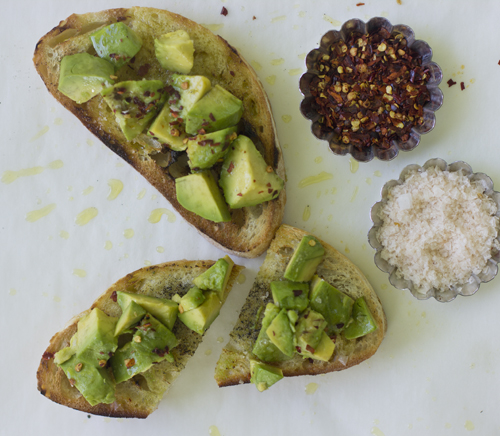 These Avocado Toasts will have your friends and family toasting you!!