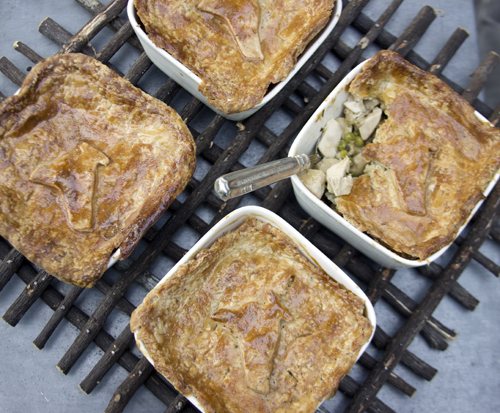 I could wax poetic here and spin a lyrical little tale about how the nip in the air and the gorgeous scarlet and golden maple leaves have inspired me to make some homey dish that smacks of nostalgia. But, if I'm to be completely honest, the reason I baked these chicken artichoke pot pies was because I was cleaning up the basement storage room and I found this box of freaking adorable barnyard cooky cutters. (Why did they misspell cookie?).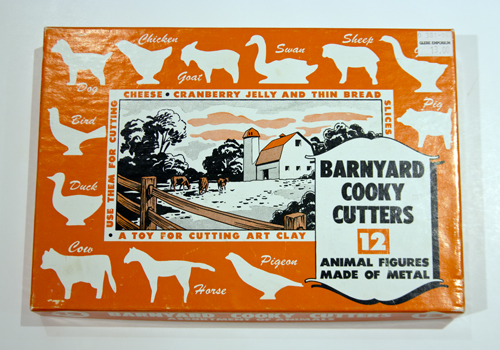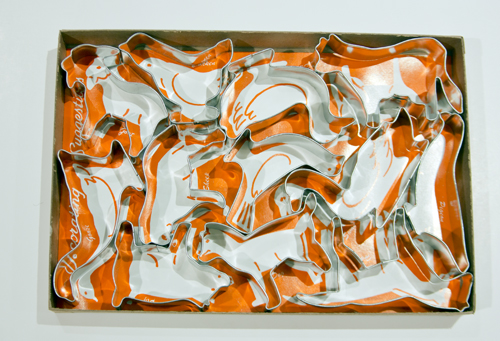 I seem to recall buying them when the kids were little and had grandiose plans for baking sugar cookies with them and letting them decorate them with coloured royal icing suck icing from the piping bags, but sadly we never did it. It is possible they were used with play-doh at some point!
That little metal chicken was calling out to me and I instantly knew that I wanted to make chicken pot pies. As a child of the 70's I was practically weaned on Swanson Chicken Pot Pies and TV Dinners. Carol Brady  was my second mother and I so badly wished that Alice was our housekeeper. Not that my mom was a bad cook, but she had 6 kids and was very busy cleaning all the time, so frozen meals were a big part of my childhood. Our favourite dessert was Sara Lee Banana Cake. One of my sisters always snuck into the freezer and picked the icing off the top of the cake. We never did discover who it was.
This chicken pot pie is inspired by a Chicken and Artichoke Casserole that I used to make all the time at one of my very first full-time kitchen jobs. I was working at Dinah's Cupboard. It was run by a woman named Dinah Koo. The little shop, in the Yorkville neighbourhood was Toronto's first Gourmet take-out food shop. Dinah was an amazing woman to work for. She demanded perfection and precision in everything we made. She taught me a great deal about discipline in the kitchen. Food quality always came first but following close on its heels was presentation. She knew how to make food look beautiful. It was also at Dinah's Kitchen that I learned to love salt. Before any of the dishes left our kitchen to be sold in the food shop, Dinah or her brother Barry would taste them. Without fail, almost every time I got the response "more salt"!
I cringe when I hear people boast "Oh, I don't use any salt when cooking.", as if that's a good thing. And then I hope I never get invited to eat at their house! Salt is an integral ingredient in cooking as well as baking. It fills out the flavour of foods. If it is absent, food just tastes flat. British restaurant critic Jay Raynor said it best, "Salt is the difference between eating in Technicolor and eating in black and white." If loving salt is wrong, then I don't want to be right. Sorry, I'll get off my salt soap box now and stop lecturing you on the evils of cooking without salt.
I decided to make mini pot pies, because they are so adorable and because I knew we would have leftovers and I could stash them in the freezer and bake them another day.
I started with poaching chicken breasts. Buy chicken breasts on the bone and then cut the meat off the bone before you add them to the pot. That way, you can remove the breast meat after 20 minutes, when it is perfectly cooked and continue cooking the vegetables and bones to extract the maximum amount of flavour, so that you will have a really great stock.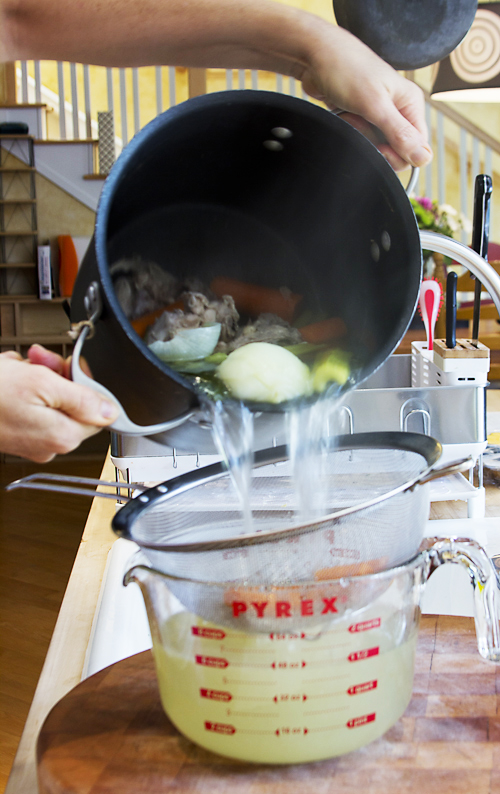 Once the chicken is poached and you have your stock, make the pastry. I decided to add some poppy seeds to the dough, for a bit of crunch. This recipe for the dough comes from chatelaine.com. It is a bit unusual in that instead of cutting the cold butter or shortening into the flour and then adding liquid, they melt the butter with the water and then mix it into the dry ingredients. You can make the dough with all butter, half butter and half shortening or all shortening, the choice is yours. Just don't forget to add the salt.
While the dough is chilling, prepare the chicken and artichoke filling. I like the addition of leeks, rather than onions as a flavour base. Leeks need to be cleaned very well in cold water. Slice lengthwise and then into 1/2 inch pieces. Place in a bowl of cold water and use your hands to swish the leeks around. Scoop out leeks that have floated to the top of the bowl.
Flour is added to the sautéed vegetables and then chicken stock and white wine are added.
Once the mixture simmers for a few minutes, I added the artichokes, diced chicken meat, frozen peas and some parsley. I also added the zest of one lemon and a few teaspoons of Siracha sauce for some zip.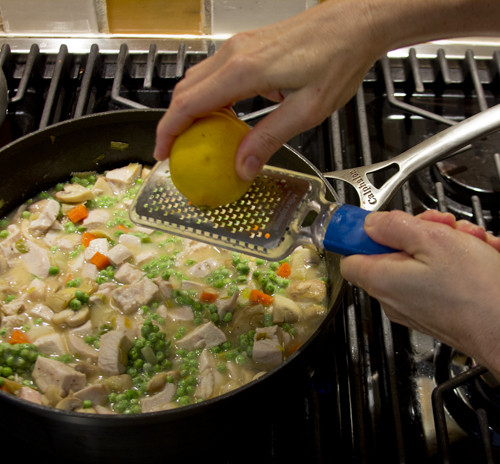 The filling gets spooned into little casserole dishes.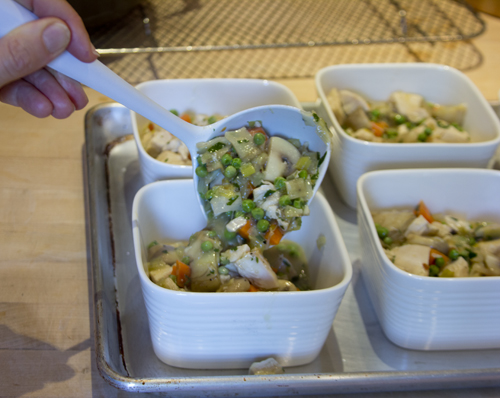 Top with dough and bake.