A few weeks ago we hosted our Triennial (my new word for the day – that's once every three years) family reunion at our cottage, We started doing this in 2000. This summer we totalled 38 various aunts, uncles, cousins, nieces, nephews and several other various hangers oners. I wrote about the genesis of these reunions a few years ago, here. My youngest sister (I have 4 sisters and one lucky brother!) likes to plan activities for these reunions. She is a kindergarten teacher. My other sisters, brother, and I tolerate it to humour her, plus, she is so bossy, we all end up doing what she says anyways, just to keep the peace.
On the second morning of the reunion we all played "The Amazing Race-Wedding Edition", in honour of our brother's upcoming nuptials in two weeks. Under the guise of helping the betrothed couple prepare for the wedding we were  divided into teams and went off on a car rally-treasure hunt to the lovely town of Perth, Ontario.
We did a similar type of activity at the last reunion, in 2009, and my oldest son asked me if participation in this year's hunt was optional. I patiently explained to him that no, participation was not optional and that the reason for this was so that when his parents, and/or aunts and uncles are dead and he and all his cousins are sitting around at the Shiva house, they will have shared memories to reminisce and laugh about. Making memories for your kids is one of the most important tasks for a parent.
The "Race" was fast and furious. Several members of our family are quite competitive and play hard to win. In fact, I would suggest that if you ever visit Perth, and stop in at the delicious Sunflower Bake Shop (where we had to visit to obtain a list of cupcake flavours that they make and then recommend the one that should be served at the wedding), you might not want to mention our family's name. Apparently we are now blacklisted from that establishment. But don't let that stop you. Their lemon pound cake is killer!
On our journey we were instructed to stop in at Jersey Joe's Pizza and Sub. Our task was to create a perfect pizza for the happy couple to eat at 2:00 am after their wedding. We were to get a price for the pie and take a picture with Jersey Joe. Bonus points were promised if we brought a box back to the cottage. Jersey Joe was a real sweetheart and he makes a mean pizza pie!
The last task of the race ended proved to be the most controversial. We wound up at the Perth Dairy Queen where we had to create a custom Blizzard that the happy couple would taste and judge.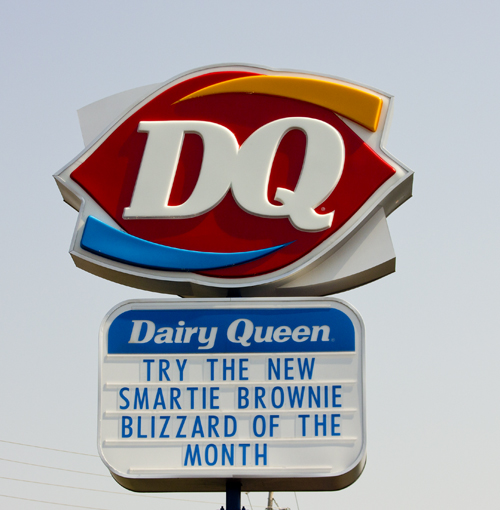 Most of the teams assumed that the custom blizzard had to contain ingredients that were available at the DQ. However, one team, who declared themselves to be "outside the box thinkers" interpreted this task much more loosely. Knowing my brother's penchant for bacon, Butterfingers candy bars and Hostess Twinkies, they procured these items before arriving at the DQ and mixed them into their custom blizzard.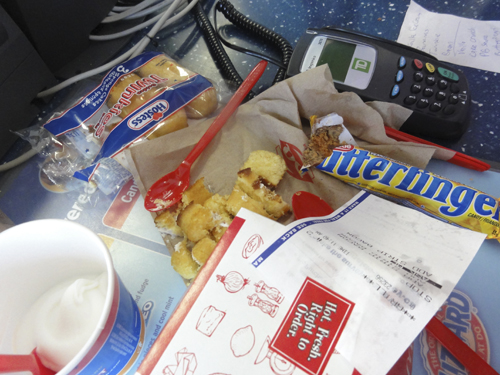 Fortunately for all the other teams, the "outside the box thinker's" blizzard was the sixth of seven blizzards that the happy (but by now, quite nauseous) couple had to taste. My brother turned a pale shade of green as his sweetheart shoved a mouthful of blizzard coated bacon bits into his mouth. One sister was heard to quip, "Cheaters never prosper."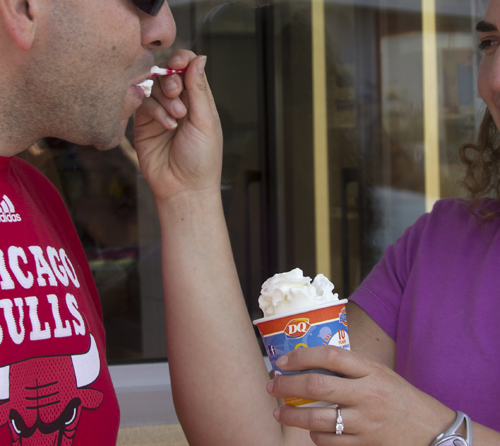 That afternoon, more than a few family members signed up for naptime!
Not all the weekend's activities were compulsory. On Friday morning we held a swim marathon. Attendance at this event was totally optional and there were only 6 of us who participated in the 2 kilometer swim to an island in the middle of our lake.  My youngest sister, brother and I first did the swim about 6 years ago and it has become a time-honoured tradition ever since. We discovered that the owner of the cottage on the island we swim to is a heart surgeon. That always gives us comfort as we gasp our way across the lake.My brother-in-law Brandon had a big bowl of Double Coconut Granola for breakfast and claimed it was the perfect fuel to jet him across the lake. My cousin Lewis tried some when we got back and now is a member of our Breakfast Club!
The Jell-O eating contest drew a huge crowd, as we cheered on my brother, the undefeated champion. He took gold in 2003 (Watermelon), 2006 (Chocolate Pudding) and 2009 (Spaghetti with Tomato Sauce). In our food races, we prize speed over quantity. Whoever finishes their plate first wins. We organize it in heats of 3 and then the winners of each heat go against each other until a final winner emerges.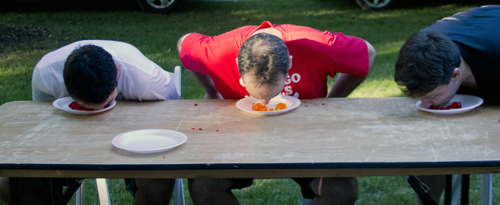 In the finals it was the uncontested champ (my brother) against his beloved (my future sister-in-law). She slurped faster than he did and is now our family's new hero. Secretly, just between you and me, I think he threw the race to let her win, because that's just the kind of sweet guy my brother is!
Shockingly, there was close to perfect attendance for Friday night's blind Prosecco tasting. We kept score on the chalkboard covered fridge and Villa Sandi eked out a close one against second place Mionetto and third place Blu Giovello. Santa Margherita Valdobbiadene got one lonely vote (Mine!)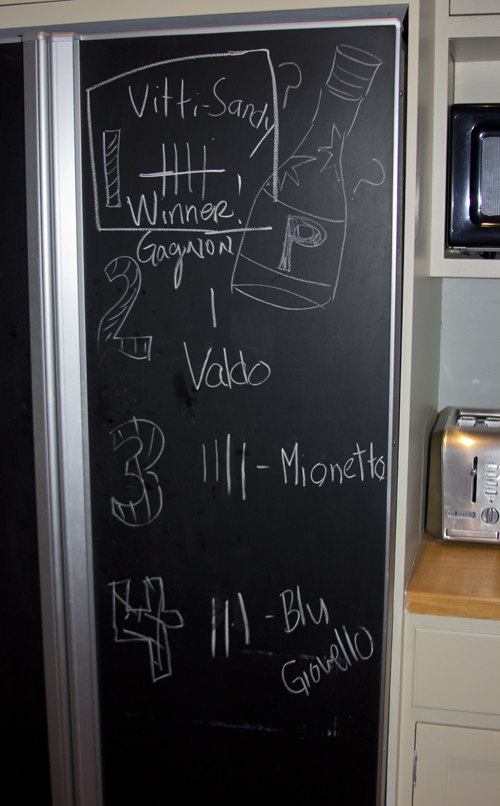 For our Friday night dinner, we set up tables on the lawn and covered them with white cloths, and candles. It looked so beautiful, we could have held the wedding right then and there!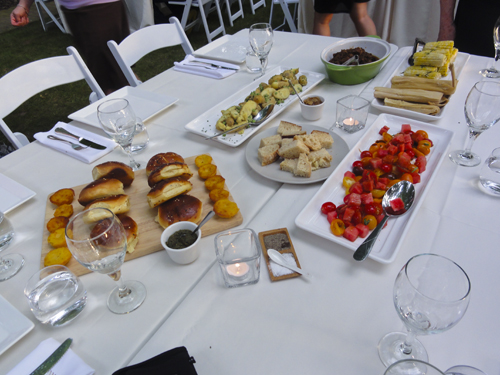 As the sun was setting a feeling of peace and dare I say, serenity, came over me. As I looked around at this incredible gathering the phrase "the whole is greater than the sum of its parts"came to mind. So true when applied to family! I hope that my children and their cousins will continue this wonderful tradition we have started.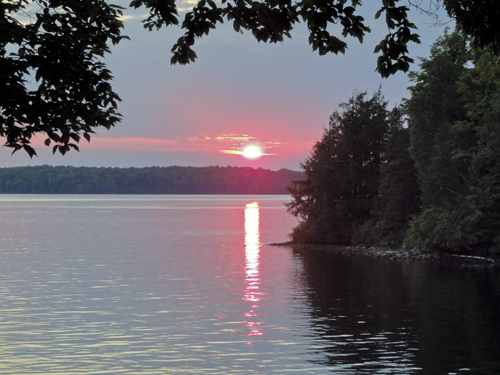 Last week, as I was making this slaw for the fourth time in less than 3 weeks, it occurred to me that this phrase, (The whole is greater than the sum of its parts) is equally applicable to coleslaw! Somehow when combined, lowly cabbage, pedestrian carrots, celery and green onion and ordinary farm stand corn come together in a kind of wondrous culinary synergy to create a really kick ass slaw.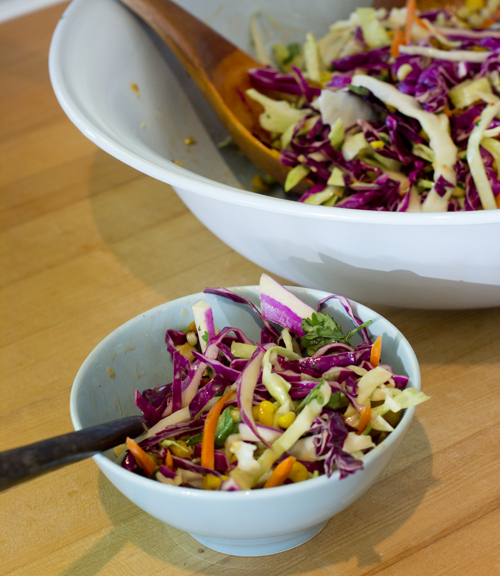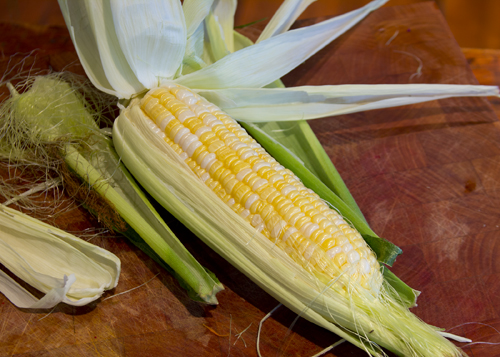 Rather than grilling the corn, which I find makes the kernels tough and a bit leathery to chew, I prefer to gently saute them in a pan. As they brown and begin to snap, crackle and pop out of the pan, they become even sweeter due to caramelization.
For the dressing I wanted to blend a perfect balance of sweet (honey), salty (kosher salt), hot (chipotle in adobo) and sour (lime juice). I smoothed the whole thing out with a dollop of light mayo. For the final touch I coarsely chopped a huge handful of cilantro, but if you are a member of the cilantro haters club, feel free to leave it out!
Click here to print the recipe for Charred Corn Slaw.