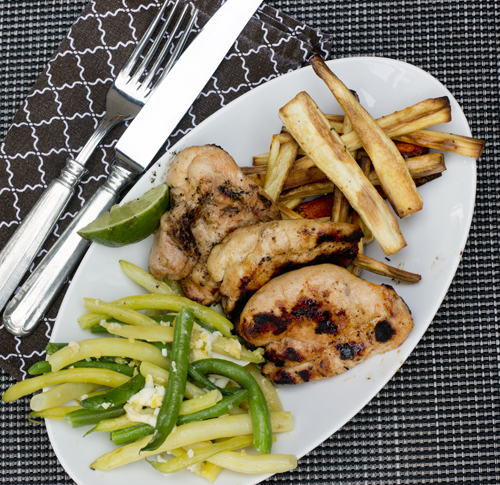 In the three and a half years that I have been blogging, it just occurred to me that I have never blogged about what I eat for dinner at least once a week. Not that I'm holding back my secret recipe from you, or anything like that. I just make this on auto-pilot and I sort of forgot to tell you about it. But I have been remiss and I need to tell you about it now!  This chicken is moist and tender, because I always make it with boneless chicken thighs (never boneless skinless chicken breasts!) Thighs are very forgiving and are almost impossible to overcook. They have a slightly higher fat content than breasts so they don't dry out as quickly.
This Chipotle Lime Chicken is my go-to recipe for a speedy delicious dinner. I actually get a craving for it. I end up with leftovers which are even more delicious cold the next day, chopped up into a salad with a hard-boiled egg for a protein packed lunch. I discovered this recipe in 2006 in Gourmet magazine (a moment of silence please!! I still miss it!) The marriage of flavours in this chicken recipe are perfect. Lime juice contributes a sour note, honey provides sweetness, Chipotle Tabasco adds a smoky heat, and olive oil brings all the flavours together to create a symphony of flavour in your mouth.
The chicken only needs to marinate for about 15 minutes, in a zip loc bag in the fridge. It  can be grilled outside on the BBQ, or inside in a grill pan. You can even bake it in the oven. Last night I had it with parsnip and carrot oven-baked "fries" and a bean salad with a mustard vinaigrette.