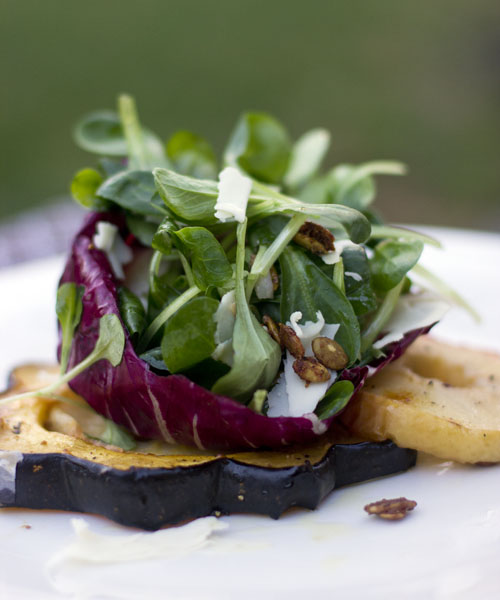 Several years ago I got involved in volunteering at an organization called "Soup Sisters." It was founded in 2009 in Calgary by  Sharon Hapton. This organization supports women's shelters across the country with the very simple and heartfelt gesture of providing home-made soup. Their tagline is "Warming hearts, one bowl at a time."  Sharon's good friend from Ottawa, Lynne Oreck-Wener attended the Calgary launch, and was so moved by this wonderful program, she decided, along with Lori Thompson and Marien Barker, to start-up a branch of Soup Sisters in Ottawa. They decided to donate the soup to Interval House, a local women's shelter here in Ottawa. Along with several other volunteers, we assist by arriving early and setting up all the soup stations, or staying late to assist in the clean-up.
The soups are cooked at Urban Element, a cooking studio here in Ottawa that is home to an incredible professional kitchen. What was once a Fire Station has been converted into a charming culinary workshop. They kept the original red brick walls and built a state-of-the-art kitchen, complete with shiny stainless steel counters and appliances, butcher block islands, sharp knives and spoons and whisks of every size and shape.  The drawers are stocked with clear containers neatly labeled, containing just about every pantry item you could imagine.  Five kinds of peppercorns, and six varieties of salt had me feeling slightly jealous.
Each month, a different group of  participants (12-20 individuals) come together to cook. The groups differ each month. One month saw a group of employees from a law firm, using the evening as a team building opportunity.  Other groups have included friends and family getting together to celebrate a special birthday. The groups break into teams of 4, each preparing a huge stock pot of delicious soup. Our job, as volunteers is to wander around, making sure that no one chops off a finger or grates a knuckle, help the participants find what they need, and generally coral the chaos. Once they finish chopping and sauteing, the soups are set on simmer and the group sits down to a little meal of soup, salad, bread and wine.
Each participant pays a $50 fee, for which they receive training from a respected guest chef, the chance to work in a modern, contemporary professional kitchen, some new cooking skills, dinner, wine and most importantly, the glow of gratification from helping others.
Each session begins with a short address from Lula Adam, public education coordinator at Interval House.
"When the women realize someone has taken time from their Sunday night to do something to help them, it really touches them. These are women who haven't really had a lot done for them, so it really does make a difference. When women first come here, they often feel isolated and alone. This is a gentle reminder that people in the broader community do care."
After dinner the participants gather back in the kitchen to package the soups.  They are encouraged to write a personal message on the label, such as "made with hugs" or "made with love". Each month when I volunteer, and watch the groups of women participating, it becomes clear, that these women care about their mission.  They want to make a difference beyond writing a cheque. These are indeed soups made with love. If you are interested in their soup recipes, check out their wonderful new cookbook.
Last month when I was working there, our guest chef was Tara Rajan. She prepared a roasted squash and apple salad for the group. This is my interpretation of her salad.
Perhaps because I am a Libra, (the sign is the scales) when I cook, I am always thinking about balance. I once read a beautiful definition of balance by Jasmin Tanjeloff, on the blog Tiny Buddha.
"To me, it means that you have a handle on the various elements in your life and don't feel that your heart or mind are being pulled too hard in any direction. More often than not, you feel calm, grounded, clear-headed, and motivated."
Balance in cooking is just as important as balance in the rest of your life.  When creating a dish I look for all the flavour elements to be in balance. These elements include salt, sour, sweet, spicy and bitter. I like to include the textural elements of creamy and crunch as well. Of course, not every dish needs all these elements, but when you do hit them all, sometimes it can be an incredible culinary party in your mouth.
I started with some obvious fall staples, squash and apples.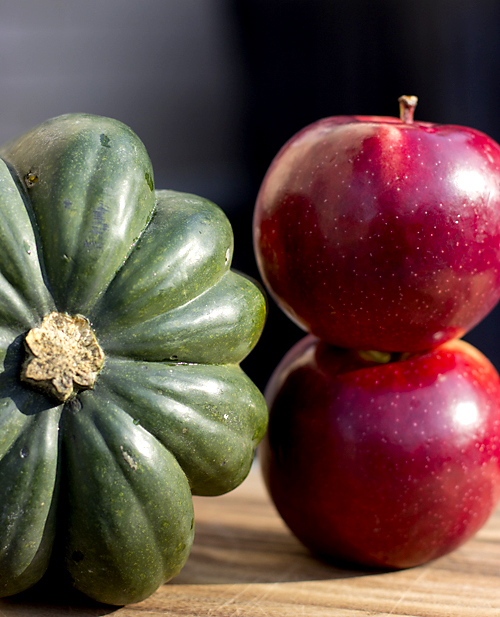 I like acorn squash because it looks like flowers when you slice it. Plus, the skin, when roasted is quite tender, so I never bother peeling it. I used Honeycrisp apples. Empires or Royal Galas would also work well.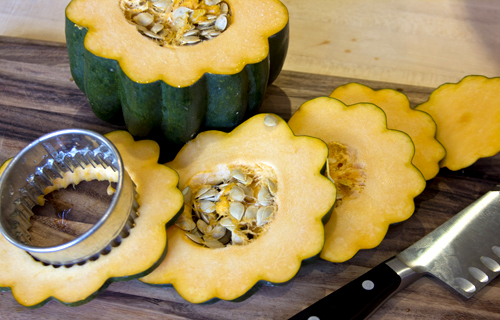 The apples and squash are brushed with a little vegetable oil and maple syrup. Sprinkle with a little salt and pepper and they are ready for the oven.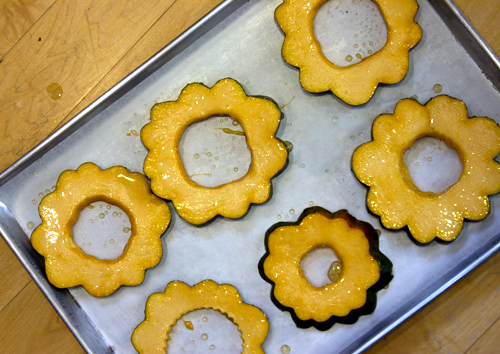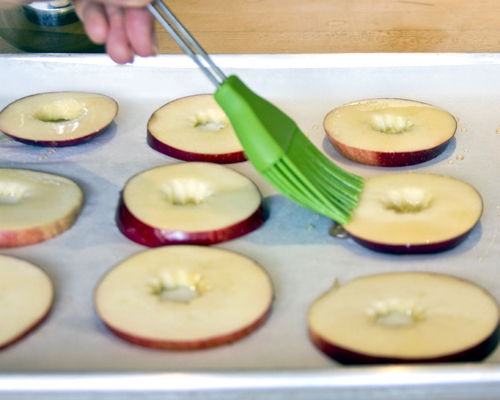 I prepared a dressing using sunflower oil, apple cider vinegar, white wine vinegar, Dijon mustard, maple syrup, salt and pepper.  In order to give the salad a hit of heat and some crunch, I prepared spiced pumpkin seeds. Shelled pumpkin seeds were coated with egg white and then tossed in a mixture of chipotle chile powder, sugar, and salt. They went into a moderate oven until they were toasted to perfection.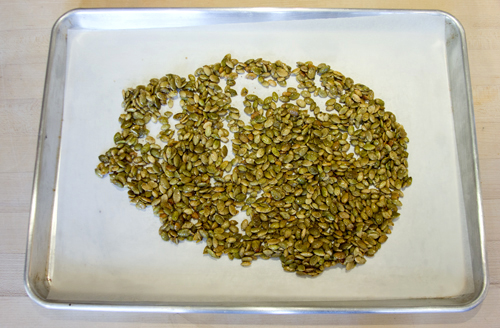 To assemble the salad, I started with a base of roasted squash and apple slices. I topped that with a few radicchio leaves, and a big pile of tender mache (lamb's lettuce). I drizzled the salad with dressing, and topped it with some spiced pumpkin seeds and a few shavings of salty white cheddar.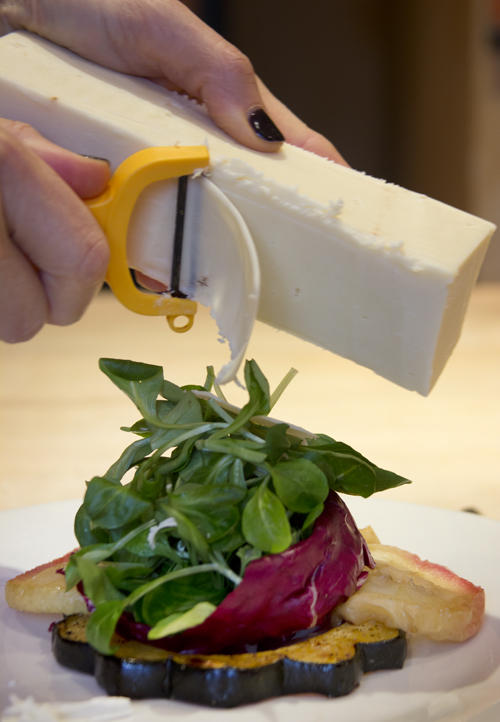 Click here to print recipe for Autumn Salad.