Just over 21 years ago, I moved to Ottawa from Toronto. At that time I was the proud mom of a sweet little boy, aged 15 months, and was hugely pregnant with my second child.  I missed my family and friends in Toronto and was very unhappy to be living here.  One rainy day I took my son outside to get the mail from our superbox.  Right by the mailbox was a huge and very deep rain puddle.  My little one decided to take a bath in that puddle.  He laid down and started rolling around in the muddy puddle.  My arms were full of mail and I couldn't pick him up.  I was just about to panic when I heard a voice calling out, "Would you like some help?"  Without waiting for my answer, a very stylishly dressed woman scooped him up out of the puddle and carried him to my front door.  A lasting friendship was born that day.
Her name was Brigitte, and she was my across the road neighbour.  She was Belgian and had the odd custom, when greeting you, of kissing first the right cheek, then the left and then the right cheek again – 3 kisses! The Belgian people are very affectionate.  She introduced me to french fries with mayonnaise as well as all the other stay-at-home moms on our street.  Once a week we would get together at someone's house, with our kids, for coffee and a play date.  Eventually, that turned into lunch, with wine for the moms and Kraft dinner and apple juice for the kids.  Within 6 months we dumped the kids with their dads for a fall girl's weekend at the cottage.  This fall marked our  20th annual get together.
I have learned many things from this group of women, most importantly, that it's ok to be a less than perfect mother.  They have been a wonderful source of support and inspiration for me over the years.  And while we don't see each other weekly any longer, when we do get together, it's almost as if no time has passed.  For our girl's weekends, meals are assigned and everyone takes a turn in the kitchen.  We eat and drink way too much and by the end of the weekend our heads hurt from laughing so much. Everyone feels safe to vent and complain and spill her sorrows, as we know that what happens on the girl's weekend stays on a girl's weekend.
Many things have changed over the years. We tend to drink less now, go to bed earlier, and no one worries about buying new P.J's for the weekend. What hasn't changed is how much we all love to eat and laugh.
Two weeks ago we gathered at my cottage for our weekend. There were 9 of us, all still living within 2 blocks of each other in the neighbourhood where we raised our families. As we all assembled for Friday night dinner, we couldn't help but remark how we are not getting any older, just better. Of course, it helped that I had dimmed the lights and no one was wearing her reading glasses. My friends are quite generous and treat me to such lovely hostess gifts. This year I decided to buy presents for all of them.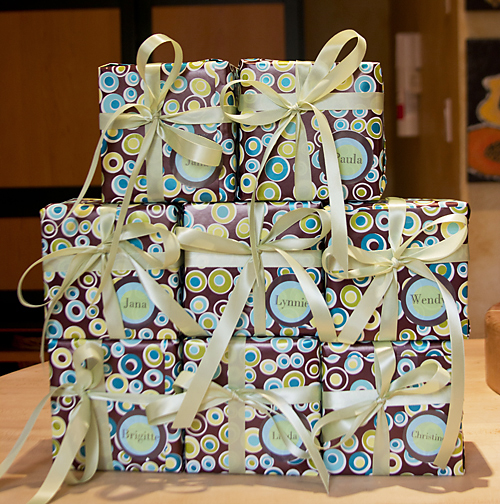 The girls were thrilled by their new coffee mugs. I love these mugs from Anthropologie. I have to admit, my gift giving was not entirely altruistic. I have my own Anthro mug, to which I wake up every morning looking forward to drinking latte out of. It has the perfect weight and feel in my hand. Sometimes when we have guests at the cottage, and they wake up earlier than me, they will think nothing of taking my favourite mug (with the letter C on it) from the mug drawer to have their coffee in. There is a drawer full of perfectly wonderful other mugs to choose from, why do they have to take mine? I know I sound like a petty crank, but I have a morning ritual that I look forward to and if my mug is missing, I feel off-balance for the entire day. So, I decided to give everyone their own mug and felt very secure in the knowledge that my own mug would still be sitting in the drawer waiting for me tomorrow morning!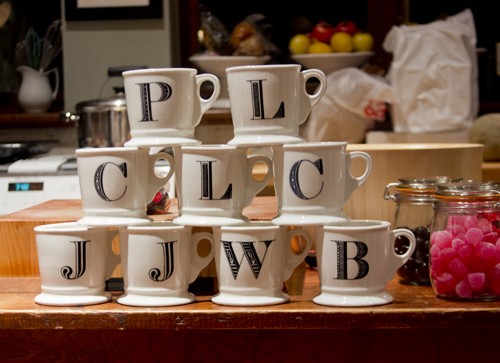 My mug has a small chip in the base. My husband and daughter were in the Anthropologie store in Scotland this summer and they called me to see if I wanted them to buy me a replacement. I declined, saying that I liked my chipped mug. It was slightly flawed but perfectly functional, just like me!
Friday night dinner, brought to us bu Brigitte, Jana and Jana was a delicious tomato soup , salad and lasagna. The dessert was a show stopper! Three mini jars of deliciousness. Panna cotta topped with raspberry sauce, chocolate mousse and lemon mousse. My girlfriend found these little jars and white platters at the dollar store! It was such an adorable presentation and a perfect idea for a make ahead dessert that will wow your guests.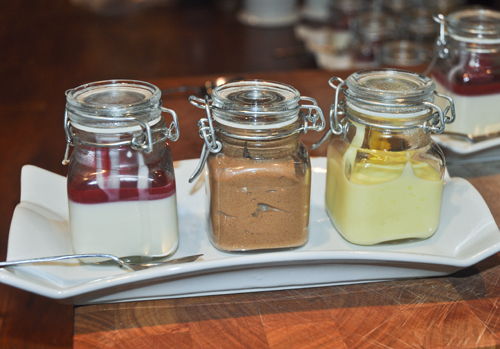 Saturday morning dawned cold and dreary and my mug was waiting for me! So was an incredible decadent breakfast lovingly prepared by Paula. Scones, croissants, sticky buns, bagels,  three kinds of yogurt, granola and fruit.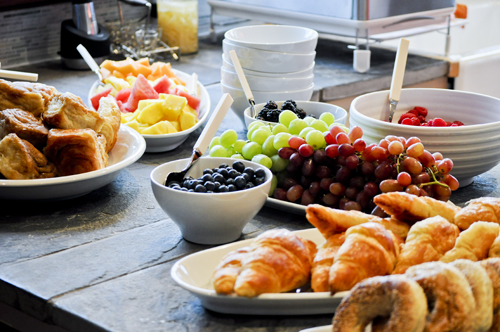 Some of the girls went shopping on saturday afternoon at Kilbournes. This is a country store in the town of Newboro, Ontario, about a 20 minute drive from my cottage. When you first walk in you see Tilley hats, fudge, wooden ducks and all the usual country store suspects. This place has over 26,000 square feet and is filled with gourmet foods, local cheeses, kitchen ware, toys, clothing, furniture, kitchen appliances, top end ovens and stoves and shoes! And what a shoe department they have. In  this tiny little town, in the middle of nowhere they have well over 10,000 pairs of shoes, sandals and boots ranging from Clarks, Frye, Fit Flops, Anne Klein and Stuart Weitzman! I will warn you however, the longer you stay in the store, the better the merchandise starts to look!
The rest of us stayed back at the cottage and made a fire, read and napped.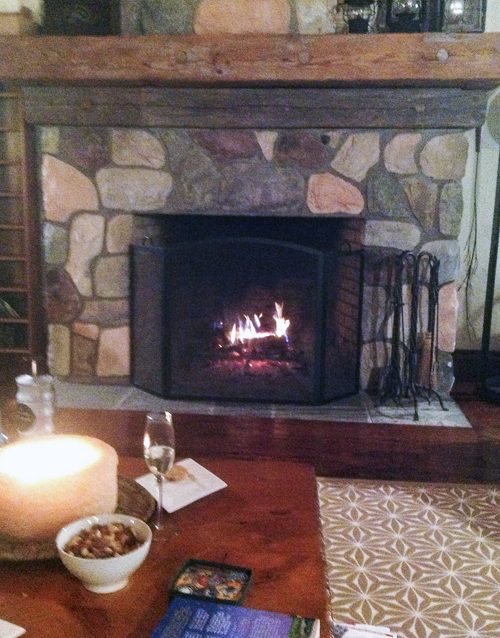 We all gathered together for cocktails and cheese biscuits before dinner. Our friend Christine introduced us to a ginger liqueur called Domaine de Canton. A splash of this over a piece of candied ginger and topped off with some Prosecco makes for a lively aperitivo hour!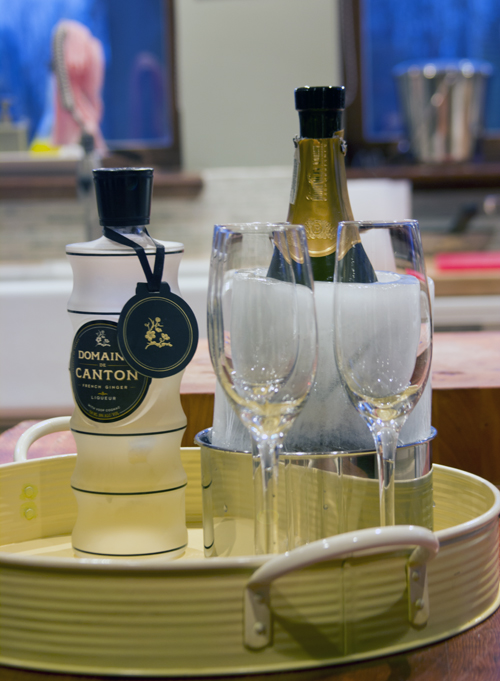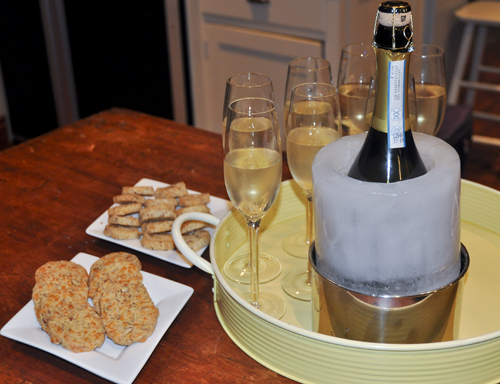 Saturday night dinner was grilled rib steaks and french fries. I own a deep fryer which I keep at the cottage and use about twice a year. Frying in an open pot, scares me, and so for $139.00 I have peace of mind that I will not burn the house down. If you have never made your own fries, you must do it at least once in your life. You will not be sorry. It has become a girls weekend tradition that we all look forward to. My friend Paula bought me a french fry cutter which was mounted and holds a place of honour on the laundry room wall. It took us about a year to figure out that this was not a tabletop appliance! Here is a video demonstrating its use! This machine, while quite amusing, is not necessary to have if you decide to make your own fries.
Once the potatoes are cut, they are soaked in cold water for about an hour. This rinses the starch off them. Dry the potatoes very well in some kitchen towels.
Then, heat the oil in the fryer to 325° F. Cook fries, in batches for about 7-8 minutes until they are soft and limp but not golden.Transfer from fry basket to paper towel lined baking sheet and set aside.
Crank up the heat on the fryer up the fryer to 375° F for the second frying. In small batches, cook the fries for a second time. Two fryings are the classic way to make french fries. The first fry cooks the fries through on the inside and the second fry, crisps them up on the outside. You can do the first fry up to 2 days ahead and store the cooked potatoes in the fridge until ready to cook for the final fry. We made two kinds of fries. regular, using Russett potatoes, and then sweet potato fries.
You must salt them as soon as they come out of the fryer.
The smell of freshly fried potatoes brought everyone into the kitchen. That crisp, salty crackle between your teeth as you take your first bite, almost burning your tongue on that hot salty goodness is irresistible. To accompany the fries we made a dipping sauce of chipotle mayo. The smoky heat was fantastic with the fries. Kale salad and grilled rib steaks, cooked to medium rare finished off our meal. Although we all proclaimed we were too full for dessert, we polished off most of a chocolate caramel tart, baked by our friend Christine.
Sunday morning brunch is always a quiet subdued meal. Aware that our time together is coming to an end, I always feel a little melancholy. We clean up from brunch, pack our coolers and divide up the empty wine bottles so no one at home realizes how much wine we have actually drunk in less than 48 hours. Hugs and kisses and promises to email pictures and recipes, along with plans for the next get together fill our chatter.