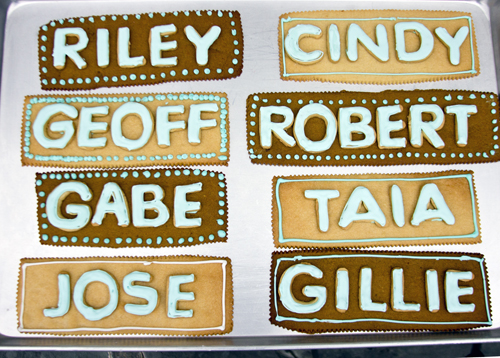 My husband and his five siblings are in a family business together. We decided about 8 years ago that we should begin to educate our children, the next generation, so we founded a family council. We get together twice a year with the goals of fun, family togetherness and enlightenment in mind.  Our most recent council meeting took place in Fort Lauderdale several weeks ago. There are about 24 of us who participate in these meetings.
It doesn't seem to matter how old you are, we all revert back to some fairly petty childhood behaviours when we get together with our siblings. Even though we are all adults now, somehow we regress backwards to our 10-year-old selves, squabbling, poking and just plain irritating the heck out of each other. In order to have a more productive meeting this time around, one of the professionals we are working with suggested a seating plan for the meeting room. As co-chair of our family council, I was a little worried about how this would be received. Some members have control issues and would likely not take too kindly to being told where to sit.
And then I had the brilliant idea of creating cookie place cards. I figured everyone would be so busy admiring them and munching on them that no one would even notice that they were being directed as to where to sit.
I needed a sturdy cookie dough that would survive the flight from Ottawa to Toronto. I decided on making two kinds of dough, Gingerbread  and  Brown Sugar Cookie  dough. I pulled out my alphabet cookie cutters. I can't remember where I got these, but I do know that up until now, they had only been used with play-doh. I gave them a good scrubbing and got down to work.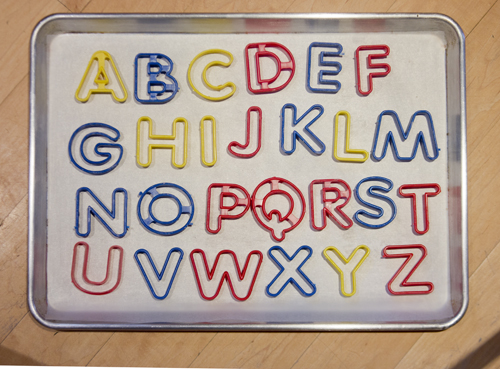 It's best to roll out the dough between 2 sheets of parchment paper while it is still soft and then chill until firm.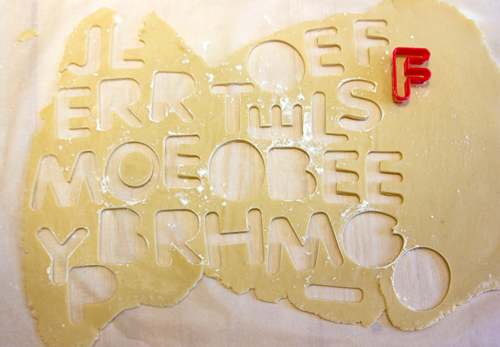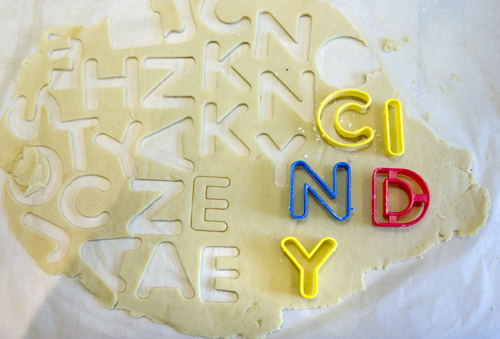 A table knife can be used to gently nudge the letters out of the cutter. Give them a bit of room on the cookie sheet as they do swell a bit with baking.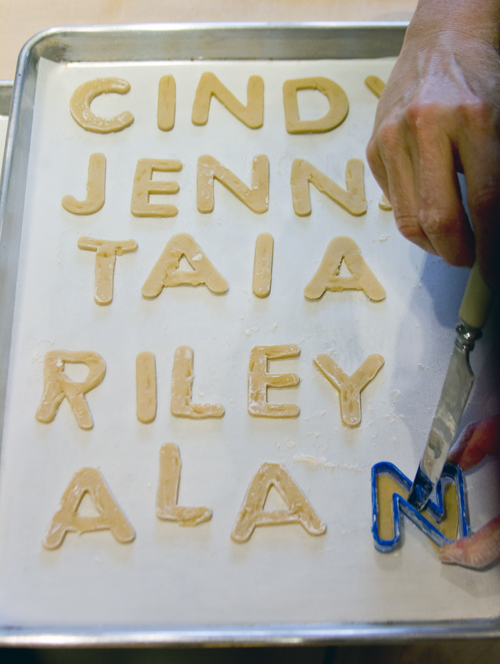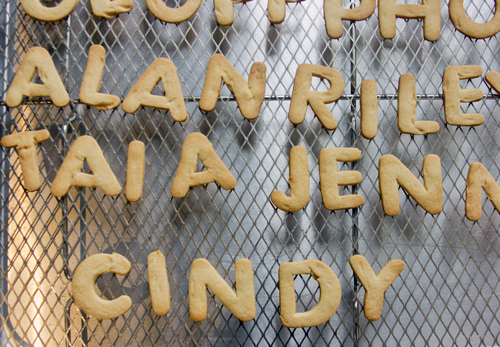 I decided to use royal icing to decorate the letters with. If you are new to decorating cookies, check out Sweetopia's blog. She is really amazing and she has many videos that really show how to do it well. I used her Royal Icing Recipe for my cookies and it is one of the best I have tried. To colour the royal icing, I bought gel food colours from Americolor. The little squeeze bottles are great.
Here is a little video I made to demonstrate decorating the letters. I clearly need some videography courses!
Once I had all the letters, I needed to decide how to turn them into name cards. I decided to make cookie boards to "glue" the letter onto, using royal icing as the glue.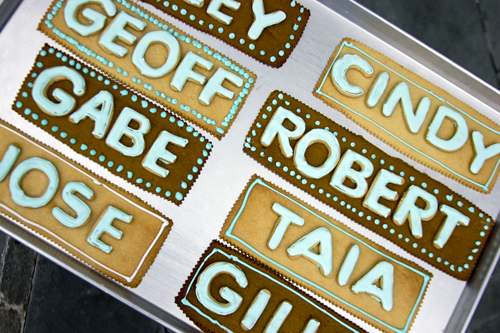 The icing needs to dry for at least 24 hours, before packaging it up.
I am happy to report that the cookie place cards were a big hit and family harmony was achieved. I think all would agree that the highlight of the weekend, planned by the "Fun Committee" (yes, we actually have a fun committee!) was dinner at a Mexican restaurant followed by bowling. It's possible that margaritas and tequila shots may have been consumed!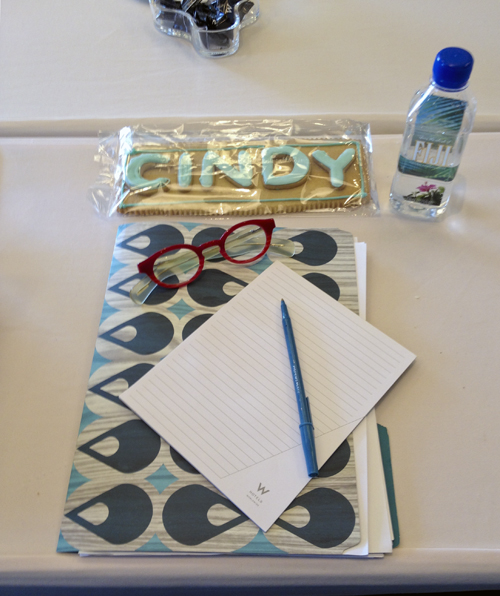 Related articles