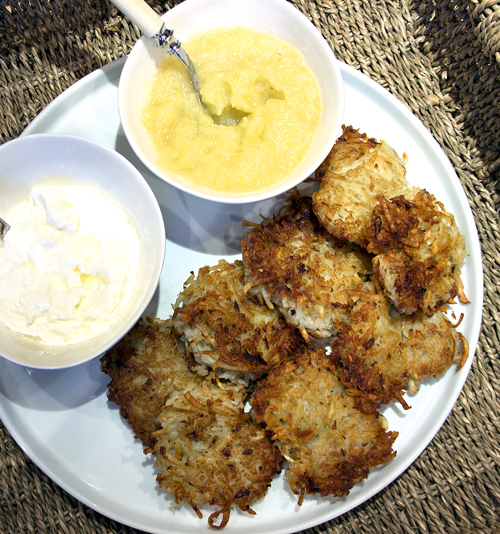 Several weeks ago I was asked if I would appear on a local cable TV show and demonstrate how to make "low-fat " latkes. This disturbed me greatly and I quickly responded that unfortunately I do not believe in low fat latkes. I think latkes are meant to be eaten only once a year, the real way. (fried in oil!) A once a year indulgence really celebrates and honours Chanukah the way it was intended. She responded "OK – You've convinced me!  You make a good point.  I was thinking of the healthy diets people are seeking.  But you're right that maybe the normal latkes represent what Chanukah is about.  So let's go ahead." Unfortunately, the timing of the taping coincided with when I was going to be out-of-town, so we shelved the idea for next year.
This Saturday (December 8) marks the first night of Chanukah. In the second Century, the Holy Land was ruled by Syrian Greeks. King Antiochus IV was in control of the region. Under his rule, Jews were severely oppressed and not allowed to practice their religion openly. Against all odds, a small band of faithful Jews defeated one of the mightiest armies on earth, drove the Greeks from the land, reclaimed the Holy Temple in Jerusalem and rededicated it. When they sought to light the Temple's menorah they found only a single vial of olive oil that had escaped contamination by the Greeks. Miraculously, the one-day supply burned for eight days. And hence, the reason for the tradition of eating foods fried in oil during Chanukah.
Every year I see recipes for all kinds of variations on the traditional latke. Several years ago  Bon Appetit magazine promised a "Gorgeous Chanukah Feast" featuring both cumin scented beet latkes and gingered carrot latkes.   While at first glance they seem intriguing, I could not actually see myself preparing either of these or any of the other interesting variations I have read about.  In the first place my family would revolt.  In the second place, I only make latkes once a year and I crave the traditional potato variety from my childhood.  I suspect that many of your families are similar to mine and sweet potato-parsnip latkes would not be met with cheers of joy.
My mother has an incredible sense of smell.  In our family, we joke that she can smell foul odours a day before they actually occur.  My childhood memories are filled with her going from room to room, sniffing and muttering, "What's that smell?"  One of her least favorite smells was that of food cooked in oil.  She claimed that she could smell the oil for weeks afterwards.  Now I must be honest here and admit that I inherited my father's sense of smell – that is to say that his lack of sense of smell.  He had sinus problems and his nose malfunctioned often.
That being said, once a year, on Chanukah, we had latkes. My mom's latkes are fantastic.  They are lacy shreds of potatoes, fried until crisp.  The lingering smell of frying oil was quickly chased away by my mother's secret blend of cleaning agents, a potent, lethal combination of Joy and Ajax.  Do not try this at home unless you are wearing a gas mask.
The first time my husband took me home to meet his family (we were not married yet, we had only been dating for about 3 months) was during Chanukah. His mom made latkes.  They were thick and creamy, not the thin lacy crispy shredded latkes that I grew up with.  After we were married we had our families over for a Chanukah party.  Of course, we could not agree on which kind of latkes to make, so we ended up making both.  The guests were starving by the time the latkes actually appeared at the table so both kinds were gobbled up very quickly.  Not being able to resolve which type were superior, I created a compromise recipe.  These latkes are thin and crispy around the edges, but still creamy in the centre.
Russet potatoes are my choice for the best latkes.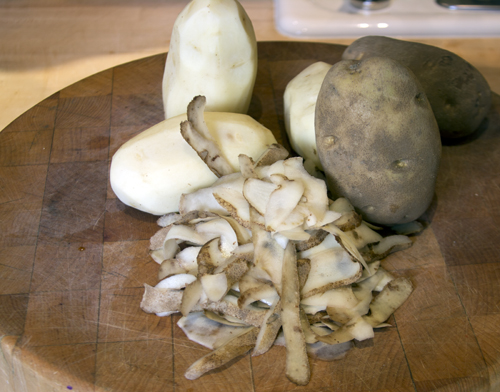 A Cuisinart makes fast work of the shredding.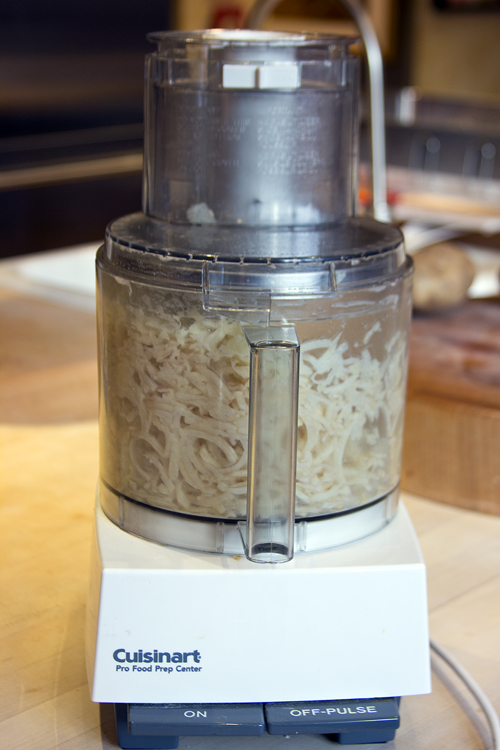 Half the shredded potatoes are set aside and the other half go back in the Cuisinart with an onion to be coarsely chopped with the steel blade.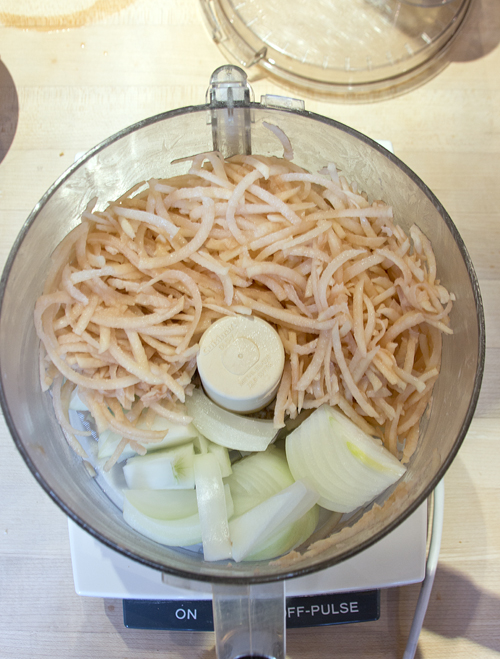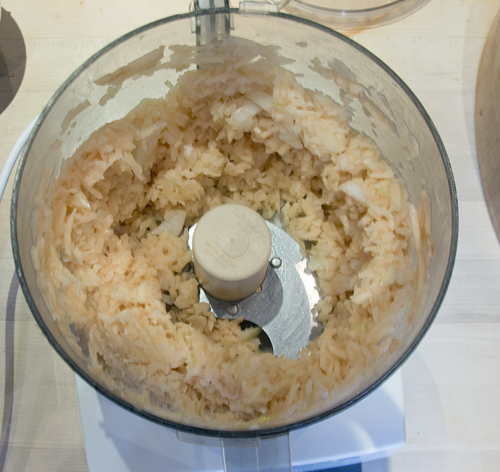 The shredded and grated potatoes and onions get wrapped in cheesecloth and then you squeeze the heck out of them. Let the liquid sit for a few minutes. Drain off the liquid but keep the potato starch. This is the secret to latkes that do not fall apart while cooking.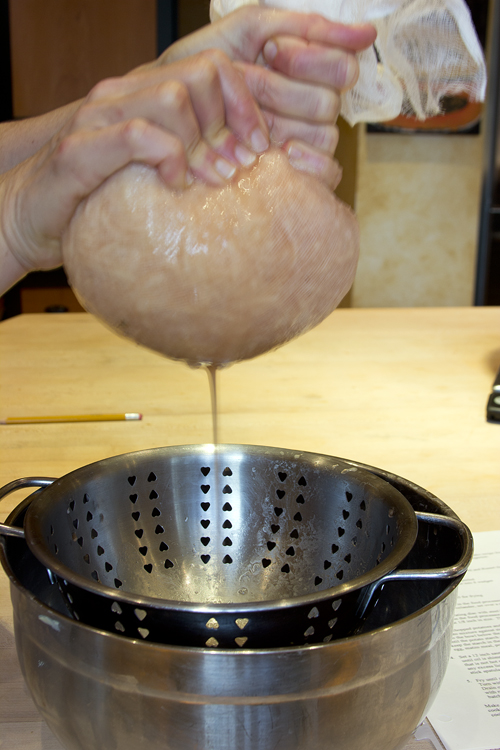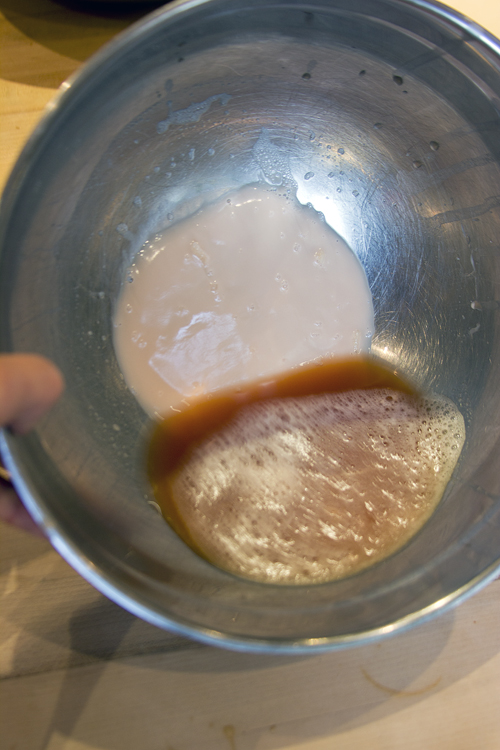 Add a beaten egg, some kosher salt and about 2 tablespoons of matzoh meal or panko bread crumbs.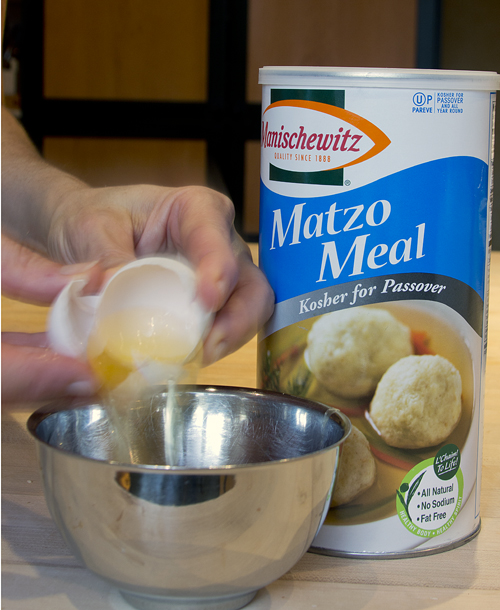 I like to fry my latkes in vegetable oil in a cast iron skillet. A heavy-duty non-stick pan will work if you do not have cast iron. A slotted serving spoon makes it easy to get the latke mixture into the pan.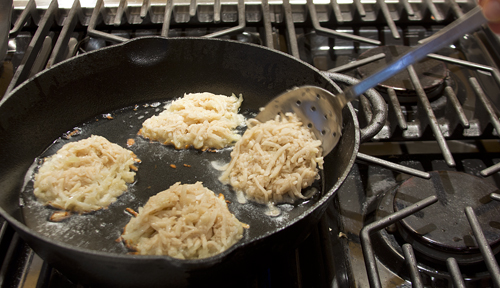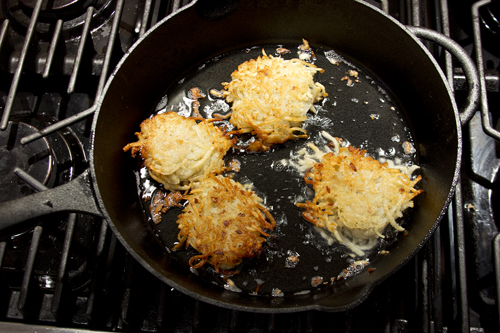 I made some applesauce to go with the latkes. No recipe here. I used a combination of Granny Smith, Honey Crisp and Golden delicious apples. I quartered the apples. No need to peel or seed if you have a food mill. I added about 1/2 a cup of   water to the pot, covered it with a lid and cooked it on medium heat for about 10 minutes until soft. Then I put the whole mess through the food mill, which does a great job of filtering out the peel and seeds.