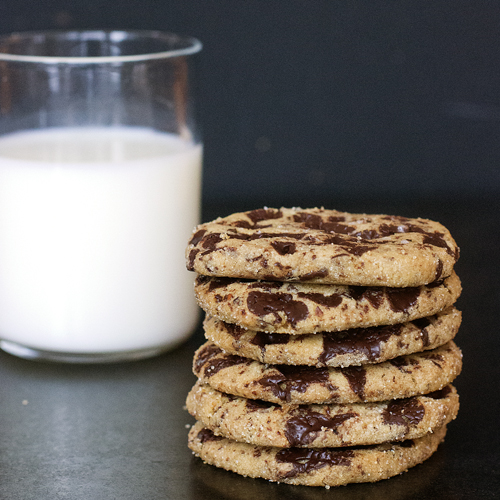 If you found yourself in the post office last week, chances are that the lineups were long and they seemed awfully short-staffed. Were they off sick with the flu, or perhaps hung-over from last night's office party where our loyal postal workers may have tied one on? No, not quite. I have, in fact, uncovered the real truth. Many of these postal workers were in the storage room in the back of the post office where all the parcels are kept. These mild-mannered civil servants were shedding their conservative navy blue uniforms and changing into their
alter ego costumes
; several were caught red-handed and charged with tampering with federal mail. The guilty parties could be seen with cookie crumbs caught in the folds of their fur and around their mouth. You see, December 5 was the postal deadline for mailing your cookies for the
Great Food Blogger Cookie Swap
. Over 600 food blogger across North America had signed up to participate. With over 1800 boxes of cookies being shipped all across North America, who could blame these postal workers for breaking into the booty?
It all started at the beginning of November when I received an email invitation to participate in a cookie swap. My automatic response was to hit delete. This sort of thing is fraught with landmines. Having people over to your house and then having to be polite and pretend to like their 
green christmas tree cookies
or
spritz cookies with a maraschino cherry in the center
. Smiling and nodding with a mouthful of vegan shortbread when a fellow baker asks you, "Can you believe they weren't made with butter?"
Before I hit the delete button, I read a bit further and realized that this cookie swap did not require any human contact. This was my kind of get together! "The premise is this: sign up. Receive the addresses of three other food bloggers. Send each of them one dozen delicious homemade cookies. Receive three different boxes of scrumptious cookies from other bloggers. Eat them all yourself (or, you know, share. If you want. No judgement either way.) Post your cookie recipe on your blog. See everyone else's cookie recipes. Salivate. Get lots of great ideas for next year's cookie swap." This creative endeavor is the brainchild of Lindsay at Love and Olive Oil and Julie of The Little Kitchen. They "hosted" their first swap last year and had over 600 food bloggers participating. I hit reply and before I knew it, I had the mailing addresses of 3 food bloggers to send my creations to. The last time I impulsively hit reply and joined something resulted in my becoming a food blogger, so more goodness could only follow. The rules of this swap stipulate that you can not submit any cookie recipe that has previously been posted on your blog.
I have over 25 cookie posts on this blog! That meant I'd have to come up with something new and completely different. My brother-in-law Richard came to the rescue and presented me with a new cookbook, "The Sugar Cube" by Kir Jensen. Kir is part of the exploding food cart scene in Portland Oregon. Her tiny little pink food cart turns out some majorly delicious treats. I was immediately taken with a little cookie called Kir+Dorrie

Pierre. How could I not try these with a name like that! It turns out that the Dorrie behind these cookies is cookbook author Dorrie Greenspan and the Pierre is the famed Parisian chocolatier Pierre Hermé. This is a well-travelled little cookie!
In Version 1.0, Parisian chocolatier Pierre Hermé created these chocolate sable (French butter cookies) for the Paris restaurant Korkova. Pierre's version pushed the traditional sable envelope by using light brown sugar in addition to white sugar and adding cocoa powder, chunks of bittersweet chocolate and enough fleur de sel to make them completely addictive. In 2000, Pierre passed the recipe onto cookbook author Dorrie Greenspan and she dubbed them Korkova cookies. When her neighbor Richard tasted them Version 2.0 was born.  He renamed them "World Peace Cookies", because he was convinced that a daily dose of Pierre's cookies is all that is needed to ensure planetary peace and happiness. These cookies went viral on the blogosphere. Then Kir Jensen, owner of the charming Portland food cart "Sugar Box" took the recipe and tweaked it to create Version 3.0. She substituted dark brown sugar for light brown, added an egg yolk for additional fat, mixed in some cacao nibs, rolled the edges in sugar and sprinkled the cookies with extra fleur de sel. I followed Kir's recipe, but found the resulting cookies "too chocolatey". I know that this phrase may be blasphemy to some of you chocoholics out there, but the nuances of the three different types of chocolate in the cookie (cocoa powder, bittersweet chocolate chunks and unsweetened cacao nibs) were not detectable.
Enter Version 4.0. I removed the cocoa powder and replaced it with an equal amount of all-purpose flour. I feel that this modification really allows the bittersweet chocolate chunks and the unsweetened cacao nibs to really shine through. I hope that Pierre, Dorrie and Kir would approve. These are not the typical chewy gooey chocolate chip cookie. You get a nice little crunch from the rolled edge of turbinado sugar when you first bite into these cookies. The inside is tender and slightly crumbly and the bitter note of the unsweetened cacao nib plays off beautifully with the bittersweet chocolate and the deep molasses flavour of the dark brown sugar. The flakes of sea salt take this cookie to the next level. These cookies are perfect for mailing because they will keep well in an airtight container for up to two weeks. These cookies deserve the best quality chocolate you can find. I chopped up 10 ounces of  66% bittersweet Valrhona feves.
.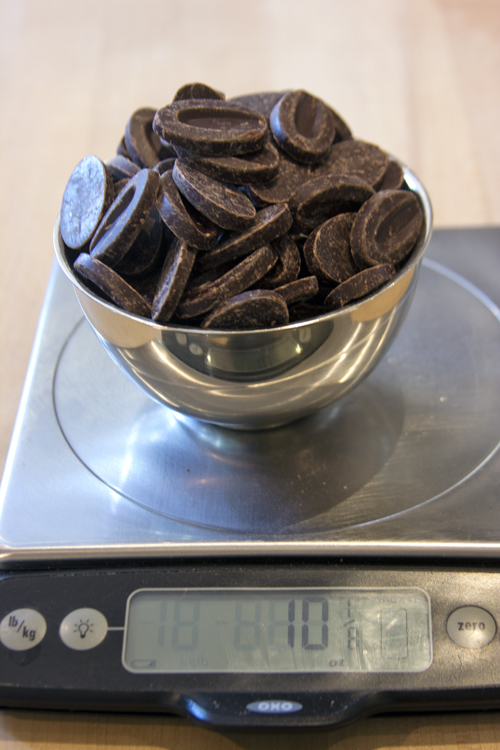 Cacao nibs are added to these cookies as well. Cacao nibs are the edible part of the cocoa bean after it has been harvested, dried, fermented and hulled. Cacao nibs have a similar taste to roasted coffee beans. They add some textural crunch and a hint of bitterness to these cookies which sounds strange but really complements the sweetness in these cookies.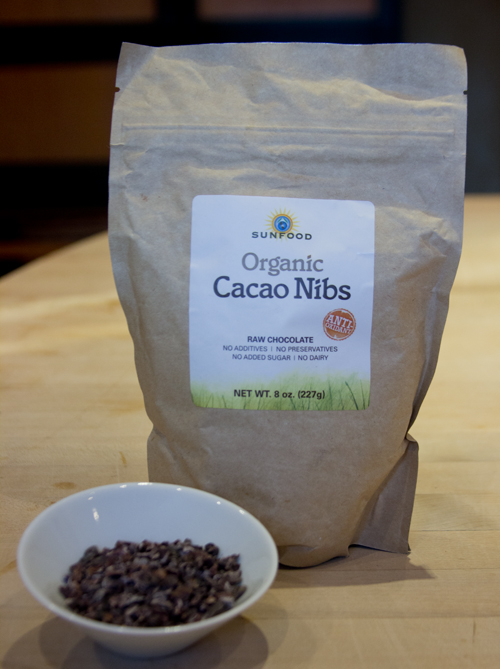 I shaped the dough into a rectangular loaf and then wrapped and chilled it.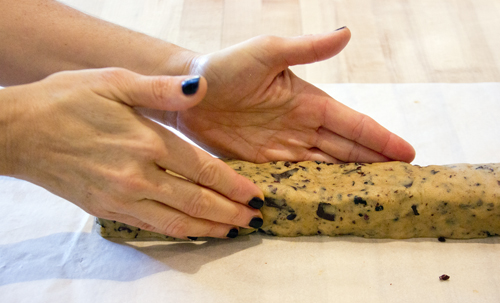 After an hour in the fridge they were ready for slicing.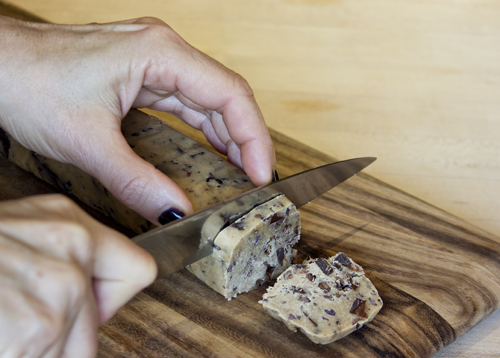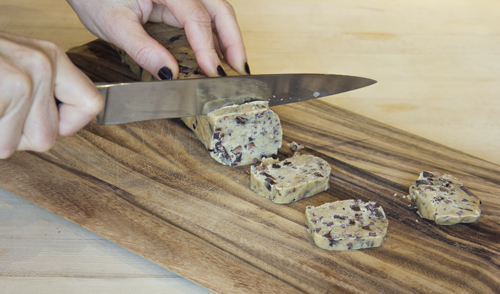 The edges were rolled in some fine turbinado sugar and then they were baked.