I'm not quite sure why, but goal setting has always made me uncomfortable. So it goes without saying that I am not big on making New Years Resolutions. That being said, as 2012 came to a close last night, I am feeling in a reflective mood. I suppose that happens naturally  as we age. While I don't have any specific goals in mind, my fervent hope is that I will age gracefully! By that I mean that I wish to be an interesting, informed, engaged and active member of society in my senior years. I have been blessed to have known several such women in my lifetime.
I do not want to spend my later years in isolation, feeling bitter and unloved. Aging gracefully requires acceptance and on the flip side, a healthy amount of denial. Although, to be completely honest, I am not quite ready to accept that without the aid of Schwarzkopf  Golden Brown 254, I would be completely grey! Good genetics and luck certainly play a role, but I firmly believe that the keys to aging include staying active and challenging yourself to step out of your comfort zone and be open to trying new experiences.
That being said, while I am active each day, I tend to get stuck in a rut and am not exactly adventurous regarding trying new activities. I have several friends who have discovered the joy of spinning and one in particular who has become addicted to it. She says that she sweats all the toxins out of her body during spin class and attributes this form of exercise to her glowing complexion and firm body. If I didn't love her so much, it would be very easy to be jealous. My husband is an avid biker (not the Hell's Angels kind!) and has also recently jumped on the spinning bandwagon.
I am pleased to announce that I recently lost my virginity! My spinning virginity, that is. We were away on a family holiday in Costa Rica and last week I shocked my husband by signing us up for a spin class. My goal for my first class was to stay on the bike for the entire 50 minutes and not have to do the walk of shame, leaving the studio, halfway through, trailing a puddle of sweat behind me as I retreated.
For all you spinning novices our there who may be tempted to give it a whirl, here are my helpful hints to get you through your first class:
When the instructor tells you to turn up the resistance on your bike, put your hand over the tension knob and pretend you are increasing it, but do not, under any circumstances, dial it up. Remember to begin spinning a little slower so that it looks like you actually have increased the resistance.
Avoid eye contact with the instructor.
Resist the urge to jump off your bike and stuff your towel down the instructors throat as he continually yells what he believes to be motivating little bon mots to get you to work harder.
If you think you are going to throw up and/or die, and really do need to stop for a minute or so, get off the bike under the guise of adjusting the seat height. This should buy you a minute or two to catch your breath.
Resist the urge to jump off your bike and rip the power cord of the stereo system out of the wall because the techno beat of the music is making you want to scream. Recite something calming in your mind instead. I did my yoga chant  and closed my eyes.
I successfully managed to stay on for the entire class and further shocked my husband by signing up for the next day's class. As of this writing I have attended four spin classes and during my last class, I do believe I won the "Sweat Game." The rules are fairly rudimentary. Whoever has the biggest puddle of sweat under his or her bike at the end of class, is the winner. Extra points for not slipping and wiping out in your own puddle of sweat when class is over.
I am planning to continue attending spin class at when I get home although I doubt that the view at my local Goodlife can compete with this one. Oh well, I can always close my eyes and imagine!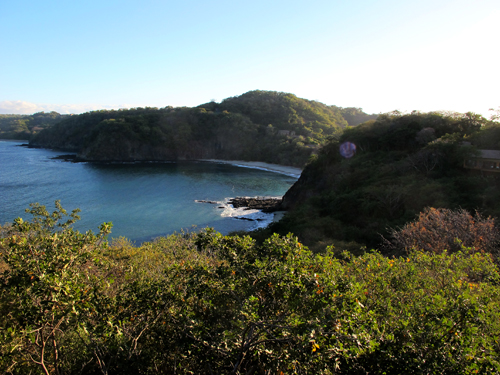 Flushed with success at attempting something new (spinning), I decided to challenge myself to experience something new each and every day while on holiday.
On Tuesday, I had my very first Mojito! It was challenging, but I managed to finish the entire glass in about 10 minutes! I discovered that indeed, I do like rum!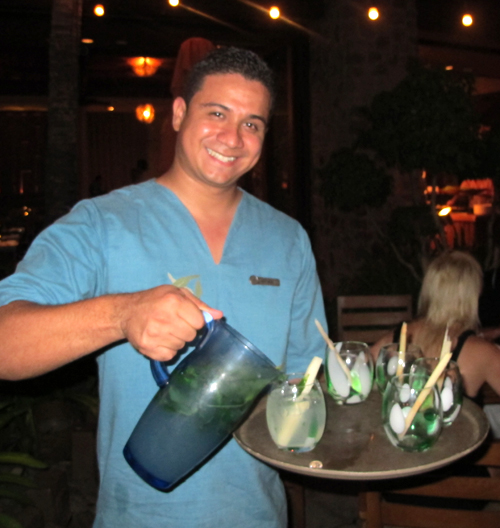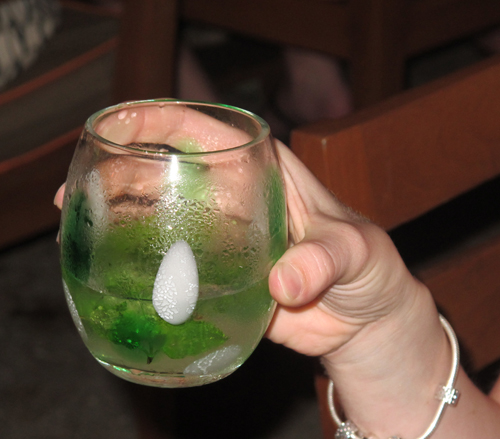 On Wednesday, I had my very first "Churrasqueira" experience.  Churrasqueiras are restaurants serving grilled meat, many offering as much as you can eat: the waiters move around the restaurant with the skewers, slicing meat onto the client's plate. Here at our hotel the skewers contained nine signature cuts of meat: Marinated Chicken Wings, Mexican Style Chorizo, Marinated Pork Belly, Baby Sirloin, Top Sirloin, Rib Eye Steak, Filet Mignon, Skirt Steak,  and Boneless Leg of Lamb.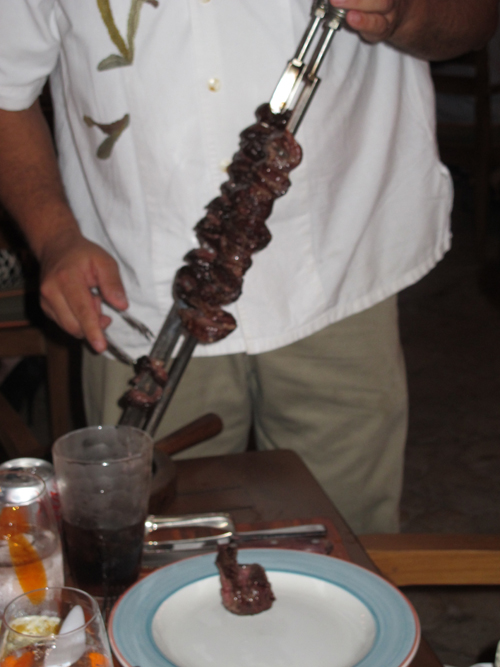 On each table was a round little disc of cardboard. One side the disc was coloured green, signifying to the waiters that you are a serious carnivore and wish the meat parade to continue. The flip side of the disc is red, which lets the waiters know that you have already unbuttoned your pants and are unable to swallow another bite. Mercifully, once they see  red, they will stop bringing meat to your table. One member of our group is on the Paleo diet and he was in pure ecstasy. Luckily, his shorts had an elastic waistband that night.
One of the good things about aging is that your memory begins to fail. While on the surface, this may seem like a negative thing, it can actually be a quite  agreeable and favourable. On Thursday, we went white water rafting. Apparently we had been to these rapids the last time we were in Costa Rica in 2005. I had no recollection of it whatsoever, so the whole experience was new and fresh for me. And quite an exhilarating thrill. My husband sat in the stern of our rubber raft and was masterful at guiding us through the class 3 rapids. We only got bounced out of our raft once.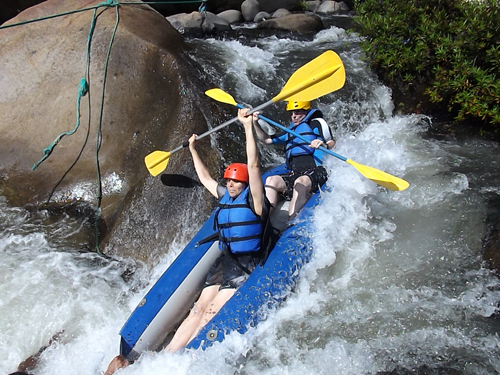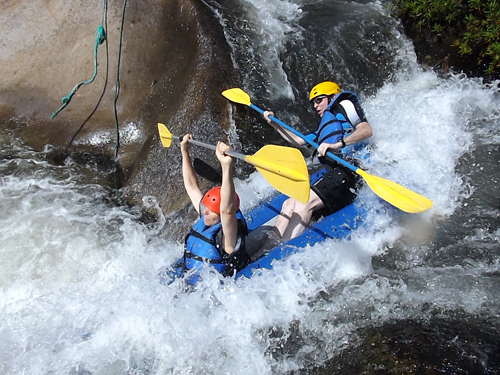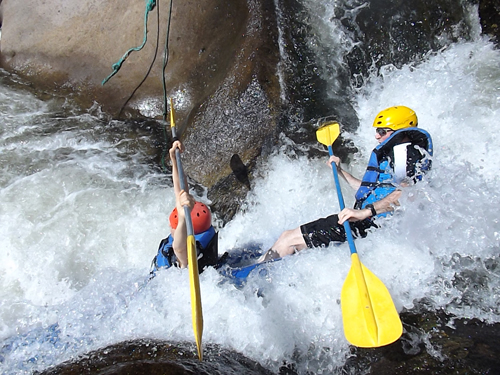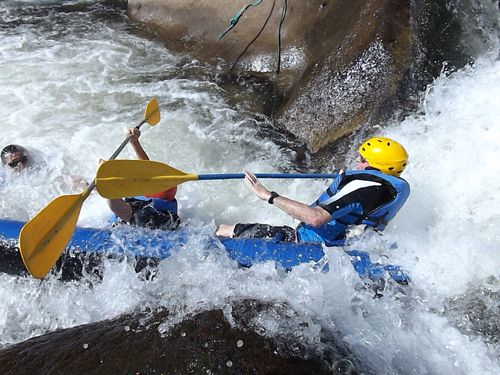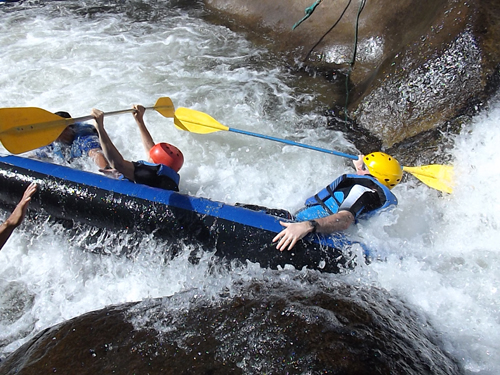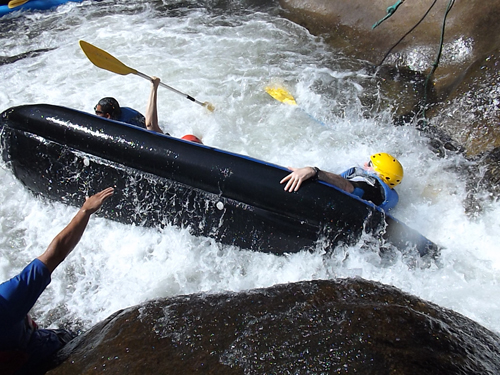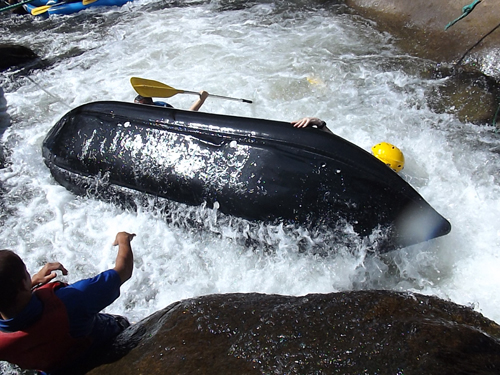 Today we visited Rio Perdido, a thermal mineral gorge. They had a series of zip-lines and other aerial adventures that are not for the faint of heart. In my continual quest to try something new each day of this holiday, I swung over the Rio Blanco Canyon in a fantastic imitation of a human pendulum. I climbed to the top of a platform and on what can best be described as a "Tarzan swing" I held on for dear life (I was attached to safety cables, lest you think I have completely lost my mind) and swung over the gorge from one platform to the other. The guide on the opposite platform was supposed to catch me as I swung towards him, but he pushed me and I swung back to the first platform where the guide pushed me back again, as if I were on a giant swing! I screamed quite loudly to the amusement of my entire family. Apparently they do this to everyone and I was the last one in on the joke! My pounding heart certainly reminded me that I was alive and well!
In two days our blissful holiday comes to an end. While it is unlikely that I will continue on my once a day newness quest, I certainly intend to continue to open myself up to new experiences. If my glowing friend is reading this, save me a seat at spin class!
I wish you all a healthy, happy and serene 2013.