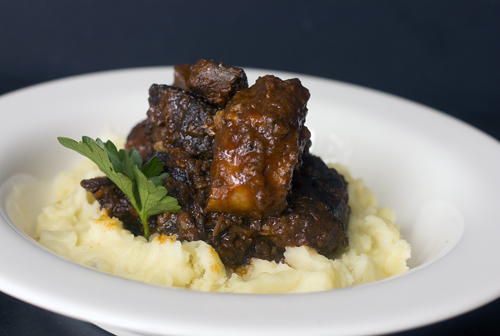 As  food blogger, I struggle with presenting "brown foods". They are not exactly the most appetizing to look at, and, to boot, they are a bitch to photograph. However, that being said, a certain food network host has been known to growl, "Brrrrown food tastes grrreat!"
For those not familiar with Anne Burrell, her larger than life personality and growly voice puts some people off. But I am in awe of her wealth of culinary knowledge. I have learned so much from watching her show, "Secrets of a Restaurant Chef." Every recipe I have tried of hers has come out perfectly. She cooks foods that are full of flavour and her concise, easy to master techniques make her a rock star in the kitchen.
The main reason brown food tastes better, is because of a chemical process known as the Maillard Reaction. If your eyes glaze over at the mere mention of the phrase chemical reaction, then John Willoughby, meat guru and former senior editor at Cook's Illustrated is your go-to guy to explain these things.
The reason for browning is clear. When you introduce meat to high heat, the proteins and carbohydrates interact, in a process called the Maillard reaction, to produce literally hundreds of new, distinct flavor compounds. When you then add liquid to the pot, these tasty compounds are diffused throughout the dish. Though cooks might not all know the science, they know the result: a dish with richer, deeper flavor
In addition to tasting great, brown foods are usually very comforting. When this is what you see when you look out your window, serious comfort is in order.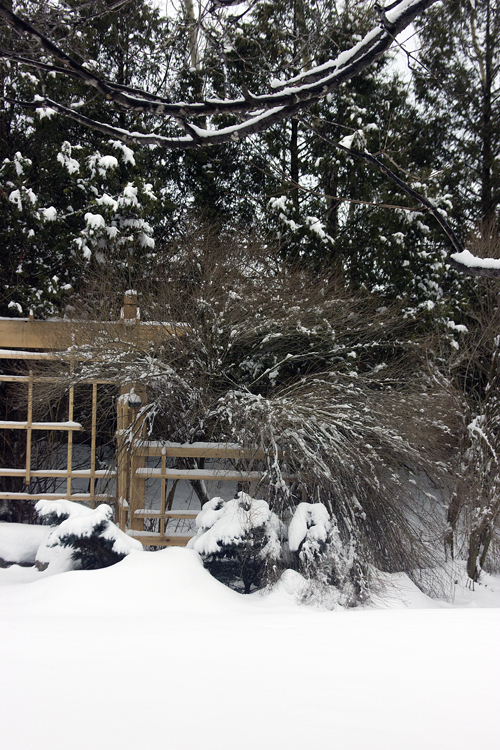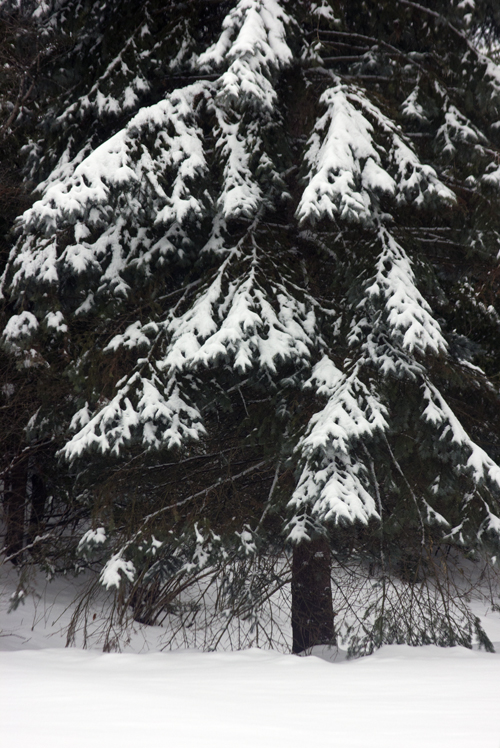 My perfect path to winter comfort is braised beef short ribs heaped high over a mound of mashed potatoes. This is not instant food. It takes about 4 hours to make these ribs, but the active cooking time is only about 45 minutes. The rest of the work is done by the oven. Red wine is my liquid of choice for braising. A Barolo, Valpolicella or Cotes du Rhone would be perfect.
The recipe calls for 2-3 cups of red wine, and then recommends topping up the casserole dish with water. Since a bottle of wine contains 3 cups, you can use the whole thing, and then there  would be no waste. However, if you are following the saltandserenity comfort plan, pour 2 cups of wine into the pot and the third cup into a glass for yourself!
A little primer here on beef short ribs, we are talking about ribs from the chuck shoulder area, not the rib area. Fatty and flavorful, they are available bone-in or bone-out. Short ribs also come two ways:
1. "Cross-cut" with two or three sections of bone in each piece. These are also called flanken when sliced 2 inches thick and Miami or Korean ribs when sliced 1/2 inch thick.
2. "English-cut," made up of one long bone and a stack of meat on top of it. Sometimes these  ribs are sold as "shorties",cut into individual bone sections ranging from 1″ to 6″ long. This is what my butcher sent me when I asked for short ribs. For this recipe, I prefer the English Cut ribs.
Celery, carrots, onion, and garlic are pulsed to a coarse paste. These aromatics add incredible depth of flavour to the finished sauce.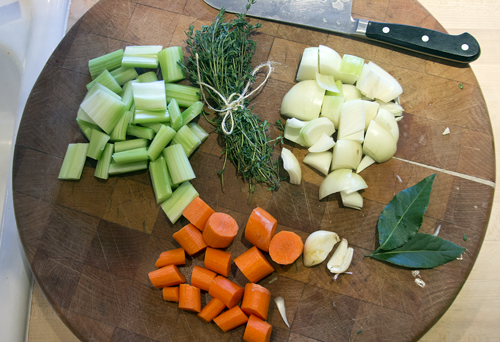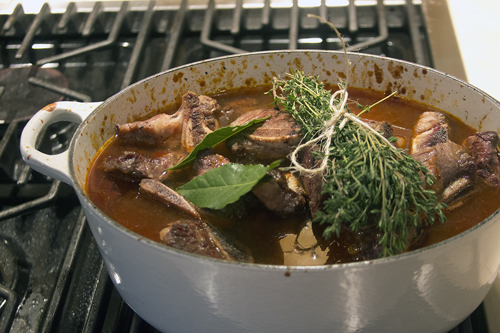 As this gurgles away in your oven, your house will fill with the most amazing aromas and you will feel loved and cared for, I promise. About halfway through the cooking time, check on the ribs to stir them and add more liquid if they need it. Resist the urge to stick a straw into the bubbling liquid and drink it all up. It's that good!