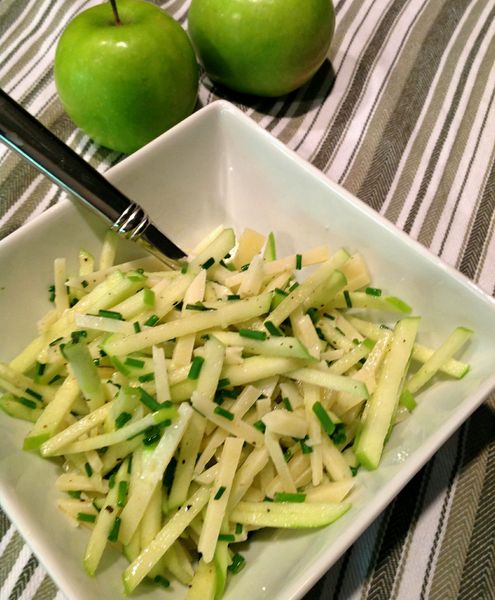 While on holiday in Naples, Florida this winter, we had dinnner at the charming Cafe Lurcat. In the apetizer section of the menu, I came across an unassuming humbly named dish, "Apple and  Cheese Salad." Compared to " Mixed Baby Leaf Lettuces with Warm Goat Cheese and Sweet Peppers" or "Baby Beets, Pink Grapefruit and Chicory with Horseradish Cream and Walnut Pesto", the apple and cheese salad kind of sounded like a lonely afterthought.
For some reason, it got me thinking about the Kardashian family and all those fancy K names; Kim, Khloe, Kourtney, Kendall and Kylie. Imagine if they had a sister named Jane. Everyone would pity poor plain Jane and it would just be so sad and pathetic. My mind is a very busy place, I know!
When our server came over, I asked about that salad. Her face lit up. She said that this was her favourite salad. It combined manchego cheese, granny smith apples, chives and olive oil. Although not convinced that this was the way to go, I still went ahead and ordered it because I felt sorry for this salad.
When it arrived, I took a small bite and was totally unprepared for how much I would love it. The tart crunch of the apples perfectly complemented the firm buttery texture of the manchego cheese. The sharp bite of the chives and fruity olive oil rounded out this salad. This was clearly a case of "The whole being greater than the sum of it's parts." When the quality is perfect, simple ingredients really can shine through.
I went to sleep thinking about this salad. I woke up the next morning and was still thinking about it. I became a bit obsessed with it and so I decided to create it at our rental home. I made it with my new favourite apples, Honeycrisp. I added a touch of lemon juice because I like a slight touch of acidity in my salads. We went back to Cafe Lurcat a week later and I ordered the salad again, this time with confidence!!
Manchego cheese is a Spanich sheeps milk cheese. It has a slightly piquant flavour, and is quite nutty and salty. Pecorino Romano cheese would be a good substitute if you can not find manchego.
A sharp knife is essential for making this salad. you want to slice the apples and cheese as fine as possible. A mandoline would do a great job, but this gives you the chance to practice your knife skills.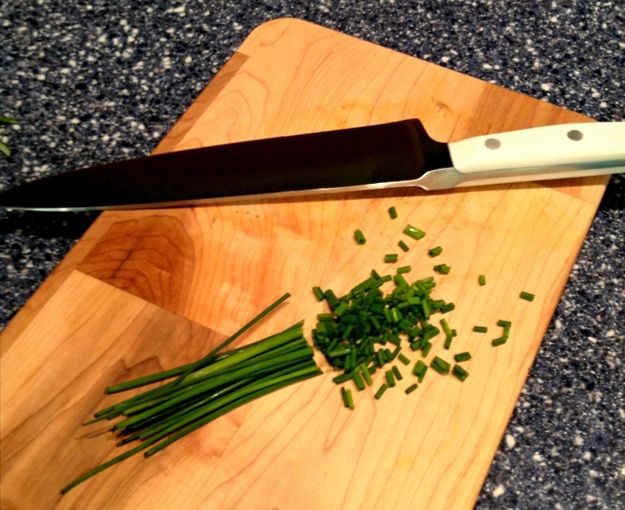 Click here to print recipe for Manchego and Granny Smith Apple Salad.