I met one of my very best friends at summer camp when we were 13 years old. We first bonded over giggling about a certain boy we both had a crush on while washing our hair in the rain with Herbal Essence Shampoo. This was way before the days of acid rain, and our camp was in the Haliburton Highlands of Ontario, so the rainwater, while a little cold, was fairly clean. Our friendship, like the shampoo, has endured. Not sure what became of that boy!
In 1991 we both discovered we were pregnant and expecting within several months of each other. She with her fourth child (she already had three boys) and me with my second child (I already had one son). We joked that it would be so cute if we both had girls and they ended up becoming friends. Since I was living in Ottawa at the time and she was in Toronto, it seemed unlikely, but we wished for it anyways.
Fast forward 21 years and yes indeed we both had girls. Her daughter became my god-daughter  and these girls of ours did indeed become friends. To celebrate this milestone birthday of our daughters, we decided to take a trip to mark the occasion. After much lobbying back and forth, Barcelona became the destination of choice. For the record, the moms lobbied hard for a beach holiday where we could just park ourselves under a big palm tree and read and drink Prosecco all day, but the girls lobbied harder for a cultural European city.
I decided to journal our adventure here in my blog, so that one day, when our daughters have daughters, they can look back on this holiday adventure and reminisce! Of course, the journalling will have a culinary bent. This is a food blog after all. Had we been thinking clearly, when planning this trip, perhaps Barcelona was not the best choice from a food perspective. My daughter is a vegetarian and my girlfriend and her daughter keep kosher. Barcelona is a haven for pork lovers!
We arrived around noon, Barcelona time, which was 6:00 a.m. for us. While our comfy beds at The Grand Hotel Central, were calling to us, we thought it would be wiser to try to stay awake and get on Barcelona time as soon as possible. We went for lunch and had our first tapas meal. We were quite jet lagged so I can't really remember where this was, but there was one little bocadillo (sandwich) that stood out from all the others. It featured breaded and deep-fried goat cheese that was topped with a blueberry compote. Crispy on the outside, creamy, tangy and salty inside, with the sweetness of the blueberry topping, this was a little bite of perfection.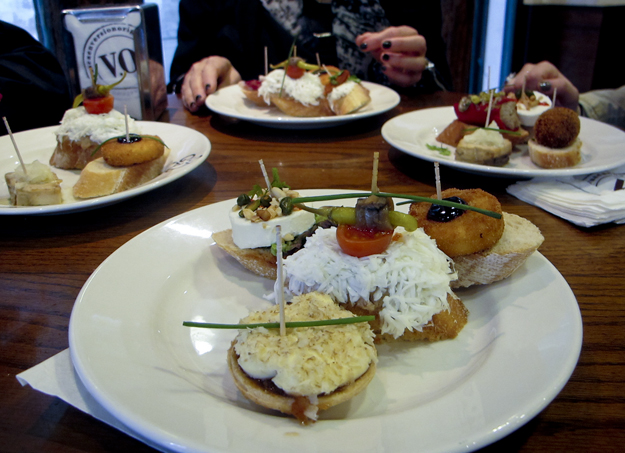 We spent the rest of the afternoon walking around and getting our bearings. It quickly became apparent that only one of us would ever be able to list map reading skills on our resumes. My god-daughter has a keen sense of direction, and she became our North Star. We took a walk down Las Ramblas, a 1.2 kilometer long tree lined pedestrian mall that is in the center of the city. We had heard that the city was rife with pickpockets so we kept our purses close to us, but we had no problems at all. Right in the center of the sidewalk we ran into a cat that charmed us all! El Gato del Raval, is a bronze sculpture by artist  Fernando Botero.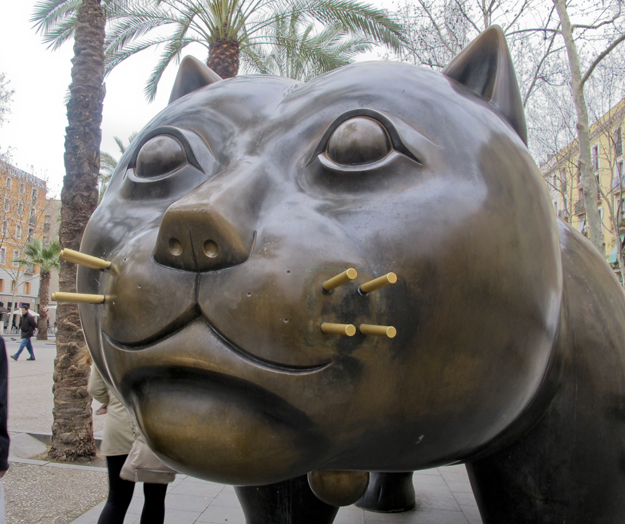 We stumbled upon La Boqueria, the enormous food market, featuring over 200 food stalls, shops and tapas bars. The lattice wrought iron entrance to the market is a beautiful example of Catalonian Art Nouveau. The market has been here since 1857!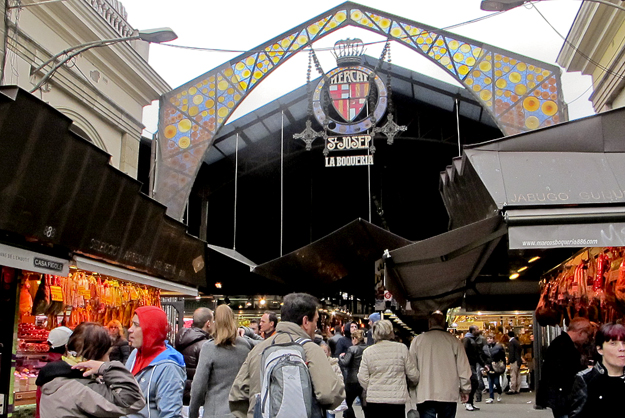 The sheer volume of stalls and selection at each stall was astounding. It was all quite overwhelming. It took us over 20 minutes to decide which fruit drink to order. I have purchased a  car in less time than that! We blamed our indecision on the jet lag. Pineapple coconut was finally chosen.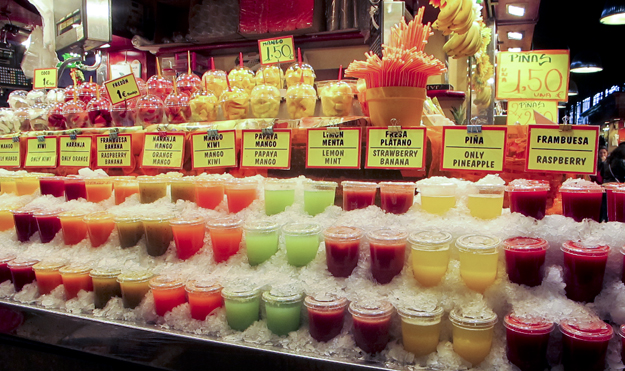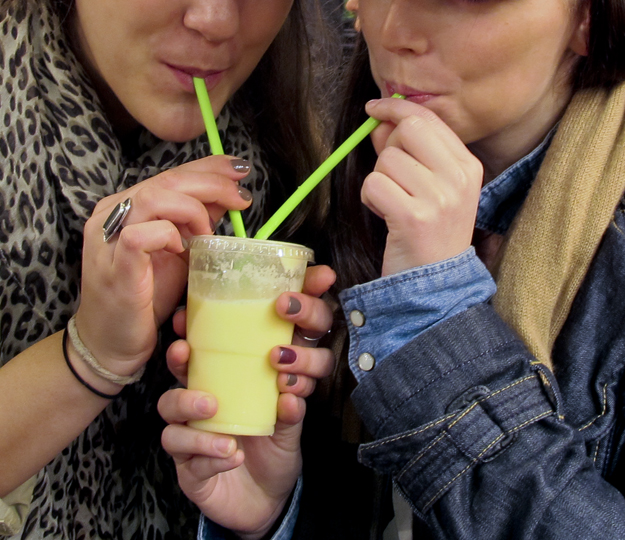 The displays were pure culinary art.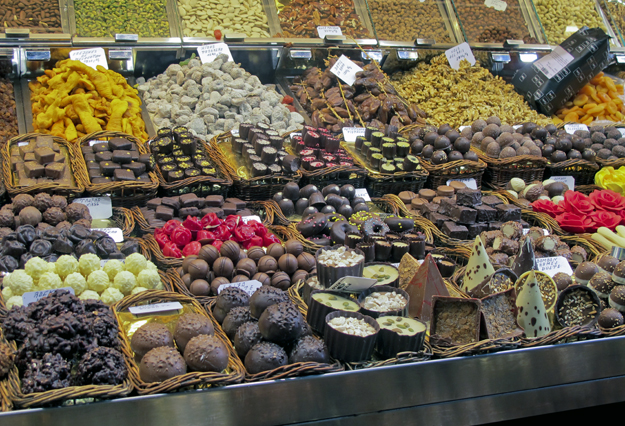 The candy and dried fruit displays reminded me of the Shuk (Machane Yehuda) in Jerusalem.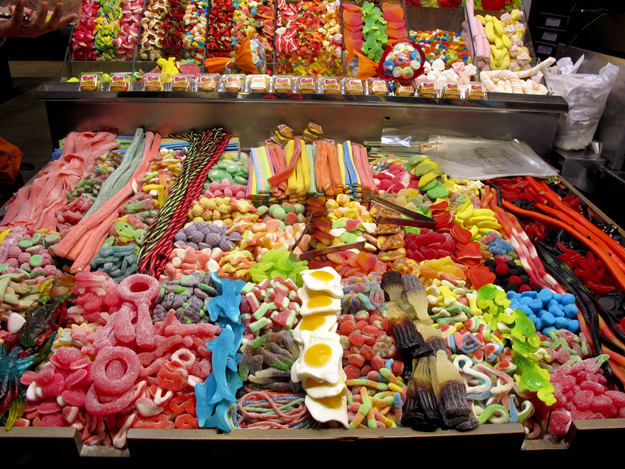 Baby avocados, just slightly larger than strawberries stopped me in my tracks.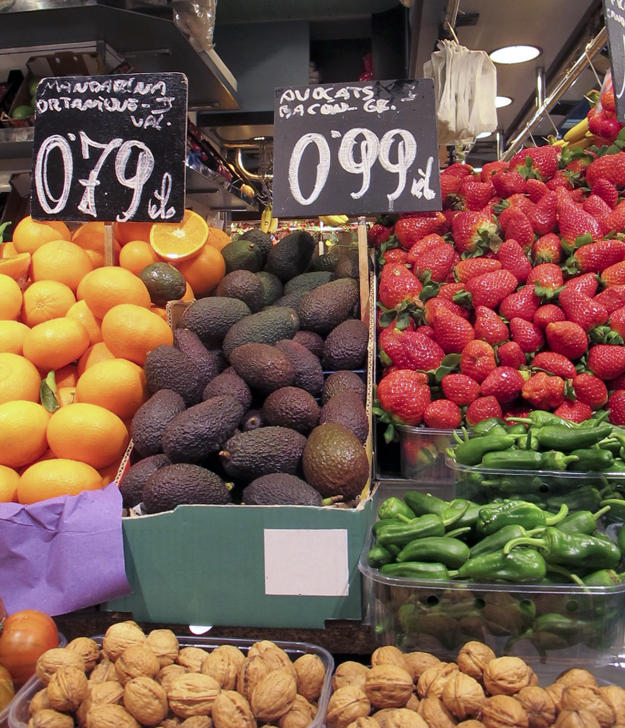 The next day dawned cold and rainy, but we came prepared. Dressed in raincoats, rubber boots and armed with umbrellas, we took an Architectural Walking Tour of the city. The walk, organized by Context Tours focuses on the fantastic architecture of Antoni Gaudí, Barcelona's most important architect. Gaudi's work can best be described as a cross between Willy Wonka and Dr. Seuss. He was at the forefront of the Modernista style of architecture so prevalent in the late 19th and early 20th Centuries. This style of architecture is perfectly described by author Francois Loyer in his book "Art Nouveau in Catalonia."
Modernista architecture can be characterized by the use of the curve over the straight line, organic and botanical shapes and motifs, a great richness of ornamentation, bright colours, a disregard of symmetry and a wide use of symbolism….The overall effect is a style of architecture which is very dynamic, very human, very colourful and often absurdly over-the-top when it comes to details and adornment.
Our guide, the charming, enthusiastic and extremely knowledgable Celia (she is an associate professor at the Barcelona School of Architecture) explained that during this time period Barcelona expanded exponentially in size from the medieval Old Town and became a breeding ground for the modernist movement. While this over-the-top, whimsical style may not be everyone's cup of tea, they certainly make for great photo ops.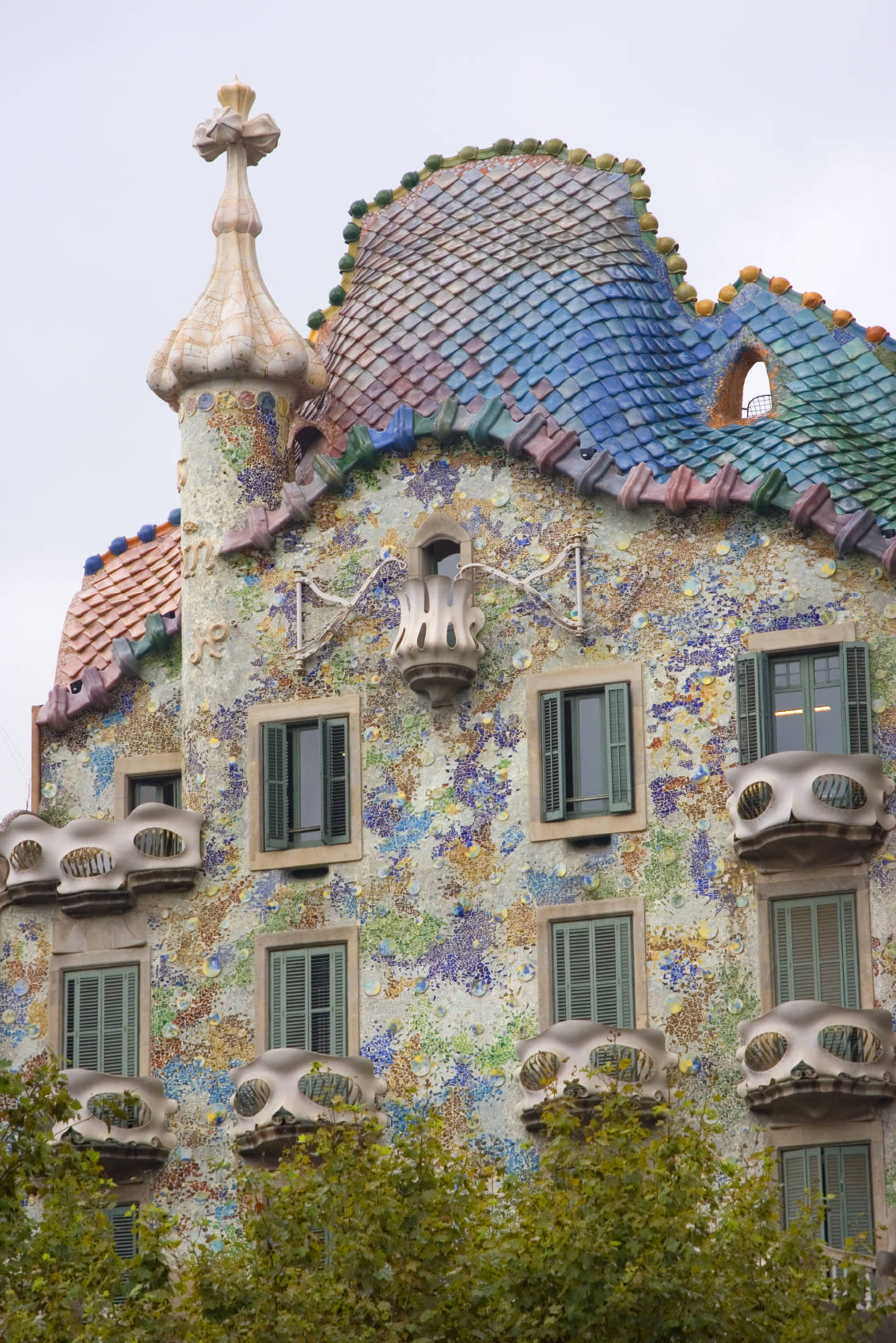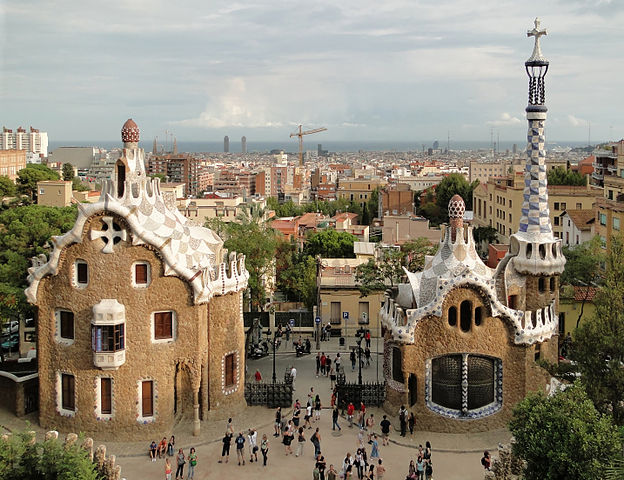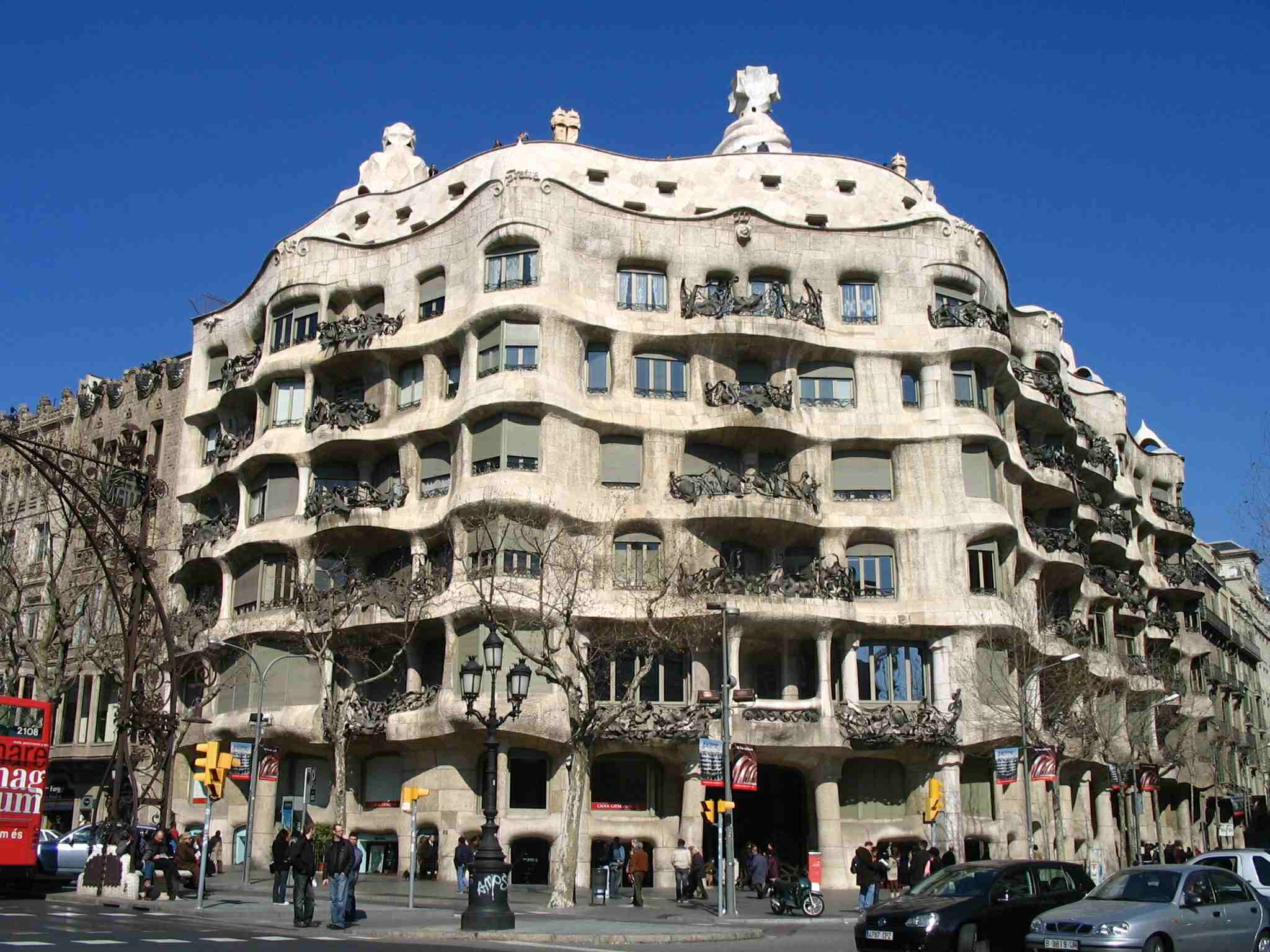 After viewing many of his buildings, I was convinced that the term "gaudy" derived from Antoine Gaudi's over the top style. Apparently not. According to The Online Etymology Dictionary, the word gaudy dates back to the 16th century, well before our Antoine Gaudi was born (1852). It described a joke, plaything or showy ornament.
Gaudi died tragically in 1926. He was run over by a tram. He had spent the last 16 years of his life devoted to the construction of a massive church, The Sagrada Familia Basilica. It remains under construction to this day. There are plans underway to complete the building by 2026, the centenary of his death. Gaudi was fond of saying, "My client his in no hurry." He was, of course, referring to God! I suspect that not too many clients would be happy with this pace of development.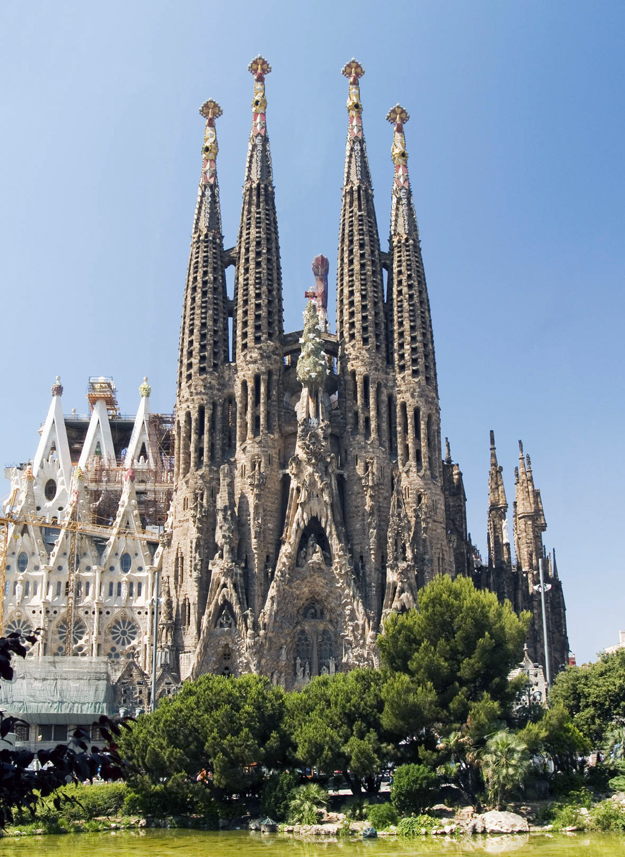 Stay tuned for Part 2 of Friendship in Barcelona, in which we work our way through numerous brands of Spanish Cavas (in alphabetical order) and the girls get pulled over by the police while driving up to Olympic Park.