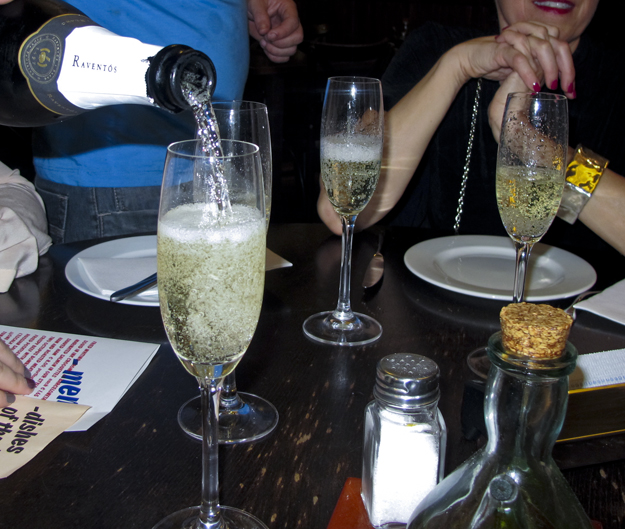 Regular readers of this blog may know that my drink of choice is Prosecco. However, when in Barcelona, we switched our allegiance and guzzled quaffed Cava. Made in the Catalonia region of Spain, Cava is the generic term for Spanish sparkling wine. I should explain here that Cava and Prosecco are very different from Champagne.
While all Champagne is sparkling wine, not all sparkling wine is Champagne. To be labelled Champagne, the sparkling wine must come from the Champagne region in France. The main difference between Champagne and Prosecco/Cava lies in the method by which each is made.
Champagne is fermented into wine normally, then bottled with a little yeast and sugar, capped, and left to referment. This second fermentation produces carbon dioxide that is trapped in the bottle; the sparkling wine is left to steep with the yeast in it for an additional several years and then the sediment is removed and the Champagne is sold. With Prosecco and Cava, the second fermentation takes place in a specially reinforced tank. Once the second fermentation is complete, the sparkling wine is immediately drained from the yeast and bottled. So the aroma and flavour of the yeast is an integral quality of Champagne, but not of Prosecco or Cava, because the yeast is removed from the tank of Prosecco and Cava as soon as it has done its job.
What this means is that the lack of the yeasty aroma and flavor in Prosecco and Cava allows the varietal characteristics of the grapes to shine through. This is an important difference between Champagne and Prosecco/Cava. I have never really liked the yeasty quality of Champagne. I find it too heavy. I guess I'm just a cheap date, but I really prefer the light fresh quality of Prosecco and now, after my trip to Barcelona, Cava.
Since our knowledge of Cava was quite limited, each night we asked our waiters to recommend a brand. Purely by coincidence, we ended up sampling Cavas alphabetically! The first night we were brought a bottle of Aria, the second night Bertha and the third Colet. We stopped paying attention after that.
.



One day we stopped into Tapeo for lunch and we spotted sangria made with cava on the menu. Things were never quite the same after that revelation.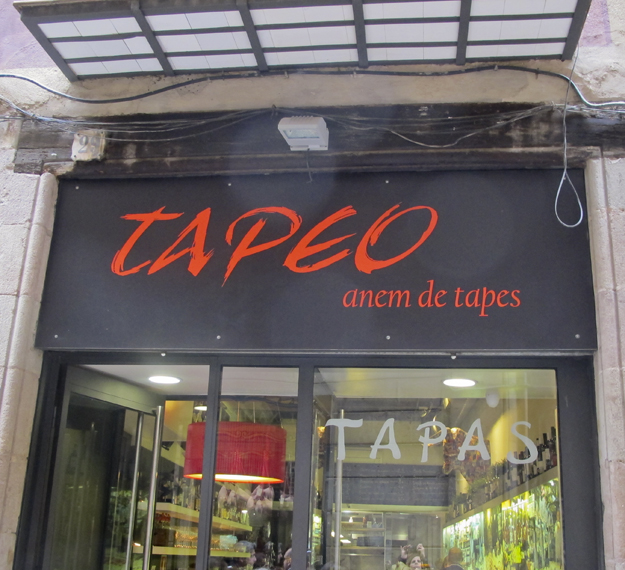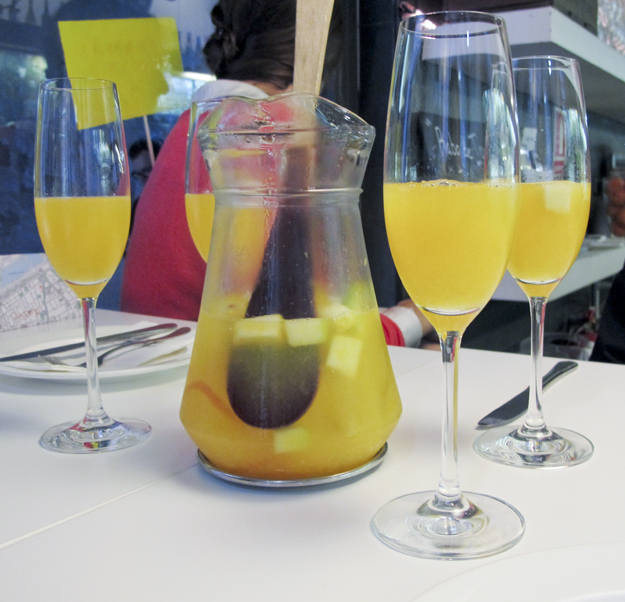 Our lunch at Tapeo was so delicious. We were all quite excited to see a green salad on the menu. After eating fried tapas for several days, we were ready for something fresh and green. The acid and sweet balance in the strawberry and manchego cheese salad was perfect. Although Italian and not Spanish in origin, I can never resist ordering Buratta cheese on a menu when I see it. The rendition at Tapeo, with tomatoes and olive oil was creamy, slightly tangy and perfectly rich and yummy. We also ordered the eggplant fried and dressed in lime and honey. Unfortunately there were only a few little pieces to photograph as we gobbled it up so quickly. We also ordered "pan con tomate", which translates roughly to tomato bread. I will report more thoroughly on this dish in my next post. Suffice it to say, we all became obsessed with this national dish!
Organized walking tours are one of my favourite ways to explore a new city.  I have tried following walking tours in guide books, but I am directionally challenged and always seem to get lost. Plus, I find that seeing the city through the eyes of a passionate local, eager to show off their city to be a wonderful way to really delve into the culture.
Sometimes you want to cover a bit more ground than walking will allow. Several years ago, while visiting Paris I took a Segway tour. We suggested doing a similar tour in Barcelona, but my god-daughter had a better idea! GoCars.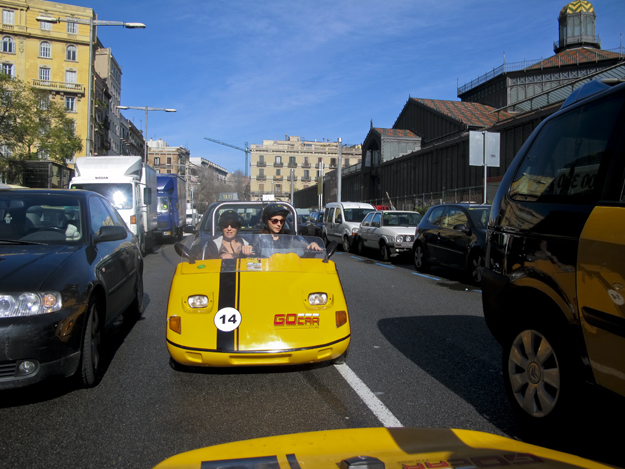 GoCars are the latest trend in sightseeing. It's a city tour, but with a difference. They offer a guided tour using GPS technology. Essentially, these are three-wheeled scooters. There are three different GPS tours to choose from. Your charming GPS guide (I nicknamed ours "Jill") not only   tells you where to go, but she tells you what you are seeing along the way. And the best part was that when I missed a turn, (which I did several times!), Jill did not say "recalculating" in a disappointed tone of voice, but "Oops, you missed a turn. No problem, we'll get you back on course straight away", in an ever so encouraging and loving manner. She sang songs to us, told us jokes and even gave us restaurant recommendations.
We arrived at the GoCar garage, just across from the Santa Caterina Market. We had to sign several standard waivers and one special one that said we would be responsible for the fine if we were stopped by the police for not having an international drivers license. Say what??? We didn't have international licences. The woman told us not to worry. No one had ever been stopped by the police. The chances of that were quite remote.
She gave us our helmets, had us watch a short video and then sent us out into the traffic! I had never driven a scooter of motorcycle before, so the hand controls for accelerating and braking were foreign to me. I was a bit shaky for the first 10 minutes trying to use my feet to press on the non-existent gas and brake pedals. The staff at the store said that other motorists on the road were quite friendly and would honk and wave at us. I accidentally cut off a bus driver and he did indeed honk and give me a special one finger wave. He was not charmed or amused by us. The cars go up to 40 miles per hour and are just a blast to drive.
We chose the Olympic Barcelona tour, which took us through the Gothic Quarter, the Raval District and then up to Montjuic, home to the 1992 Olympic Games. You are able to stop and park your car at any time and get out for pictures or to walk around. After about half an hour I heard a police siren and saw, in my rear view mirror, that our daughters were being pulled over by the police. Apparently, the were driving in the oncoming traffic lane. The officers were quite sweet and patiently explained to them how Barcelona roads worked, and soon we were on our way again.
Check out this you tube video to get a closer look at how these cars operate.
http://www.youtube.com/watch?feature=player_embedded&v=vnZxlyEE6DY
Stay tuned for Part 3, when we sample pan con tomate at every restaurant we visited!