One of the best things I ate during my trip to Barcelona was discovered purely by accident. We had just finished our Architectural walking tour of the city and based on a recommendation from our guide we stopped in at La Botiga at 27 Rambla Catalunya for lunch. This was only our second day in Barcelona so we were still learning the ways of the city. Our first mistake was showing up for lunch at 12:45. Talk about looking like tourists! We might as well have shown up wearing baseball caps, white Adidas running shoes and a Canadian Maple Leaf sewn onto our backpacks. They were not even open yet.
We quickly learned that the Spanish are on an entirely different meal schedule than North Americans. Breakfast is usually just a shot of espresso and a pastry or roll. Then around 11 am they may have a cafe con leche (espresso with milk) and a little bocadillo (sandwich). Lunch is typically served between 2:00 and 4:00 pm. Dinner is not usually served until 9:00 pm at the earliest. Sometimes they will eat their main meal at lunch and just have a light snack, (tapas) for dinner, or they may reverse it and have tapas for lunch and have their main meal at night.
We returned to La Botiga just as they were opening. We were starving by this point and quickly perused the menu and ordered a bunch of little tapas for sharing. Several minutes later, the waiter returned and told us that at least half of our choices were "already gone." Huh? Already gone? How could that be? They just opened. We were the first customers there. Perhaps some savvy Barcelonians have caught onto the North American trend of eating lunch at noon, and snuck in to the restaurant before they were officially opened and ate all the best stuff. Just saying, it could have happened that way.
Since we were not eating meat, our choices were limited. We settled on fried artichokes, butternut squash tortellini with pepitas, mac and cheese (which we discovered they had snuck some ham into) and pan con tomate. Just some light carb loading.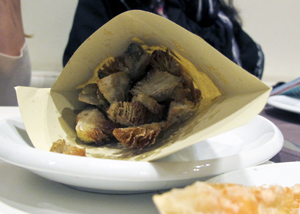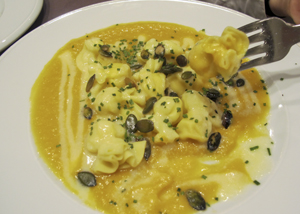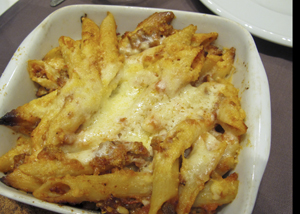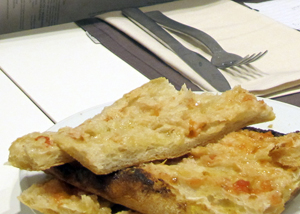 Most of the food was ok, nothing very special. But the pan con tomate, oh my! It was truly one of the best things we ate all week. Pan con tomate, translates into "bread with tomato." Yawn. Not exactly the most exciting dish you may be thinking. But you would be wrong. Pan con tomate is a Spanish trick that turns simple bread, tomatoes, oil and salt into something insanely delicious.
When it arrived at the table, we were expecting bread with diced tomatoes on top, like you get with bruschetta. This looked like it had barely any tomato at all. When we inquired about this, the waiter explained how this dish, a Catalan specialty, is made. First the bread is toasted or grilled. Then a ripe tomato is cut in half and roughly rubbed over the surface of the toasted bread  until all you are left holding in your hand is the skin of the tomato. Then, some fruity spanish olive oil is drizzled over the top and it is finished with a few flakes of sea salt.
As I took my first bite, the crunch on the outside surface of the warm bread and the yeasty scent assaulted my senses. The center of the bread, so chewy, was filled with little nooks and crannies.  These little air pockets were bursting with the sweet and fragrant tomato essence and the fruity  nutty olive oil. The little crystals of sea salt on top just melted on my tongue. How could something so simple be so good?
From this meal forward, our mission was to order pan con tomate every time it appeared on the menu. Little did we know that the pan con tomate at La Botiga would be the best one we tasted. I would go back for a big plate of that and a bottle of Cava and I would be transported to my happy place. Here is a sampling of some of the pan con tomate we sampled over our week in Barcelona.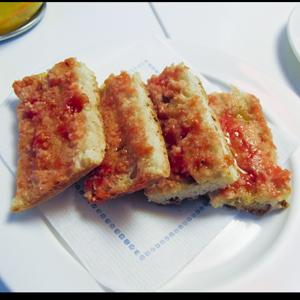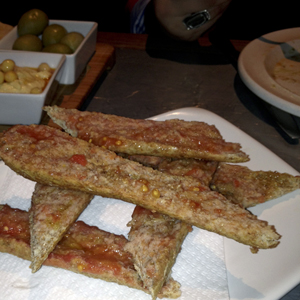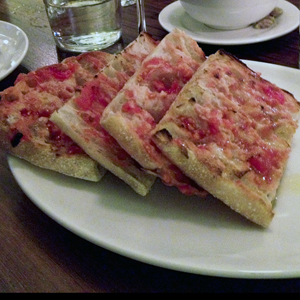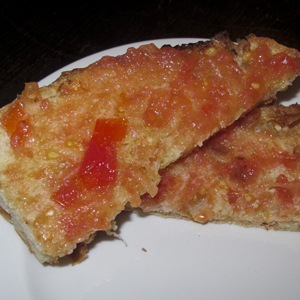 At the end of the week, we realized that the pan con tomate we devoured at La Botiga, had become our Gold Standard, by which all others were judged. It became apparent that the one variable that was more important than any of the others, was the bread. Without an open crumb structure (i.e.: lots of air pockets and nooks and crannies) on the interior of the bread, the tomato pulp and olive oil have nowhere to soak into. Armed with the knowledge from completing the Bread Bakers Apprentice Challenge, I knew there was one bread that had the ideal structure to create this. Ciabatta bread. 
Still obsessing over pan con tomate once I arrived home, I needed to see if I could create it in my kitchen. I somehow doubted that it would taste as good here, as it did when I was on holiday in Barcelona. There is something about eating the food in a spectacular venue that elevates it to mythical status. I went to Art-Is-In Bakery here in Ottawa and bought a ciabatta loaf.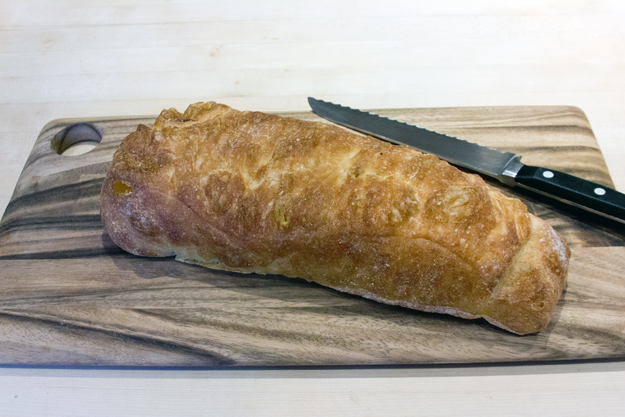 I sliced the loaf horizontally into 3 layers. I toasted the bread in my toaster oven. I experimented with 2 different types of tomatoes, kumato and plum. I liked the sweeter, thinner skinned kumatos  best.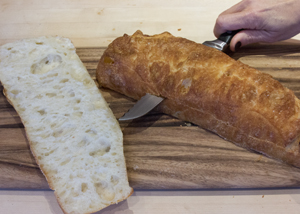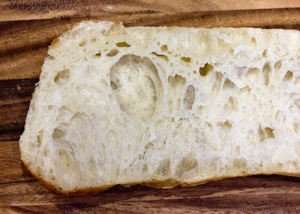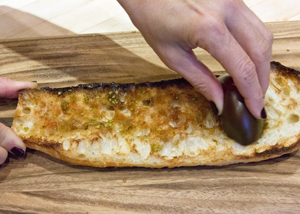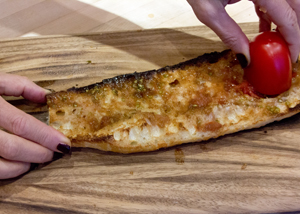 I drizzled the bread with some olive oil and salt I brought home from my holiday.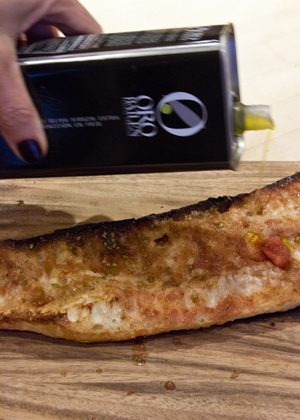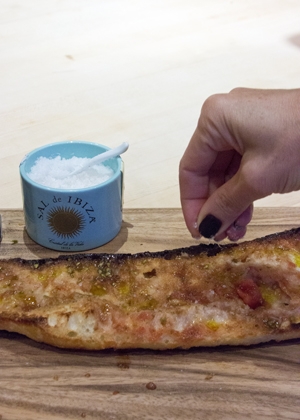 The verdict: a perfect crunchy and chewy snack that transported me right back to Barcelona. I can only imagine how good this will taste this summer when I grill the bread and use local vine ripened sweet summer tomatoes.