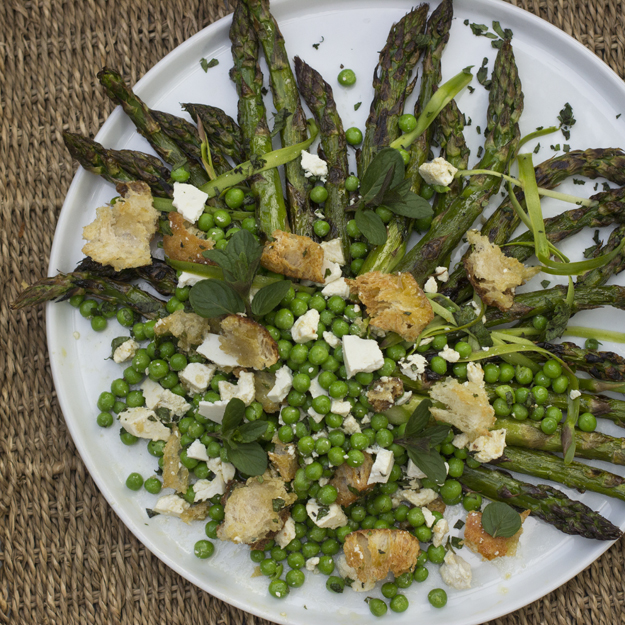 I promise that this asparagus post (unlike my previous one) will not offend anyone by mentioning any bodily functions, so feel safe to read on. This post is all about the unabashed joy of celebrating all things green this spring.
The classic panzanella salad originated in Tuscany. It was a way to use up stale bread and highlight tomatoes at the pinnacle of their summertime glory. Often onions, cucumber and basil are added. The texture of the bread in traditional panzanella is not supposed to be crunchy or chewy or crusty like croutons. If you have ever eaten this salad in Italy, you will recall that the bread is light, a bit wet, airy, just short of mushy. I was shocked when I had it a few years ago on the Amalfi Coast, and to be frank, was less than enthused. It sort of had the texture of fluffy torn-up matzoh balls. There is a very fine line between lightly moistened and unpleasantly soggy. Although I love the classics, in my panzanella salad, I want the bread to have a bit of chew and crunch. 
The inspiration for this spring panzanella came from Chef Michael Symon. Asparagus and green peas get top billing in this version of panzanella. Out of season tomatoes need not apply for entry into this salad. Like Michael, I grilled my asparagus, but I also shaved a few raw spears with my vegetable peeler to get some fresh crunch.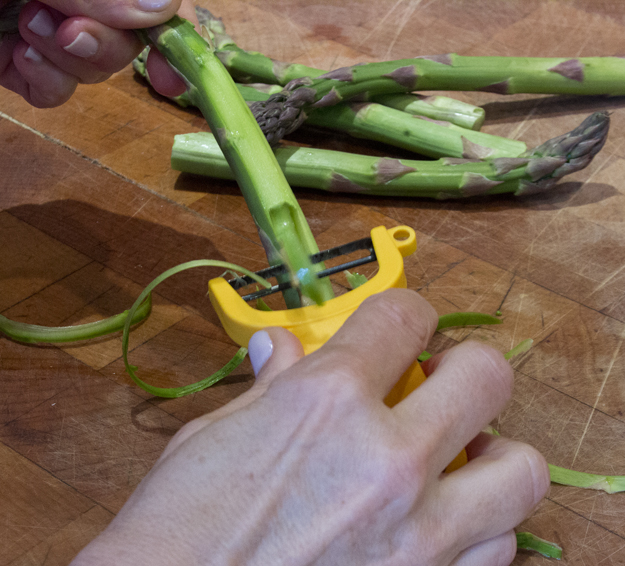 I used a half a loaf of Ciabatta bread I had in the freezer. I thawed it and then tore it into chunks, rather than cutting it into neat cubes. Tearing it gives a more rustic appearance and all those craggy surfaces have a better chance of soaking up the flavourful dressing.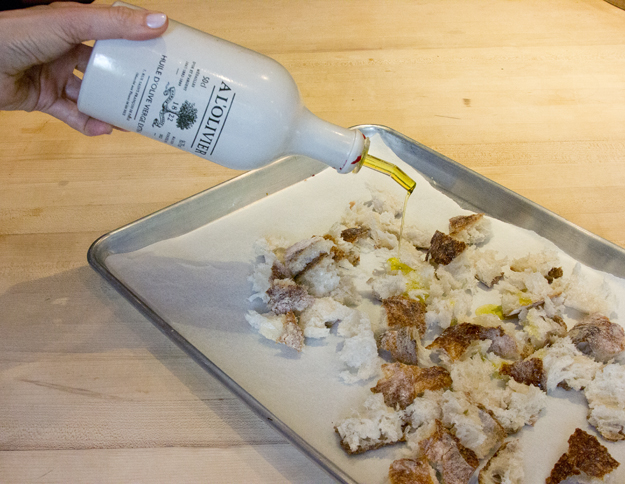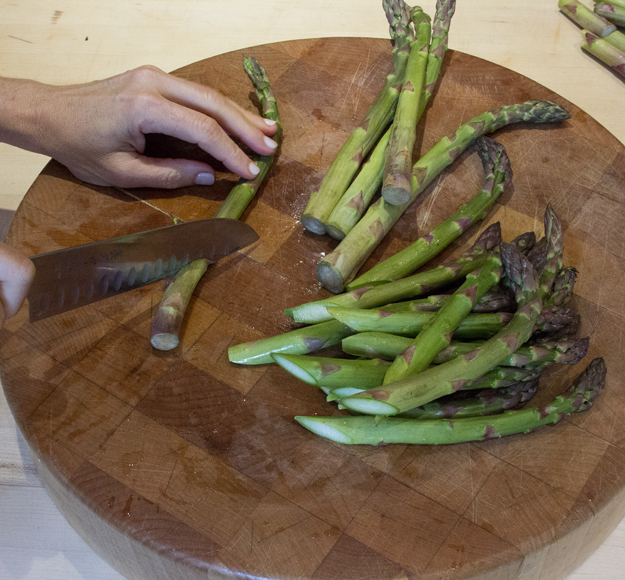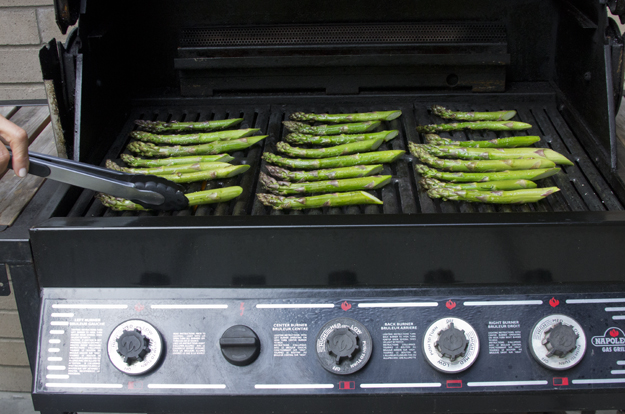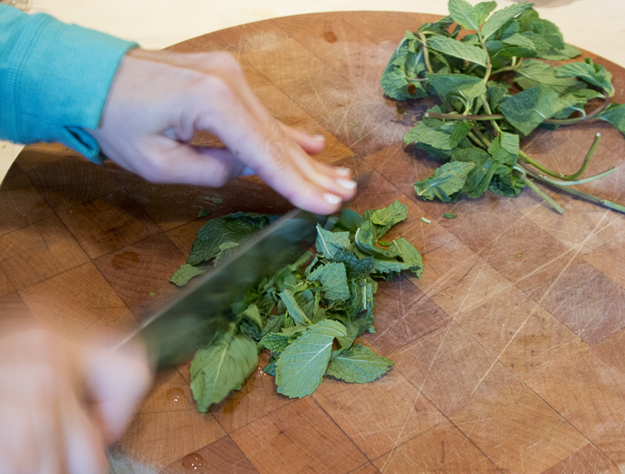 If fresh peas in a pod are available where you live, go ahead and indulge. I used frozen peas since we are at least a month away from fresh here. I really love frozen peas. It seems to be a family thing. My daughter used to eat frozen peas as her afternoon snack every day when she was about 4 years old. Peas are one of the few vegetables that are actually better frozen. Unless you have green-peas growing in your backyard or access to a Farmer's Market, you really are better off buying frozen. Cook's Illustrated explains why this is so:
"Fresh peas have very little stamina. They lose a substantial portion of their nutrients within 24 hours of being picked  This rapid deterioration is the reason for the starchy, bland flavor of most "fresh" peas found at the grocery store. These not-so-fresh peas might be several days old, depending on where they came from and how long they were kept in the cooler. Frozen peas, on the other hand, are picked, cleaned, sorted, and frozen within several hours of harvest, which helps to preserve their delicate sugars and flavours "
I finished the salad off with some crumbled Ricotta Salata cheese (a firm ricotta). If you can't find it, Feta would work just as well. Ricotta salata is a sheep's milk cheese that has been pressed, dried and salted. It has a dense, slightly spongy texture and fresh milky flavour.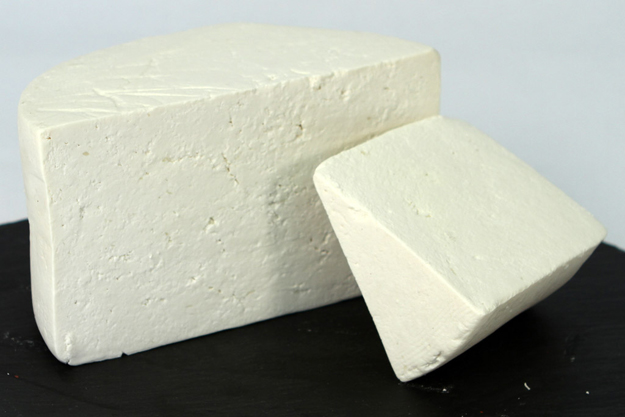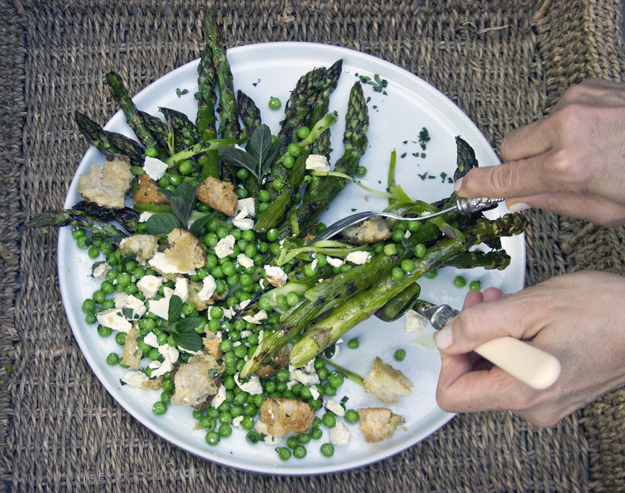 A quick dressing is made with garlic, dijon, sherry or red wine vinegar and olive oil. Fresh chopped mint gets sprinkled over the whole dish. This is a delicious addictive salad. I was home alone the day I made this and polished off the entire platter after photographing it. The contrast of the soft grilled asparagus was really wonderful against the crunch of the fresh shaved raw asparagus ribbons. The peas, barely cooked gave a great pop of green brightness. I mixed everything together and let the salad sit for at least 20 minutes. By the time I ate it the croutons had time to soak up the dressing and they were chewy but still just a bit crunchy. Perfect.
I had a glass of Sauvignon Blanc with this salad. Asparagus is quite difficult to pair with wine, as certain chemicals in asparagus can make your wine taste vegetal, grassy, or just plain rotten. A crisp and refreshing Sauvignon Blanc is a perfect match. I am currently crushing on New Zealand Dog Point Sauvignon Blanc. It has a juicy acidity and crisp finish that pairs perfectly with this salad.
If you are curious about learning more regarding food and wine pairings, check out Natalie MacLean's Great Canadian Wine Match. Natalie is a certified sommelier and was named the World's Best Wine Writer at the World Food Media Awards.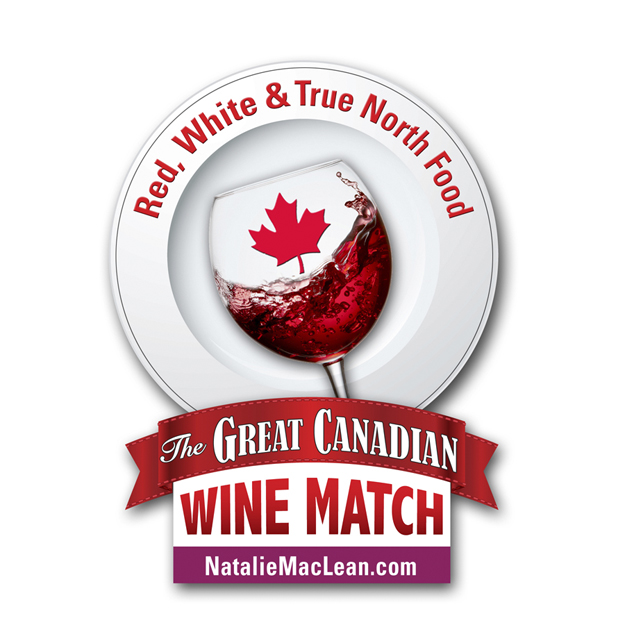 This is the first People's Choice Competition for Canadian food and wine pairings. A real on-line battle of the bottles! The search for Canada's best wine and food pairings launched on May 8. Wine drinkers from coast to coast are rallying behind their favourite Canadian pairings in this first grassroots, "bottoms up" competition.
Wine lovers can nominate and vote for their favourite Canadian wines as pairings in six Canadian food categories: cheese, chicken, beef, seafood, pizza and dessert. Voting ends May 20 when the top five wines in each category move to the showdown finalist phase. Wines from each region in Canada will vie to be named the best wine with a particular Canadian dish.
"This is a coast to coast toast to celebrate our own wine and food ," says MacLean. "I think we can all drink to that."