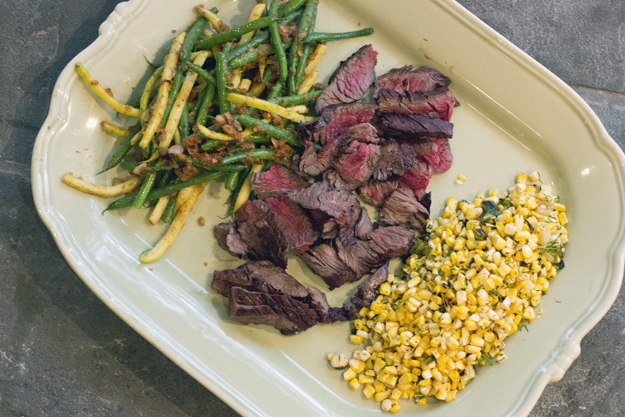 About 10 years ago I noticed a new, well new for me, cut of steak appearing on restaurant menus. Suddenly it seemed that "hanger" steak was on every trendy bistro restaurant menu. Curious,  I ordered it and discovered for myself how delicious it was. It had a full beefy flavour and richness that reminded me of skirt steak, but it was a bit more tender.
I began to do a little research and I discovered that until recently, butchers were hogging this cut all for themselves, hence the steak's nickname, "Butcher's Steak." Now I have nothing against butchers, as a matter of fact, some of my favourite people happen to be butchers, but that seems kind of selfish to me, not sharing this amazing cut with the rest of us!
Upon further investigation, I discovered the geographical location of this cut on the cow. I found this great diagram on the the meat loving website chomposaurus. For all you carnivores out there, you must check it out!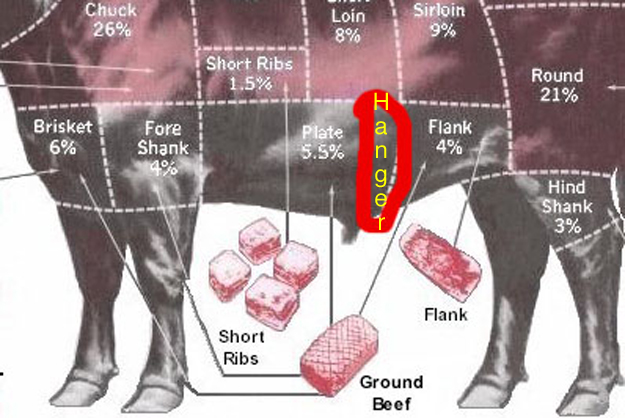 It comes from the plate section of the steer and it "hangs" off of the cow's diaphragm, hence the name "Hanger" steak. It is a vaguely V-shaped pair of muscles with a long, inedible membrane down the middle. If you have a good butcher (and luckily I do!) who knows how to break this down properly, he or she will remove the connective tissue and silverskin surrounding it and break this down into two separate, well-trimmed steaks. Each one will be about 12 inches long and weigh in at about 8-12 ounces. That's only 1 – 1 1/2  pounds of hanger steak from each cow! No wonder the butchers were hoarding it. There was hardly enough to share with the whole class.
It is a tough piece of meat that needs to be marinated and must be cut across the grain. This shortens the long grainy muscled fibers and preventing chewiness. It should be cooked to medium or medium rare (125-130°F). Using an instant read thermometer, guarantees you get it right every time! Anything above medium will result in a rubbery steak and anything less than medium rare, you will be eating a very mushy steak.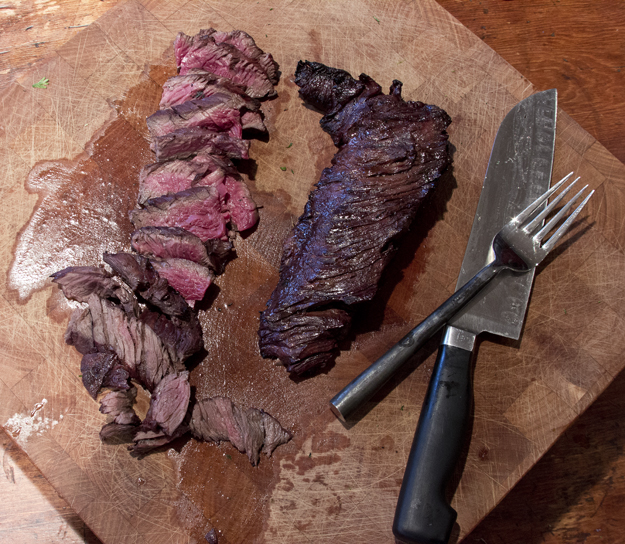 I marinated mine in a mixture of red wine, olive oil, red wine vinegar, garlic, bay leaves and thyme. At least 6 hours or up to an overnight soak in the marinade is ideal. Cook it on a medium-high heat. Let rest for about 5 minutes before carving.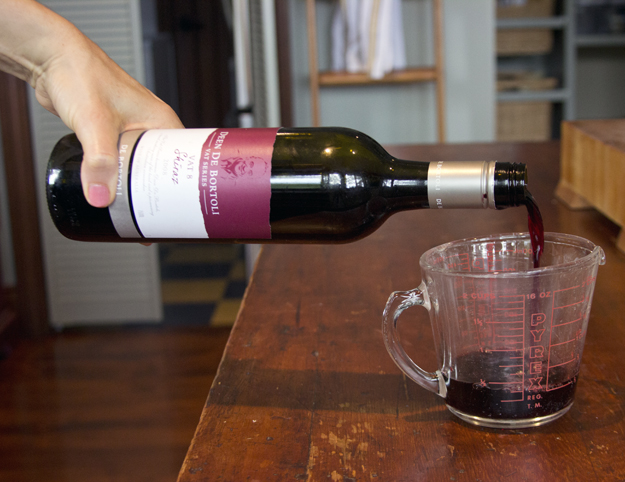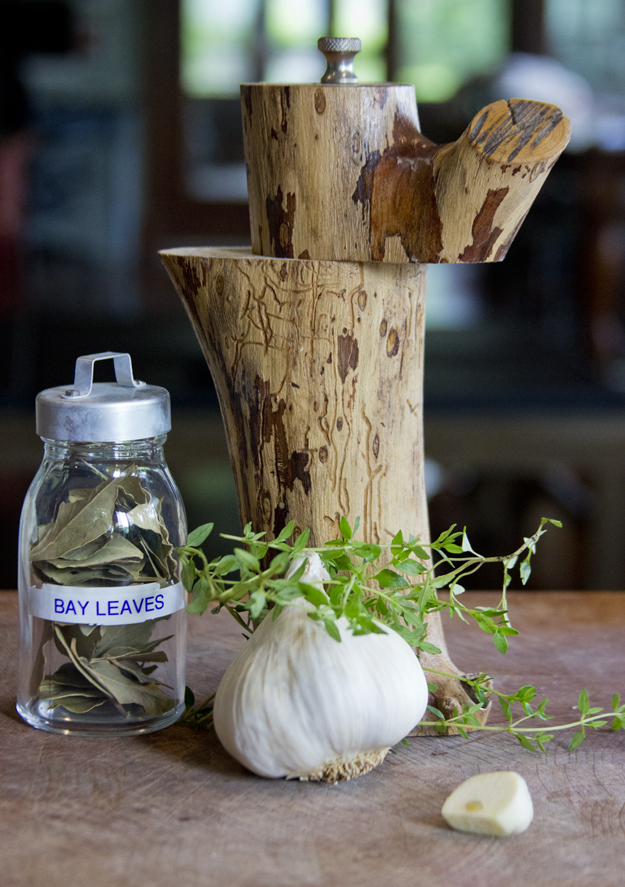 I served it with a yummy grilled corn salad. I was very excited when I saw the first local corn of the season at the market. However, last night, reading the newspaper, I discovered that agency responsible for governing food labelling in Canada, The Canadian Food Inspection Agency has greatly expanded its definition of local food. The old definition defined local as food that is produced within 50 kilometres of where it's sold.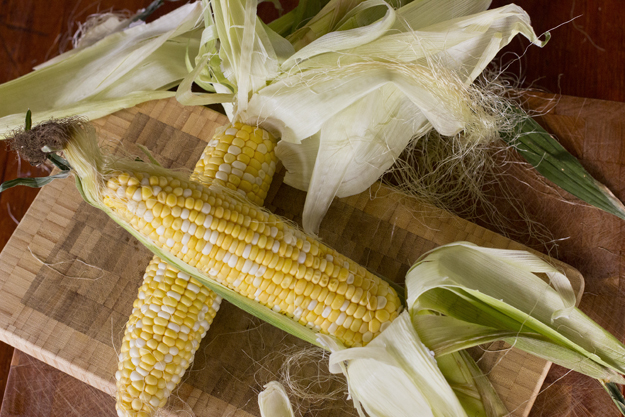 However, under a new interim policy, they are expanding the definition to mean food produced in the same province in which it's sold. What that means is that in Ottawa, I could be eating corn that has travelled over 700 kilometers (435 miles) from Lambton Ontario, and it could still be labelled local in Ottawa. Certainly gives new definition to the term local.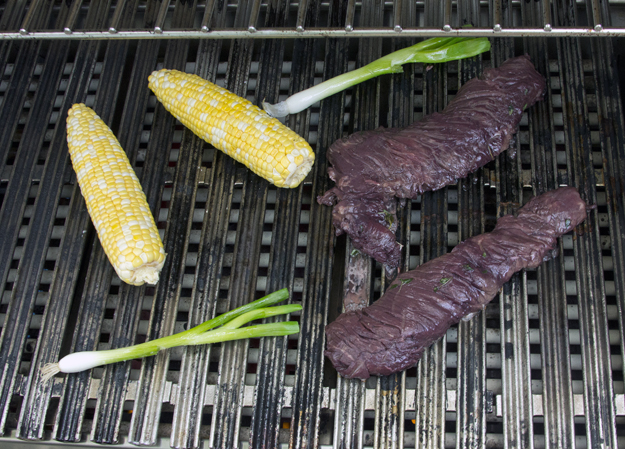 The contrast between the rich tender steak and the crunchy, slightly spicy corn relish makes for a perfect bite! I made Mark Bittman's spicy-sweet green beans to go along with the steak and corn.