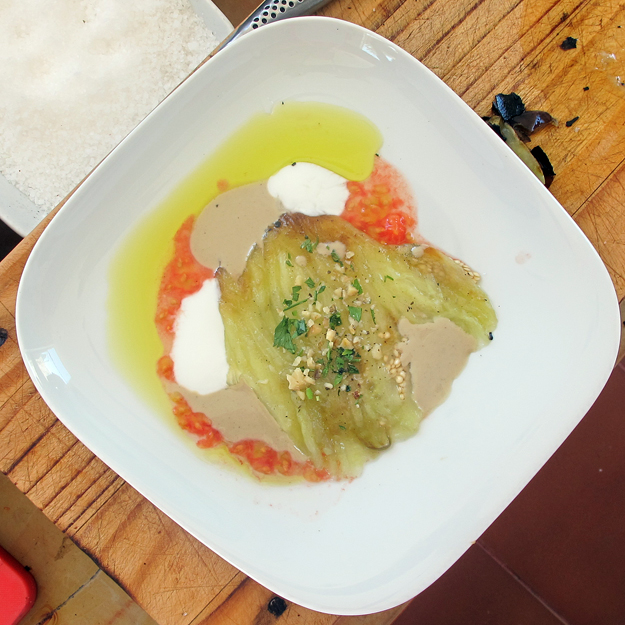 I am writing this blog post the day after my return from an incredible and somewhat surprising visit to Israel. I want to get it all down while the memories are still fresh in my jet-lagged addled brain. This was my ninth visit to the country, and each time I go I discover and observe something new. Six of those visits have been to celebrate the Bar and Bat Mitzvahs of my daughter and nieces and nephews on my husband's side of the family. While we all live in North America, over the past 10 years we have made the journey to Israel to celebrate these milestones in our children's lives.
On my first visit to Israel I was a fresh-faced 24 year old. I thought the country was quite beautiful, but to be honest, I was put off by the people. They seemed so abrupt and quite frankly, rude. Everyone pushed and shoved to get onto the busses. Hadn't they learned how to say Slicha.
It wasn't until, almost 20 years later when I returned for my second visit, that I truly came to love and understand the people of this tiny but mighty nation. This time I visited with with my husband. His oldest brother served as a paratrooper in the Israeli Army and had made several lifelong friends. These friends basically adopted my husband's entire extended family. Native born Israelis are called Sabras, named after this relative of the prickly pear cactus. Like the fruit they seem tough, but are really very sweet on the inside once you get to know them. 
While all our trips have been quite magical, this journey was extra special as it was the last B'nai Mitzvah we will celebrate for this generation on my husband's side of the family. There is a lot of good-natured ribbing between my husband and his 5 siblings, regarding who among them has the most controlling personality. Most would agree that my husband's sister, Auntie M, gets the award for bossiest sibling. With five brothers, she has had to take charge to get her way. Ask any of her four children and they will surely agree! In this instance, Auntie M's quest for control and fine attention to detail was whole-heartedly welcomed. She, along with Tova Wald, planned an extraordinary adventure for our huge contingent of family and friends.
While in Jerusalem we had the opportunity to participate in a culinary workshop with Chef Ezra Kedem, of Arcadia Restaurant. He is considered to be at the forefront of New Israeli cuisine. His stellar restaurant showcases his unique culinary style.
Ezra was destined to become a chef. His childhood was spent at the knee of his mother and grandmother, visiting the food markets of Machne Yehuda, Bethlehem, Ramalla and Jerusalem's old city markets. Ezra soaked up the traditions and cultures of both the Jerusalemite and Iraqi-Jewish kitchens of his childhood.
After his military service, he studied in New York at the French Culinary Institute, apprenticing for Chef Jacques Pepin for 18 months, and then went on to intern at Alison on Dominik for Sicilian born Chef Tom Valenti.
Several months ago, Chef Ezra opened a private studio kitchen in the charming Jerusalem neighbourhood of Ein Kerem. With a breathtaking view of the Judean hills, he has created a small kitchen workshop, organic garden and stunning glass dining room. He holds private events and cooking classes here, featuring seasonal produce.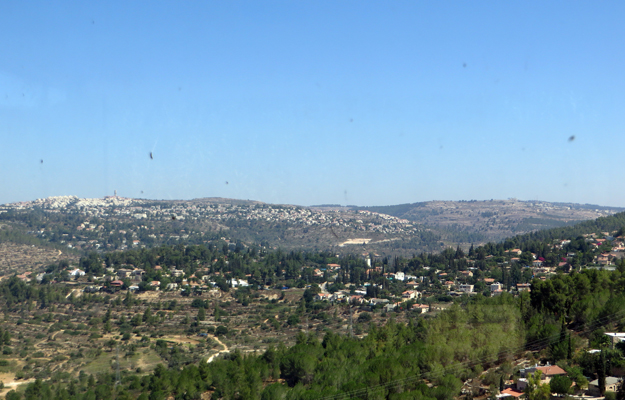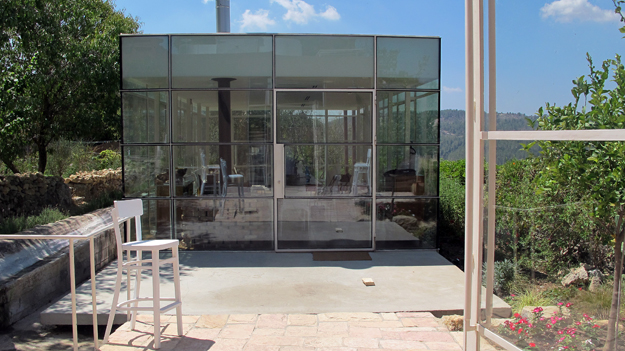 We were blown away with the complex flavours he was able to create with such simple fresh ingredients. He taught us many new techniques. His generous and compassionate nature and made us feel instantly at ease. Making guests feel at home is what he excels at. There were 7 of us at the workshop, 3 mother and daughter teams and our intrepid leader Tova. Ever the consummate host, large glasses of Israeli Chardonnay appeared. When most of us murmured that it was only 10 a.m., steaming mugs of cappuccino were quickly summoned forth.
Chef Ezra is not only charming and a wonderful teacher, he also happens to be a very compassionate man. We discovered that, in his spare time, he conducts Food Therapy Workshops for physically and developmentally challenged individuals.
We began with Eggplant Carpaccio. Chef Ezra explained that while most people associate carpaccio with beef, it can really refer to any food that is sliced or pounded thinly . In this rendition, eggplants are stabbed with a fork and then set over the gas flame to char for a good 20-30 minutes. Then they are peeled and sliced, leaving the seeds in the center to be discarded.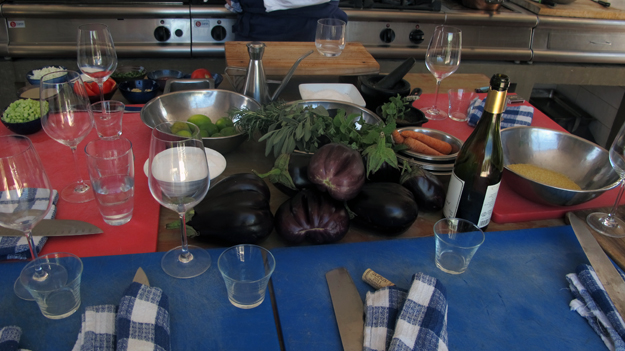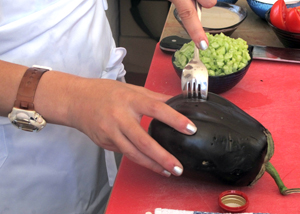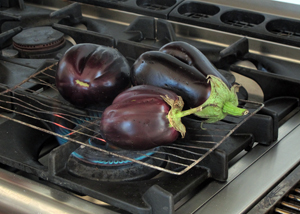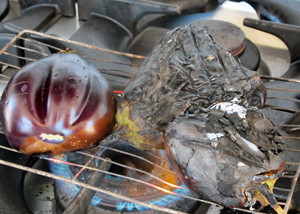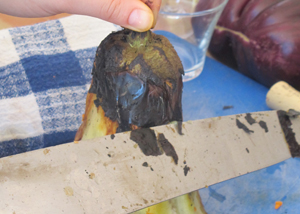 The soft flesh is gently flattened with a fork and the resulting Carpaccio is dressed with raw tahini, yogurt, tomato, garlic, olive oil, lemon juice, parsley and chopped walnuts.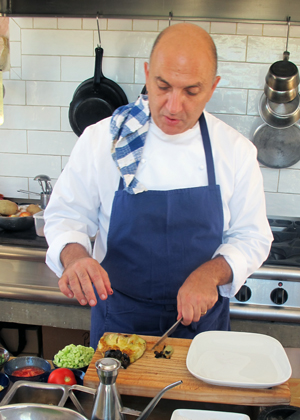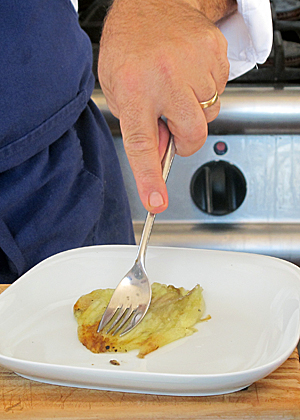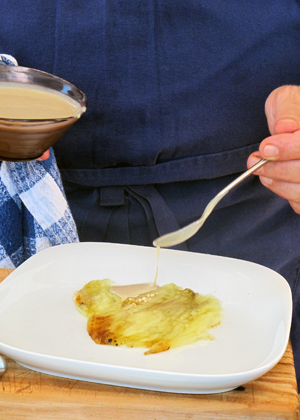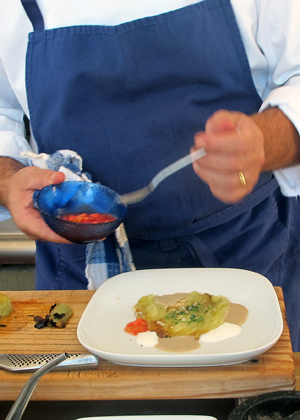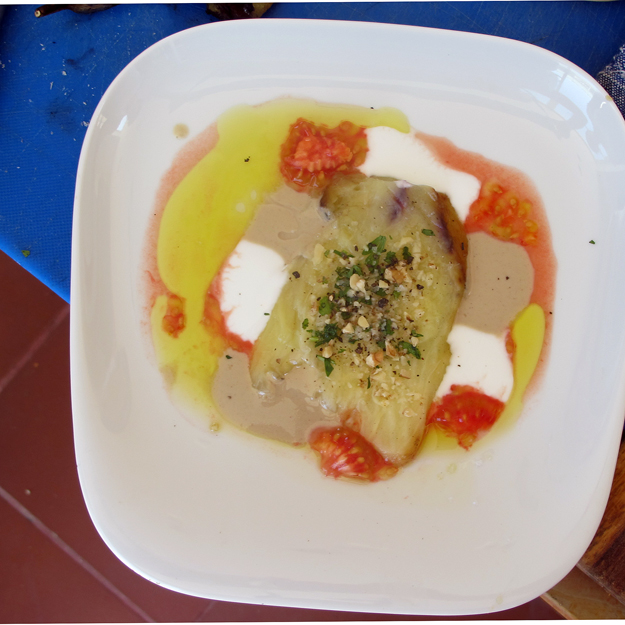 It is not an exaggeration to say that the plates were literally licked clean.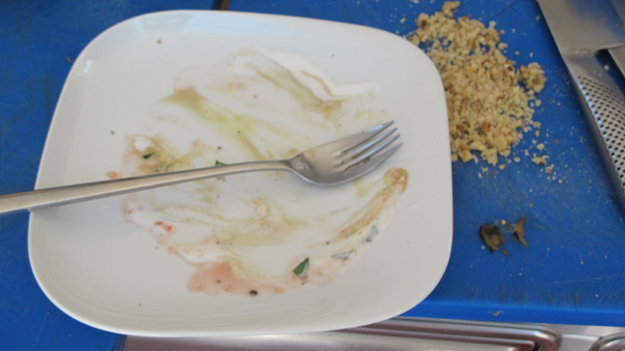 We all got a chance to practice our knife skills.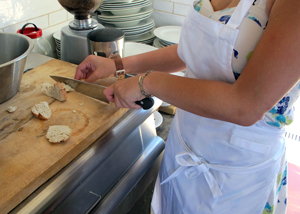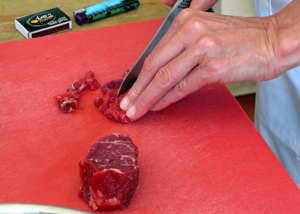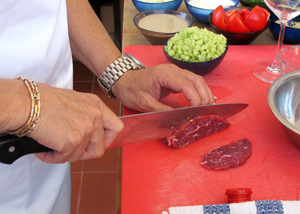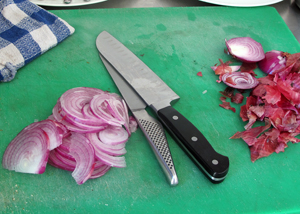 Goat Cheese Ravioli were made crispy by frying them in sage butter. Topped with a simple tomato concasse and more goat cheese left the group silent and mopping up every last drop with bread!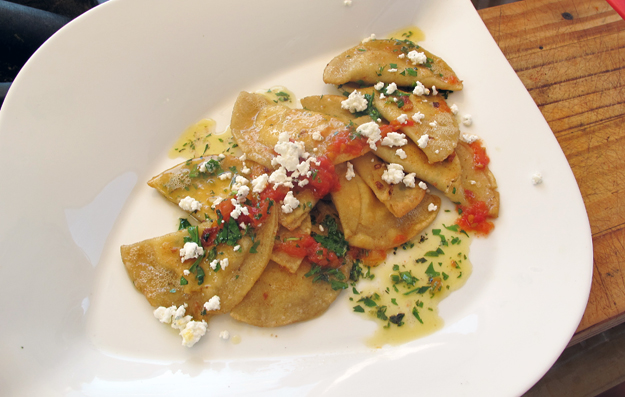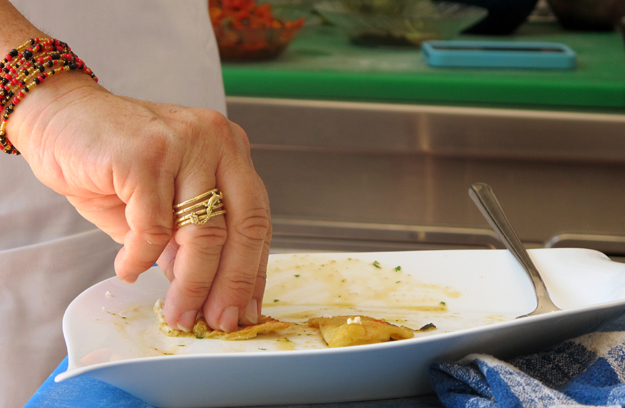 A demonstration of how to take the harsh bite out of red onions was so simple we could not believe that massaging the onions with cider vinegar for just 3 minutes could make such a difference. He finished them off with some olive oil, dried mint and a pinch of salt. These would be great on a burger, a sandwich or even mixed into a salad with chickpeas, grilled corn and little cherry tomatoes.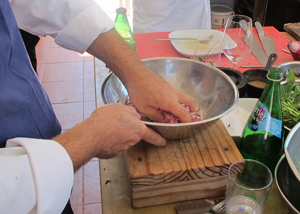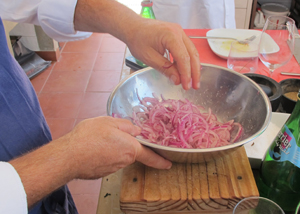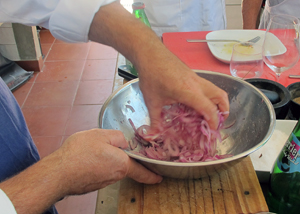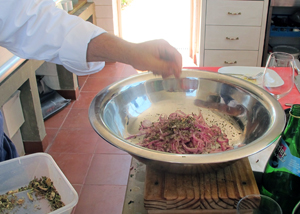 We also make a risotto with spelt, freekeh and bulgar. Freekeh is destined to overtake quinoa in popularity. You heard it first here folks!!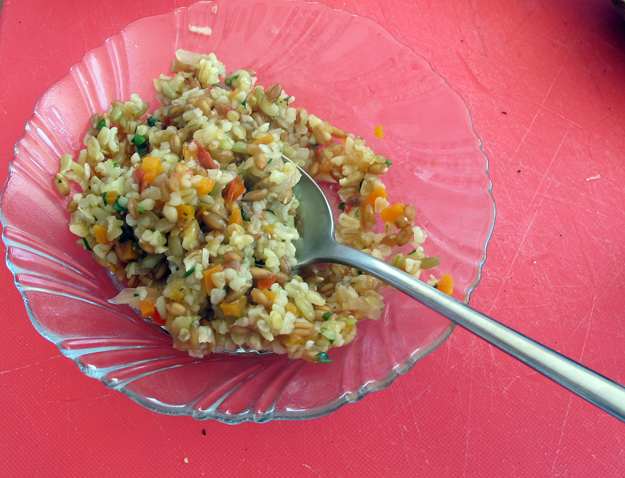 Our session ended in the glass dining room where we shared a chocolate tart, topped with a grape compote and coffee sauce, followed by a stellar shredded and caramelized phyllo tart, topped with a plum compote and mascarpone cheese.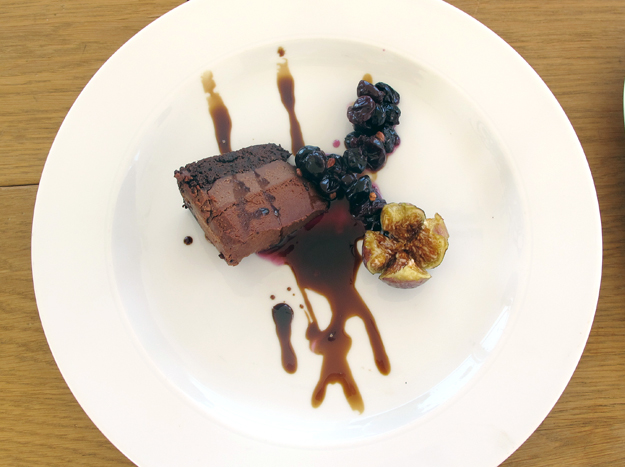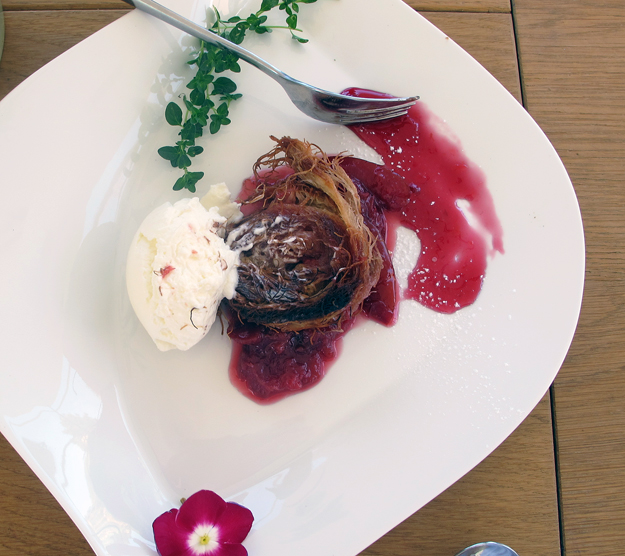 We all learned new techniques that we will be able to practice at home. Learning from Chef Ezra was a joy! He has a calm, zen-like manner that  instantly puts you at ease and his murmurs of encouragement had us all feeling like rock stars in the kitchen.  If you find yourself travelling to Jerusalem you will be immensely rewarded by a visit to Chef Ezra Kedem's breathtaking studio!