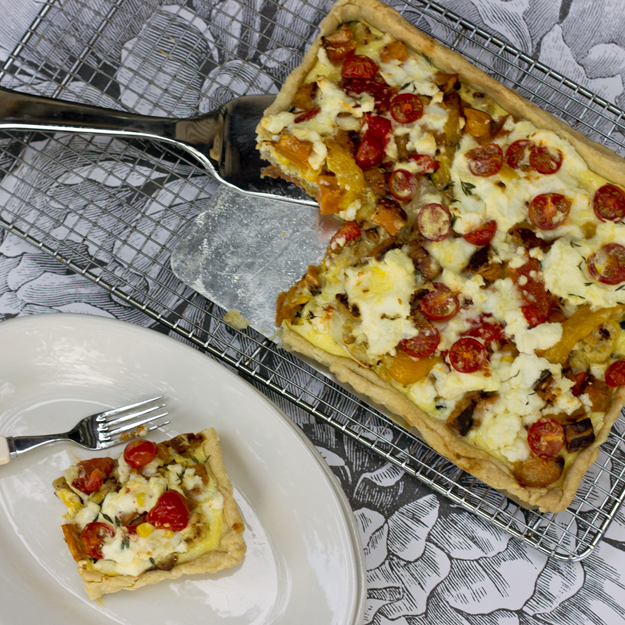 At this time of year, the scent of pencil shavings takes me right back to my childhood. I can close my eyes and clearly picture standing in the basement storage room where my mom had bolted the hand crank pencil sharpener to the shelf.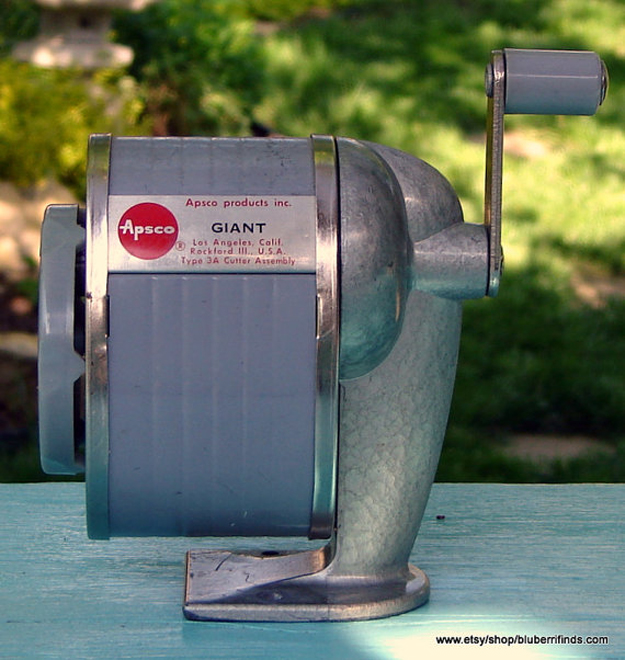 I would stand there for a good 45 minutes using great care to put a perfect point on each and every one of my 48 pack of Laurentian Coloured Pencils. (Or you may remember them as Pencil Crayons.) Did you know that the little white oval on each pencil was there so you could write your name on the pencils? I had no idea until this week!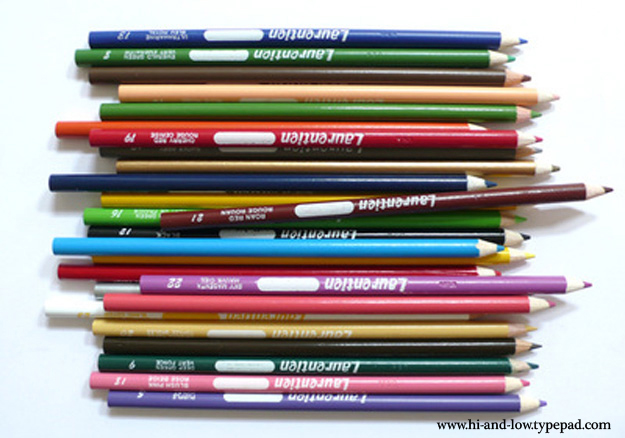 Sometimes our friends would come over to use it because most kids in our neighbourhood only had the little hand sharpener. We were a very modern household. There was always a scurry to see which one of my sisters would get to go first. No one wanted to be last, because that meant you had to empty the pencil shavings. Inevitably, the shavings would spill on the floor and then our mom would yell at us to clean it up. Then there was the nasty blister you would develop on the webbing between your thumb and first finger, from gripping the handle on the sharpener for so long. So, all in all, a bittersweet memory I guess!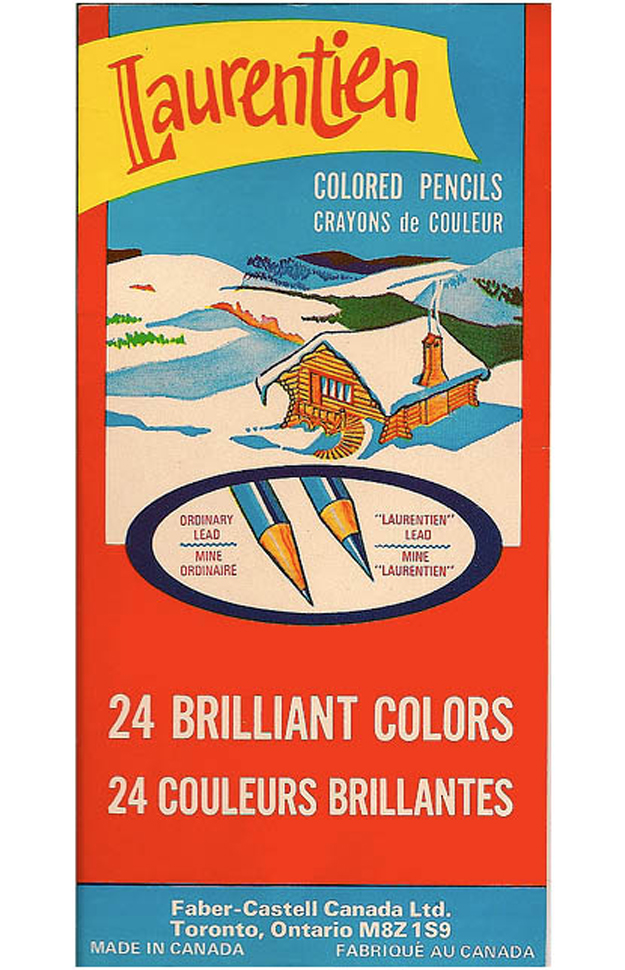 My personal favourite colours were #3 Poppy Red and # 7 Peacock Blue. #22 Sky Magenta also holds a very special place in my heart! I think this must be where OPI got the inspiration for naming their nail polish colours. I am too young to remember this, but apparently, the Laurentian company was taken to task for political incorrectness. In 1962 they changed the name of #14 from Natural Flesh to Blush Pink (Flesh comes in all sorts of colours!), and in 1966 #21, originally given the moniker Indian Red, was reborn as Chestnut.
Of all our senses, smell seems to have the strongest connection with emotional memories. Howard Eichenbaum, director of the Laboratory of Cognitive Neurobiology at Boston University explains this phenomenon,
"After a smell enters the nose, it travels through the cranial nerve through the olfactory bulb, which helps the brain process smells. The olfactory bulb is part of the limbic system, the emotional center of the brain. As a member of the limbic system, the olfactory bulb can easily access the amygdala, which plays a role in emotional memories. Olfactory has a strong input into the amygdala, which process emotions. The kind of memories that it evokes are good and they are more powerful."
Sadly, Laurentian Coloured Pencils are no longer available for sale. There are other brands on the market, but it's just not the same. And, if you can believe it, the Crayola brand now comes pre-sharpened. Kids today have no idea how easy they have it!
Although it has been years since I was in school, late summer will always be associated with those beautiful pencil crayons. Now as an adult, I celebrate the early fall colours at the market with the plethora of rainbow coloured produce.
I knew exactly where to go to look for inspiration. I have had Yotam Ottolenghi's beautiful vegetable cookbook, Plenty, sitting on my shelf for over a year now. My daughter and I leafed through it, trying to decide what to make. We earmarked over 15 recipes we wished we could eat right off the pages (the photos by Jonathan Lovekin are reason enough to buy the book!), and finally settled on his "Very Full Tart.", a Mediterranean style quiche packed full with roasted vegetables, feta and ricotta.
I will warn you right now, that this tart is a labour of love. From start to finish, it took almost 4 hours. Now, much of this was unattended time, waiting for dough to chill and vegetables to roast, but this is not fast food. We chose sweet potatoes, cauliflower, zucchini and corn to fill our tart with.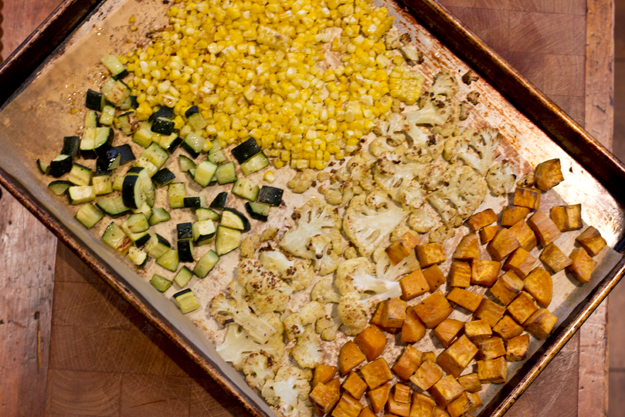 Roasted red and yellow peppers make a fine addition as well.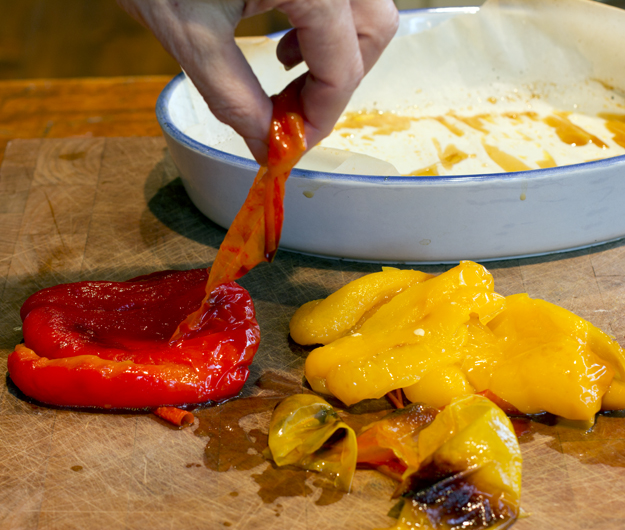 The original recipe calls for 11 ounces of "pie crust dough". You could of course buy a ready made pie crust, but I thought this stellar tart deserved something better. I had been wanting to try Cook's Illustrated foolproof pie dough for a while now. The secret ingredient in this dough is vodka!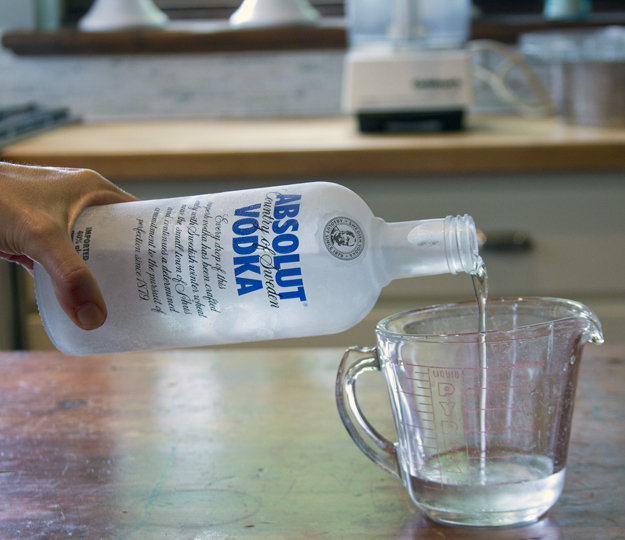 Cook's Illustrated explains, "Since water bonds with flour to form gluten, too much of it makes a crust tough. But rolling out dry dough is difficult. For a pie dough recipe that baked up tender and flaky and rolled out easily every time, we found a magic ingredient: vodka. Using vodka, which is just 60 percent water, gave us an easy-to-roll crust recipe with less gluten and no alcohol flavor, since the alcohol vaporizes in the oven."
This dough was a dream to roll out. It was supple and rolled out beautifully. The recipe makes enough for 2 tarts, so freeze one to use another day.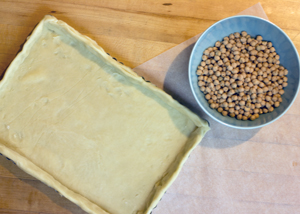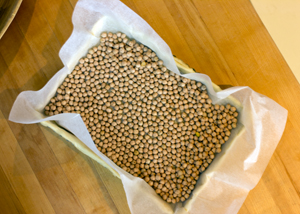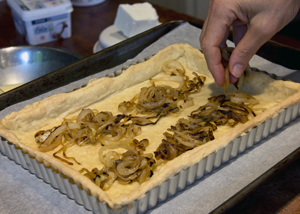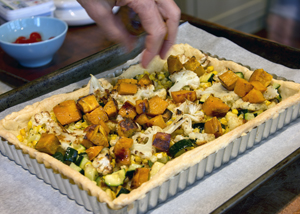 Ricotta, feta, cherry tomatoes, fresh thyme and some egg and cream finish off the tart.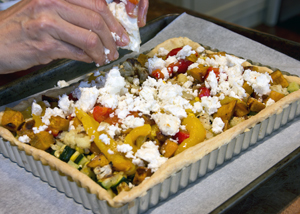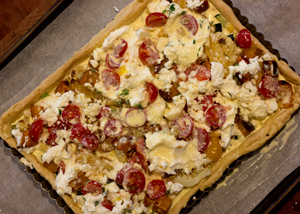 My daughter declared this the best dinner I have ever made for her. High praise indeed for a humble vegetable tart. It is possible that her effusive accolades were due in part to the fact that she just arrived home after living in a dorm for the past 6 weeks, working as an RA and TA. But I took a bite and damn if she wasn't right. It was delicious!
A perfectly balanced tart, overflowing with caramelized goodness. The flaky buttery crust gives way to the creamy tangy filling, owing to feta, ricotta and cream and eggs. The extra time required to roast the vegetables adds a depth of flavour that makes it all worthwhile. I especially loved the little crunch from the roasted corn kernels and the sweet blistered cherry tomatoes that topped the tart.