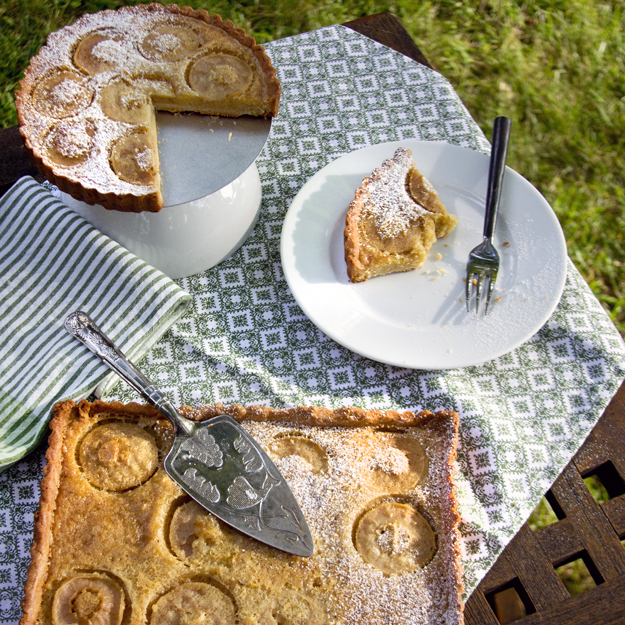 Traditions. All families have them. Those little rituals passed down from generation to generation that help shape your family by creating a sense of interconnectedness, you know, that warm fuzzy feeling that makes you appreciate being a part of this clan. Traditions can help create memories that fill your mind with laughter, love and joy. Hopefully your family has multiple positive traditions and not too many of the negative ones, that sadly get passed from generation to generation, like the ancient family recipe for guilt and passive-aggressive bullying!
Almost every summer my siblings, their spouses and kids and my mom descend upon us at the cottage for the Labour Day weekend. About eight years ago my youngest sister and brother and I were swimming in the lake and the next thing we knew, we had swum from our cottage to a little island in the middle of our lake, and back again, about a 2 kilometer swim. No one can really remember how the decision to swim this little marathon came about, but we have repeated the swim every summer since then. Lest you think we are elite athletes or something like that, let me assure you we swim the entire way with head-up breaststroke. None of us likes putting our heads in the water. So we talk and laugh, and cough the entire way there and back. My husband insists I wear a waist belt that has a little swimmers safety flag attached to it so that boats can see me and not run me over. He loves me dearly, I guess!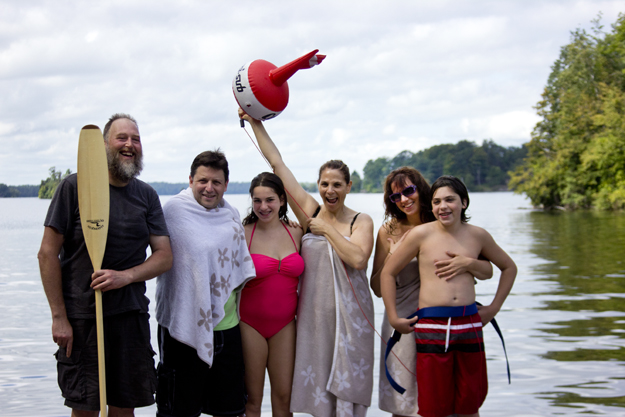 Over the years, various other family members have joined us and in 2009, my then 9 year old niece did the swim for her very first time! She is part mermaid. Last year my brother's new wife joined us for the first time and we almost had to boot her out of the club when she started doing a proper crawl stroke and actually got her head wet. This summer she is 7 months pregnant, so we excused her. My brother made up some baseball hamstring injury excuse so he did not join us either. My 14 year old nephew completed the swim for the first time this summer and we were all very thrilled about that.
I have one brother-in-law that is known for his competitive nature. The first year he joined us for the swim, he was upset that my sister and I were swimming faster than he was. He claimed that it was his swim trunks that were slowing him down. Apparently they were not very aerodynamic as they kept filling up with water. Being the keen competitor he is, he removed the swim trunks, and swam commando. We made him promise to never do that again! Every third year, my cousin Lewis joins us, and he has come to treasure this new tradition, as well as the Double Coconut Granola and yogurt breakfast that awaits him when he is done. In addition to my little safety flag, we always have a canoe alongside us just in case someone gets too tired. This year my brother-in-law Guy got coerced into the role of spotter.
Regular readers of this blog may already know that my drink of choice in the summer is a cold glass of Prosecco. While I have no problem drinking alone, (I find my own company very amusing!), cracking open a bottle and sharing it with my sisters is even more enjoyable and has become a tradition that we have all come to love. However, this past weekend we only drank one bottle of Prosecco. We discovered a new wine that we all fell in love with. My siblings and mom brought me a case of assorted wines as a little thank you gift.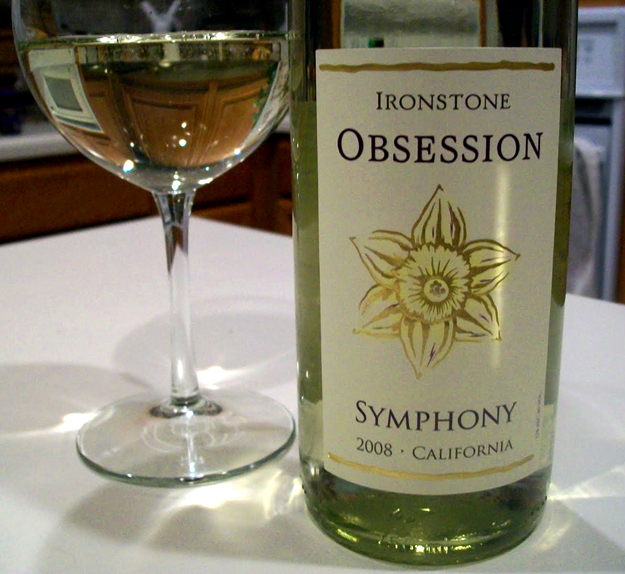 We all became smitten with a California wine by Ironstone called "Obsession.". Made from the Symphony grape (a hybrid of the muscat and grenache gris grape), this wine was luscious. My brother-in-law chilled it in the freezer an hour before we served it. It has floral and citrus notes, with peach and pear overtones. It is clean and balanced with a crisp and slightly acidic finish, which saves the wine from being too cloyingly sweet. It is the perfect aperitif wine. A new tradition has been born!
I decided to test a new Rosh Hashanah recipe over the weekend since I had my niece Kailey here with me. Although she is only 12, she is an extremely gifted baker. She did all the baking and I shot the pictures. We made a brown butter apple tart, a take on the traditional Rosh Hashanah Apple Cake. Browned butter is one of those magical culinary techniques that makes everything taste  and smell better.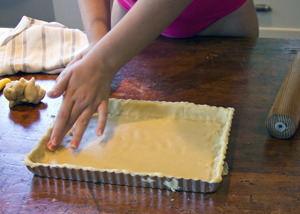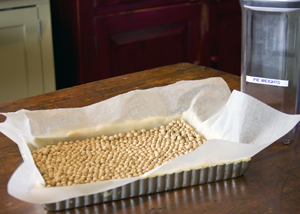 The custard filling is enhanced with vanilla bean and brown butter. It doesn't get much better than that.  Topped with thinly sliced apple rings, this tart is sure to become a new Rosh Hashanah or fall tradition at your house.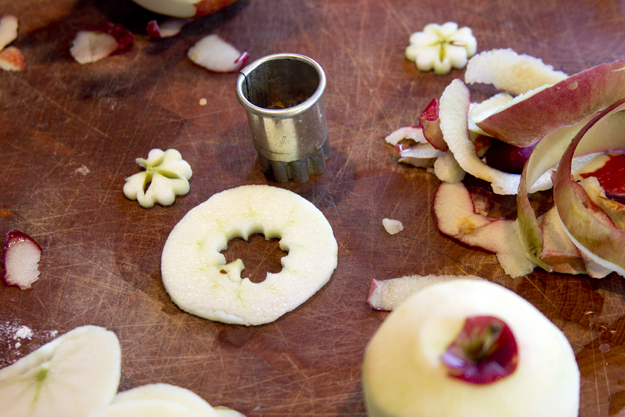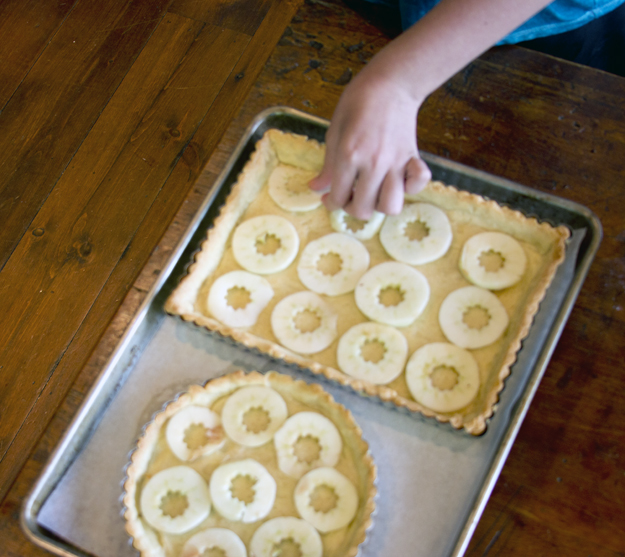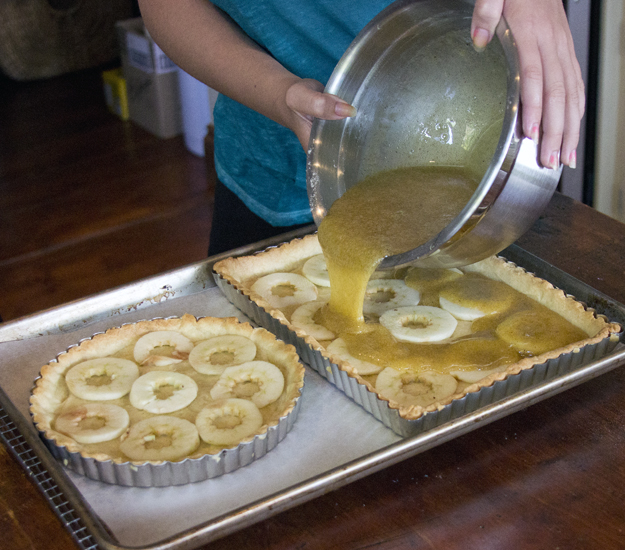 Not only did my niece bake the tarts, she also helped wash the dishes!