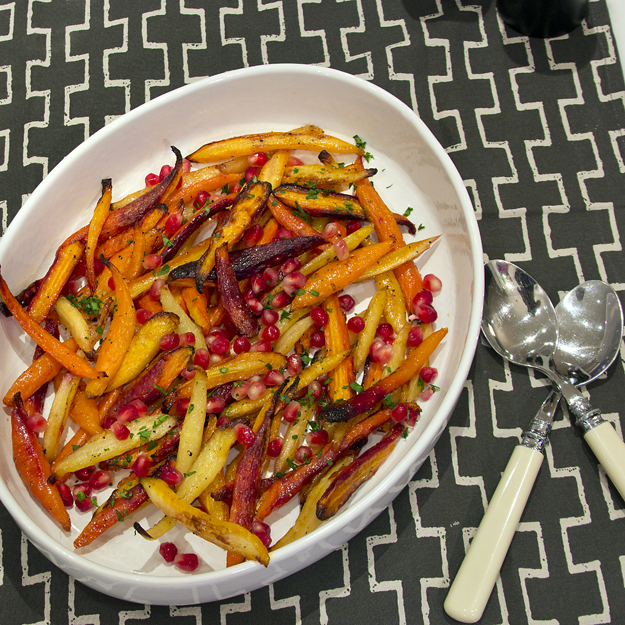 You know it's January because every food blogger worth her salt is writing about the joys of vegetables . Those sweet food porn days of December are long gone, buried under the 5 pounds of butter and sugar, tucked oh so discretely under a layer of skin, in my case, just below where my waist used to be.
Although we squeal with delight and burble over with joy at summer produce (remember wild blueberries?), winter in the produce aisle can produce some gush worthy moments as well. It just requires a bit more work.
Carrots are often bypassed as too pedestrian, but in deft hands, carrots can be magical. These carrots were way too pretty to leave behind at the supermarket.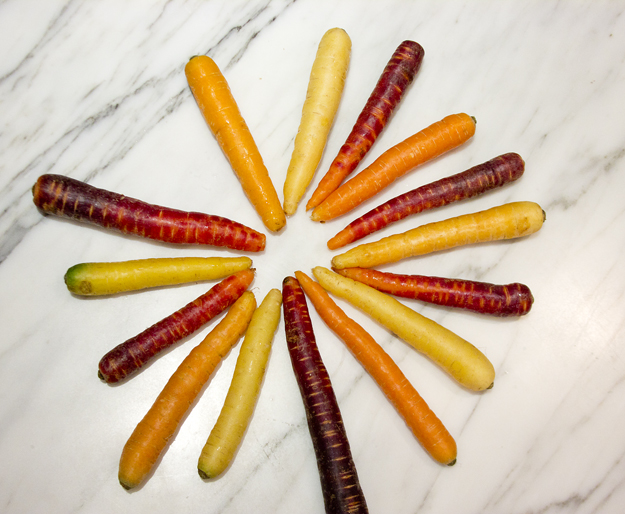 I have a secret ingredient that turns ordinary roasted carrots into something quite special. It's pomegranate molasses. Not actually molasses at all, but just pure pomegranate juice, and a bit of sugar boiled down and reduced to a thick, syrupy reduction. Dip your finger into this thick, garnet coloured syrup and you will be instantly transported back to your childhood!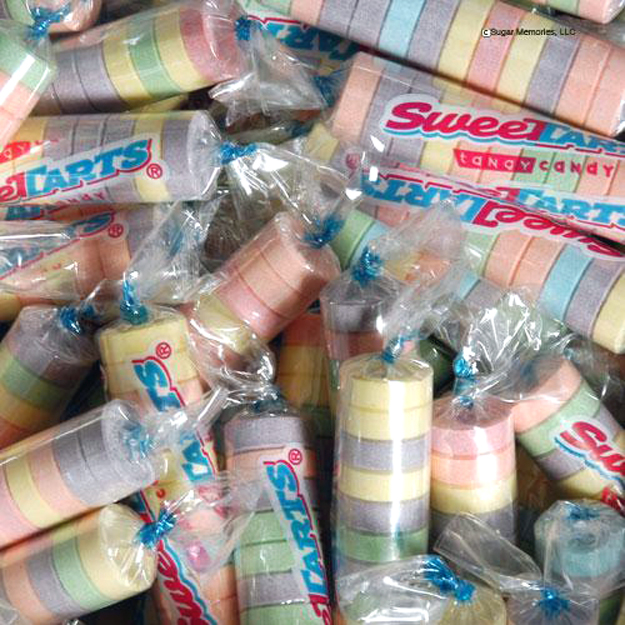 If you are of a certain age you will remember with fondness that powerful puckering of your lips from these candies. Pomegranate molasses has that tart/sweet quality, but in a grown up way. It adds an intense earthy depth of flavour to so many things. I have been using it in a chicken sauce for years now, and everyone who eats it always asks, "what is in this sauce?" It can be found in many supermarkets now, as well as in Middle Eastern specialty shops. If you can't find it, here is a recipe from Alton Brown to make your own pomegranate molasses.
The idea of roasting carrots with pomegranate molasses came from Melissa Clark's book "In the Kitchen with a Good Appetite." The first time I made them, I found the flavour to be delicious but the carrots were a bit shrivelled in appearance and leathery in texture. As I thought about how to avoid this issue, I remembered that I boil potatoes for a few minutes before roasting to get a crispy not leathery skin. I wondered if the same treatment with carrots would work? I peeled them and cut them on the diagonal, to increase the surface area that would come into contact with the roasting pan.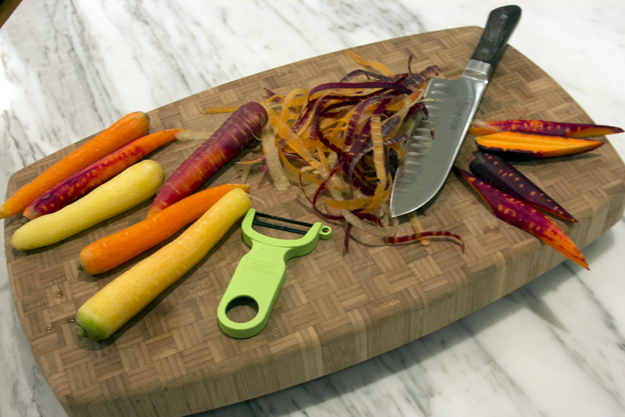 They got a quick 2 minute dip in boiling salted water. Then I drained them on paper towels for a few minutes before roasting.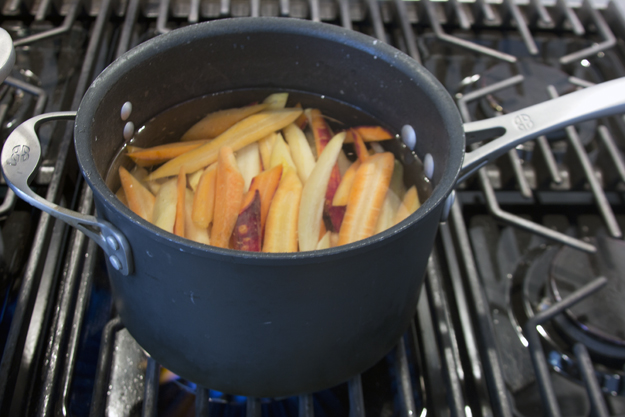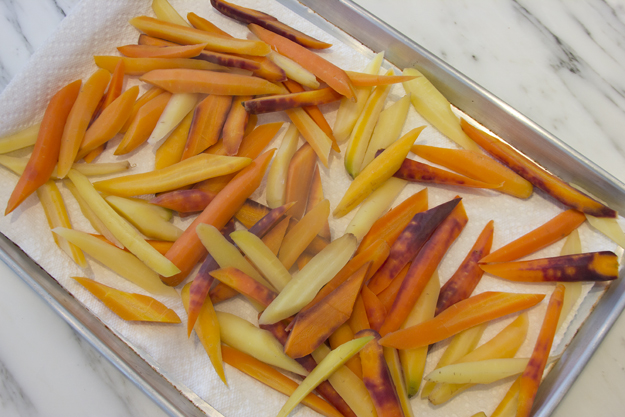 I tossed them with a bit of olive oil, salt, pepper and a pinch of cayenne and roasted them in a hot (425°F) oven for about 45 minutes. I added the pomegranate molasses and some honey during the last 5 minutes of roasting as I did not want them to burn.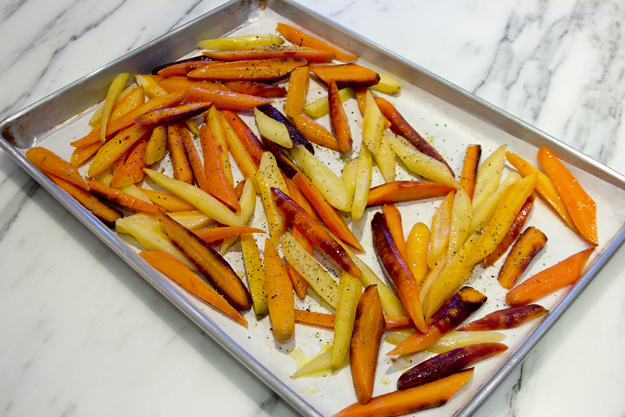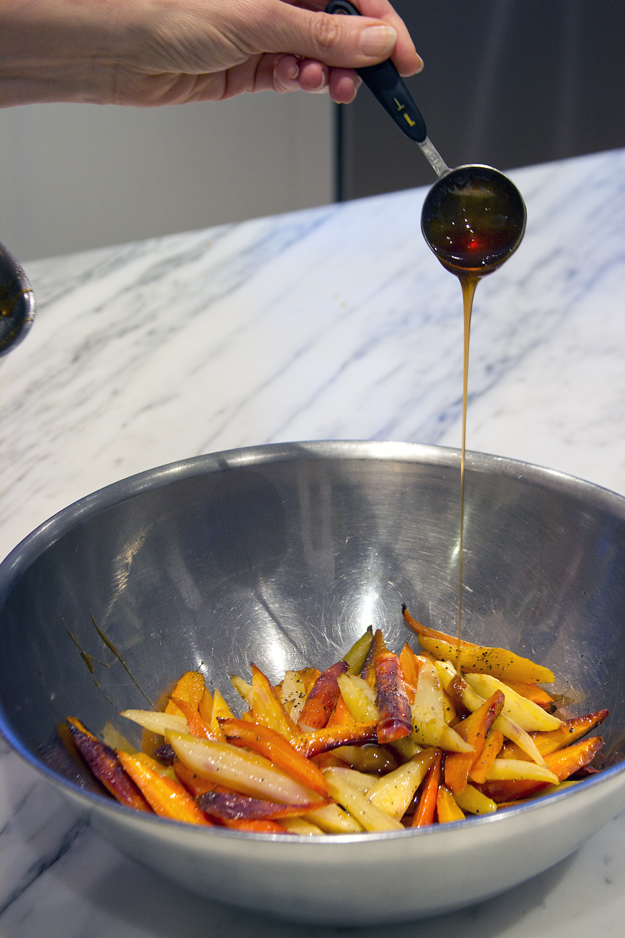 The finished carrots were crispy without being leathery. The pinch of cayenne added a nice kick and the pomegranate molasses added an amazing sweet tart punch. I gilded the lily and sprinkled on some pomegranate seeds. They glistened like little jewels.