This week, while on a family vacation in Mexico, we took a food walking tour in Puerto Vallarta. We had signed up for "A Three Hour Tour." Luckily this tour was on land and not on the high seas! We met our guide, Ricardo, at the entrance to the restaurant Mole Rosa. He promised us an adventure and lots of little tastes of the local food of the region. A little humour and a few short history lessons would be thrown in for extra flavour. Here are my favourite bites of the day.
Our first stop on the tour was Taco Robles, a birria taco stand. Birria is Spanish for slow braised meat. Large pieces of meat, originally made with iguana, but now, made with goat or beef, are smeared with a spicy adobo rub and steam-baked overnight. At Taco Robles, you have a choice of either goat or beef. Lined up three deep, this is arguably the most popular taco stand in Puerto Vallarta. Their tacos are a well known hangover remedy!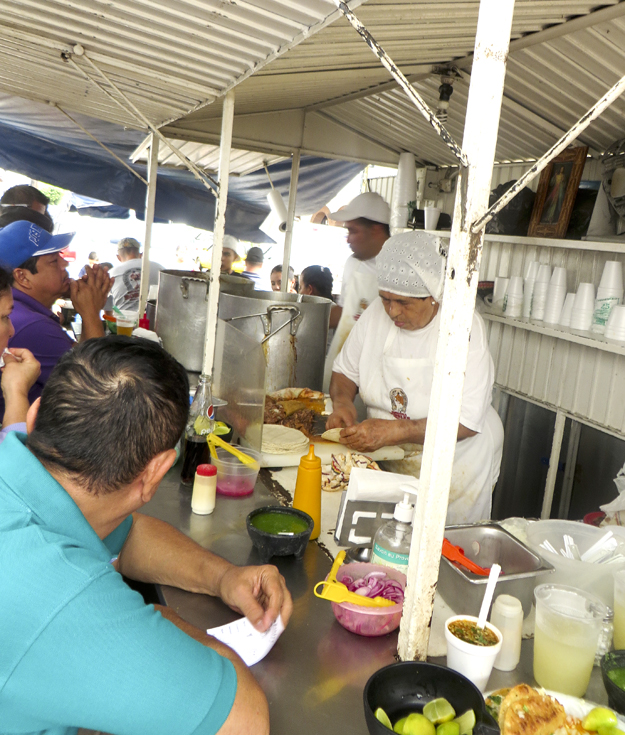 Ricardo had us pegged as less than adventurous eaters and ordered the beef ones for us. I was mildly insulted, but kept it to myself! The beef tacos were packed full of meltingly tender beef, topped with onions and cilantro.  The beef was muy flavourful, redolent of of chiles, bay and cinnamon. Robles serves their taco "dorado" style, basically meaning fried. They use two corn tortillas for each taco. The inner one is soft and pliable, to hold in all the juices, and the outer one is crispy from being fried in the birria fat.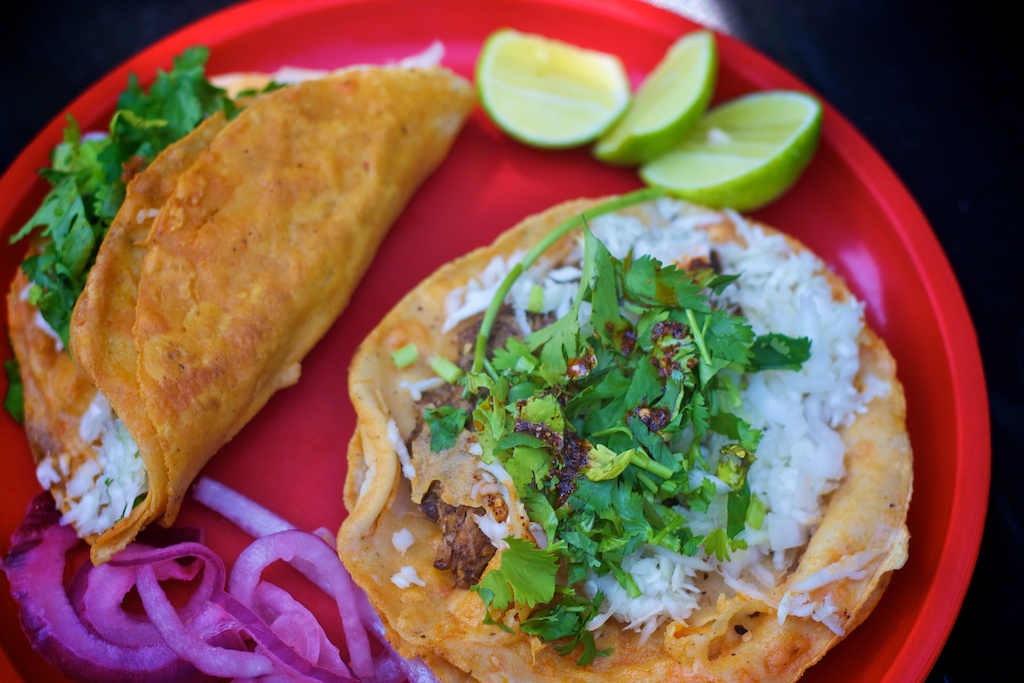 Ricardo gave us a crash course in choosing the best taco stands. Obviously, the biggest problem associated with taco stands is hygiene, since they do not have running water. Here are his top 3 tips:
1. Make sure that that the person who handles the money and dirty dishes is NOT the same person who handles the food.
2. Check to see if the paper or plastic plates are reused or are covered with a fresh plastic bag for each new customer.
3. Generally the stands with the biggest lineups are usually a safe bet!
I was anticipating our second stop, Cesar's Coconut Stand, with great excitement. In business since 1984, Cesar lops the top of the coconut off with a razor sharp machete. A veritable Mexican Zorro! The clear liquid was then poured into cups for us to sample. Full of magnesium, potassium and electrolytes, the coconut water tasted so pure and fresh, a far cry from the stuff we buy in a can back home.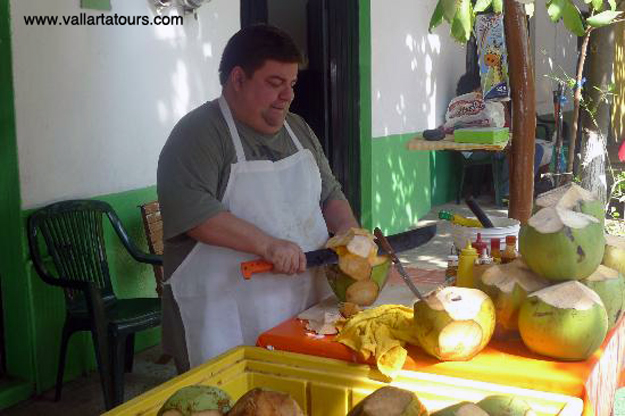 What he did next really surprised me. He scooped out the flesh of the coconut, cut it into strips and then stuffed the coconut into a plastic bag. He added a squirt of fresh lime juice, some brown sugar, a pinch of cayenne and tiny dash of salt. Then he shook the bag to distribute the seasoning evenly all over the coconut. The Mexican version of Shake 'n Bake! We all sampled it and most of us discretely deposited the remains in the garbage can when Cesar wasn't looking. I guess it must be an acquired taste. I prefer my coconut baked into a macaroon.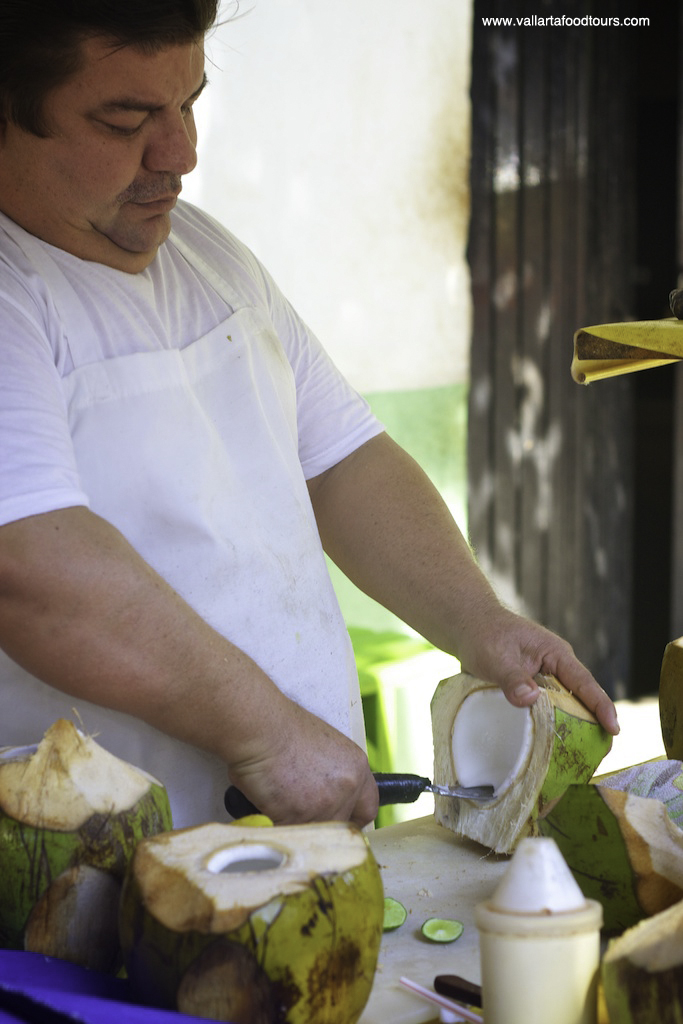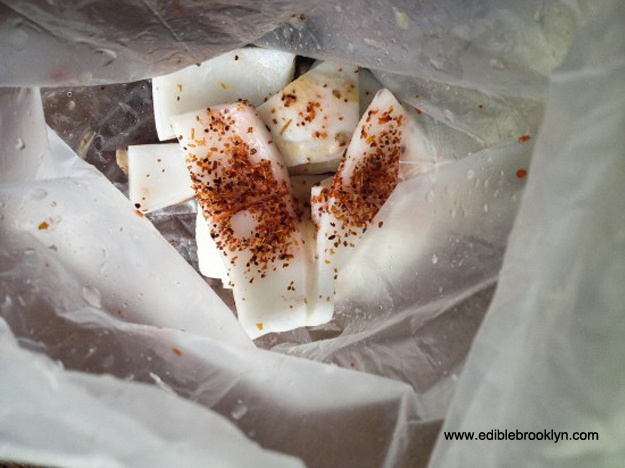 Our next stop was at Tacos el Cuñado. According to Ricardo, they are the top carne asada taco stand in town. "Carne asada" is literally translated as grilled meat. It refers to thin marinated beef, usually skirt steak, that has been grilled.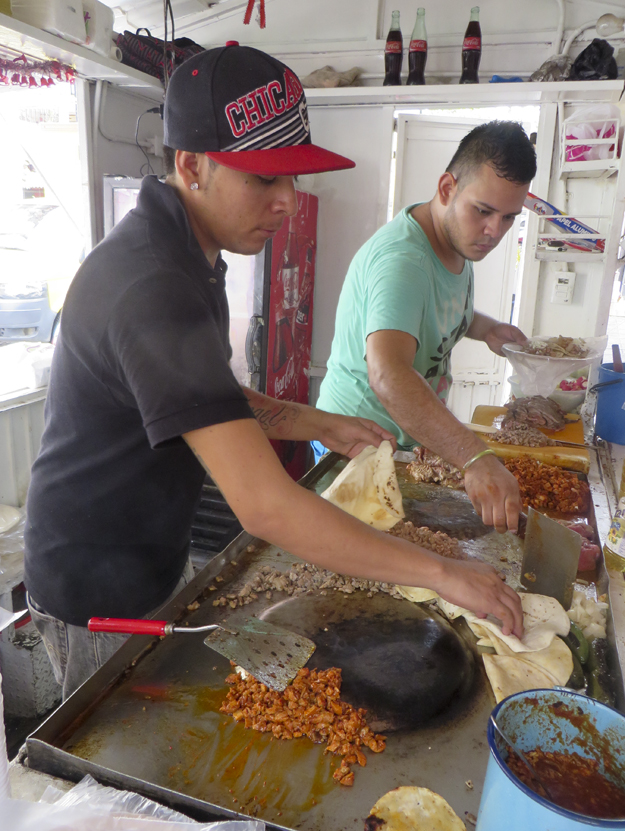 Ricardo explained to us that while cuñado means brother-in-law, the reference is usually an insult. In guy code it is interpreted as a brother-in-law that is mostly hated by the husband and all his brothers for being an idiot. The exchange might go something like this:
Brother 1: "Oh man, my wife is making me take el cuñado with us to the hockey game"
Brother 2:  "Dude, that sucks big time. That guy is such a dick, I can't stand him."
This place has been in business since 1968. It is currently run by the original owner's son, Jorge, and his brothers. I do not believe there are any brother-in-laws working there with them!! In addition to the skirt steak tacos, they also do pork tacos. Both are served on soft corn tortillas. Lined up on the counter are an assortment of salsas or topping your taco. They are arranged in order of heat, from "salsa for wusses" all the way up to "a fiery habanero" that would put hair on your chest. I tried the Vallarta style guacamole which was blended with a mildly spicy tomatillo salsa.
To put out the fire in our throats and bellies, Ricardo took us to for a glass of "tuba water." Created by a sweet little old man by the name of Conception, tuba water is made from the sap of the coconut palm, lightly fermented and mixed with palm sugar, walnuts and diced apples. He serves it chilled and it was smooth and very refreshing. The only tree I have ever had the sap from is a maple tree, but palm sap is quite yummy too! I bet it would be great on macadamia coconut pancakes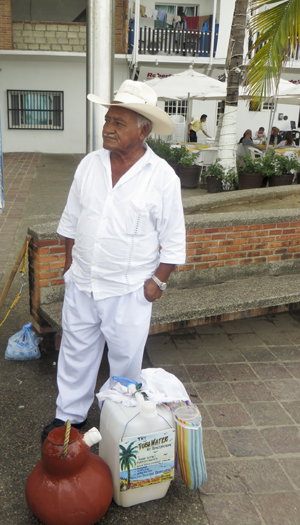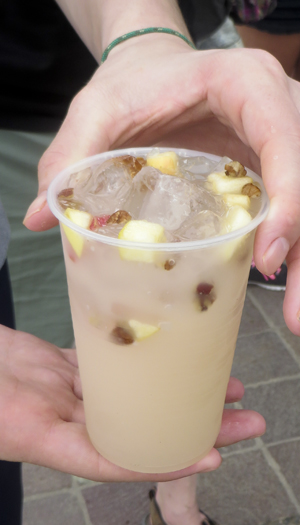 Then we treked off to the charming family owned restaurant Mole Rosa.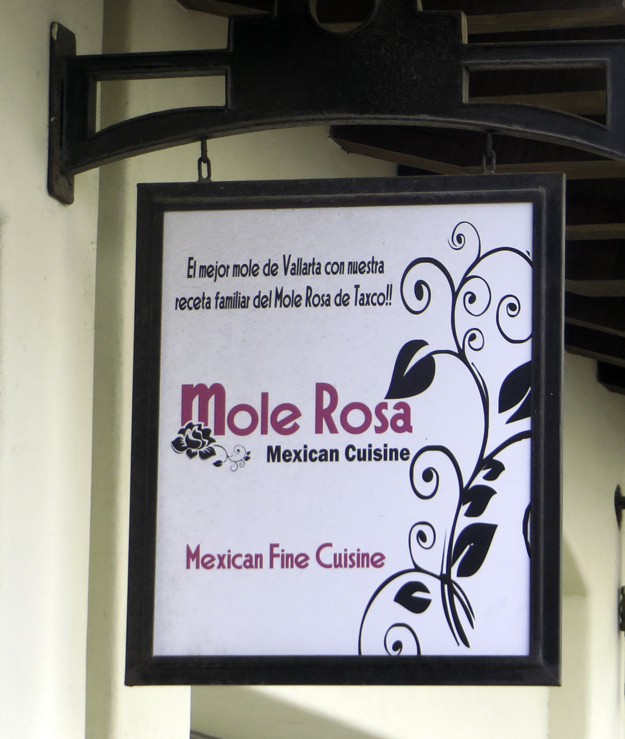 Specializing in various moles, Chef Gunther treated to a sampling of chicken enchiladas covered in three varieties. This is one of the most beautiful plates of food I have ever been presented with.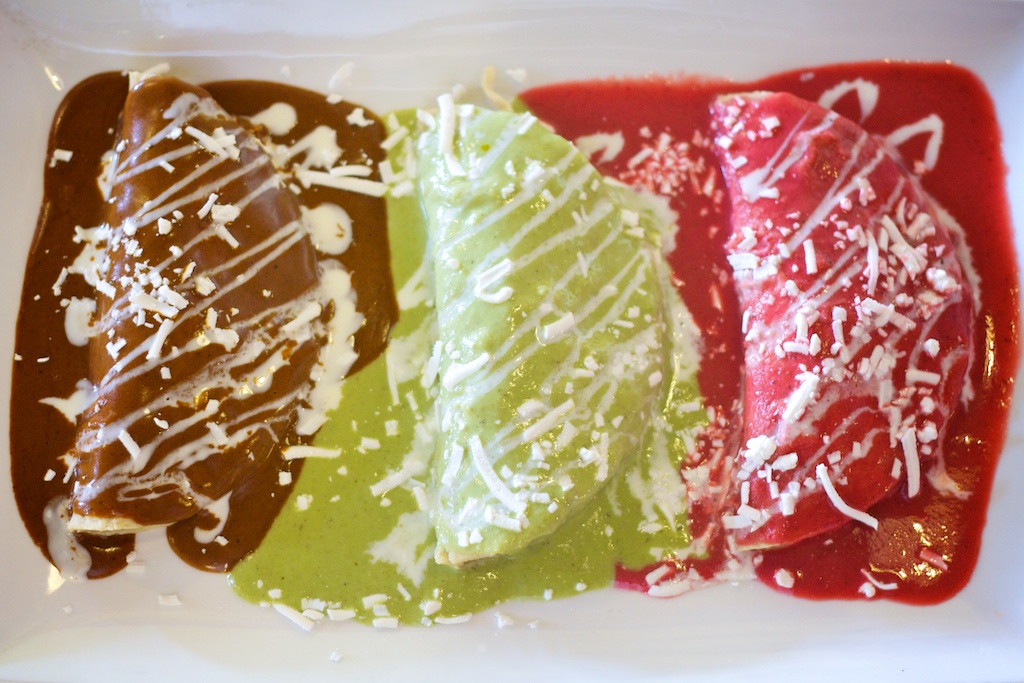 The "mole rojo" sauce on the left is made from a Guajillo and Ancho chiles, garlic and it is finished with a tiny bit of mexican chocolate. The "mole verde" in the center was my favourite bite of the day! Made from green tomatillos, ground coriander seed, Serrano and jalapeno peppers, and roasted pumpkin seeds, this was light and really fresh tasting. This mole is not simmered for hours with tons of spices. It's characteristic fresh taste is derived from the addition of herbs at last minute of preparation. The "mole rosa" on the right is made with Serrano and jalapeno peppers, pine nuts, white chocolate, aniseed and roasted beets which create the most gorgeous shade of pink. It was quite earthy tasting with a hint of sweetness.
At Gaby's Restaurant we all trooped upstairs for a bowl of Tortilla soup. Garnished with fried tortilla strips, avocado and cotija cheese (a hard crumbly Mexican cow's milk cheese), we all licked our bowls clean.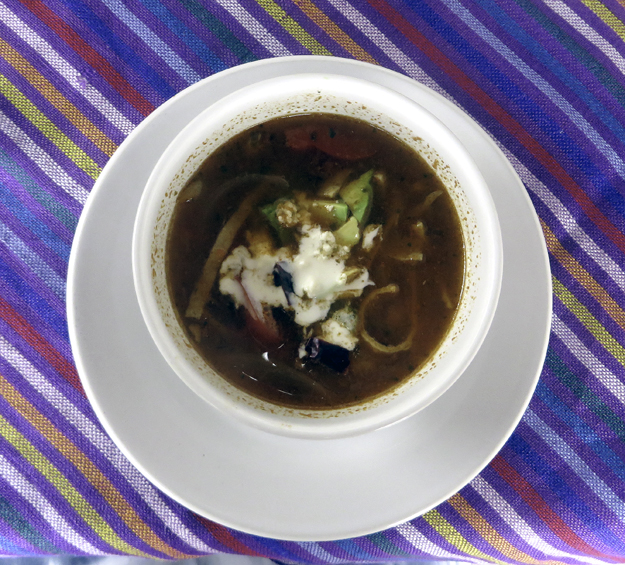 We finished the meal off with a shot of tequilla. Apparently I have been shooting tequilla incorrectly all my life! The lick of salt, shot of tequilla followed by the wedge of lime is for gringos! Ricardo taught us the proper Mexican protocol. You begin with a shot of lime juice to cleanse the palate. Then you follow that with a shot of tequilla. The chaser is a shot of Sangrita. Sangrita, (literally "little blood" in Spanish) is a mixture of tomato juice, orange juice, lime juice, worcestershire sauce, tabasco sauce and salt and pepper.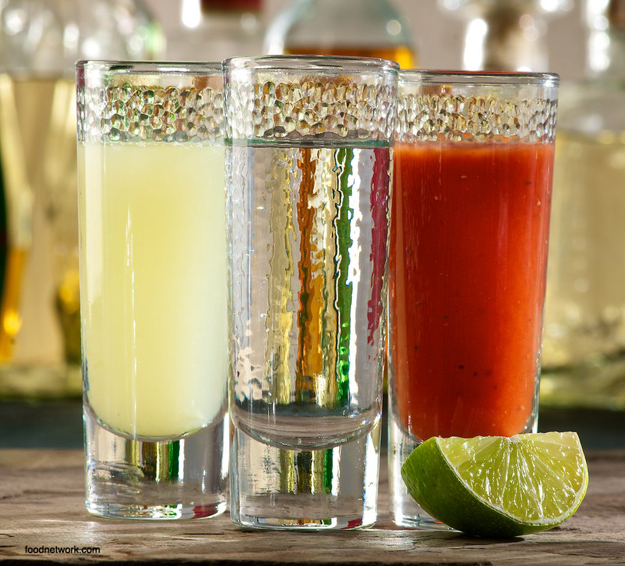 Sangrita was my daughter's favourite taste of the day!
Our final stop on the tour was to Orgullo Azteca Candy Store, a veritable Mexican Willy Wonka Factory! The shop was started by two partners who wanted to teach future generations all about the joys of traditional Mexican candies. They started small, with a tiny cart, then moved into a store across the street and now have four stores in Puerto Vallarta.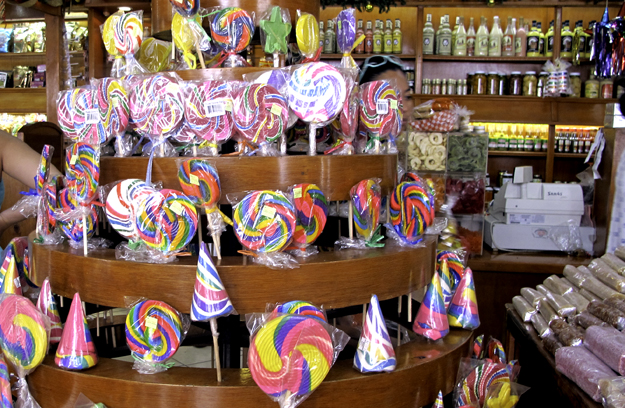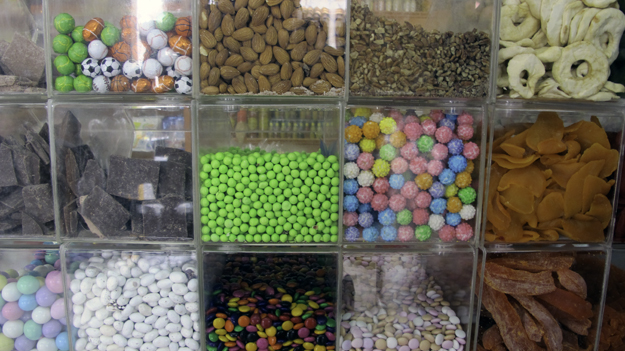 We got to sample many local treats but my favourite were the candied pecans.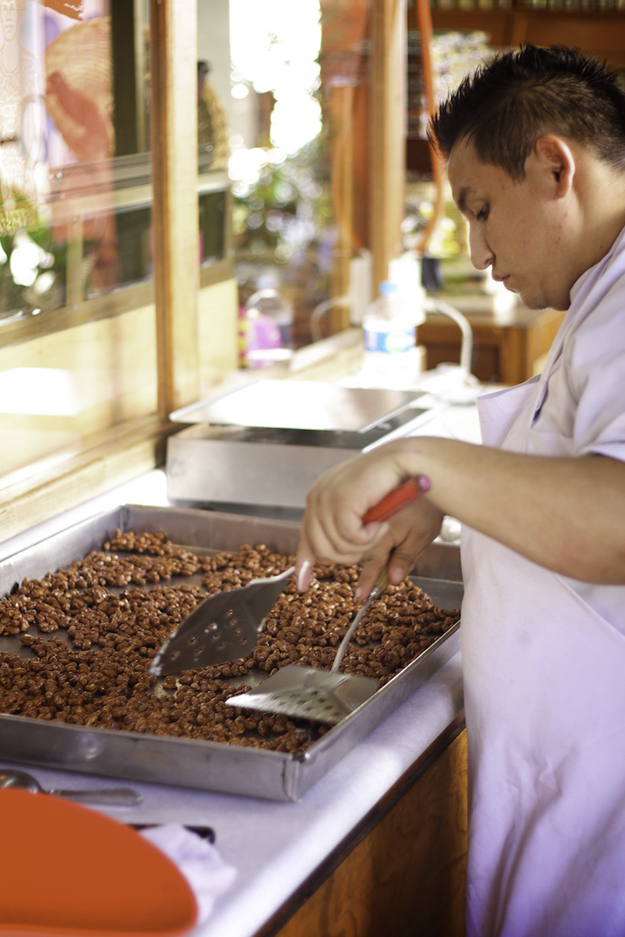 Vallarta Tours was the perfect way to get to know the people and taste the local flavours of Puerto Vallarta. If you are visiting the region and have a spare afternoon, Ricardo would love to show you his town.