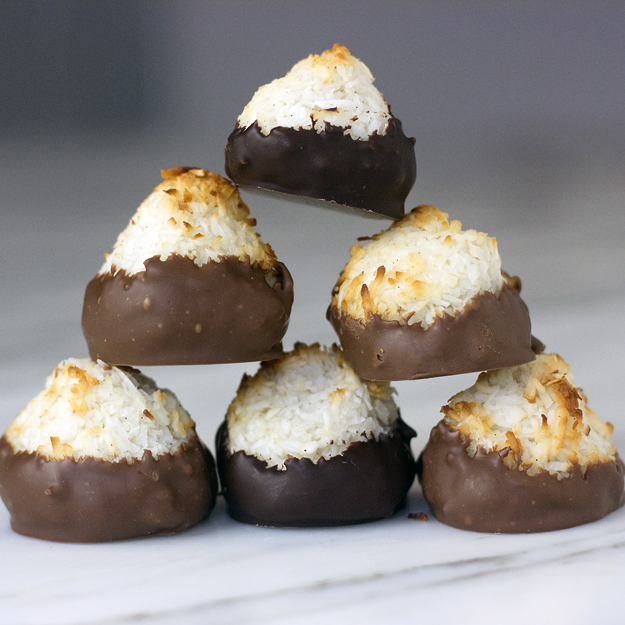 These are my absolute favourite macaroons. That's macaroon, with 2 o's – the coconut variety, not the pain-in-the-ass Diva, ground almond and meringue variety, which are macarons, with one o. This recipe for Triple Coconut Macaroons, comes from Cook's Illustrated Magazine. I have been making these since the recipe first came out in 2000. Why I have waited so long to share with you is a mystery to me. I promise you, I'm reallly not a petty person.
Although I could make them any time of year, I always associate coconut macaroons with Passover. As a child we bought our macaroons from Open Window Bakery in Toronto. They made both vanilla and chocolate coconut macaroons. I preferred the simplicity of the vanilla ones. I found the chocolate ones too chocolatey for me. The cocoa powder masked the flavour of the coconut, which is exactly the point of coconut macaroons. I always felt sorry for those families that had to get their macaroon fix from the can. They were gummy and chewy, in short, just awful.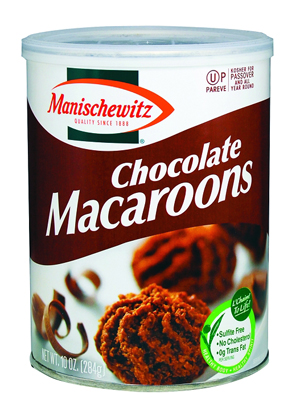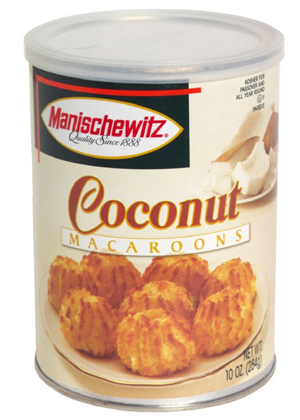 The quintessential coconut macaroon is slightly crunchy on the outside and chewy in the middle, without being gluey. They should be sweet, but not cloyingly so, and they should be bursting with shreds of sweetened coconut. A final dip in a melted chocolate bath, to cover the lower third of the macaroon would not be a bad thing.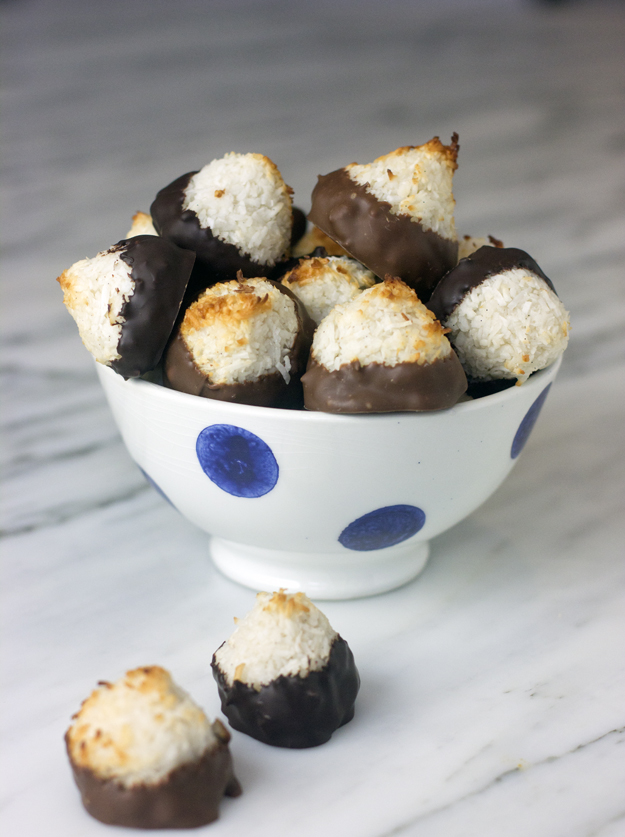 Cook's Illustrated's test kitchen discovered that the choice of coconut in the macaroon makes a big difference in both taste and texture. Unsweetened shredded coconut, which is drier than sweetened, solved the gluey texture issue.  Sweetened shredded coconut packed more flavor than unsweetened, and together they worked very well. To add one more layer of coconut flavor, they tried cream of coconut and cracked the coconut macaroon code.
Cream of coconut, is not to be confused with coconut cream or coconut milk. Here is a little coconut product primer: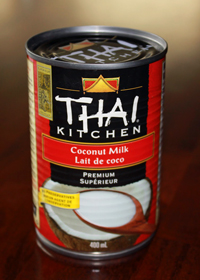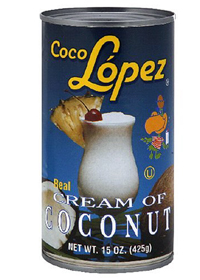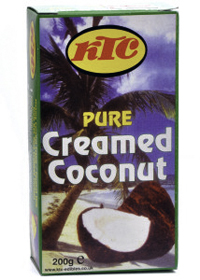 Coconut cream is very similar to coconut milk but contains less water. Coconut cream is made by simmering equal parts of shredded coconut and water until frothy,  then straining the mixture through a cheesecloth, squeezing out as much liquid as possible; this is coconut milk. The coconut milk is refrigerated and allowed to set. Coconut cream is the thick non-liquid part that separates and rises to the top of the coconut milk.
Cream of coconut is coconut cream that has been sweetened. It is used most commonly in piña coladas. This is the one you want for this recipe. I usually find it in Asian supermarkets, although some larger stores carry it in the drinks aisle.

Creamed coconut is a compressed block of coconut flesh which has been slightly dehydrated and sold in a waxy lump.
This recipe does contain corn syrup, so if you keep strictly Kosher for Passover, here is a recipe for a corn syrup alternative.
Lately, there has been much written about the evils of high fructose corn syrup. This is not the same as the regular corn syrup you buy for baking. If you are at all concerned and want to know more about the science behind it, this article clears up the confusion.
The canned cream of coconut has liquid at the bottom, so it is best to empty it out into a bowl and mix it up with a spoon before measuring and adding to the batter.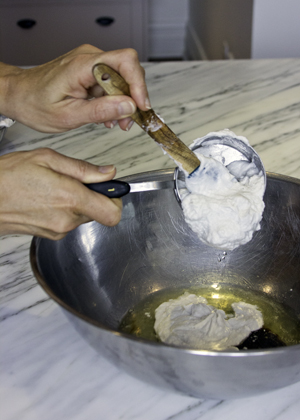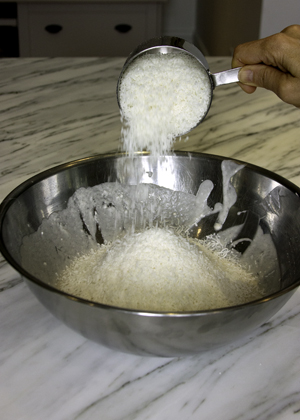 The batter should be chilled for about 15 minutes before shaping macaroons. here is a video demonstrating how to shape them.
The chocolate should be chopped fairly fine. I melt about 3/4 of it in the microwave on medium power. When it is totally melted, stir in the remaining 1/4 of chocolate. This is a quick and dirty tempering method but it works quite well.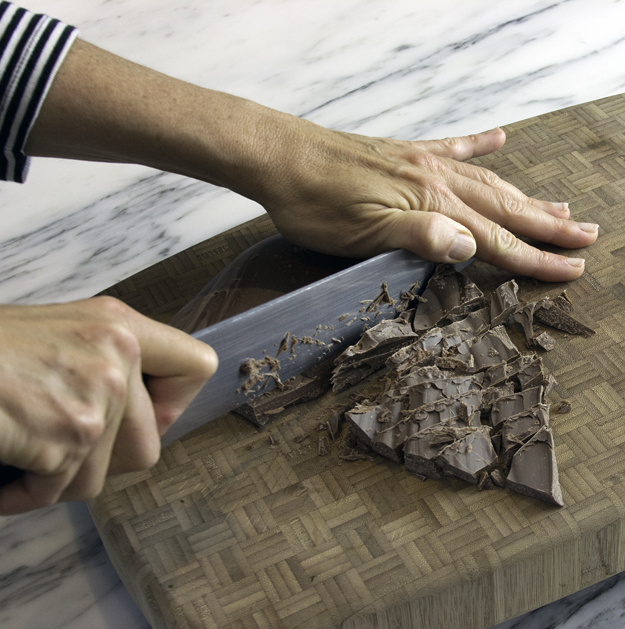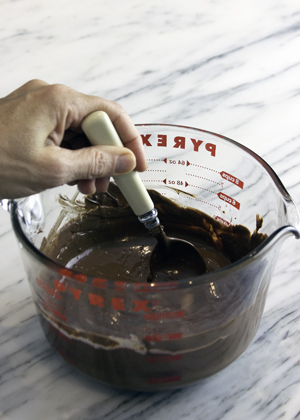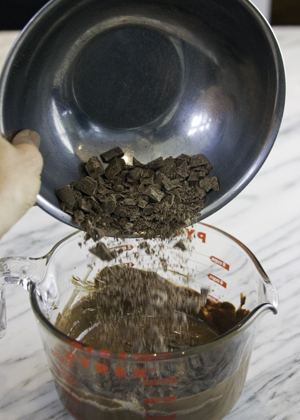 I like to dip the bottom third of the cookies in chocolate.