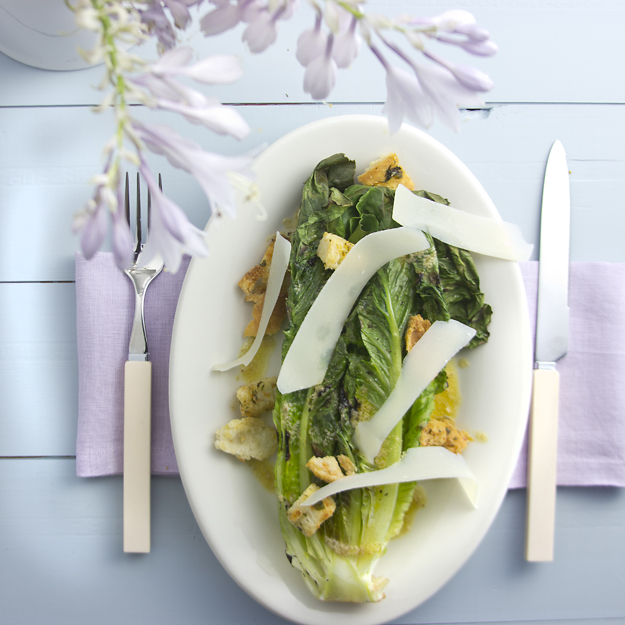 Certain classics should not be tampered with. For example, The Wizard of Oz, as created by Frank L Baum and then interpreted by MGM in 1939, is perfect just the way it is. Why mess with brilliance? Clearly some people disagree with me as evidenced by the 2013 Disney release of Oz: The Great and Powerful, which topped box office records with a whopping 80 million dollars on its opening weekend.
And don't get me started on the 1998 remake of Parent Trap. The original, released in 1961 was an integral part of my childhood. Suffice it to say, that Lindsay Lohan is no Haley Mills.
However, that being said, some classics need to be updated every once in a while, so they don't get stale. I am referring to the culinary classics here; just a delicious little twist, an exciting take on the tried and true.
According to Iron Chef Geoffrey Zakarian, Caesar salad has become the epitome of American mediocrity.  Appearing on virtually every restaurant menu across North America, it is often made with gloppy bottled dressing, packaged croutons, which, while salty and crunchy, still manage to taste like cardboard and canned "Parmesan" cheese, which resembles dust. Surely Caesar Cardini, the creator of the original, would be rolling over in his grave if he ever tasted one of these versions.
Geoffrey Zakarian's revision of The Classic Caesar Salad is not revolutionary, just utterly delicious! He does not get ridiculous by suggesting that we forgo the croutons altogether and replace them with pan-fried tofu cubes. He just instructs us on how to make the very best crouton. Start with a good quality country Artisan bread. Then, tear the bread, using your hands, into craggy crouton shaped pieces.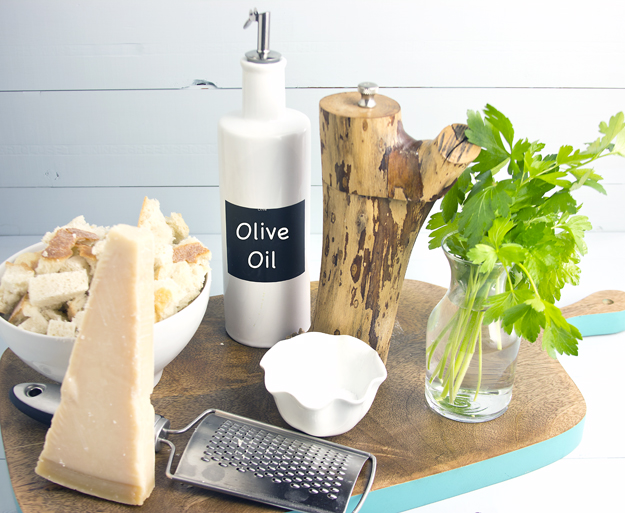 By tearing the bread, rather than cutting it, you get much more surface area and more little nooks and crannies to get crunchy. Geoffrey recommends frying the croutons in about ½ cup of oil, but I cut the oil in half and recommend just baking the croutons in the oven. They are still quite delicious and very addictive.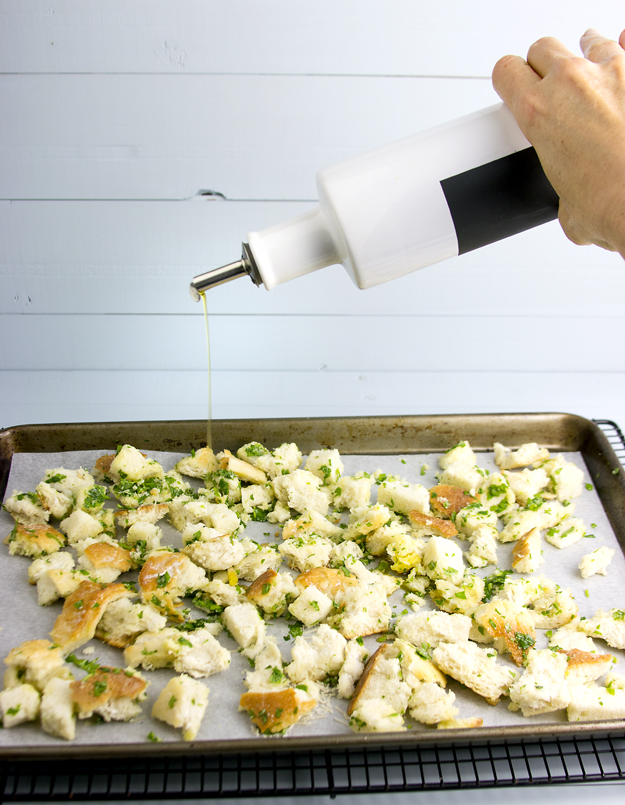 Two kinds of cheese are used in this version. The classic Parmigiano Reggiano cheese is grated finely and mixed into the dressing, as in the original version. Then, Pecorino Romano cheese is shaved on top of the salad, using a vegetable peeler. Parmigiano Reggiano is a cow's milk cheese, while Pecorino comes from sheep's milk. Pecorino is tangier, and a bit more assertive than the milder, nutty flavoured Parmigiano.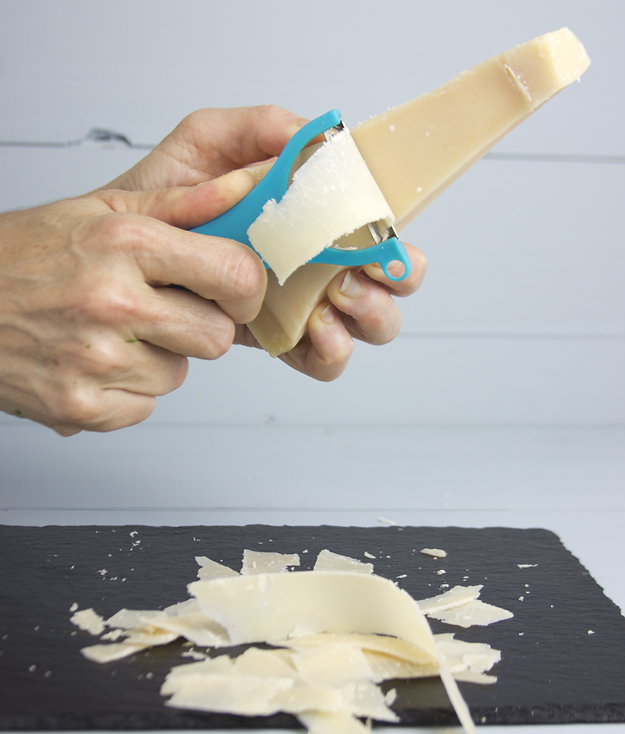 Anchovies were not used in Cardini's Caesar salad. The original dressing contained Worcestershire sauce, which, I just discovered, does contain anchovies. The addition of anchovies came later, in the 70's. If you think you don't like anchovies, just give them a chance in this dressing. Anchovies are an extremely umami rich food. Umami is an almost indescribable fifth taste that takes your eating experience beyond salty, sweet, sour and bitter. Umami can best be characterized as a savory taste. Anchovies give a punch of flavor. They are that secret ingredient that you just can't put your finger on, the one that really makes the flavour pop.
The punch of garlic in this recipe comes from roasted garlic, which is much sweeter and way less assertive than raw garlic. It adds a lovely mellow flavour.
In Geoffrey's version of the salad, the lettuce is not torn, but rather whole leaves are arranged on a platter. It is quite lovely this way, but I took it up a notch and grilled my romaine hearts on the BBQ.
Each romaine heart is cut in half lengthwise, drizzled with a bit of olive oil and seasoned lightly with salt and pepper. The cut side is placed on the hot grill for a minute or two to get just a hint of smoke and char. Arrange each heart half on a small plate, drizzle with creamy dressing, scatter crunchy croutons on top and finish with some shards of Pecorino Romano of Parmesan.
This knife and fork salad will delight (almost) everyone who tries it. We have had lots of company at our cottage over the past several weeks and I have made this 6 times. My husband happened to be present for all six times. After being married for almost 30 years he knows my habit of finding a dish I love and making it repeatedly until I grow tired of it. After the 5th appearance of Grilled Caesar he very sweetly told me that he really loved it, but could we please have something else tomorrow. Luckily he will not be here this week, so I can make it again for my girlfriend who is coming to visit!